Yesterday we shared a new wreath we added to our entryway for spring. Today we figured we'd share the rest of the little changes we made in our entryway and answer a question about our rug that we get asked all of the time.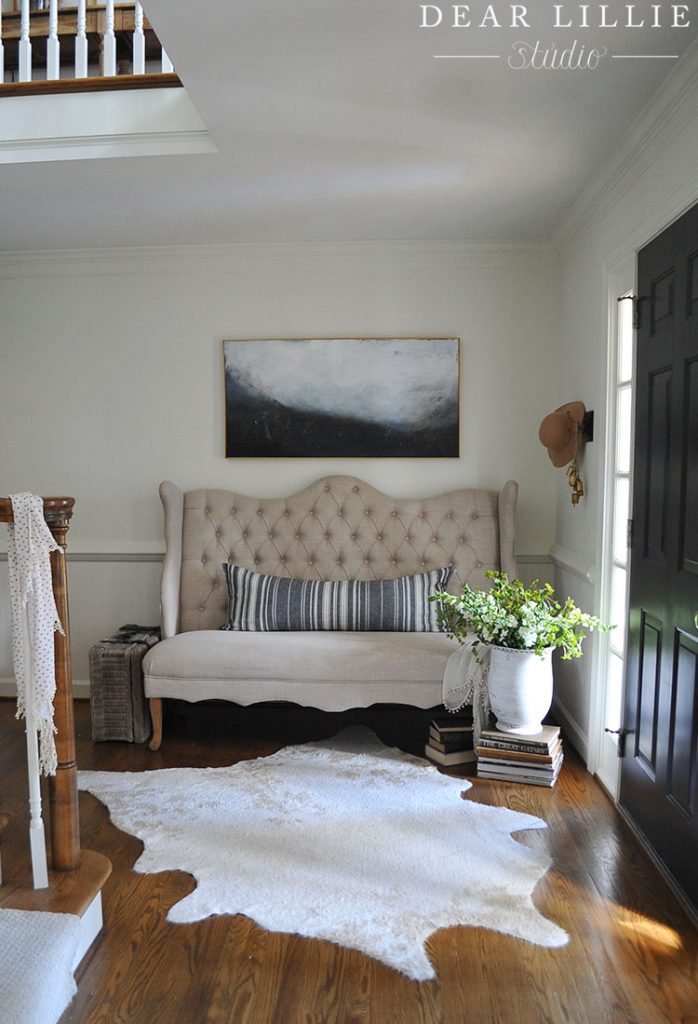 Along with the wreath, another thing we did was add some blue over to this wall to go better with our entryway chest. When we got this bench I initially used a black and white architectural print and some black pillows and throws and I loved how it looked together but didn't love it with the chest so decided to move the print back up to the playroom and I stole the canvas that I had put there and decided to give it a little makeover. It had been an inexpensive canvas that I had purchased years ago and never loved so I figured it couldn't hurt to try to paint over it. I didn't really have a plan and just painted a bunch of layers using three colors – navy, white and black, and then "flicked" some gold paint on top when I was done. After that I framed it out with some inexpensive wood that I painted in the same metallic gold. I may eventually switch it out for something I like better but at least now the space feels more cohesive to me. I also added this lumbar pillow that I got at HomeGoods a year or two ago (it was on our bed at one point, then on our porch, then window seat and now it's made it's way here – ha!)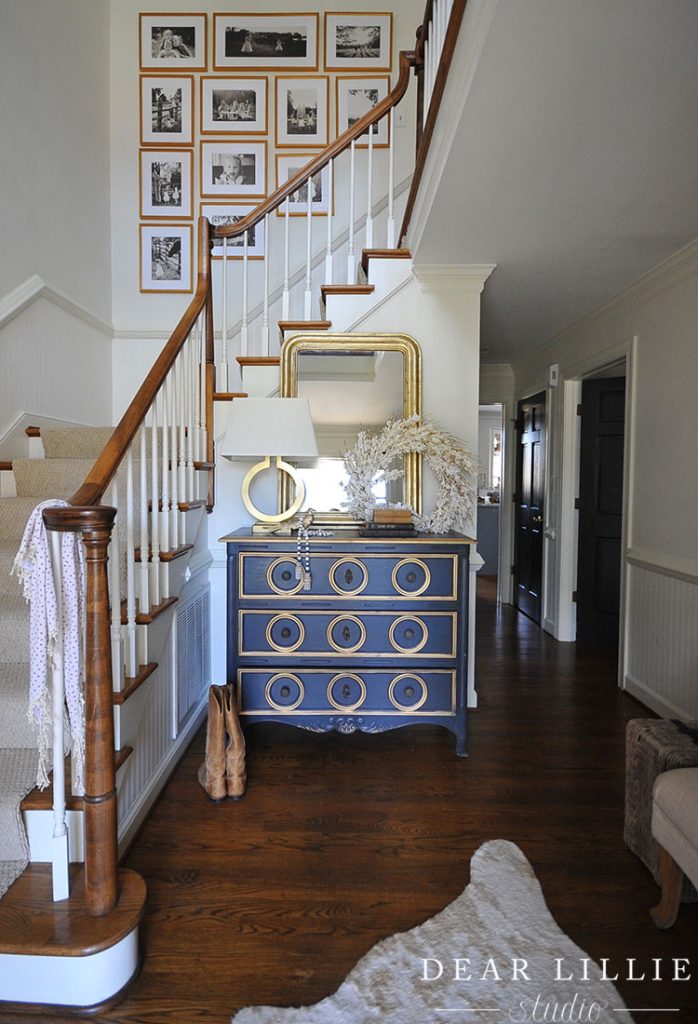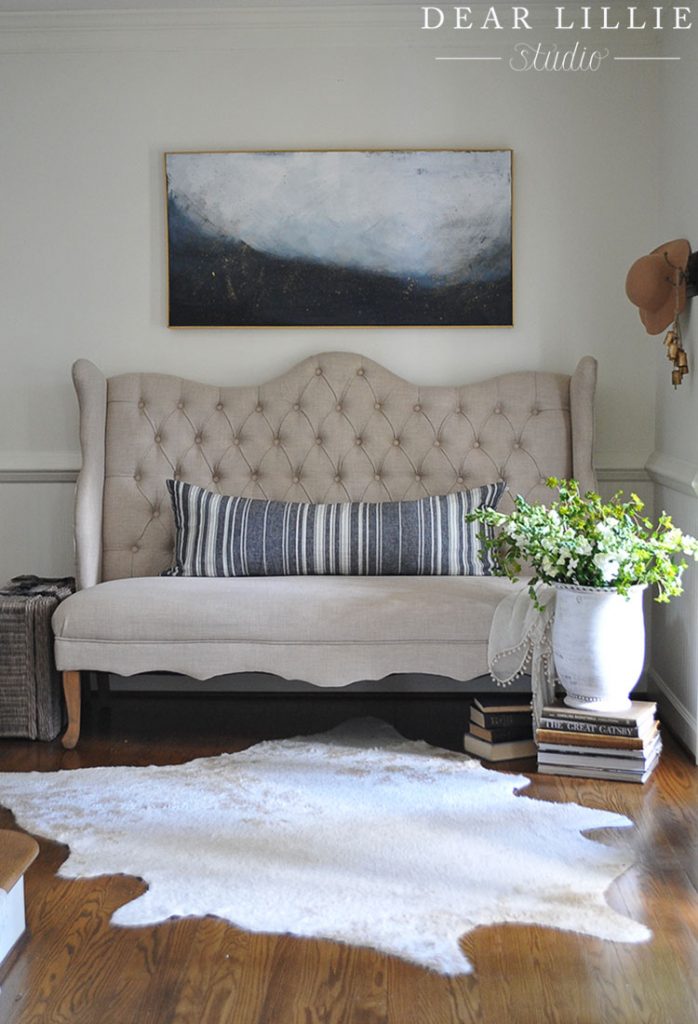 We get asked a lot about how practical a light colored rug is in an entryway. We use faux cowhides all throughout our home for two reasons – first, their unusual shape works well both in spaces that are tricky to find the right size rug, and as a layering piece. For instance here in our entryway because of the way the staircase comes down into the hallway we wouldn't have been able to put a very large rug if we stuck with a more traditional rectangular shape. This allowed us to go larger than just a small mat and makes a bit more of a statement. Second, they are the most easy to clean rugs I have EVER owned. We have at least five throughout our house right now, and several of those we have had for years! For the most part we just spot clean them as needed but we have a couple that we also have thrown right into the washing machine!  For instance Ruby has come running in on more than one occasion completely COVERED in mud and then laid down right on this rug – ha! Now, I should add a disclaimer that I have now idea if you are actually supposed to put on in the washing machine. I just know that we have and then hang them to dry and they are like new! If you wash it repeatedly the texture does change a tiny bit and they feel a bit "softer" but that's the only thing we've noticed. But honestly two of them I've never even had to put through the wash – they've only ever needed some spot cleaning. This one definitely gets the most traffic though and it really is so easy to just throw in the machine when it needs it! We got this one from World Market and then we also have some made by Loloi and have gotten them here as well.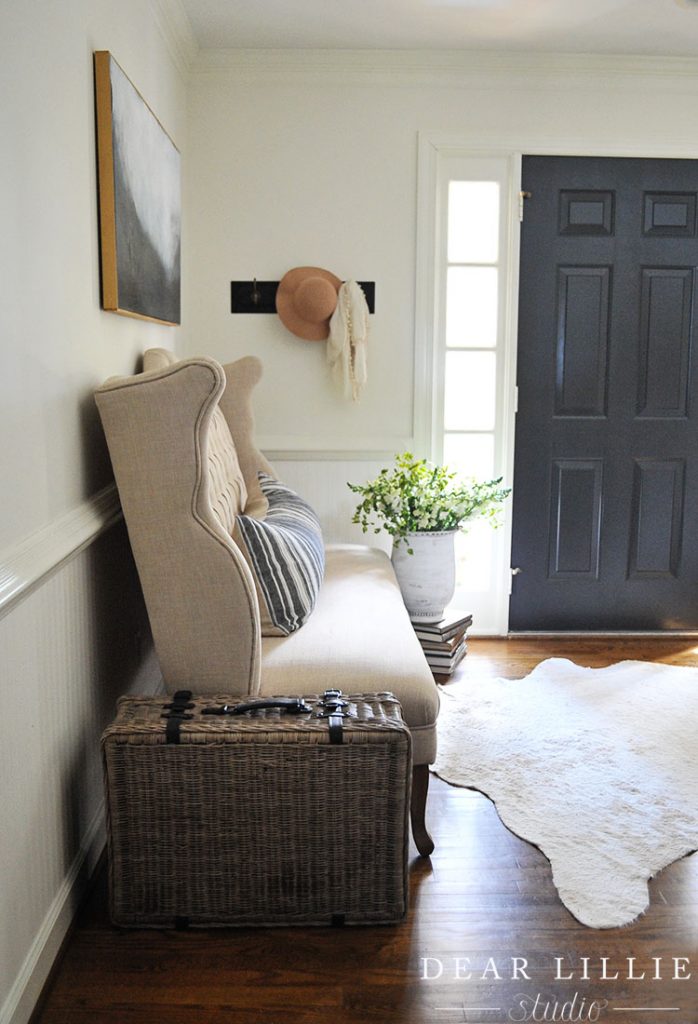 And here are some other angles: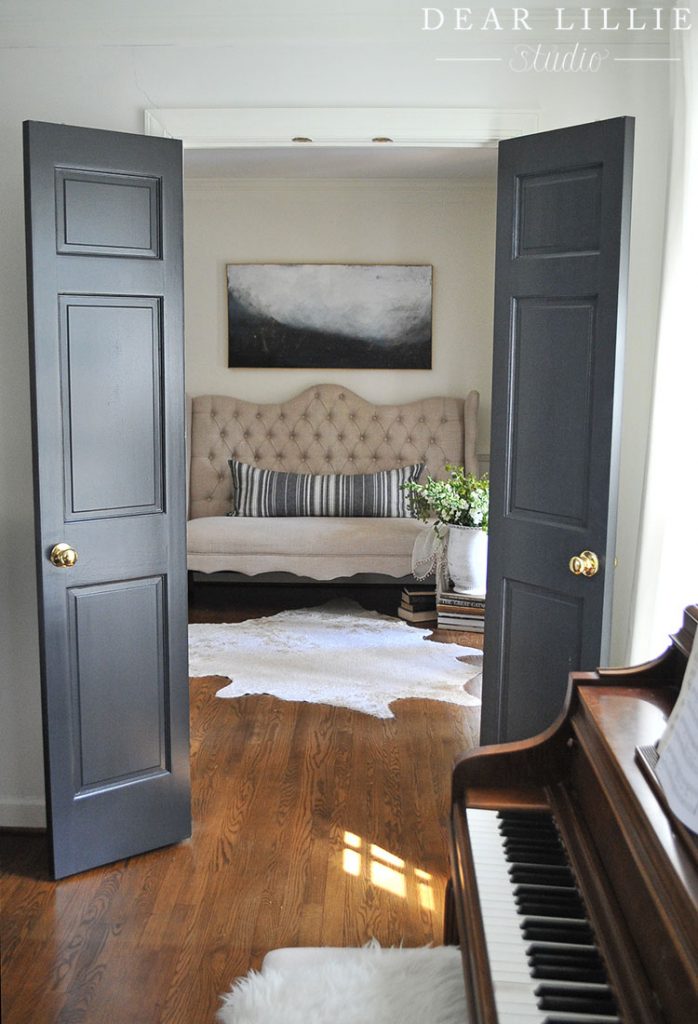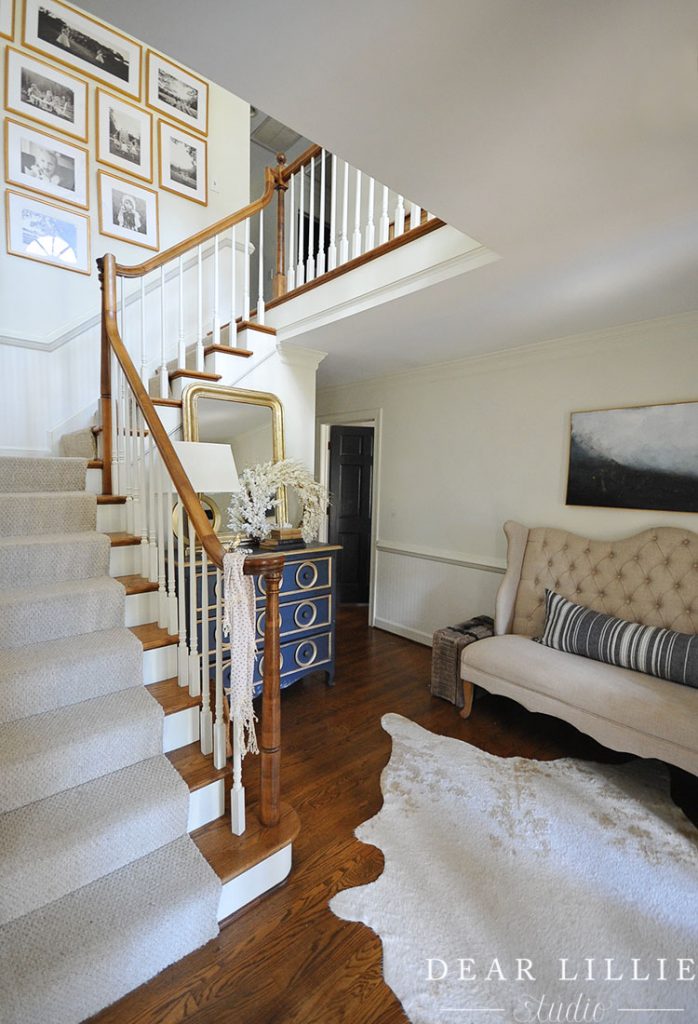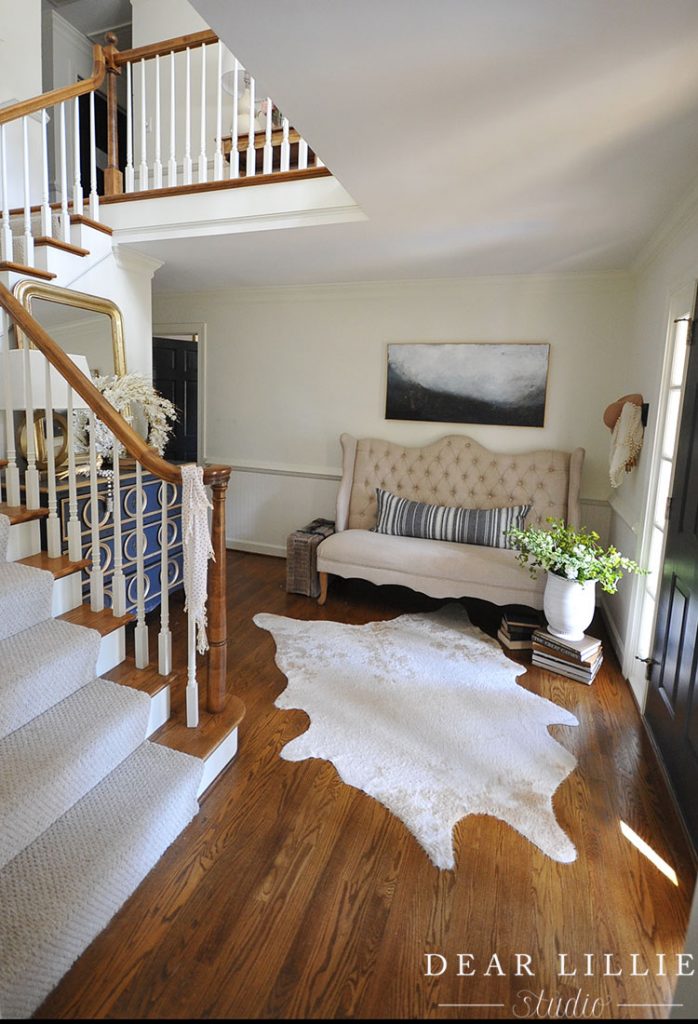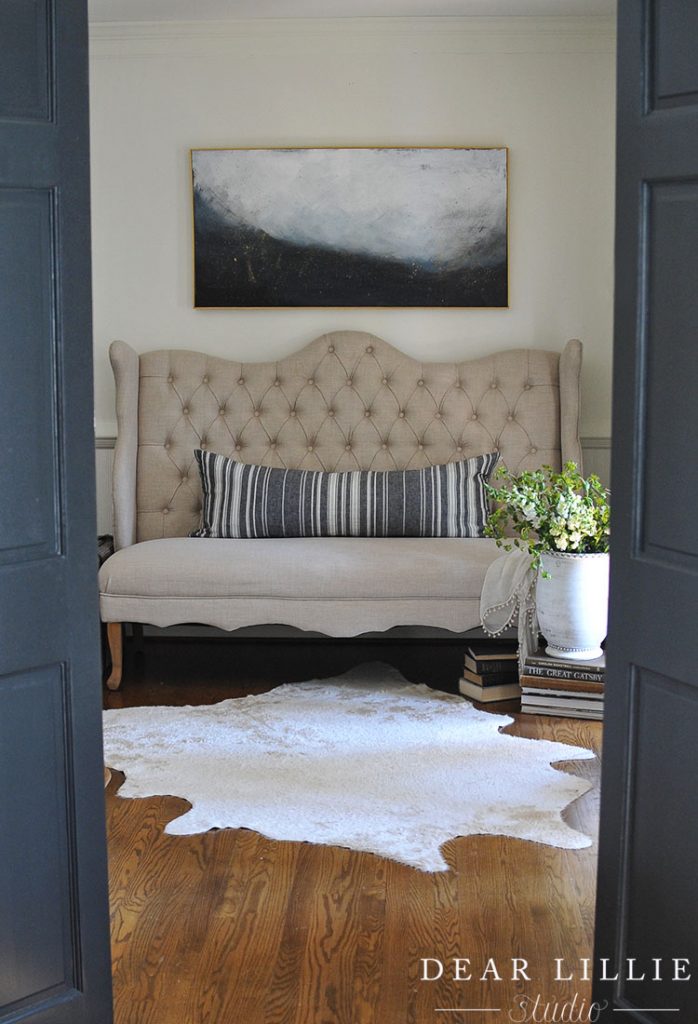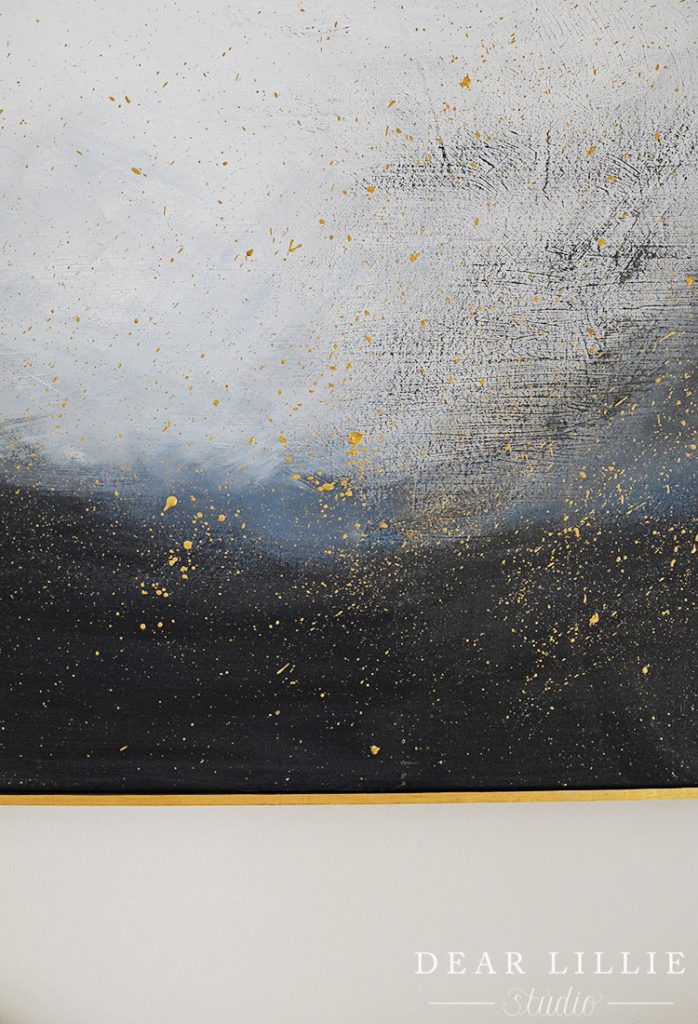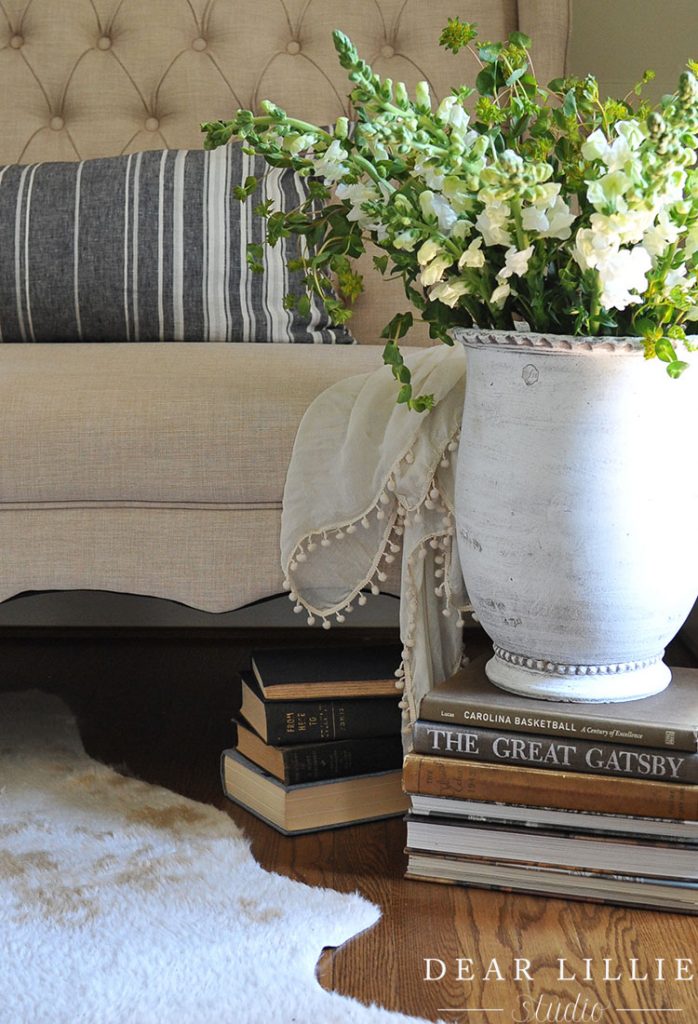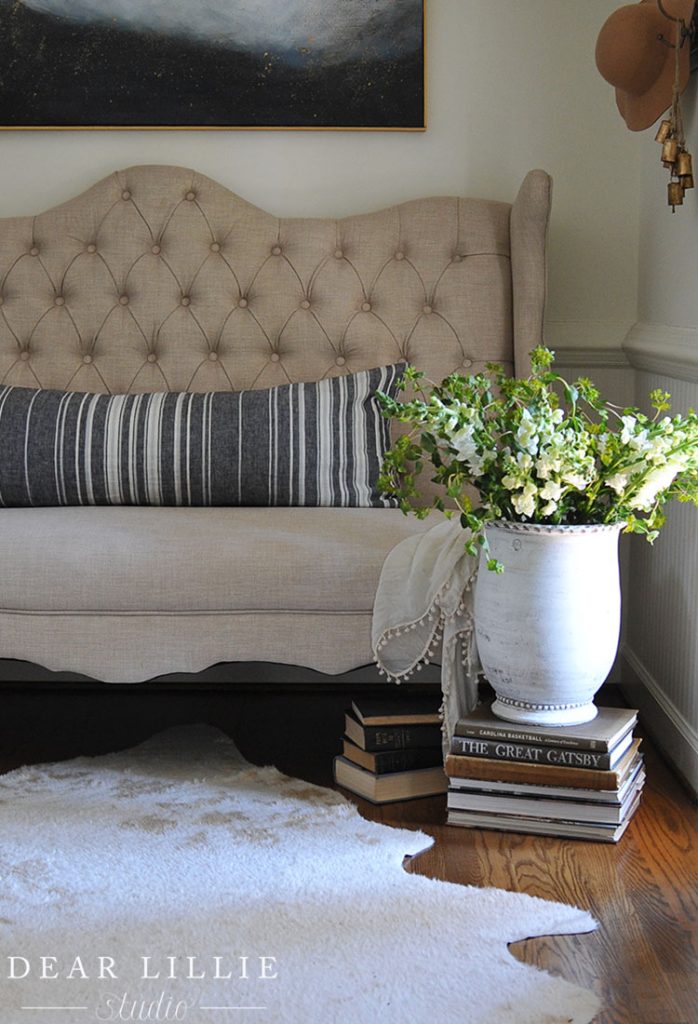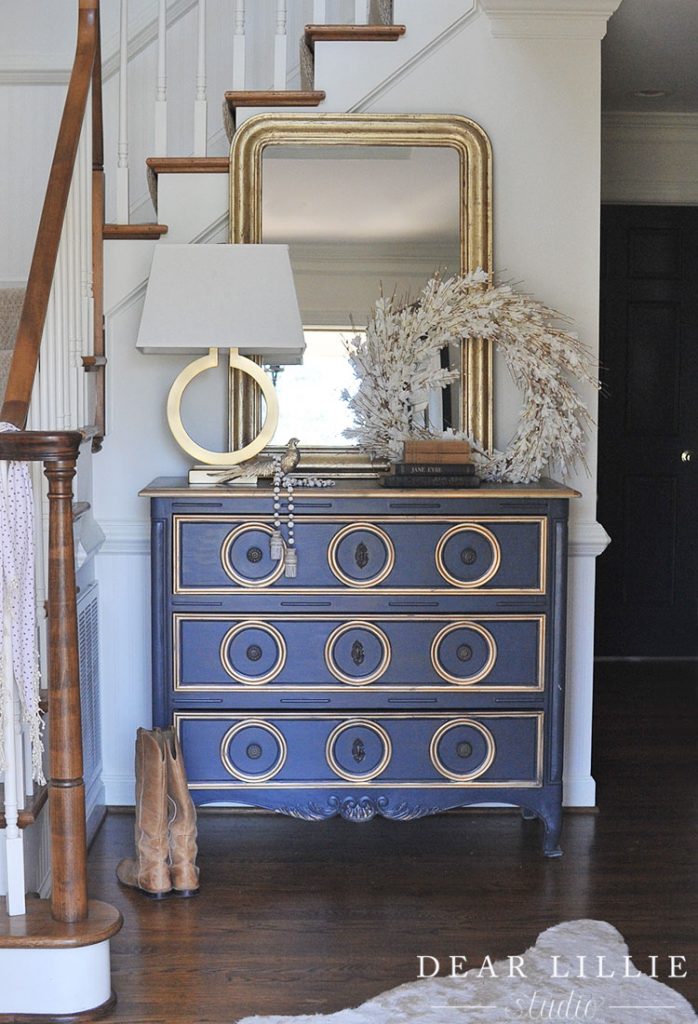 I also love the texture this beaded garland adds. We originally got it for Christmas but have kept it out ever since!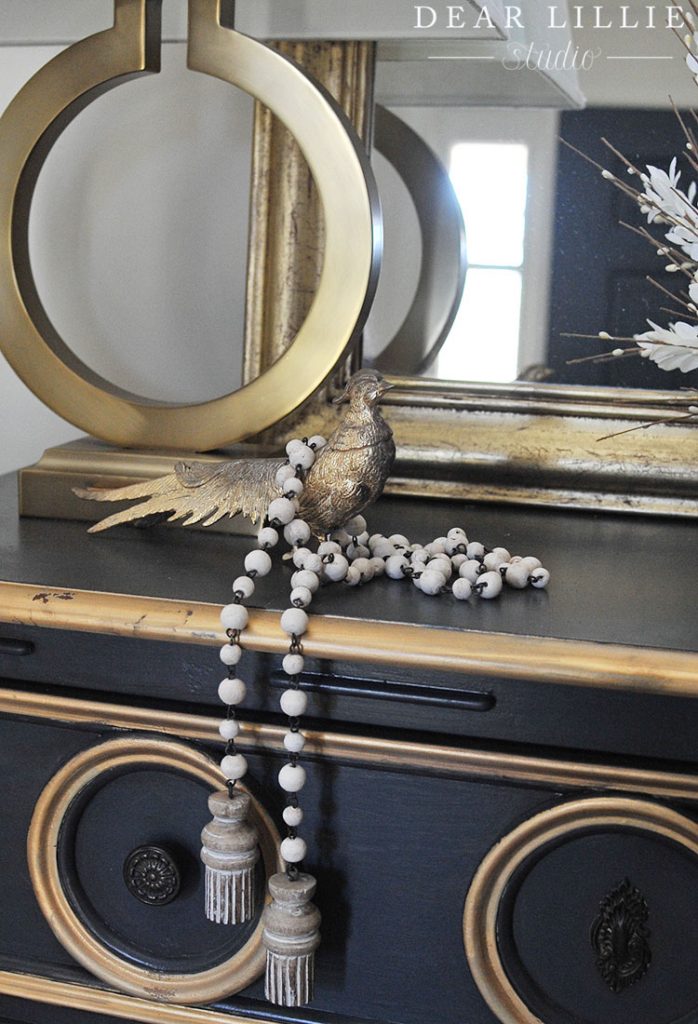 And vintage books are my favorite pieces to add to just about any space!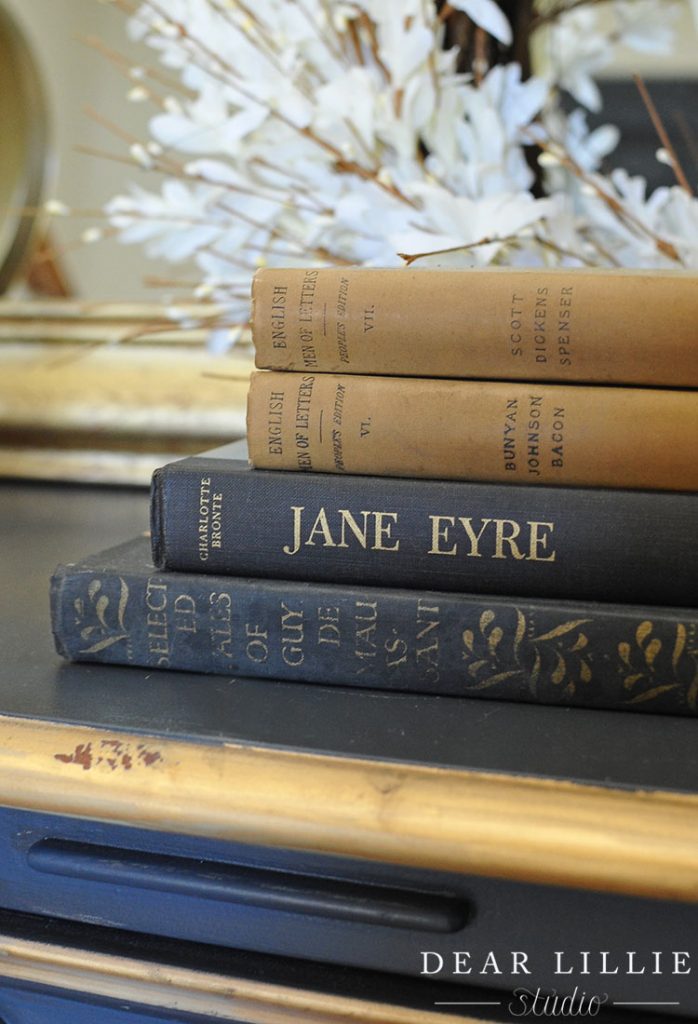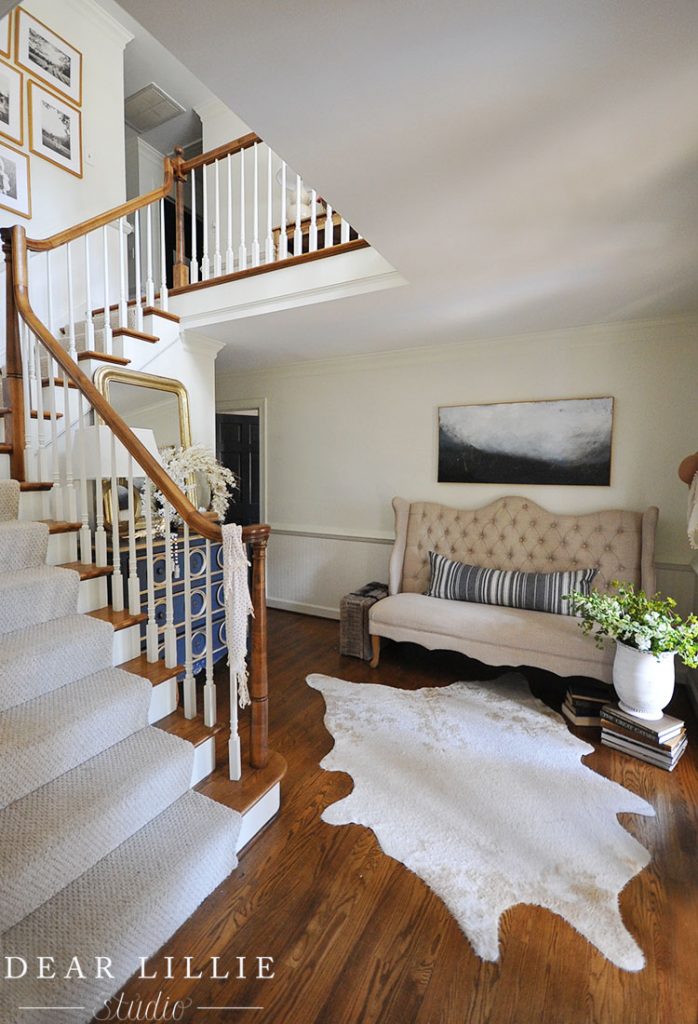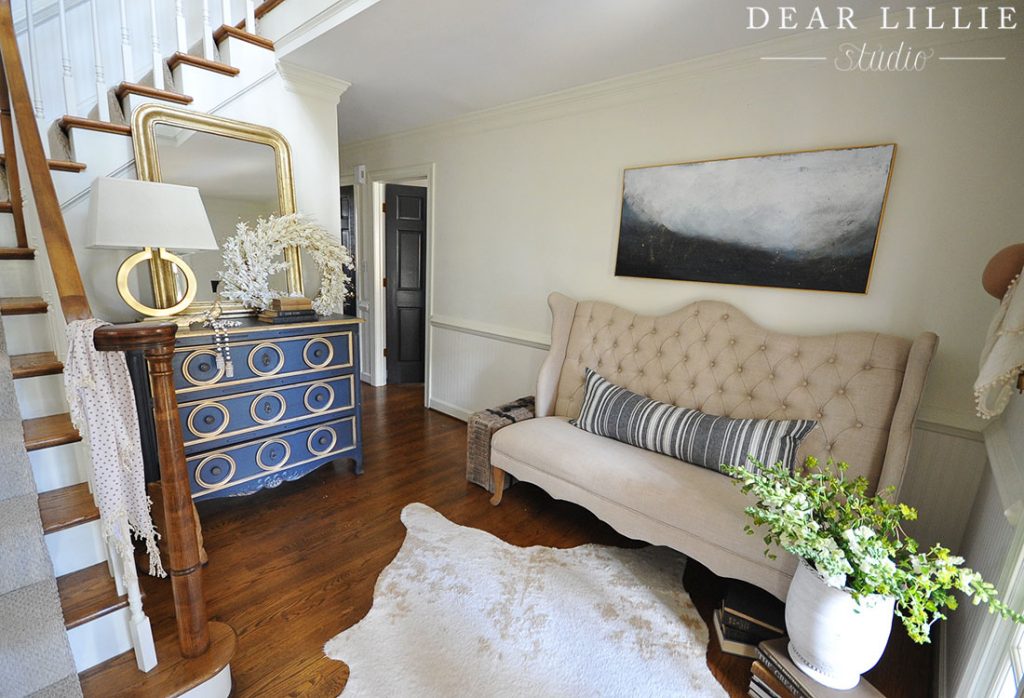 ENTRYWAY SOURCE LIST:
White Trim – Existing
Walls – White Dove in Eggshell by Benjamin Moore
Doors – Mopboard Black in Semi-gloss by Benjamin Moore
Stair Runner – Existing (Some form of Berber)
Beadboard Wallpaper Below Chair Rail – Can be found here
Frames – Framebridge (you can click here for a post about them)
Gold Ring Chest – Soft Surroundings  several years ago (painted Wrought Iron by BM)
Wreath – Balsam Hill
Mirror – Soft Surroundings
Tufted Wingback Bench – Birch Lane 
Artwork above Bench – I painted it over an old canvas and then framed it out with some inexpensive wood and painted that gold
Faux Cowhide Rug – World Market
Lumbar Pillow – HomeGoods
Planter on Books Filled with Flowers – Wayfair
Rattan Suitcase – Birch Lane 
Lamp – HomeGoods (similar one found here) 
Books – Vintage – similar ones can be found here, here and here
Wood Beaded Garland – Soft Surroundings
Gold Pheasant – Antique from family
Boots – Frye
Hooks – HomeGoods
Hat – Joyfolie several year ago
Scarf – Joyfolie
That's it for today! I hope you all have a great week!
Warmly, Jenni