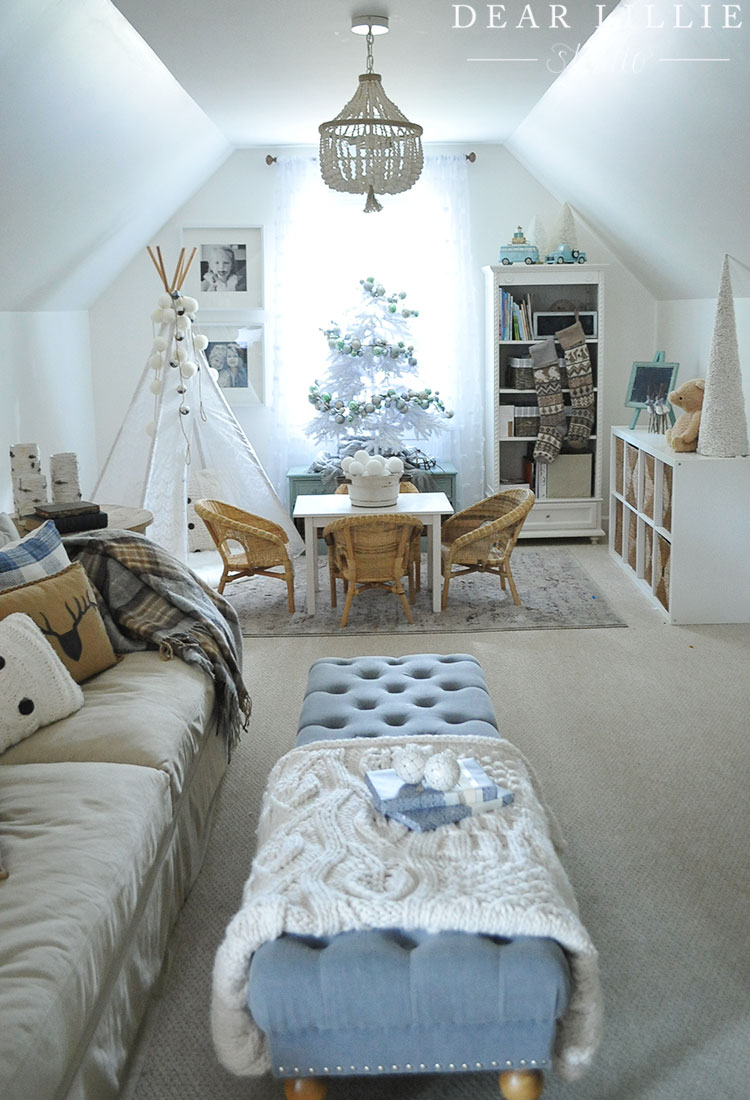 Today we wanted to share with you some pictures of our bonus room with some holiday touches! We've only shared one side of this space before because it's still quite a work in progress. It's an oddly shaped room above our garage and although it is one of our favorite spaces to all hang out we haven't really finished it and it's a little tricky to photograph because of the angles but we decided to go ahead and take some pictures. On one side we have the sofa and TV as well as some of the things we kept from the girls playroom at our last house. And on the other side we have a table that functions both as a game table, project table and when we have people over another overflow eating space! We also have a large desk area that we do arts and crafts and other projects at.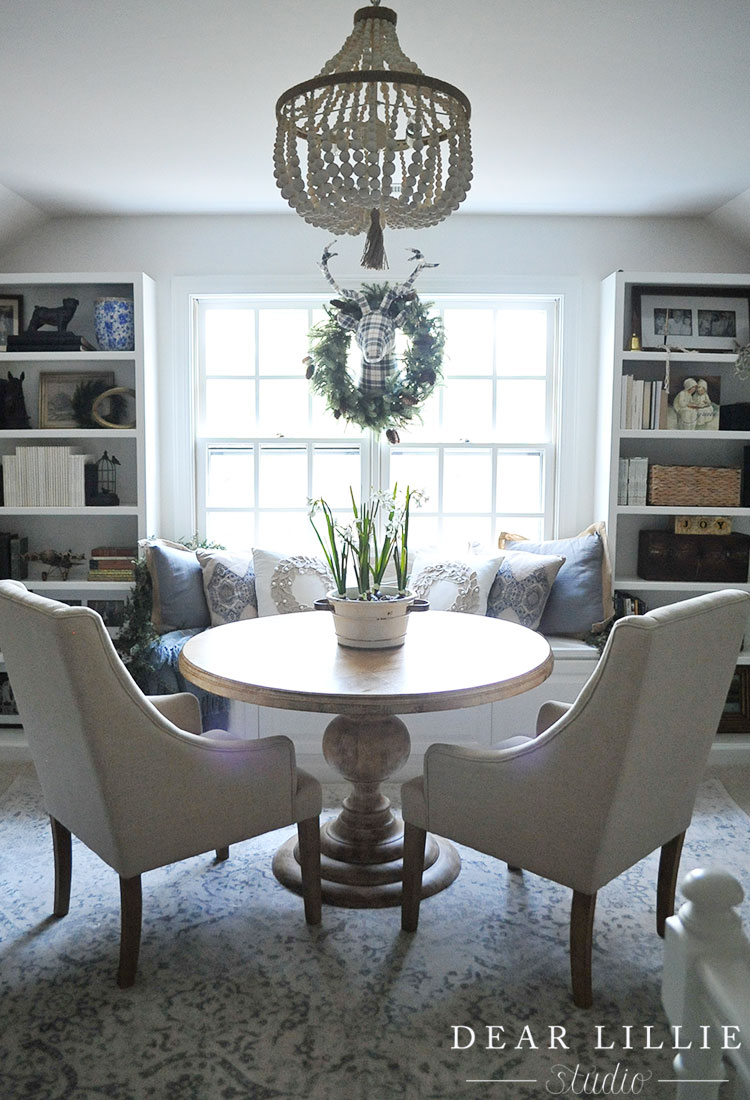 We originally had our dark brown pillows and accessories in here which I really loved but I ended up moving those to our living room downstairs late this summer and once I did that I moved a lot of our blue things up here to kind of help tie the playroom side of the space to the table and desk side. Although I preferred the darker look with the browns up here I think right now this helps the two rooms flow together better and seem more cohesive.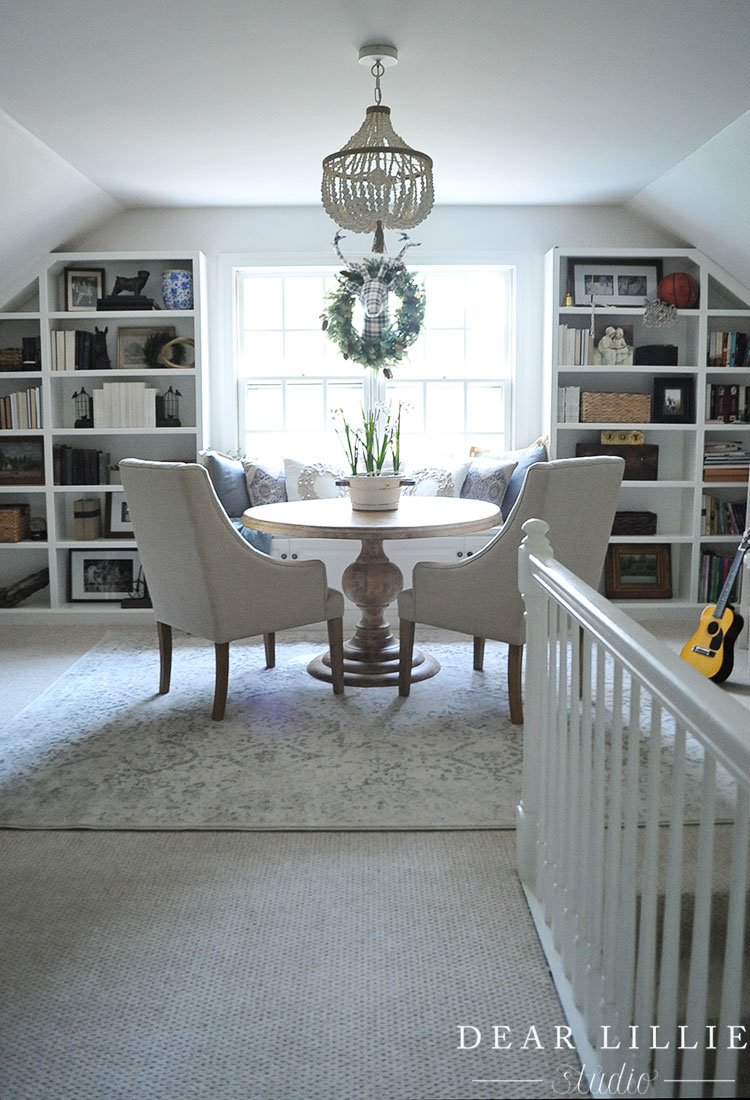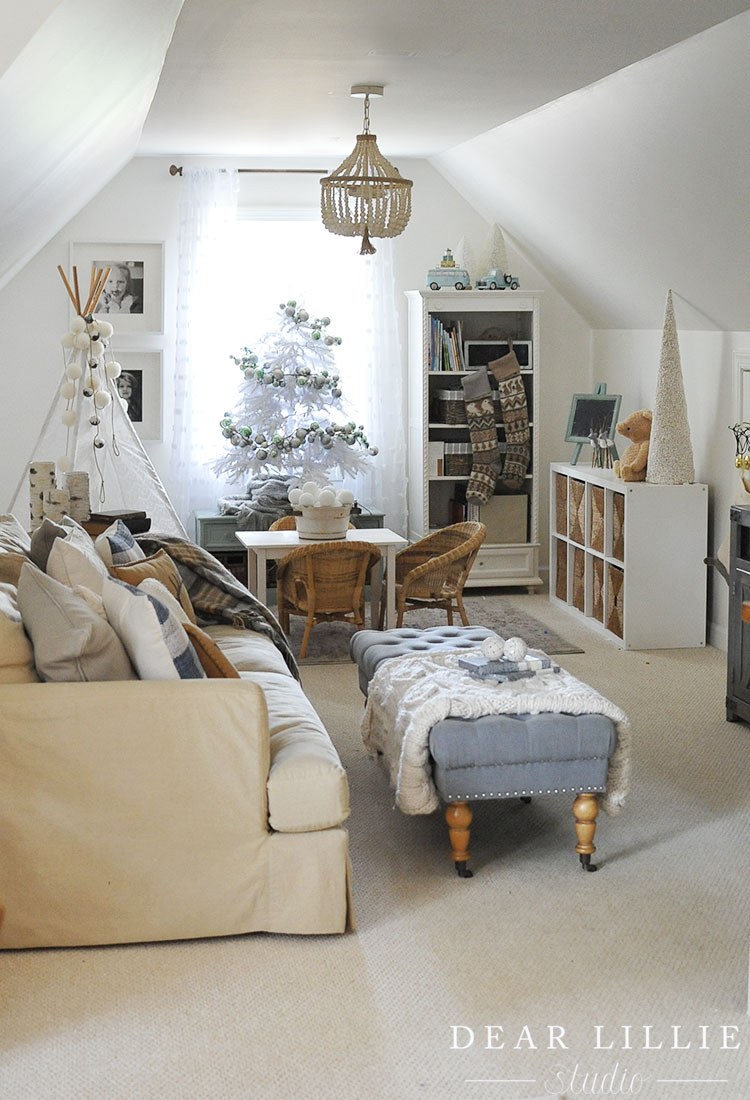 If you are looking for a good "big" Christmas idea I have to say this
chalkboard/whiteboard
has been one of the most used items we have EVER gotten the girls. It's huge and not only do our girls spend hours and hours on it, it is usually the thing that their friends and cousins gravitate towards as well. It is a MUCH loved piece.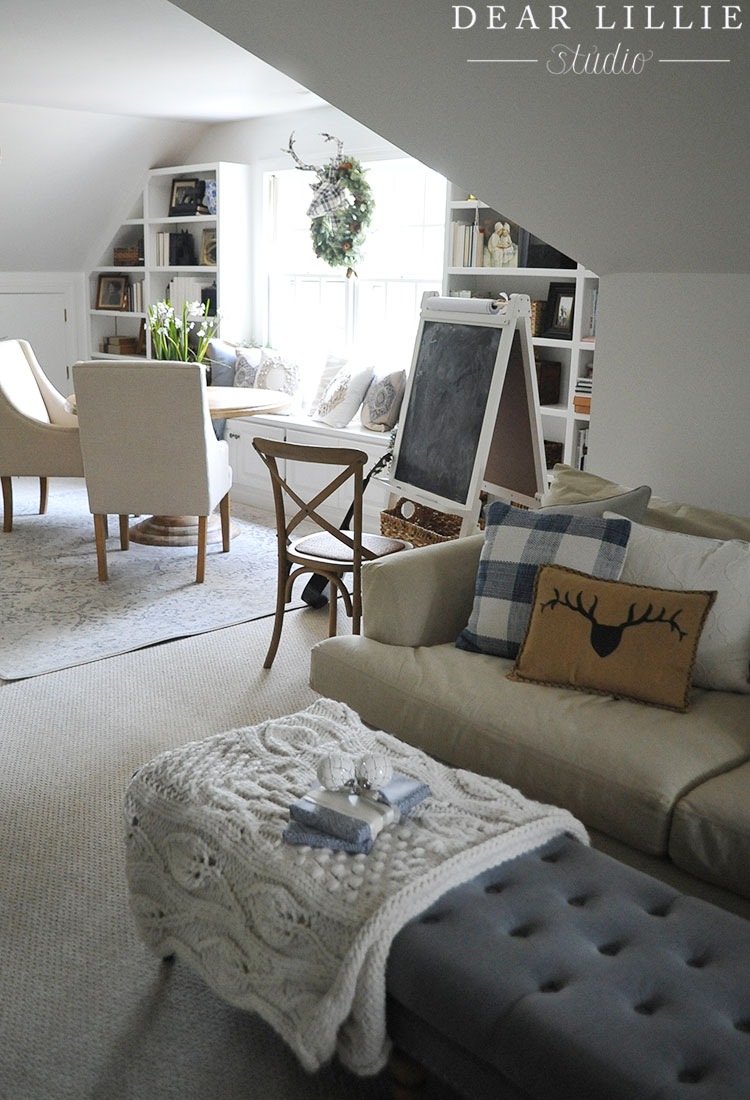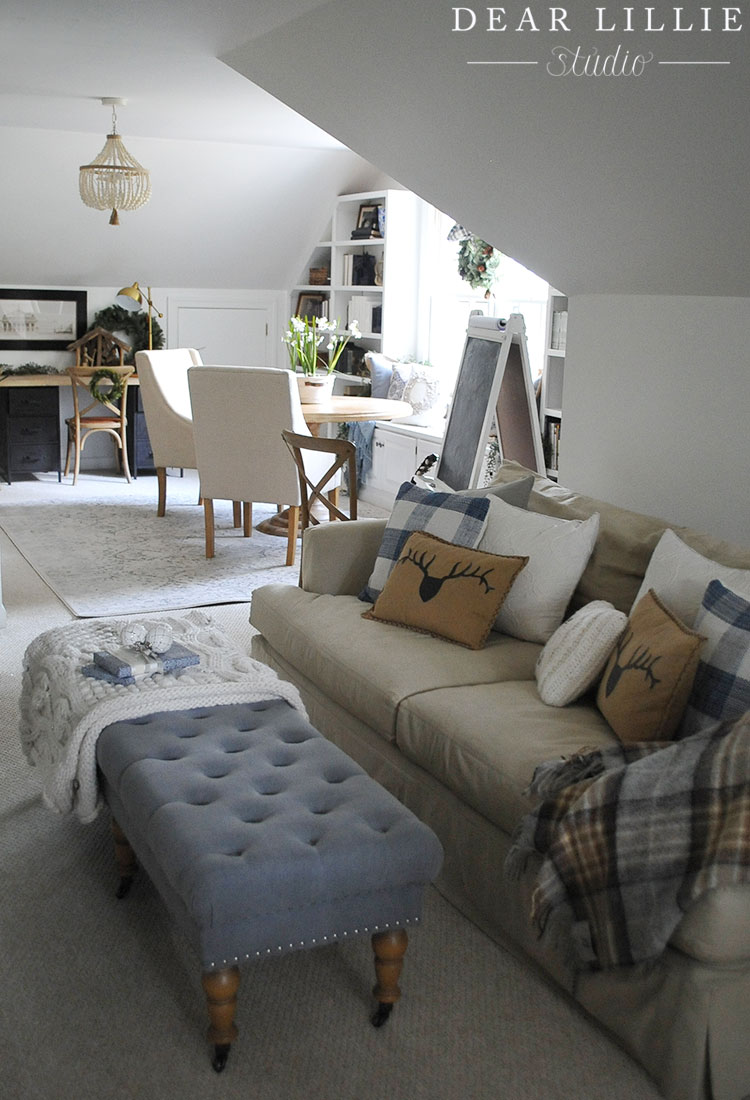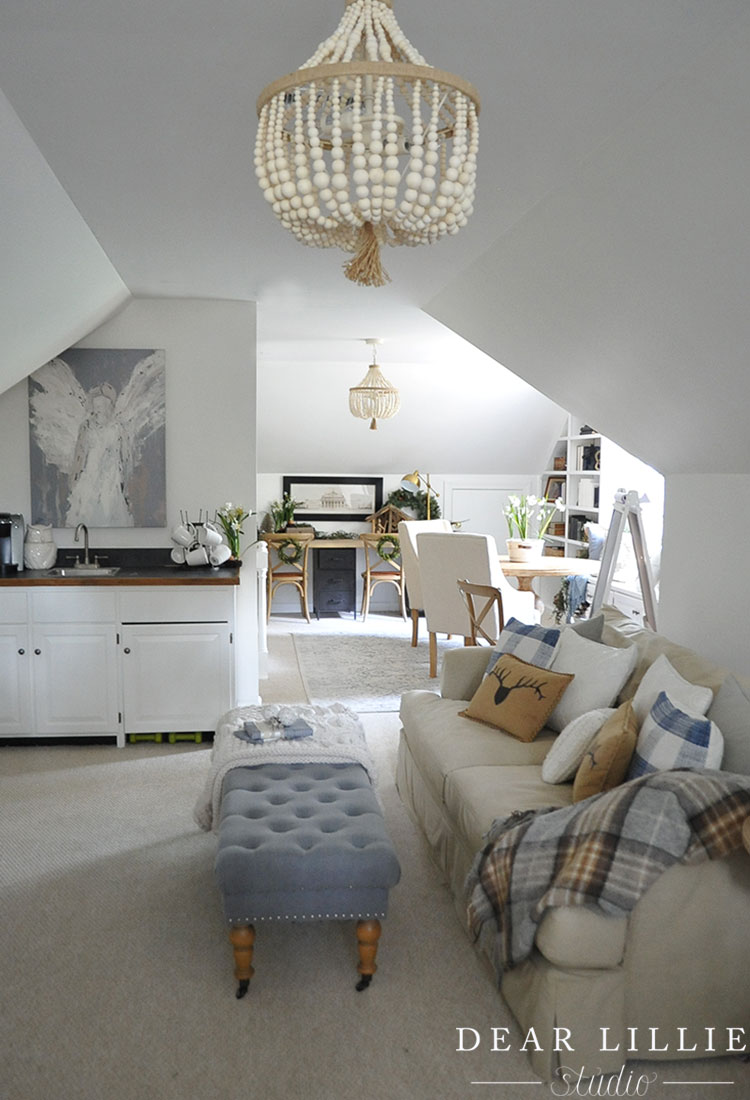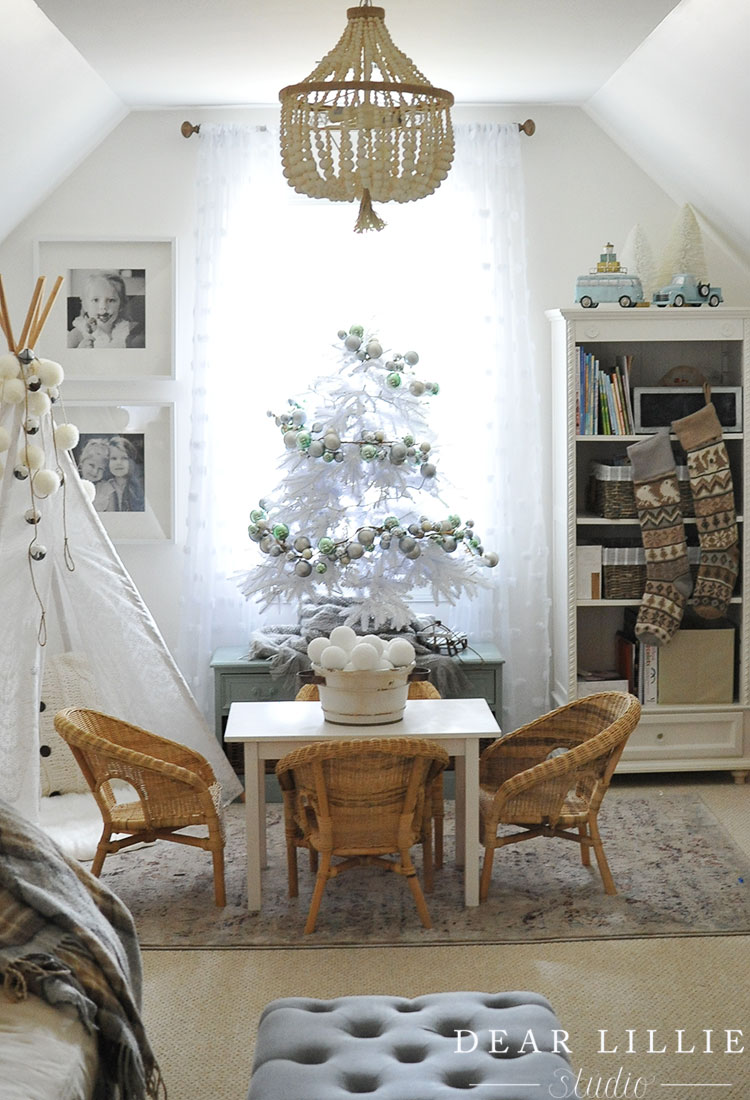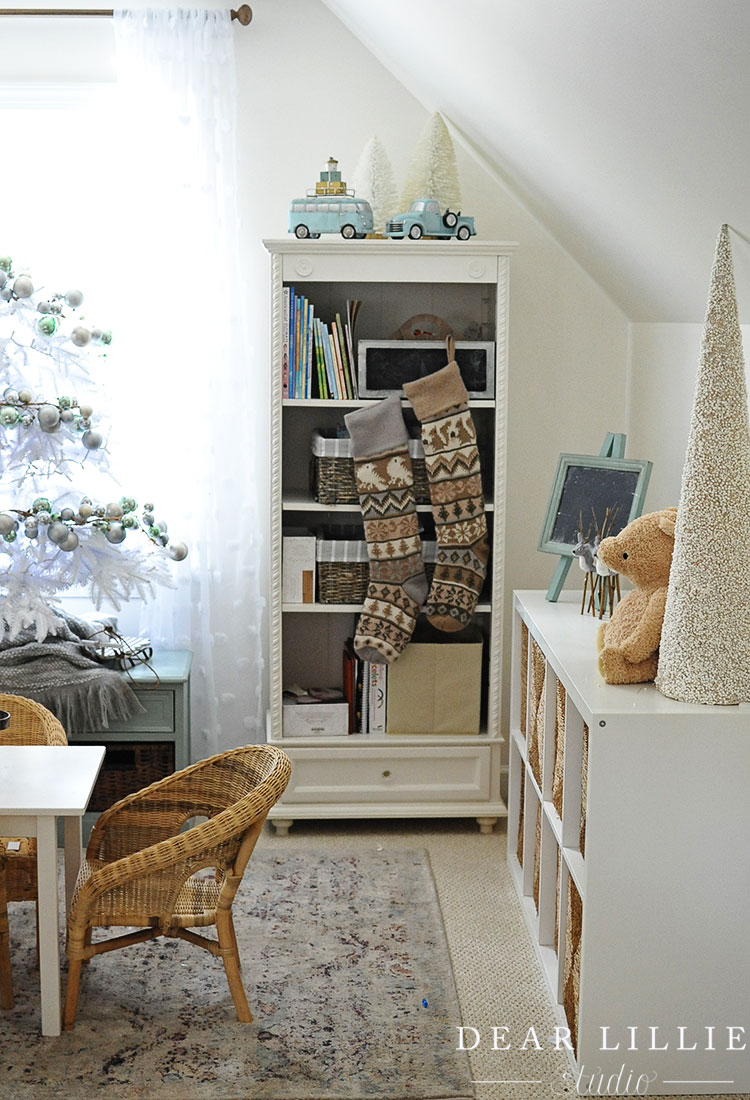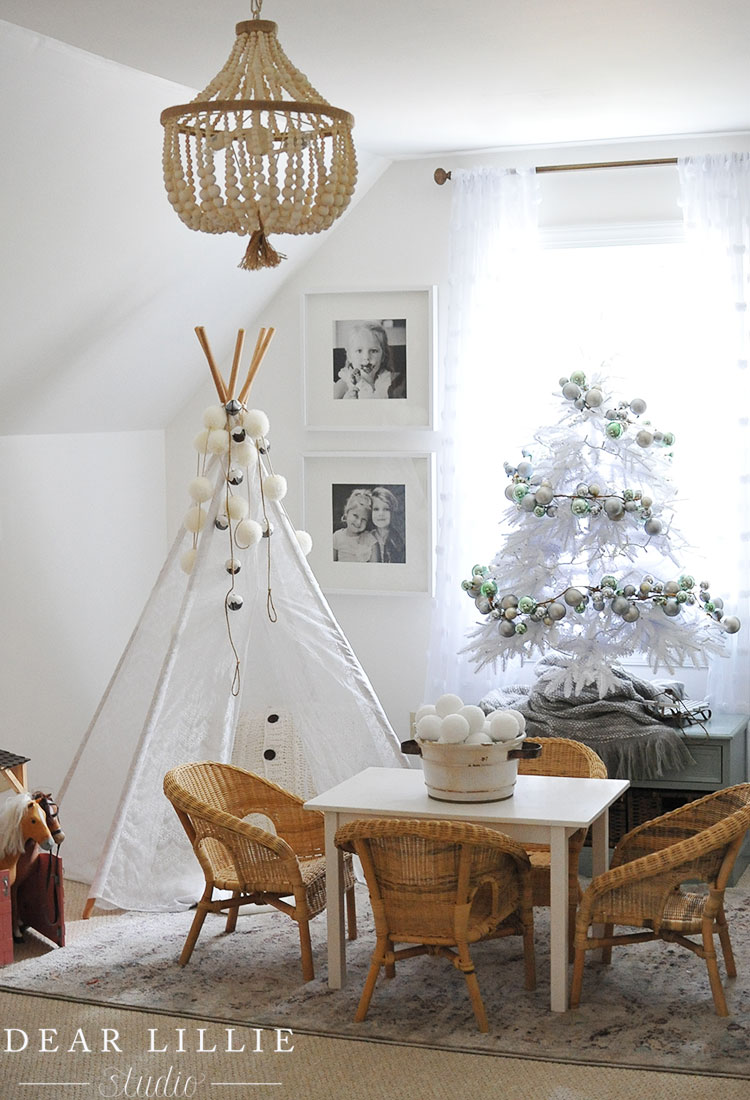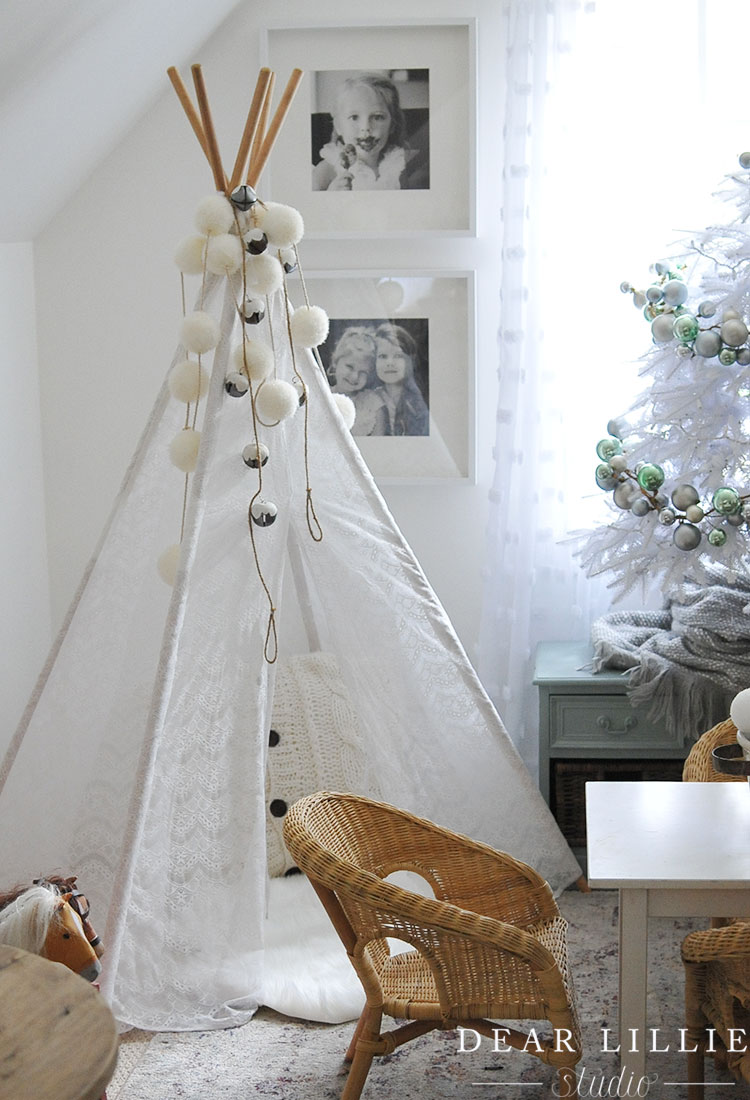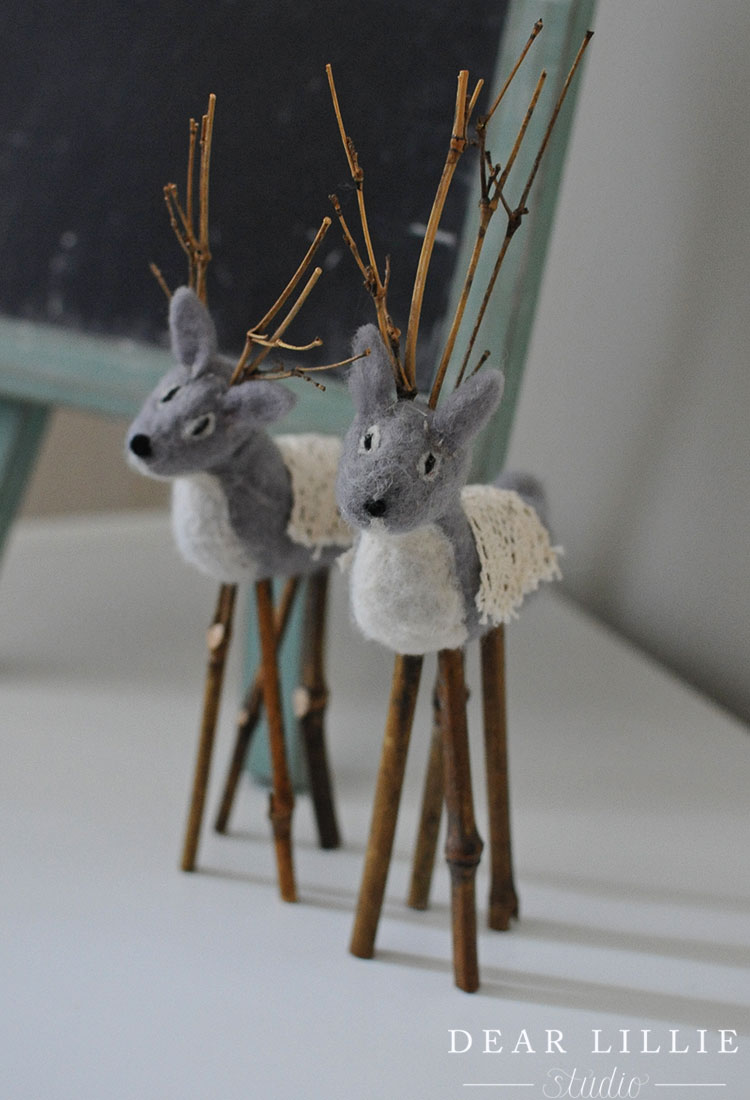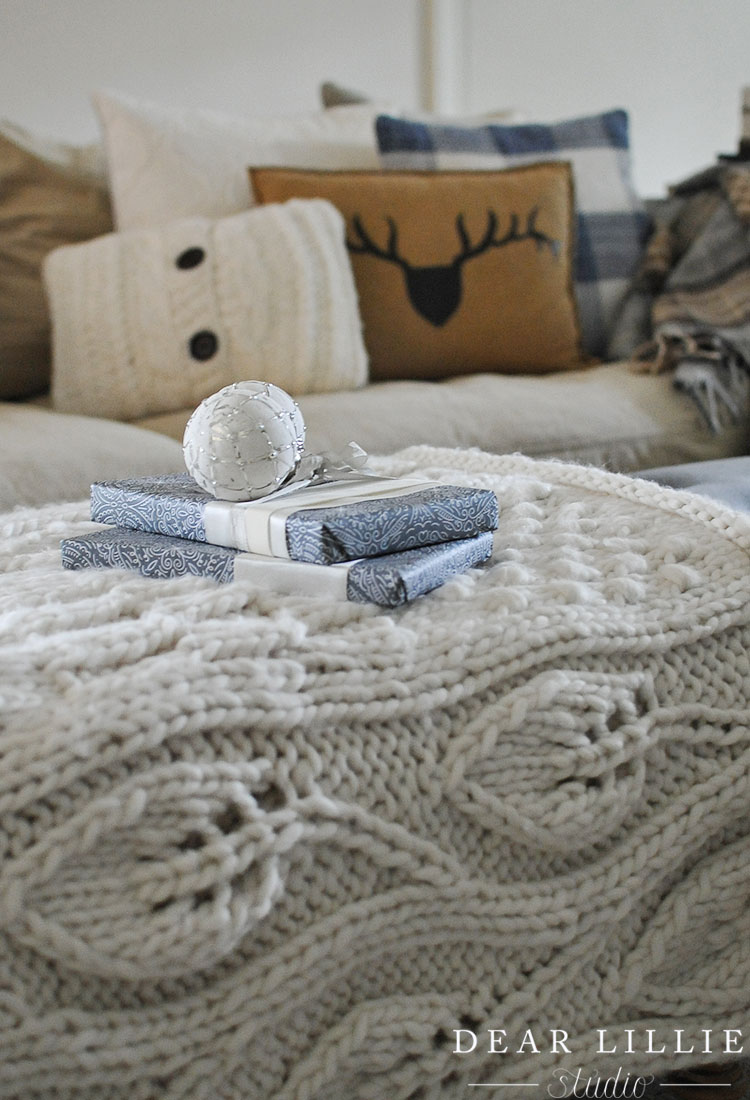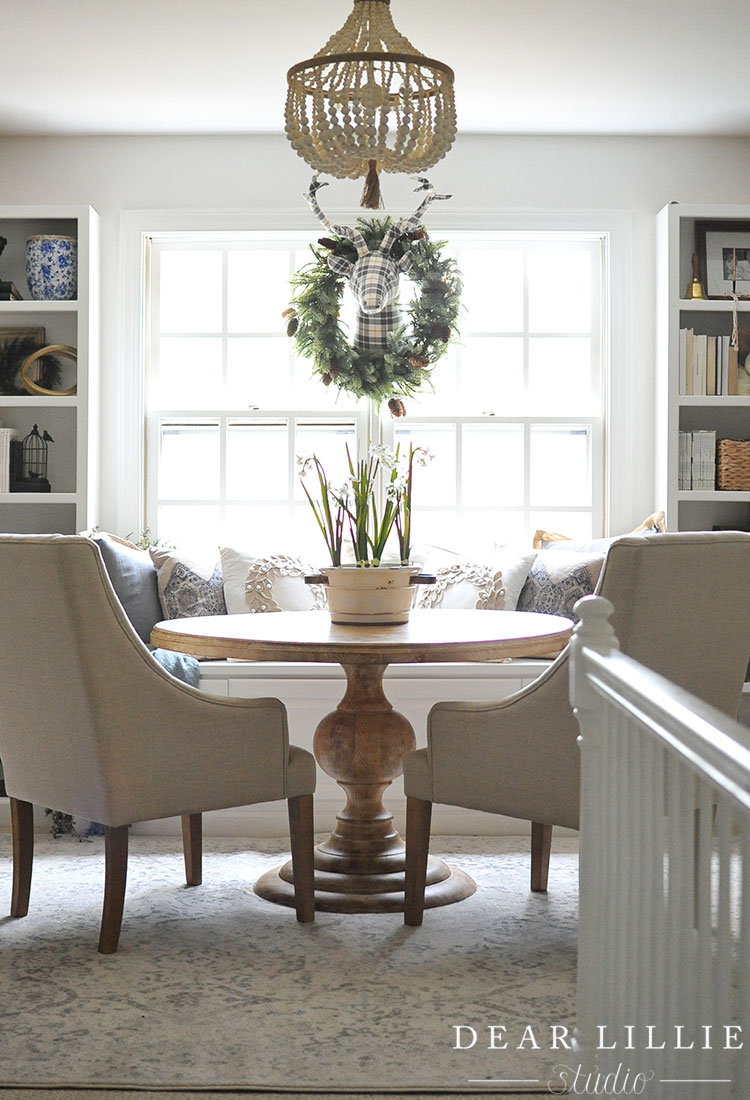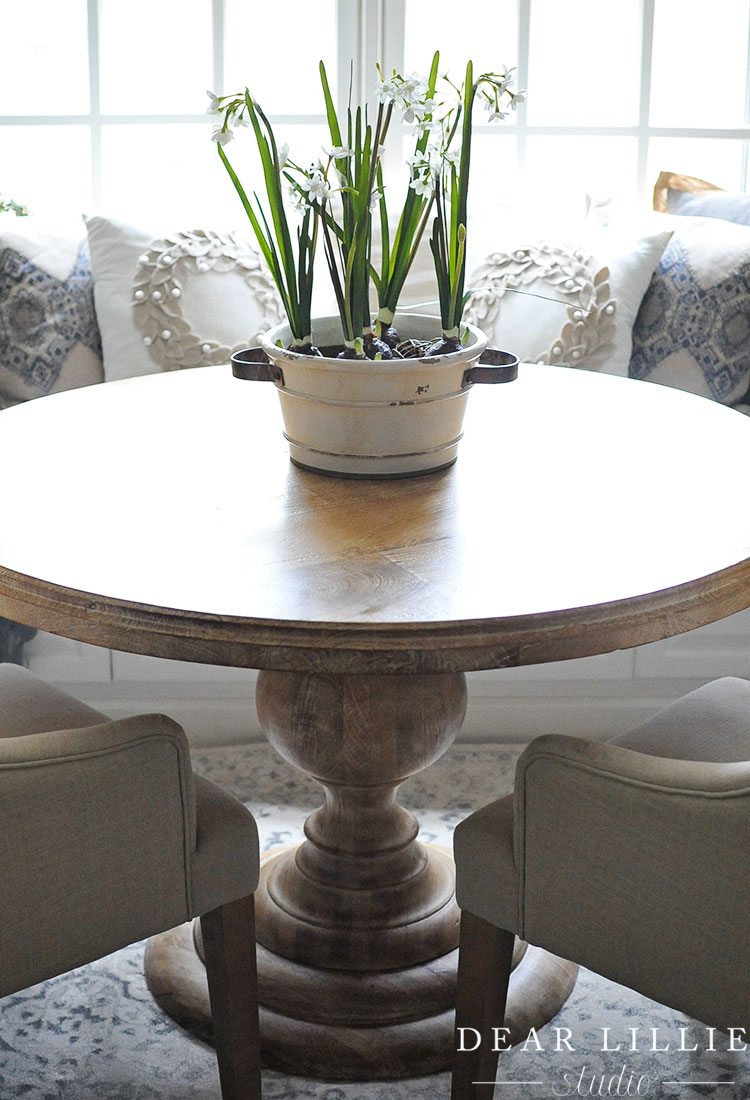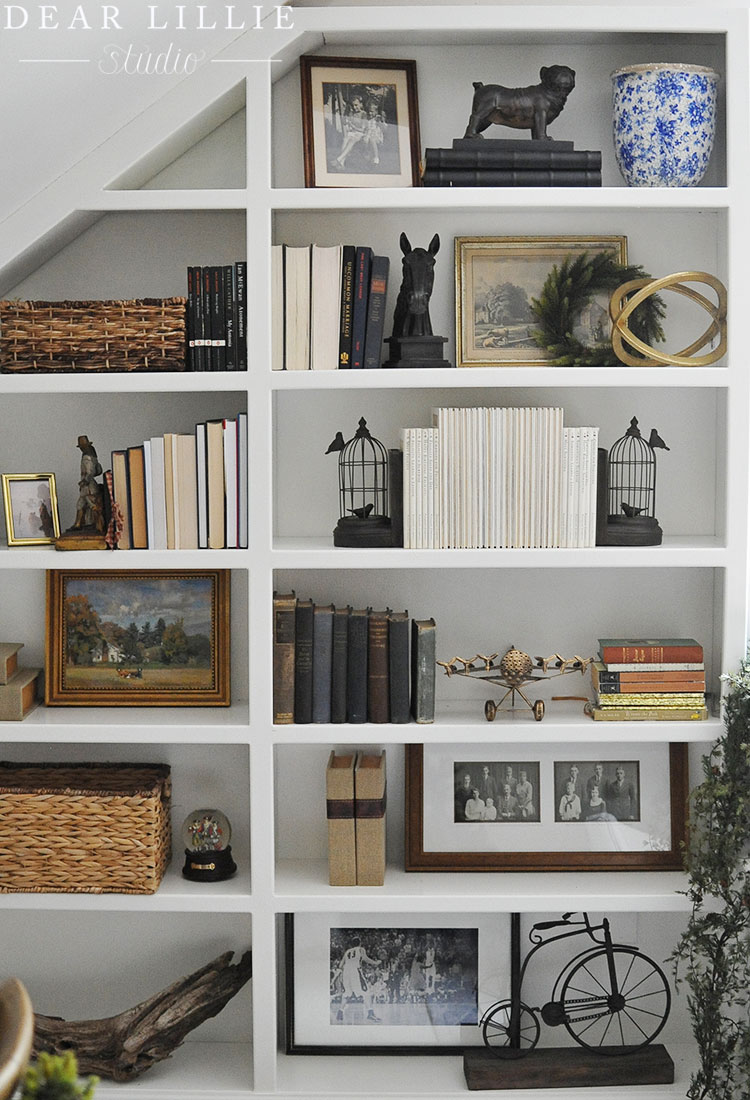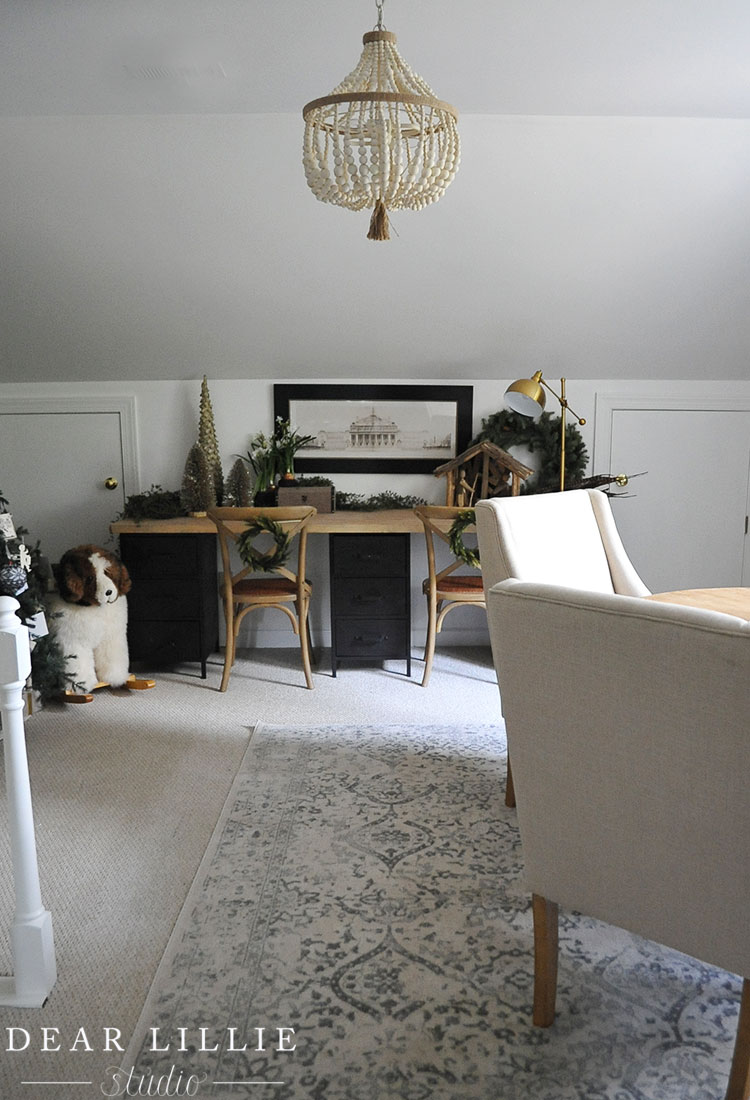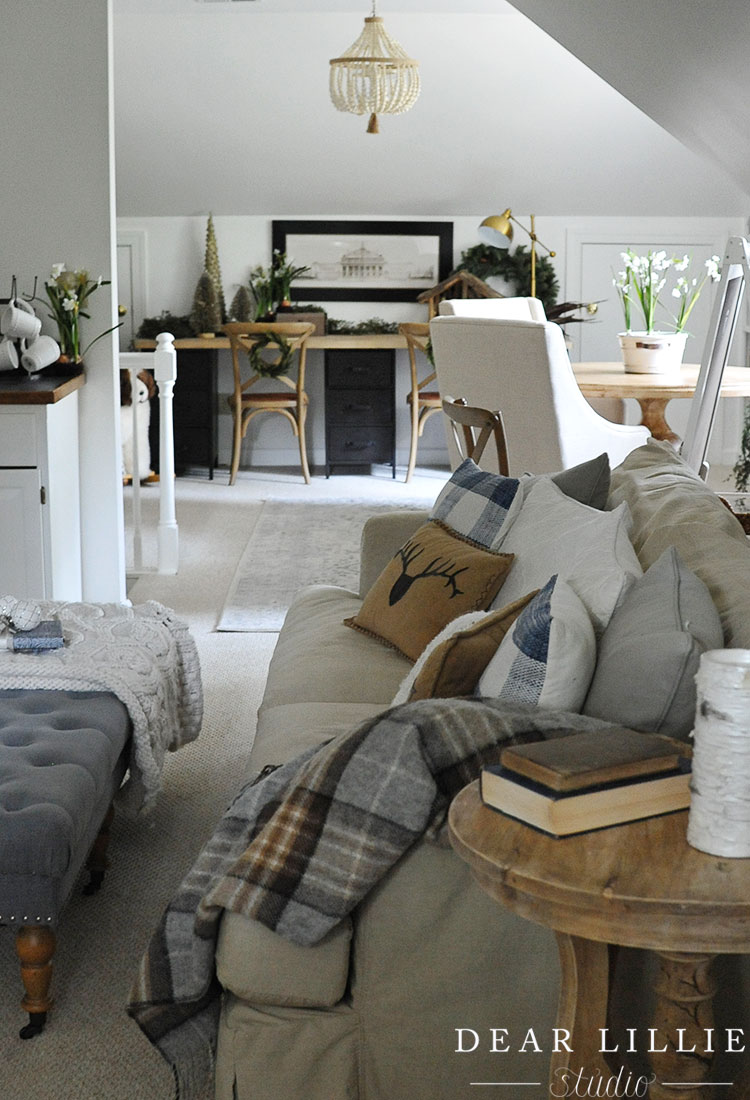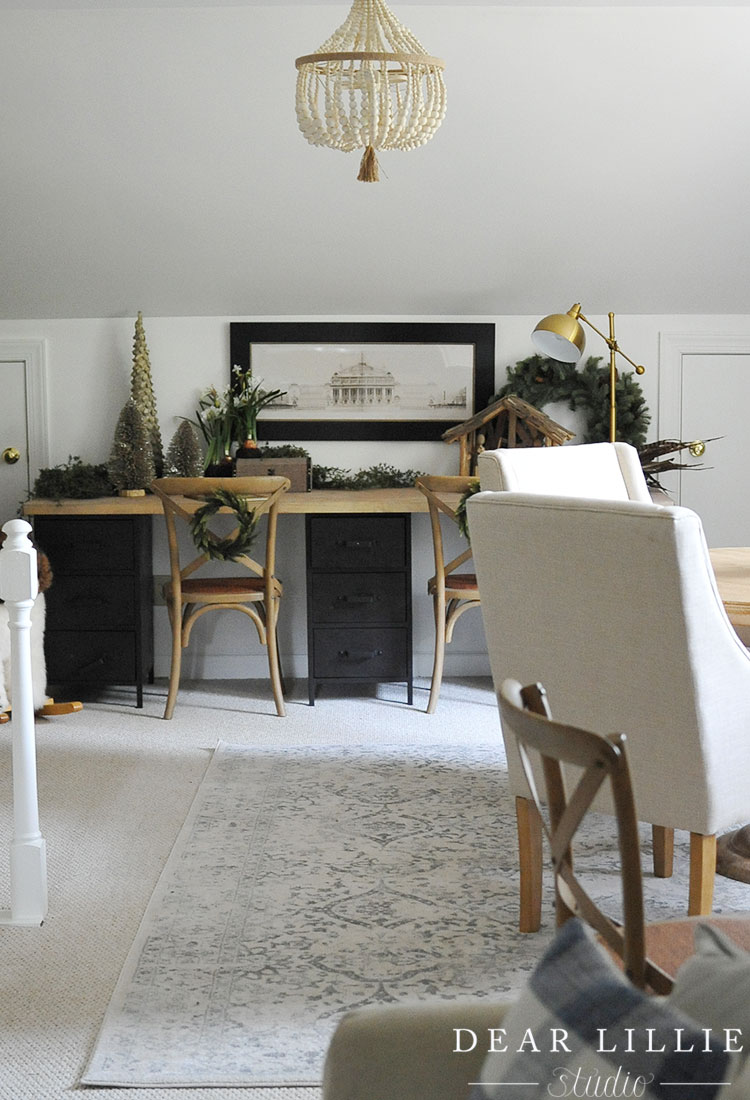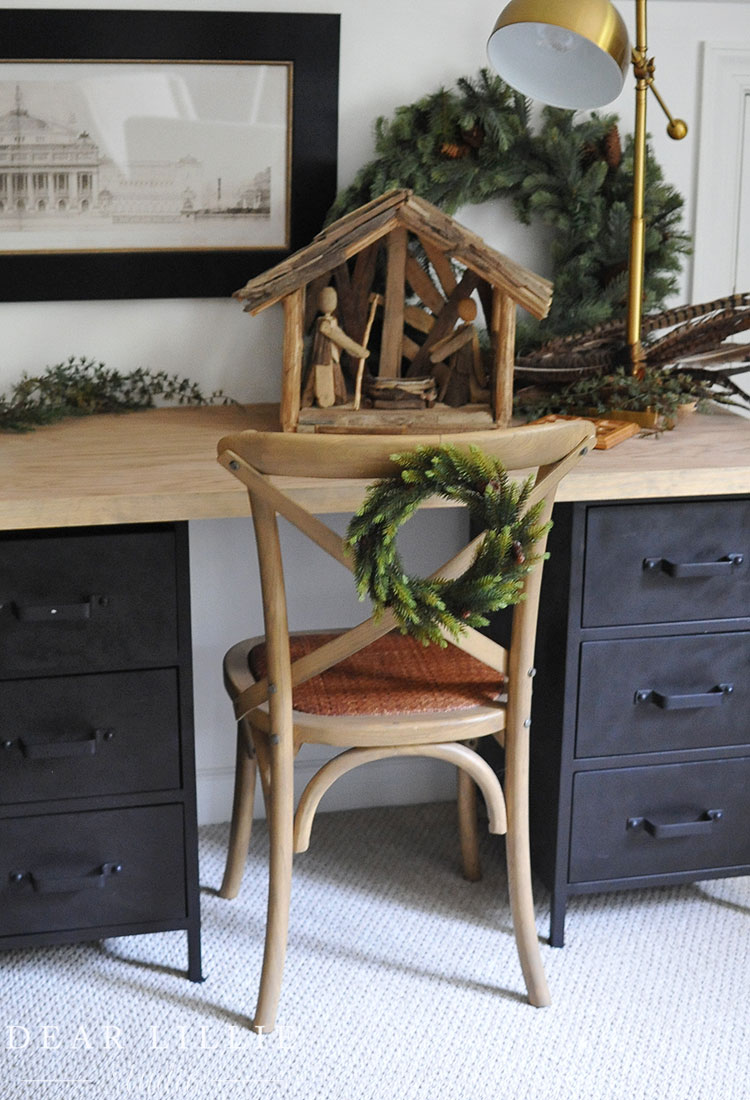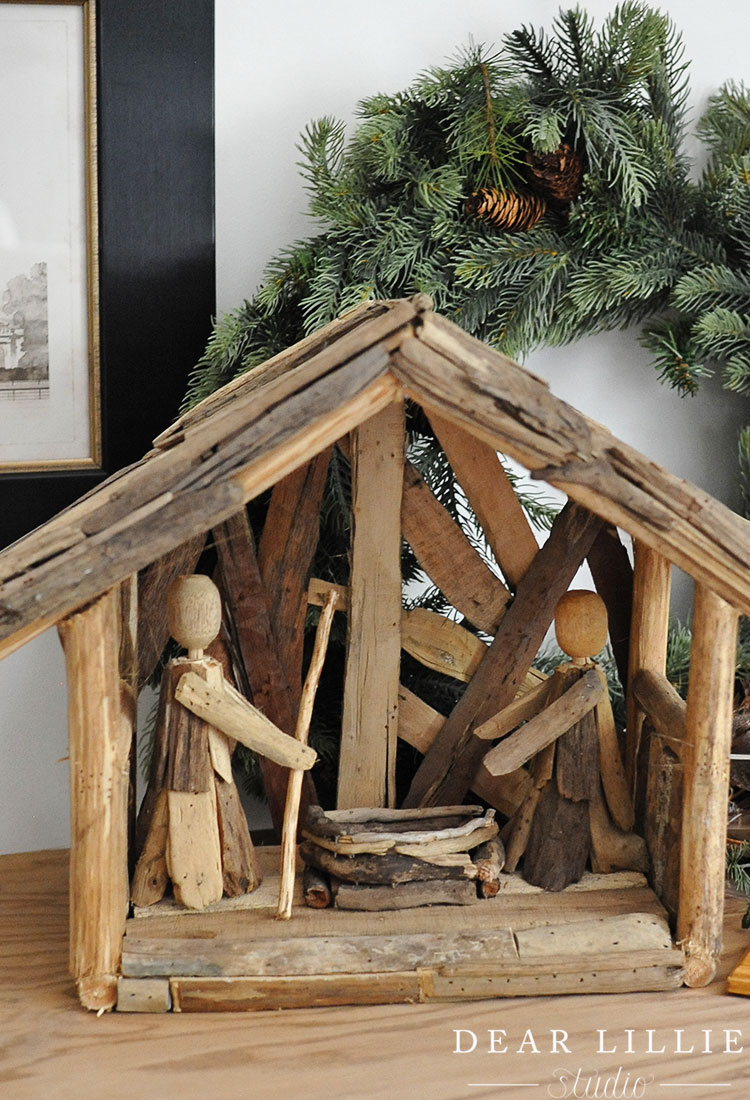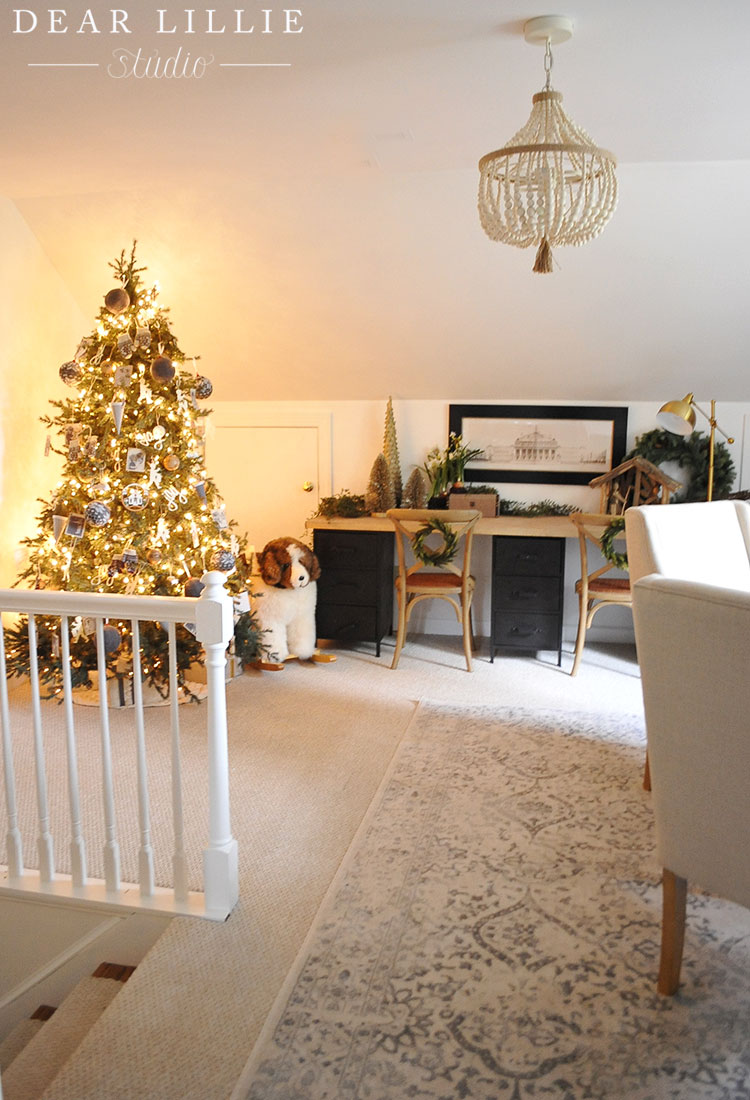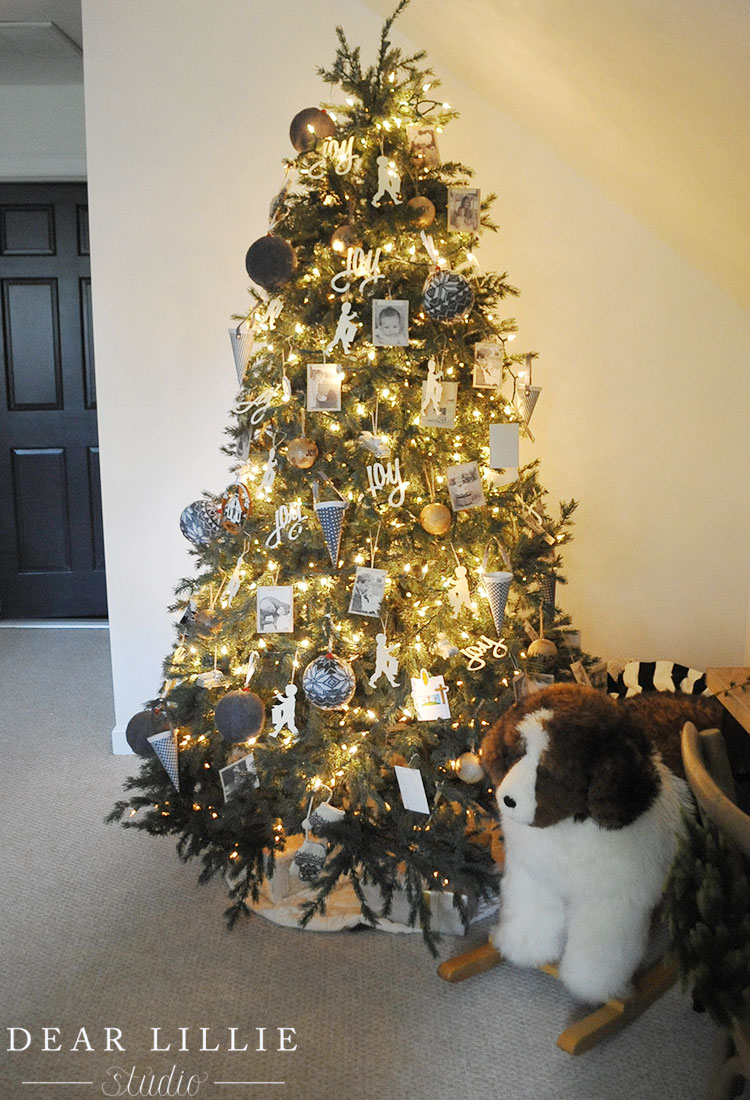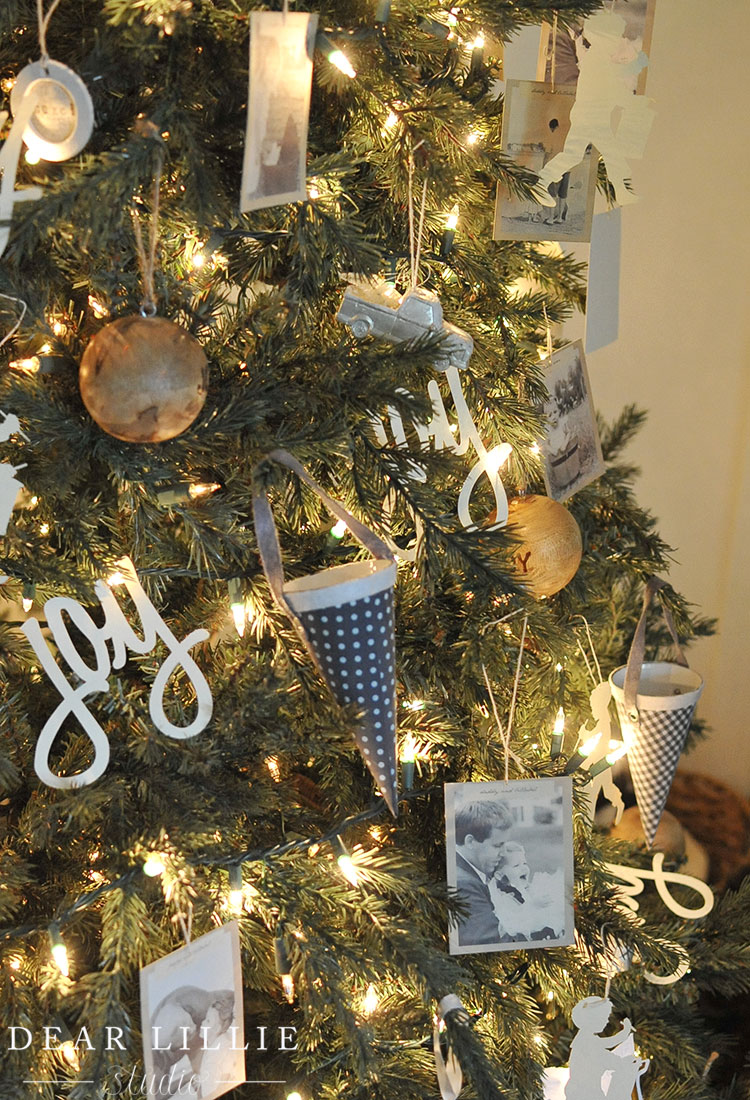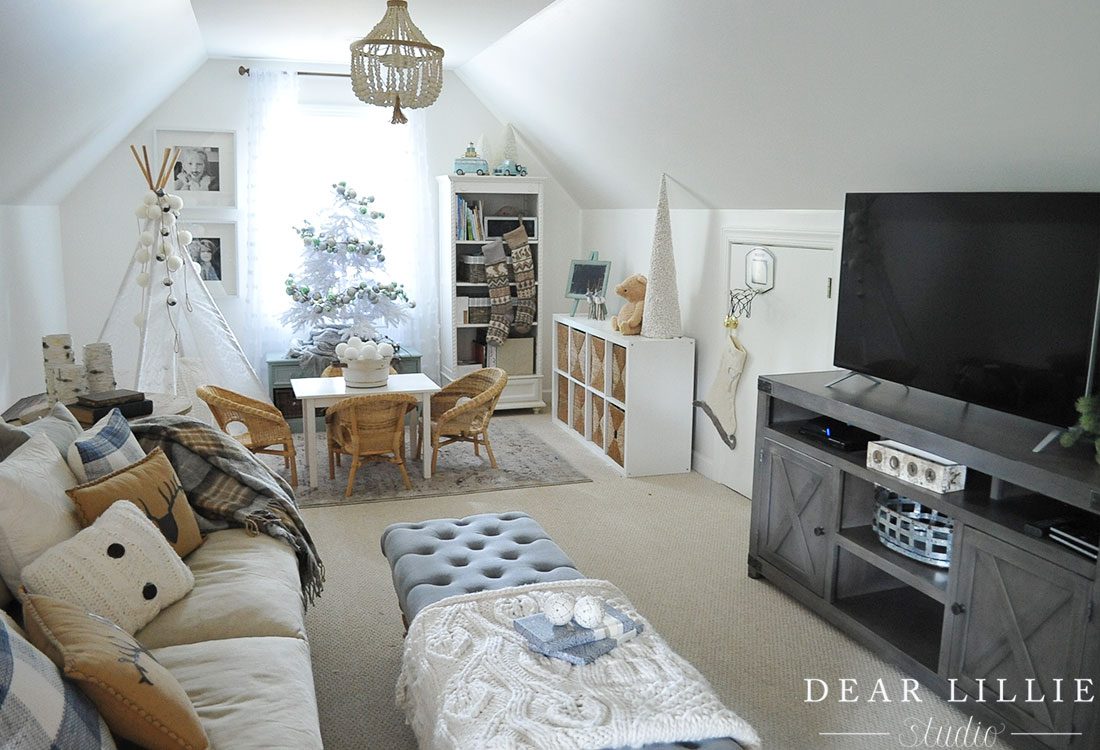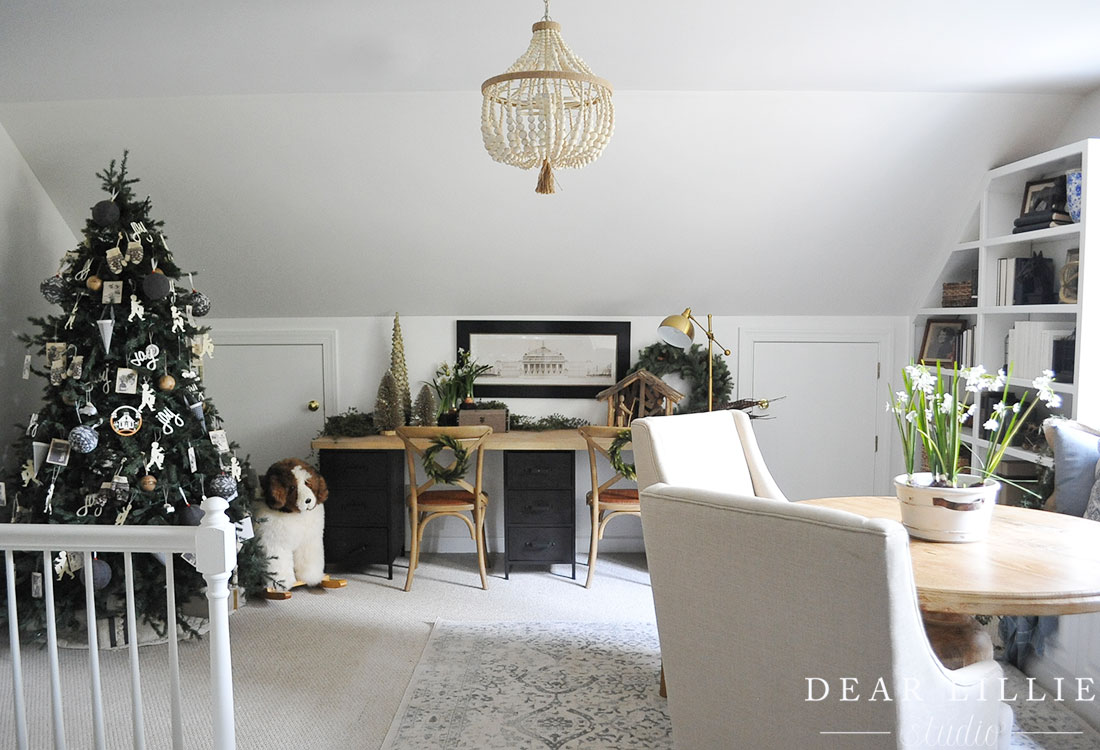 Well that's it for today! I hope you all have a wonderful rest of your Wednesday!
Source List:

TABLE and DESK SIDE:
Trim and Bookcase Color – Simply White in Semi-Gloss by Benjamin Moore
Wall Color – Simply White in Eggshell by Benjamin Moore
Chandelier – Pottery Barn Kids
Round Pedestal Table – Wayfair
Carpet – Existing
Chairs Around Table – World Market
White Planter on Table – Birch Lane
Rug under table – Rugs USA
Chalkboard – Hayneedle
X-Back Chairs – Joss and Main
Blue Pillows with Jute Trim on Window Seat – Wayfair
Tan and Blue Pillows on Window Seat – Wayfair
Wreath Pillows on Window Seat – HomeGoods (can also be found here)
Throw on Chair – HomeGoods
Wreath in window – have had for years
Plaid Deer Head – Target a few years ago
Christmas Tree – Home Depot many years ago
Ornaments – mostly handmade years ago, a few from IKEA and a few from HomeGoods
Dog Rocker – Gift many years ago
Desk:
Filing Cabinet Bases – World Market
Top – Two pieces of plywood trimmed out – can't remember stain color
Architectural Artwork – Bought at a store in SC years and years ago
Items on Desk:
Lamp – Birch Lane
Wreath – have had for years
Nativity – HomeGoods years ago
Turkey Feathers – from my dad years ago
Books – Library Book Sale
Paperwhites, Trees and other greenery – have had for years
Tweed Box – HomeGoods
12 Days of Christmas Book – from my mom years ago
Bookshelves:
Artwork, Frames, Books – Antiques, Gifts from Family, Consignment Finds
Driftwood – Antique Shop
Bike – HomeGoods
Pug – HomeGoods
Horse – HomeGoods
Gold Sphere – HomeGoods
Birdcage Bookends – HomeGoods (same ones here and here)

SOFA AND PLAYROOM SIDE:
Angel Painting – Deann
Coffee Mug Holder – World Market
Sofa – Arhaus
Ottoman – Wayfair
Chandelier – Pottery Barn Kids
Kids table- IKEA
Chairs – IKEA
White Planter on Table – Birch Lane
Snowballs – we made using this tutorial
Rug – Wayfair
Square Bookshelves with Baskets – IKEA
Tall Bookshelf – Target like 9 or 10 years
Teepee – Land of Nod (no longer sold)
Snowball Garland around Teepee – HomeGoods
Curtain Panels – HomeGoods
Felt Reindeer – World Market (Years Ago)
Bell Garland around Teepee – HomeGoods
Garland – HomeGoods
Tree – Balsam Hill years ago
Frames – IKEA
Stockings – Birch Lane
Blue Buffalo Check Pillows – HomeGoods
Knit Pillows – Soft Surroundings
Antler Pillows- Wayfair
Tall White Cone Tree – HomeGoods
Mini Christmas trucks and trees – HomeGoods a few years ago
TV Console – HomeGoods
Teddy Bear – Gift years ago
Little Chalkboard – HomeGoods
Pink Stable – Our Generation
Horses – American Girl