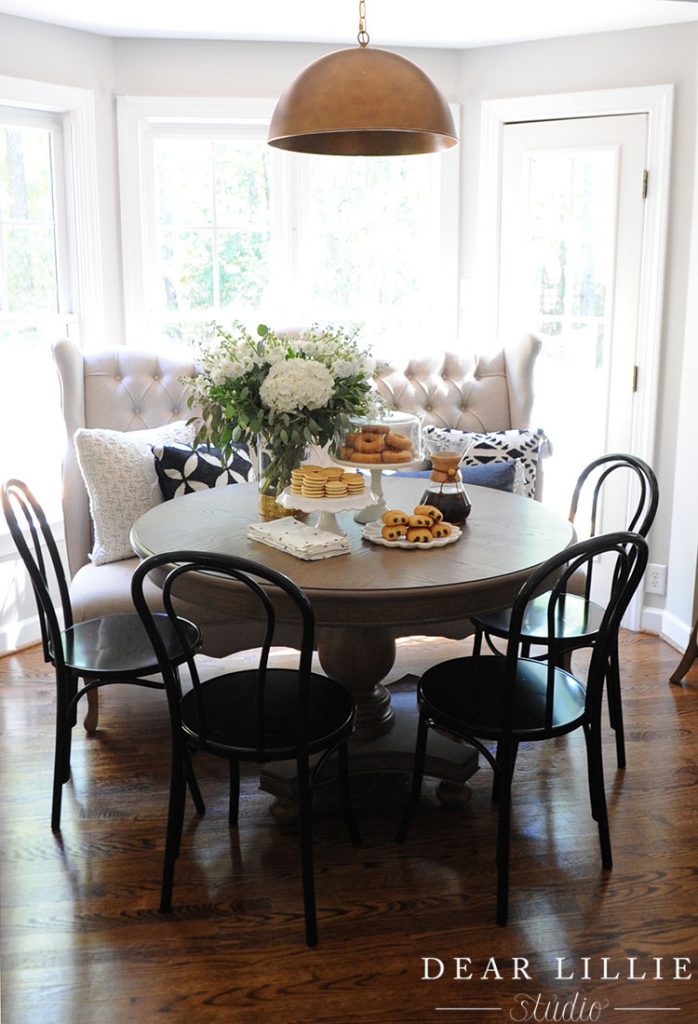 Good morning and happy Monday! I can't believe that this week it will be November! The past month and a half or so here has been a whirlwind but I am happy to have all of the craziness of moving behind us as we now head into all the craziness that the next two months always bring. Now that we are officially all unpacked and settled in our rental we are starting to switch gears and get ready for the holidays and for holiday guests! We are excited to be partnering with Wal-Mart on this post to bring you a fun and super easy little brunch set-up that is perfect for overnight guests.
Although I have bought my share of items from Wal-Mart, I have to say I don't think I had ever purchased furniture from them before. A few months ago I was scrolling through instagram and noticed a rug on another blogger's page and fell completely in love with it! I immediately went over to their website to find the link and was thrilled to see the price and intrigued to see that it was from Wal-Mart. Then shortly after that I fell in love with some bunkbeds (which we are thinking about getting for Lola because her old bed doesn't fit in her new room, although we haven't pulled the trigger yet) and discovered they too were from Wal-Mart. I started checking out their website more and more when it came time look for some pieces we needed during the move. They have a great feature where you can shop by style. I was so impressed with the value and quality of the items. When we sold our house the new owner purchased some of our furniture including our kitchen stools, one of our round tables and several chairs. So, once I had taken some measurements for the kitchen here I went on Walmart.com and found a beautiful table that was the perfect measurement for the breakfast nook and it was a great price plus it had free shipping (which they have on everything over $35!) so I decided to go ahead and purchase it. I was so thrilled with the quality when it arrived that I then ordered some great metal chairs as well. Creating a warm and cozy space for your family does not have to cost a fortune.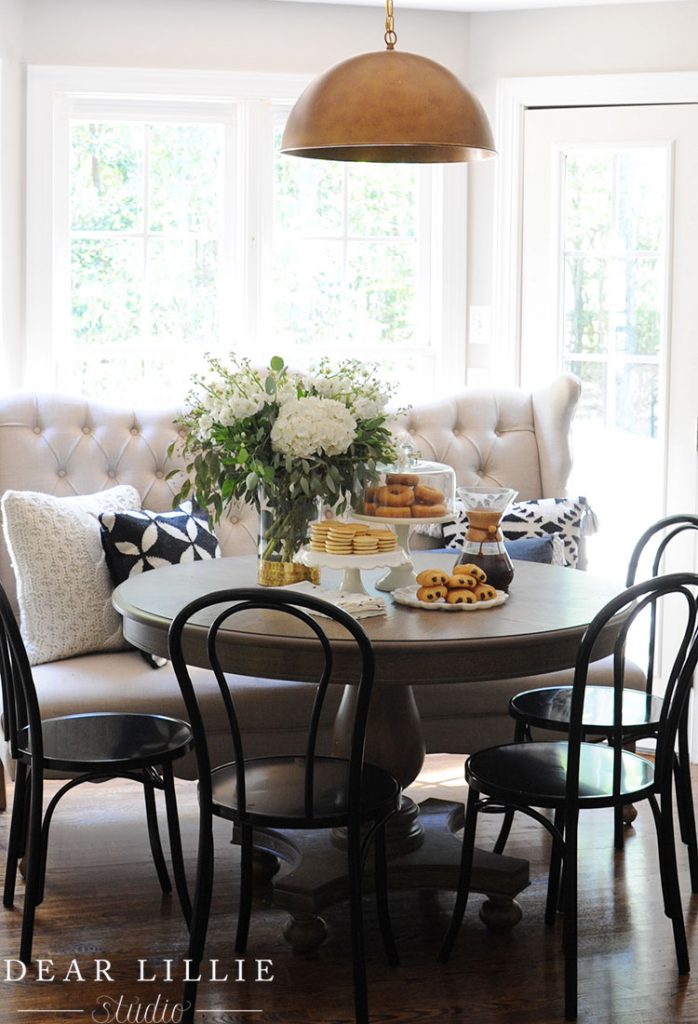 Seeing how we are renting we couldn't build a window seat but I wanted this space to have that same feel so we used the bench from the entryway of our last house (you can find a similar one here) in the window to help create that same effect. It has quickly become everyone's favorite spot, even Ruby's! It's such a great spot to not only eat at but also read, drink coffee and for the kid's to do their homework at!
One fun thing to do when you are renting is to change out light fixtures! As long as it's okay with your landlord, you can purchase inexpensive ones and then store the ones you took down and then just change them back when you move again and bring the new one you purchased with you to your next space! It's a great way to add a personal and interesting touch to a space. We swapped out the dated 80's light fixture that was here for this fun brass pendant!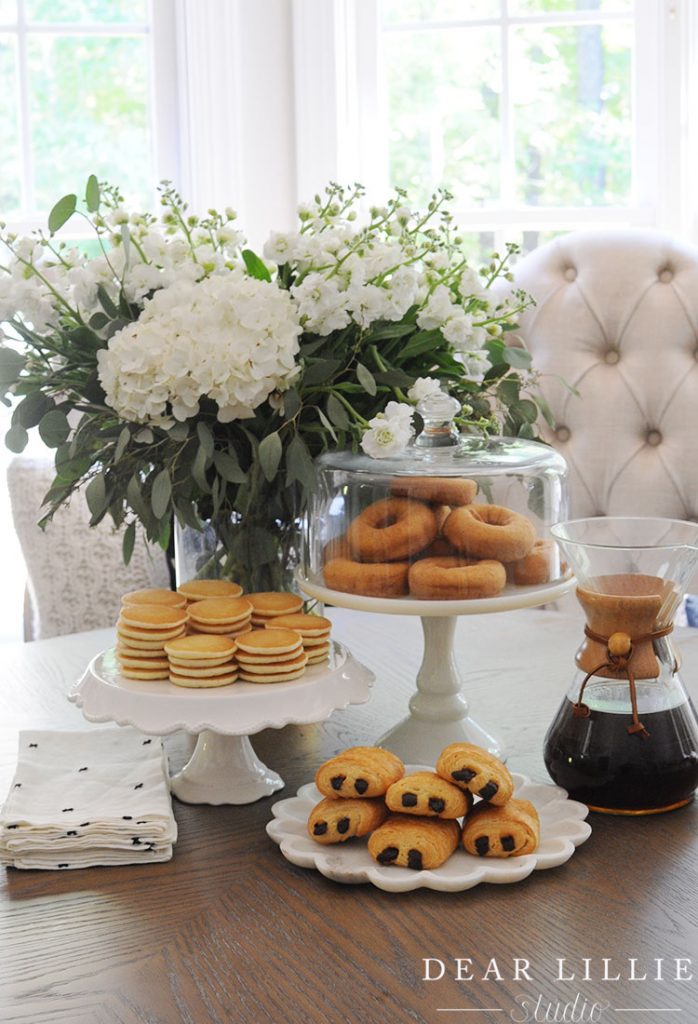 I love to bake but it's been such an insanely hectic few weeks so I went the easy route for this brunch which is great for overnight guests! I actually got all these yummy breakfast treats at Wal-Mart along with a bunch of fresh fruit. I actually had that out as well but it didn't look as pretty in the pictures so I ended up moving all of the fruit to the kitchen counter when I took these photos – ha! It certainly isn't the most healthy brunch but the kiddos sure loved it!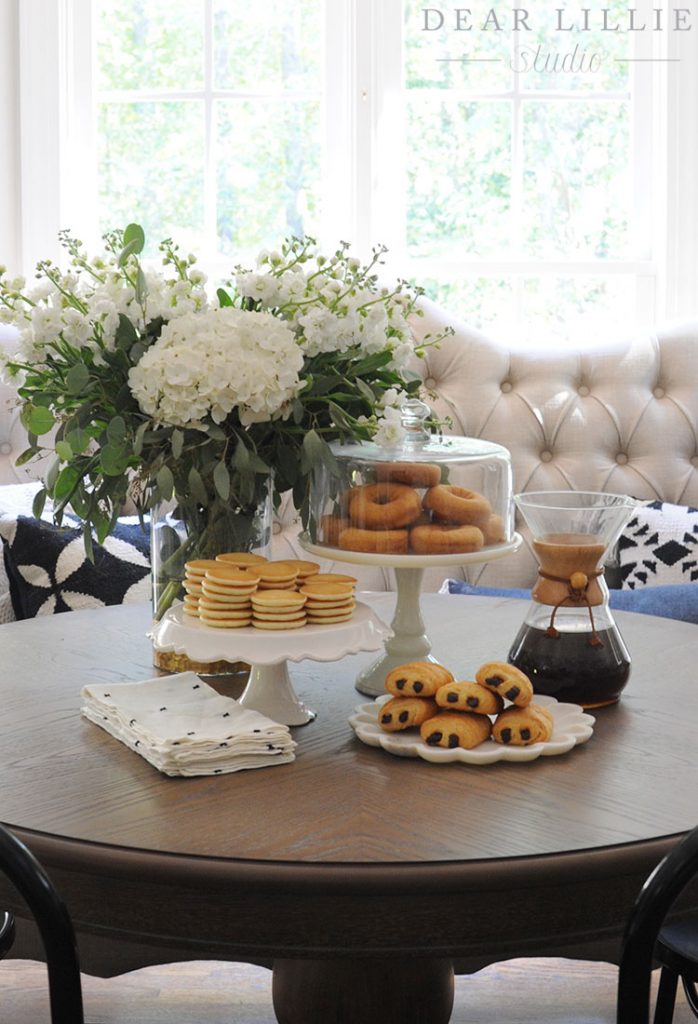 I love this milk glass cake stand and glass cloche! It's beautiful and a great price!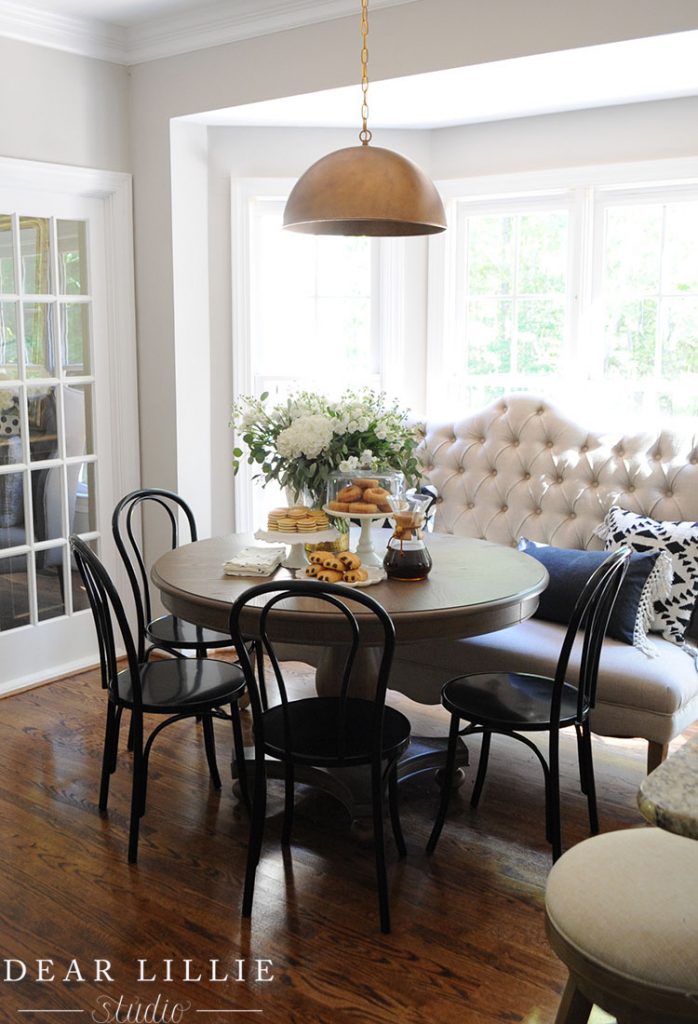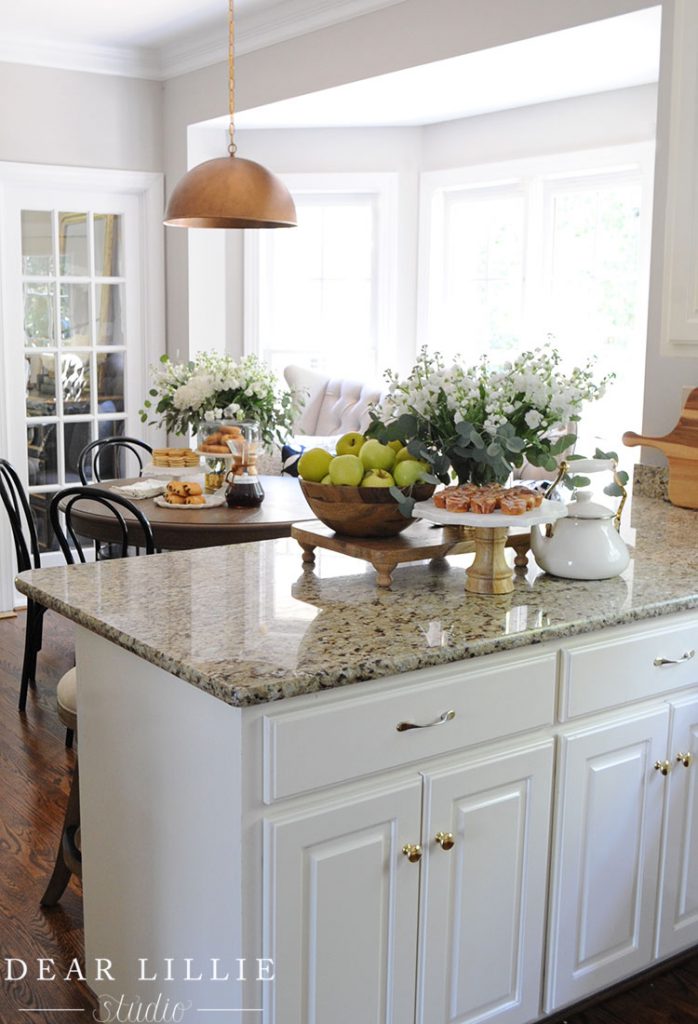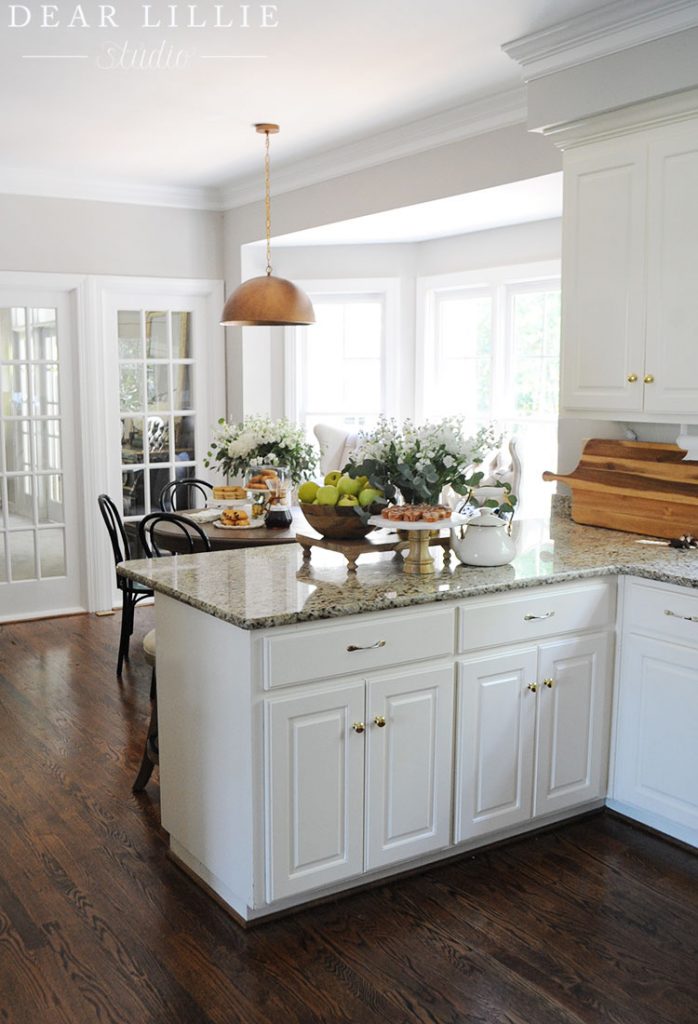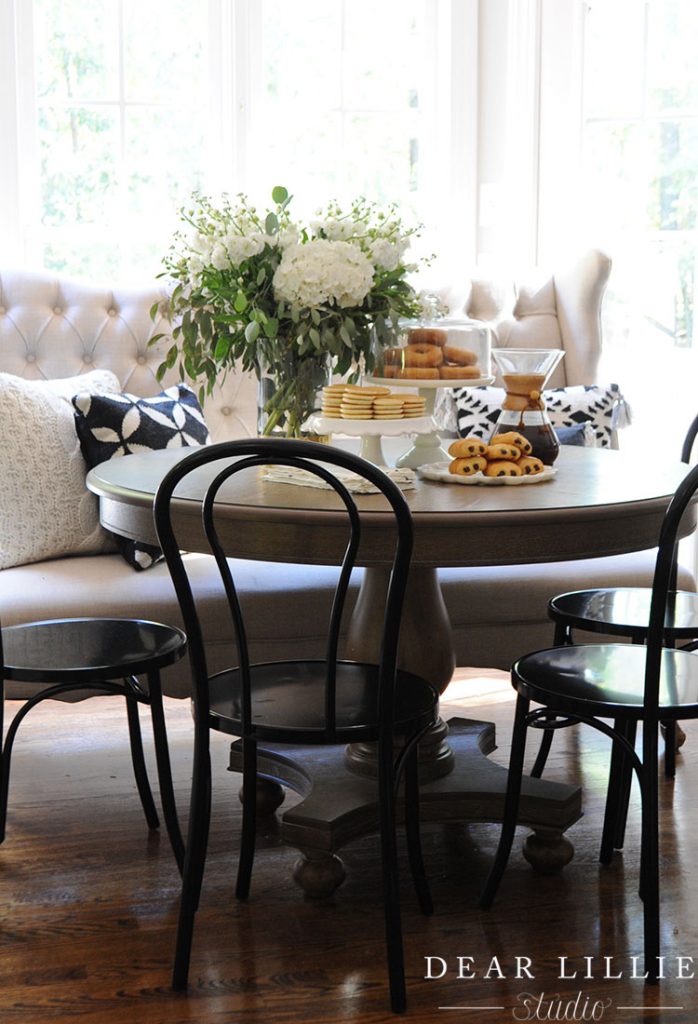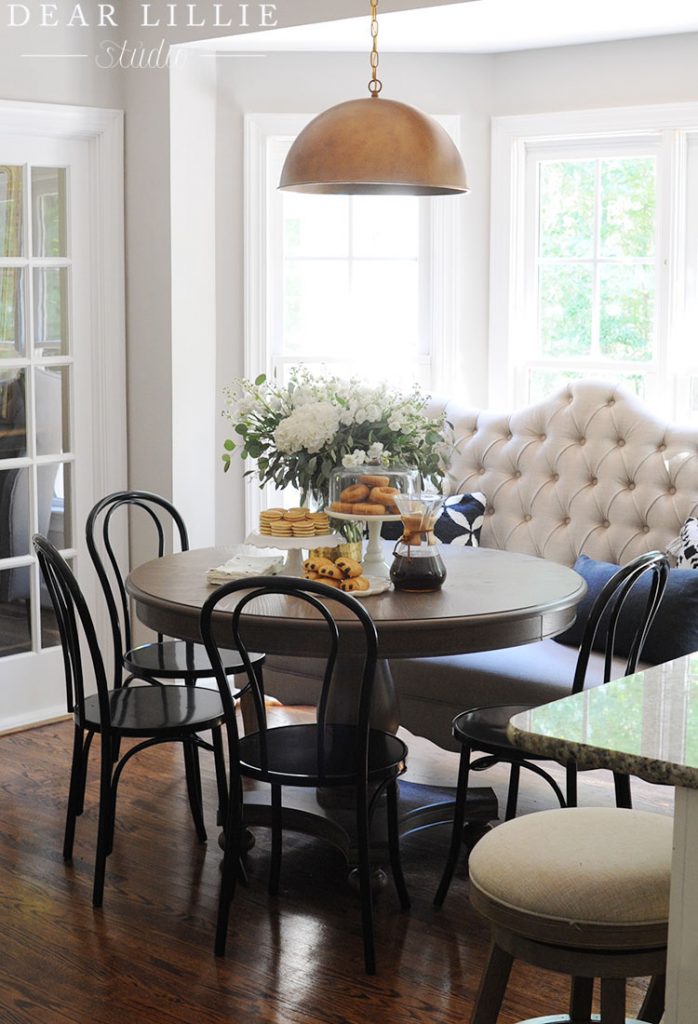 I also love the shape of the marble on this cake stand!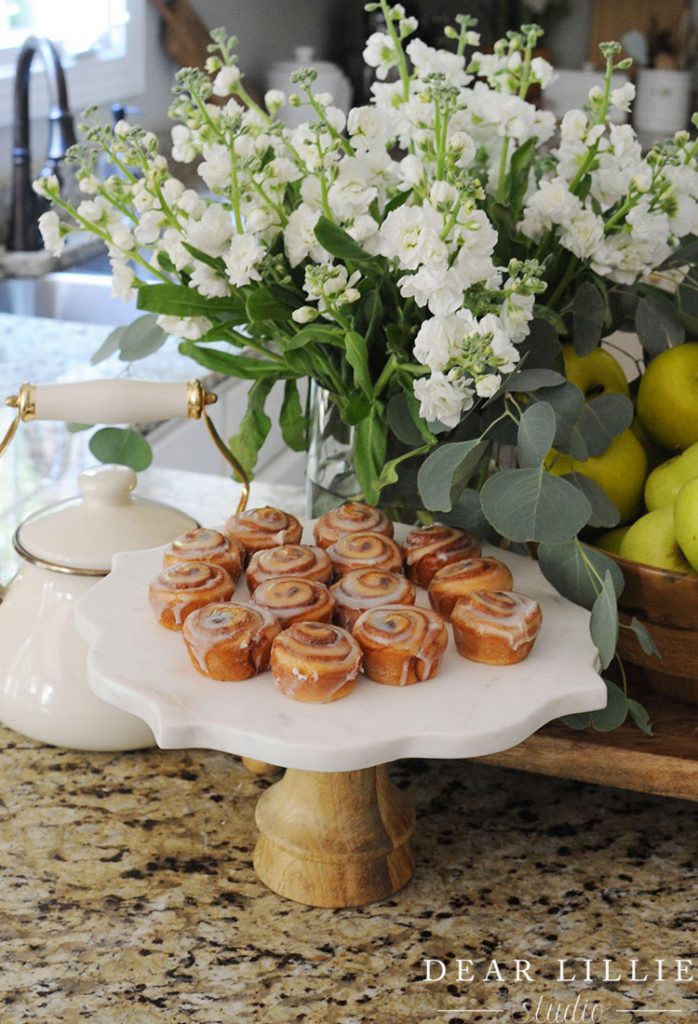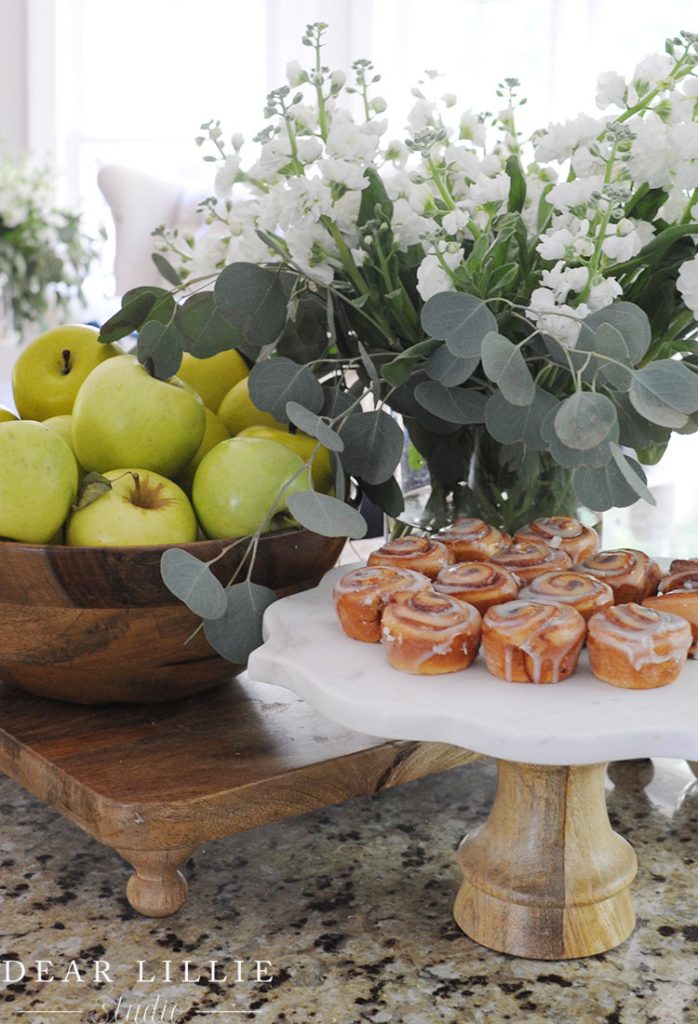 I usually prefer stools with backs but because of how close these are to the chairs and bench I didn't want them to compete visually so I went with these round ones that can be tucked right under the counter. My girls love that they swivel!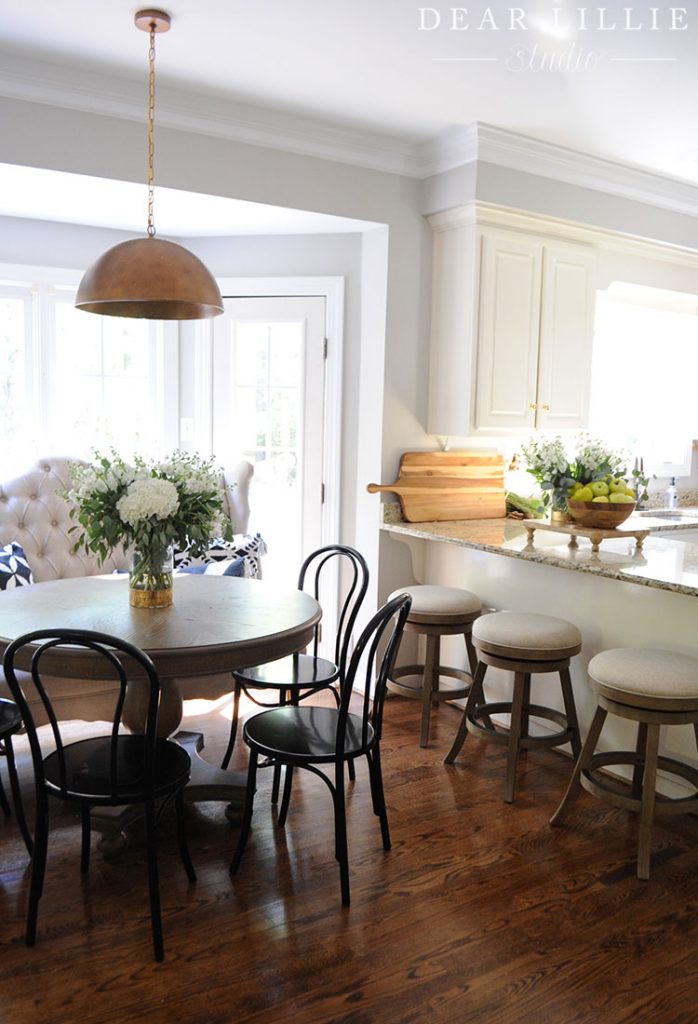 I hope you all have a wonderful week!
Breakfast Nook Source List: 
Wall Color – We are renting so don't have that info but I've held up my swatches and it is very close to Balboa Mist by Benjamin Moore
Trim Color -We are renting so don't have that info but I've held up my swatches and it is very close to Brilliant White by Benjamin Moore
No info on cabinet color or granite
Pendant – Wal-Mart (brass color, which reads as a very warm brass)
Table – Wal-Mart
Chairs – Wal-Mart
Fringed Pillow – WalMart
Milk Glass Cake Stand and Cover – Wal-Mart
Stools – Wal-Mart
Cake Stand with Shaped Marble Top – Wal-Mart
Footed Wood Tray – similar one can be found here
Settee – similar one can be found here
Warmly, Jenni
This post was sponsored by Wal-Mart however all items were purchased by us and no items were gifted.
Affiliate links are used in this post at no cost to the reader.