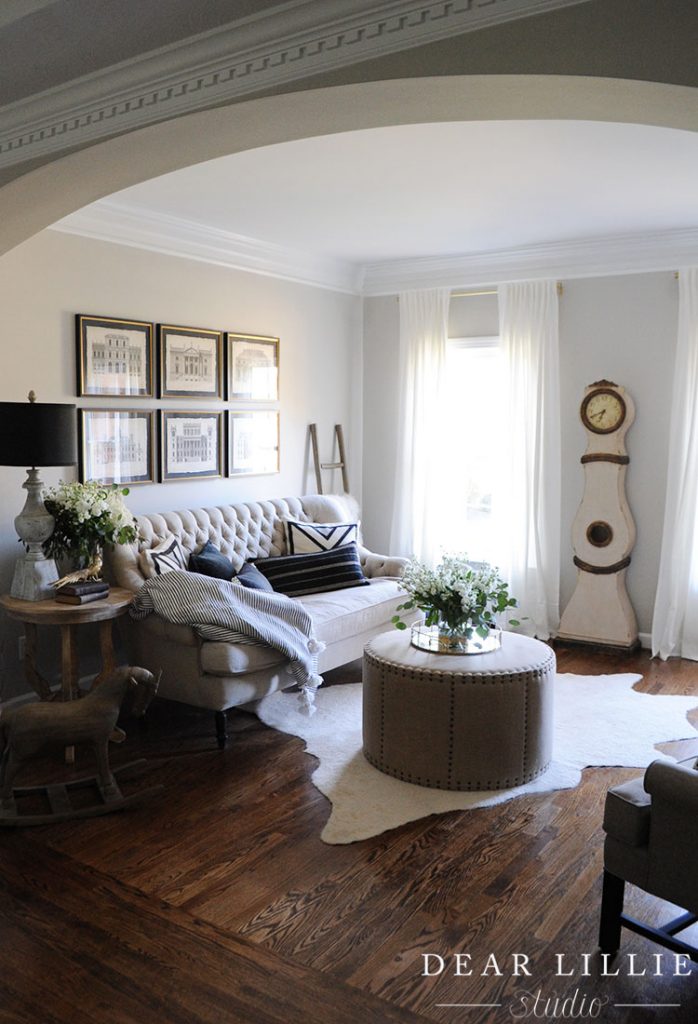 Happy Friday! I've been slacking quite a bit on posting lately but that's because there's been quite a bit going on here. Earlier this month we sold our house and so the last couple of weeks have been a whirlwind of packing and unpacking and getting settled.
Over the last several years we have made a very conscious decision to share less and less personal information. I know that's kind of in opposition to how most blogs and instagram feeds are going as they share more and more but this is something we feel very strongly about and haven't regretted it one bit. In that vein, I really would like to just simply state in one sentence that we moved! But, I also know how frustrating it can be when a blogger is vague in their information they share and it can make readers feel like they are being baited so I feel like I will share a little bit so it's not too confusing, especially over the next month or so where we will be sharing both pictures of our old house as well as the one we are renting.
So, first, we did not sell our house so that we could have more to blog about. Although when it comes to blogging moving certainly isn't a negative and if anything it is usually beneficial, we wouldn't ever go through all of the trouble of moving just so there would be more content to blog about – ha! Second, we didn't move for any dramatic reason. There isn't any personal, financial or family drama going on. That seems silly to even have to write but I know when someone shares a vague post people often worry or speculate so I figured I'd make sure to put anyone's mind at ease that may have been worried when they started reading this.
Despite that fact that we loved our home and hate the moving process we decided it was the best decision for our family for a lot of different reasons. Our plan is to buy something closer to campus, ideally walking distance. We had hoped to just move straight from our last house to one down near campus but also knew would be open to renting for a bit if we weren't able to find something in the time frame necessary. We ended up getting a great offer on our home but the catch was a 30 day close, so we only had a few days to decide if we should make an offer on another place. We had been looking every day and there just wasn't anything available that we felt right about. After a week to ten days we realized it would be smarter to rent for a little bit than make a rash decision that we might regret so we switched gears. Even that turned out to be tricky – ha! I called so many places only to find out that they had already been rented or wouldn't take a dog. With only a little time left before we had to be out of our house our realtor told us about one of her listings that she thought the owner might be interested in renting and we are so grateful it worked out! So we will be staying here for the next several months. I will be sharing pictures of our rental and think it will be fun sharing tips and ideas that work when it comes to more temporary decorating vs. remodeling and we are really excited about that. I will be sharing all of the sources as always, but I may not be able to share some of the information like paint colors that I don't know. I am hoping I will be able to track some of that information down but if not I will certainly share all of the information that I do have and will try to at least share paint colors from my swatch decks that look as similar as I can find.
So, with all that being said the next month is going to be pretty confusing on the blog and instagram as I switch back and forth between our old house and our rental for Christmas. When everything was falling through as far as another place to buy and then even finding a rental wasn't working out, I thought we might be in a hotel or time share for a bit and therefore wouldn't be able to decorate for Christmas and because I had already committed to several Christmas posts I knew I needed to follow through with those. So, before I packed everything up I decorated several spaces that I needed to for different posts I had agreed to do and took those photos. Sure enough, right after I did all of that we found the place to rent – haha! So, I will share those photos of our last house when sharing in some of the groups like the Seasons of Home Holiday Series and then I will be sharing pictures of our rental home as I start doing our actual family Christmas decorating. I am so sorry in advance for how confusing it will be for the next month. By the time we get to December though it will just be photos of our rental so it should get far less confusing from then on.
Now I thought I would share a few little peeks into a couple of the rooms at our rental now that I've gotten curtain rods up and drapery panels hung and swapped out some light fixtures. I will share lots more pictures and include lots more details and sources about each space over the coming weeks but thought for today I'd just share a few shots. This is the living room: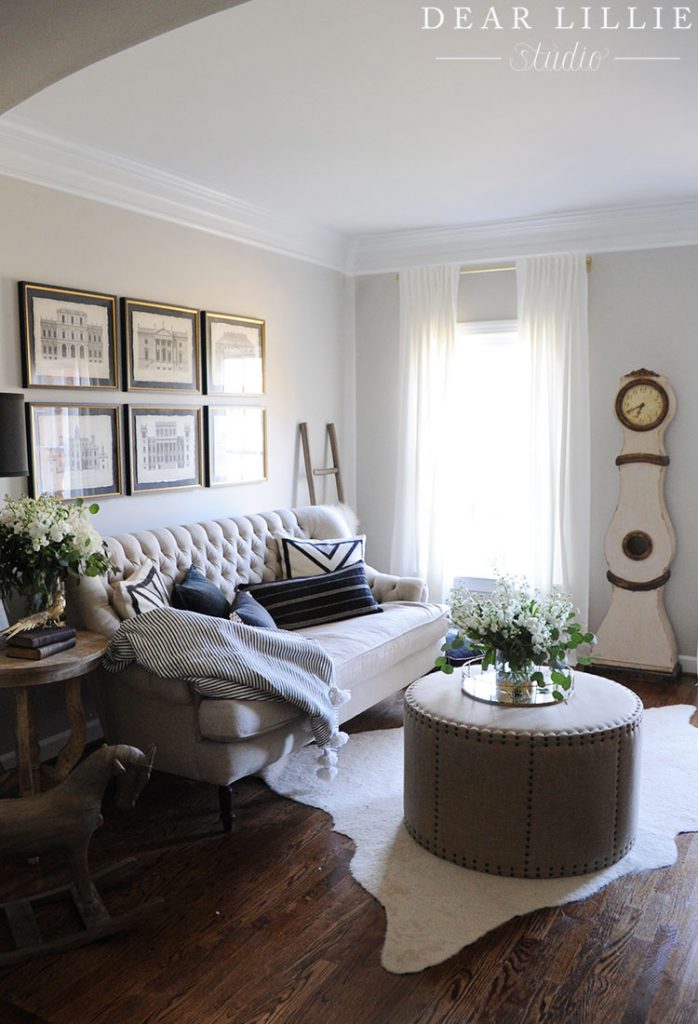 First, the wall color in all of these pictures after looking through my paint decks and checking them in several different rooms and lighting situations is nearly identical to Balboa Mist by Benjamin Moore. Although I don't have any way of knowing what it actually is, there's a chance that it is exactly that and if not it's something nearly identical to it.
My plan is to swap the ottoman out for either a coffee table or something with more contrast so there isn't so much of the same color tone in here but other than that I am happy with how this room came together. It was the easiest room to figure out because it's really just the same general feel as the living room in our last house with most of the same pieces. We did move some of my favorite pillows and throw from our master bedroom down here to the living room and love how they look with our architectural prints from Soft Surroundings and then added another pillow with a tassel fringe. I found some curtain rods that I LOVED and used those throughout the house. And then we used the 96″ IKEA Ritva panels that we've used a million times before. When you have a ton of windows to cover you can't beat the price on those!
The sofa is still one of my all-time favorite finds. We got it from a local shop that is now closed and it doesn't appear to be available anywhere online. The clock was an anniversary gift from my husband over seven years ago and from that same shop. The ladder can be found here, the rug here, and the ottoman here. The side table is from here and the lamp I've had for over twelve years now.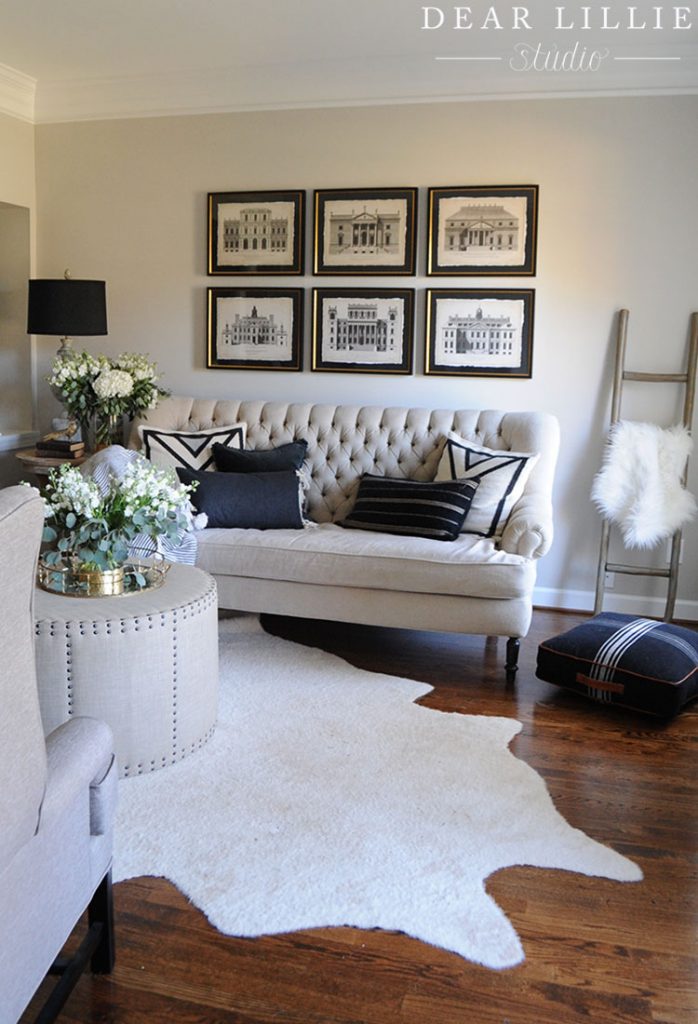 The most used spot in this house is most definitely the breakfast nook. We put the tufted settee that was in our entryway in our last house and tucked it into the bay window to have it function sort of as a window seat. I wasn't sure if it would work but it quickly became the most coveted spot in the house for both Lola and Ruby – ha! We then swapped out the 80's light fixture for this one, and added a round table and some metal chairs that are so easy to clean off.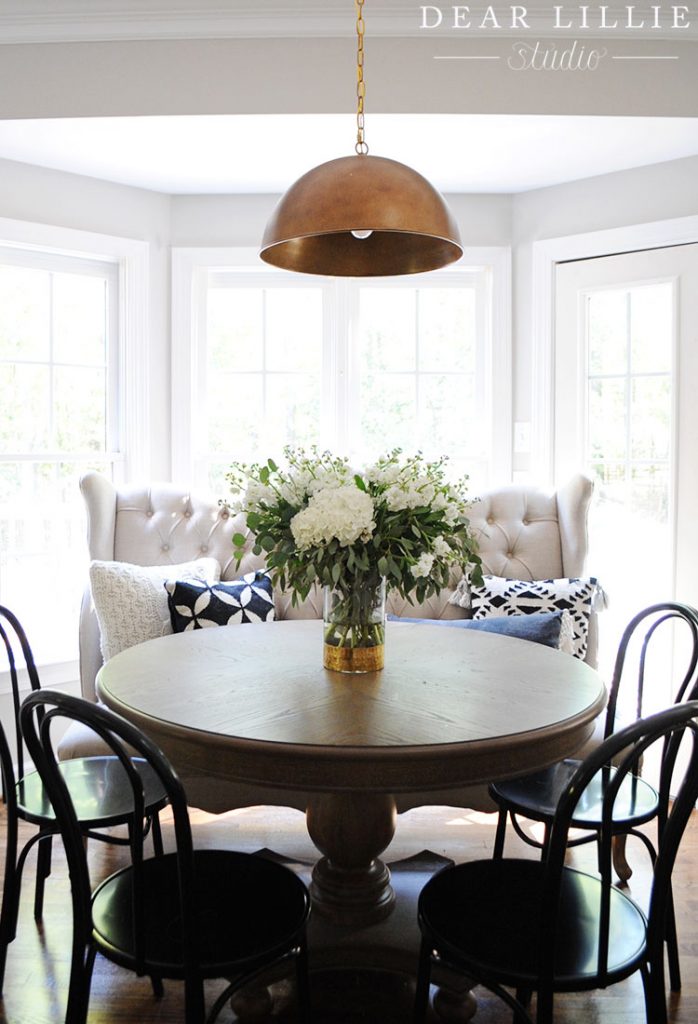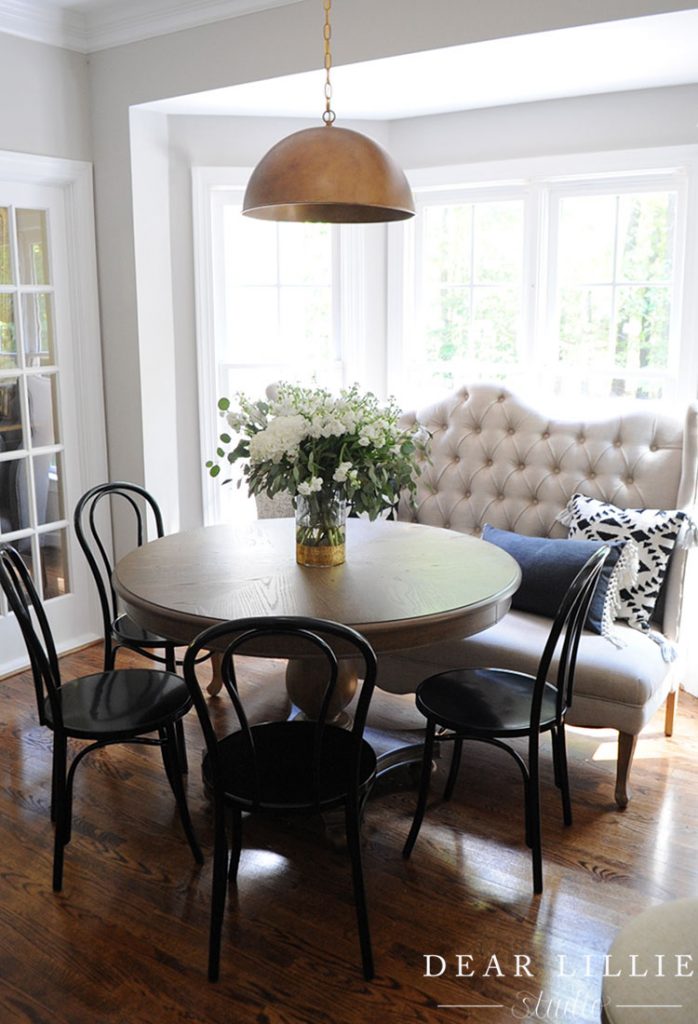 The girls are also loving the "twisty" stools. The footed wooden serving piece is still one of my favorite kitchen items. You can find it here although it's often sold out. The oversized cutting board can be found here, the bowl here and the vases here.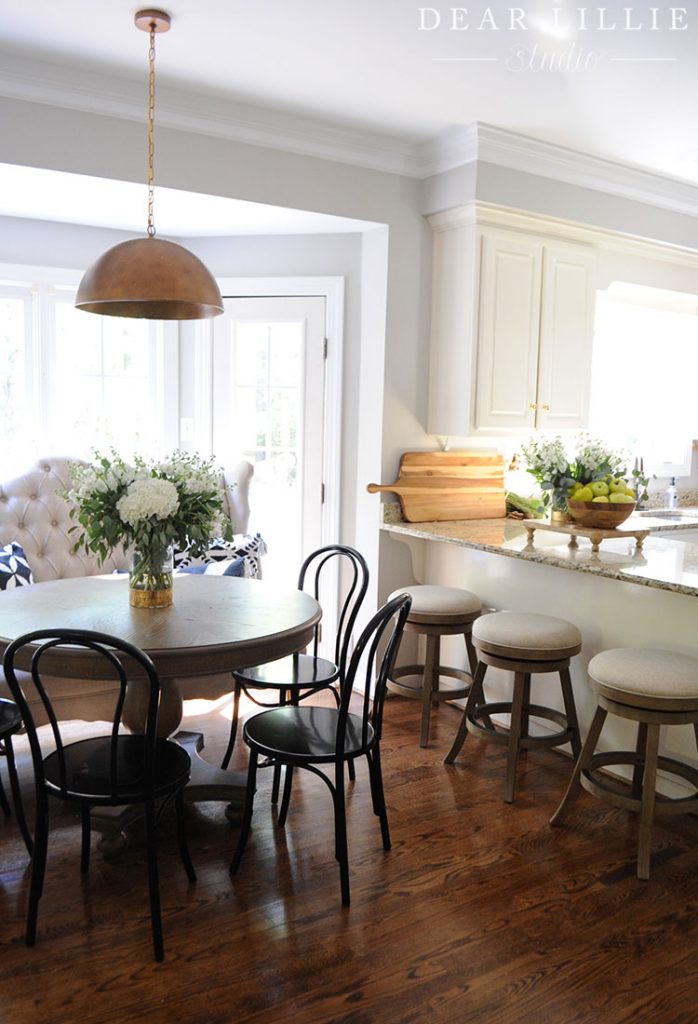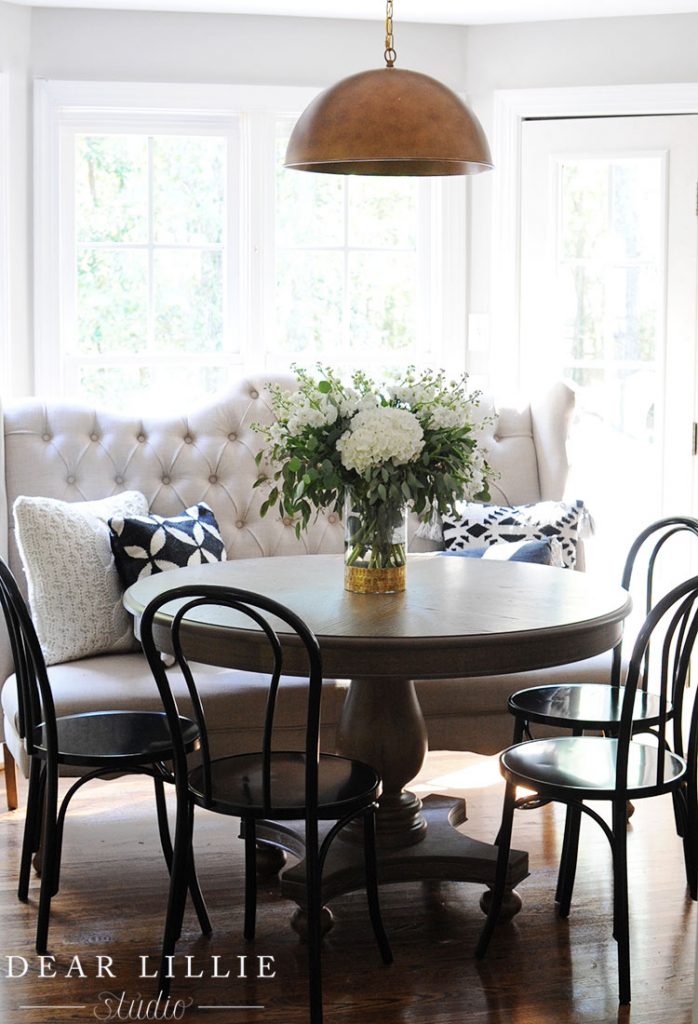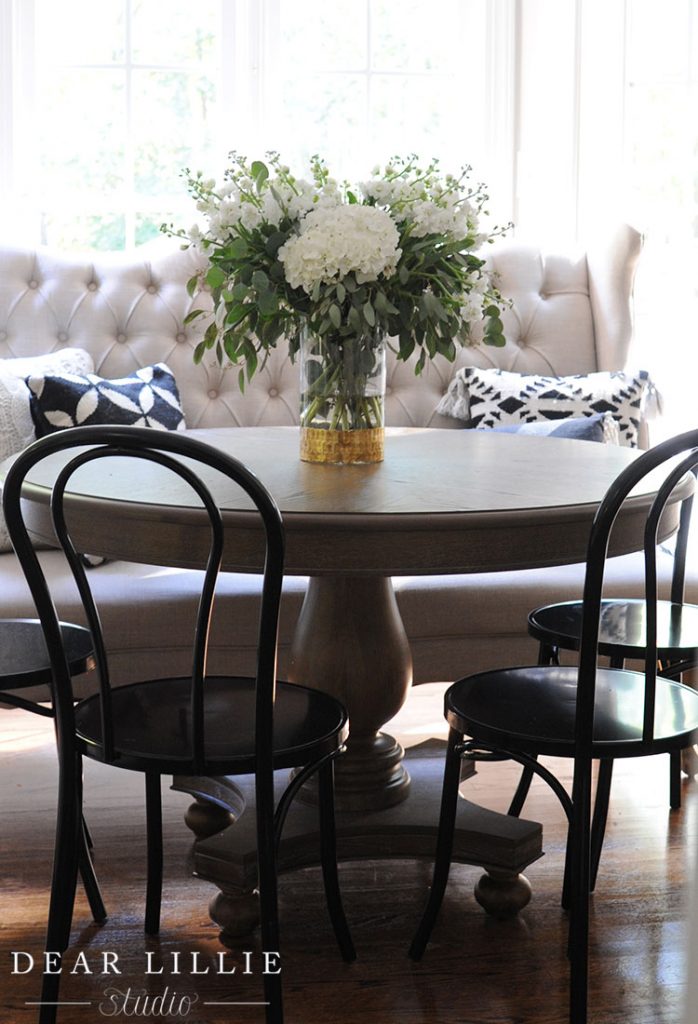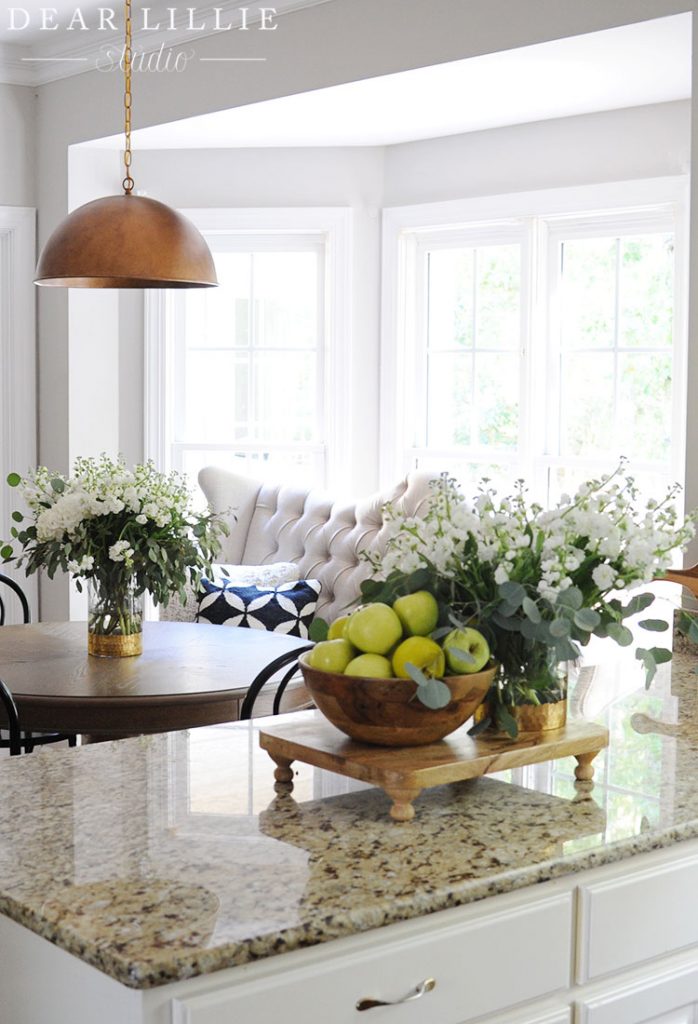 And here's a little peek at my office. I can't wait to take some full room shots of it. I took these cropped shots earlier this week before swapping the light fixture. A new one went up today so now I can't wait to take some better photos in here!
The chairs were in our living room at our last house and can be found here. The wooden filing cabinet was from Birch Lane years ago. The rug can be found here and the large bookcase here. The tufted leather footstool was from Joss and Main but is no longer available, the pillows were from Target years ago and the horse from HomeGoods.
The desk and globe are both from World Market, the Chair was a local outlet find years ago and the elephant bookends were from Birch Lane.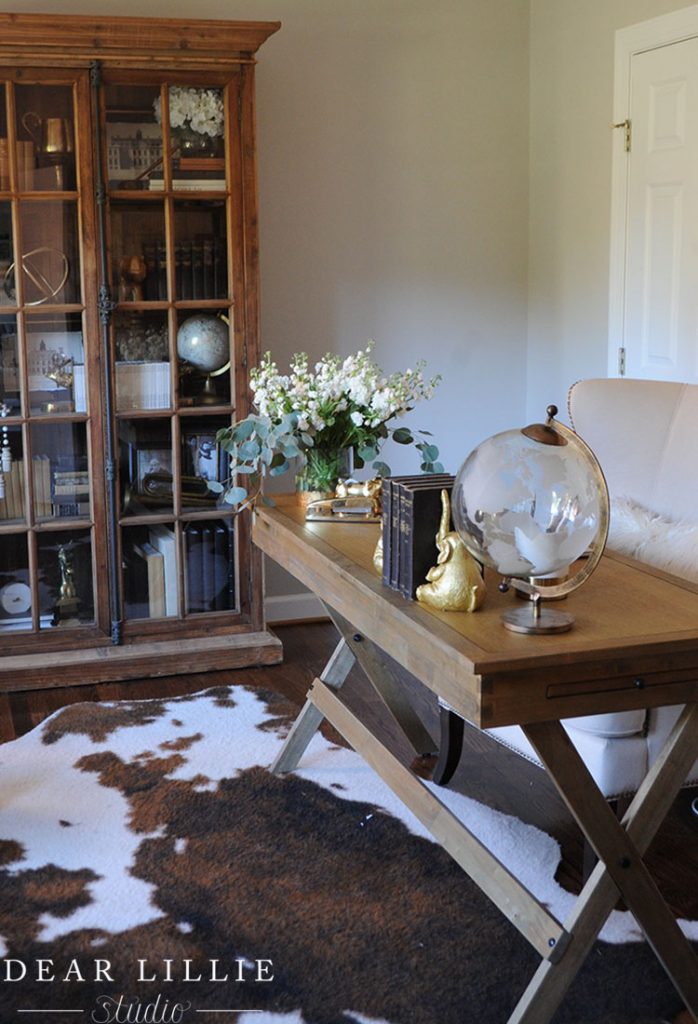 The family room has been the trickiest one to decorate so far but I think it's starting to come together.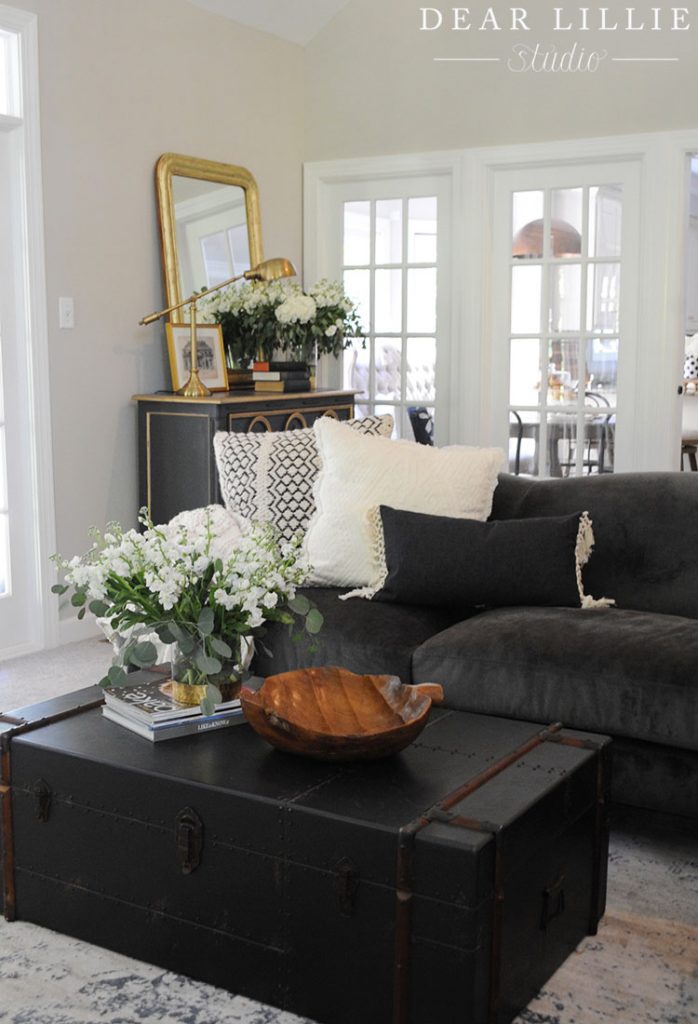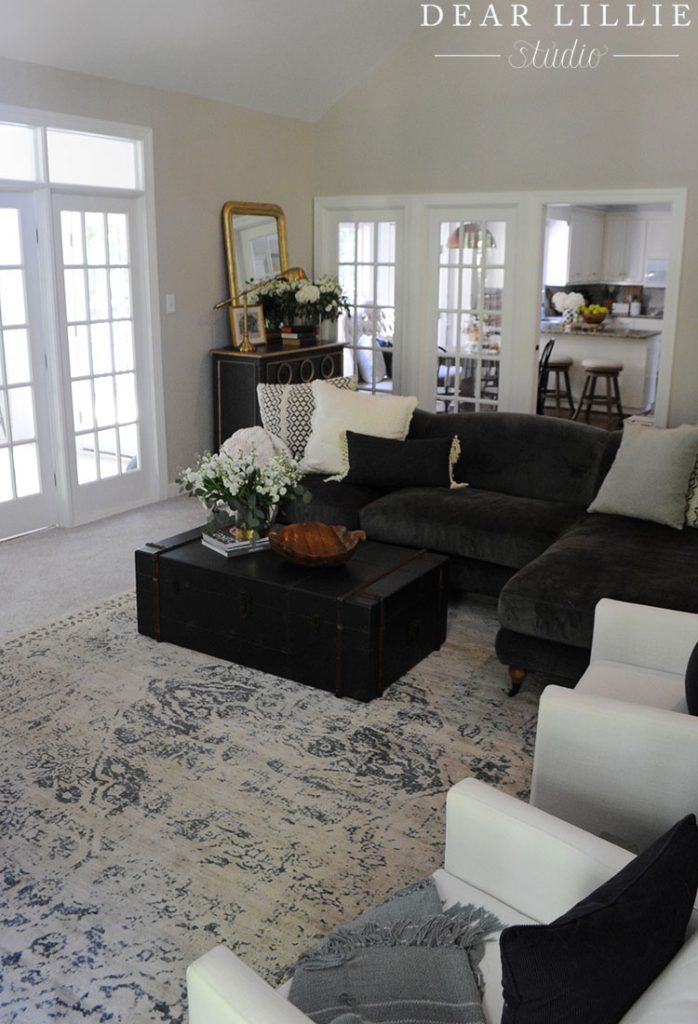 And here's the entry area: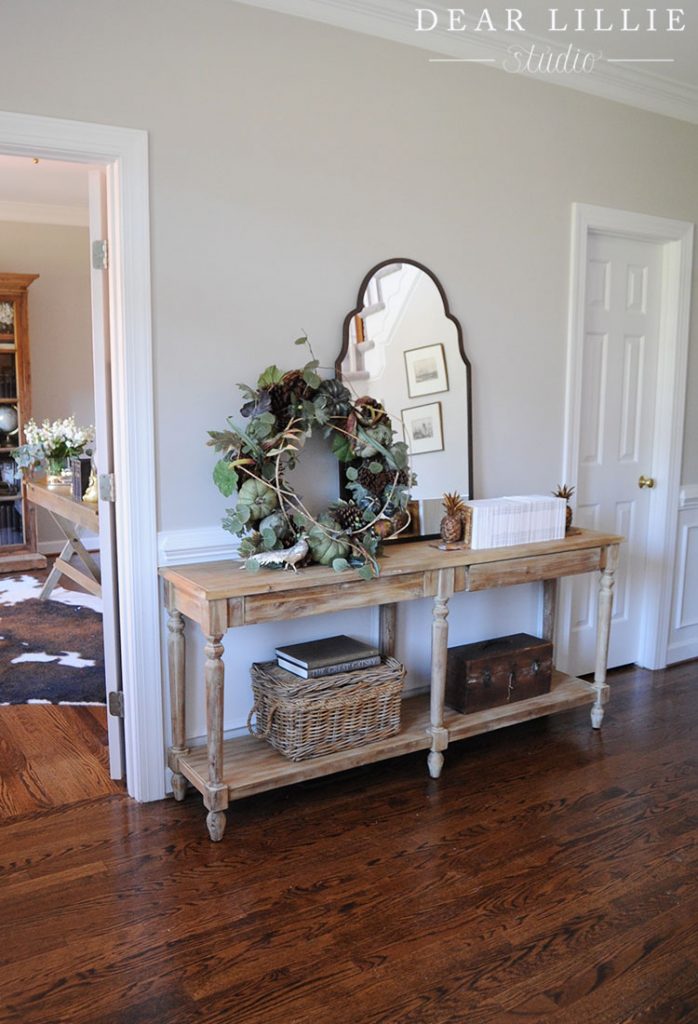 The table is great because it's narrow so it can fit in a lot of places. The mirror is from our collection at Soft Surroundings! The wreath was from our collection at Painted Fox a couple of years ago but it's no longer available.
From this view you can see into my office and in through the back door you can see the kitchen.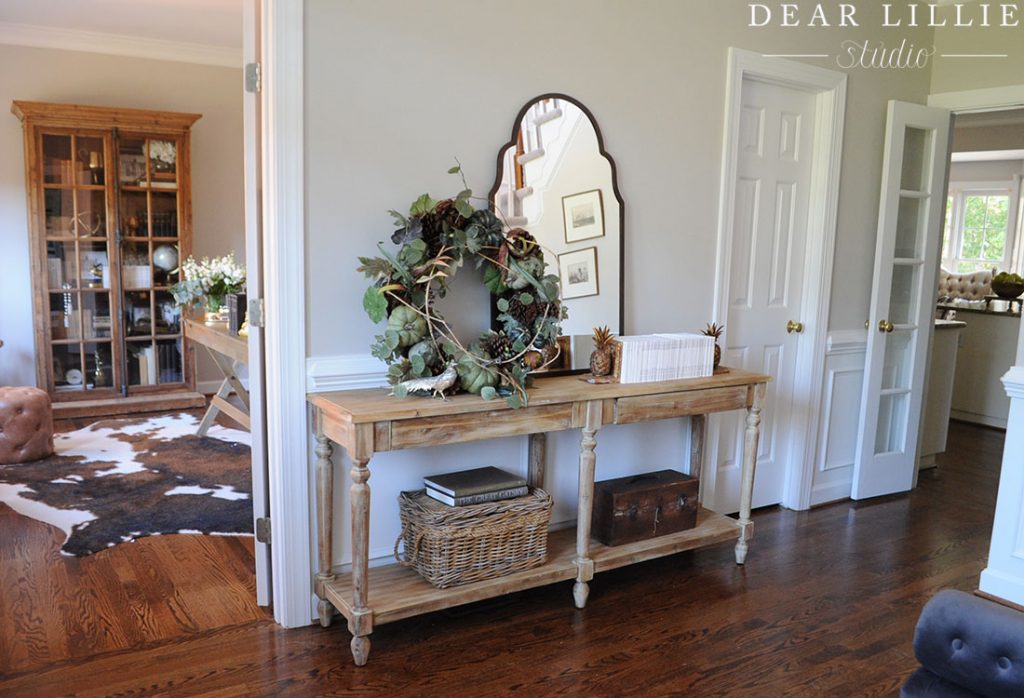 I took this photo several days ago after unpacking two of the new light fixtures we ordered. They are both hung now and I can't wait to take more pictures now with them up! You can find the gold on here and the beaded one here.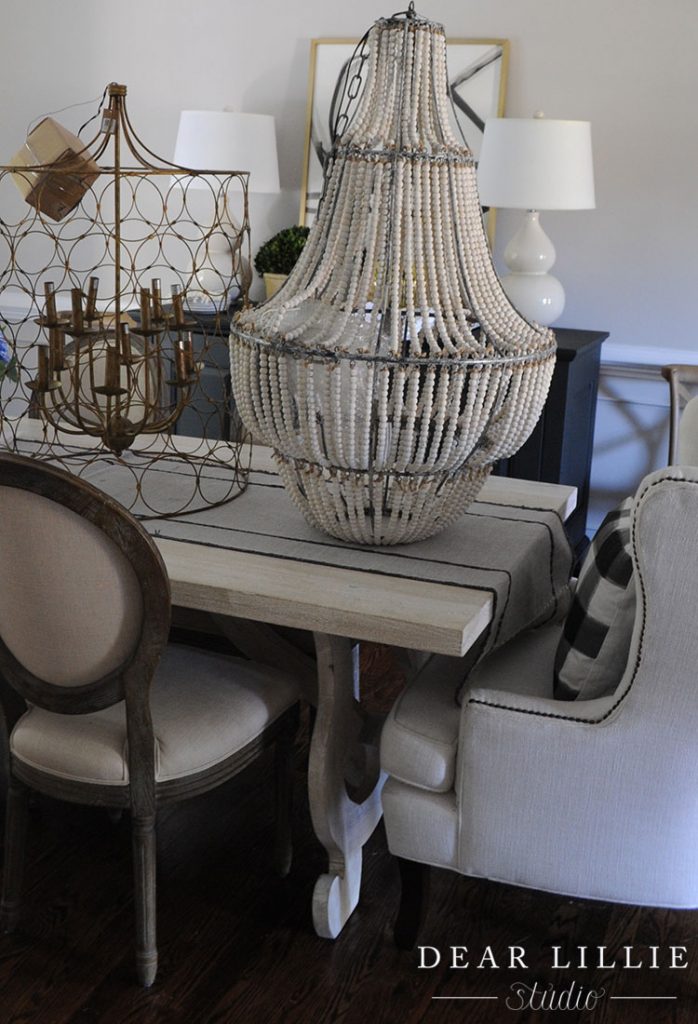 Well, I hope you all have a fabulous weekend!
Warmly, Jenni