Good morning! I hope you all had a wonderful weekend! Ours was filled with lots of exciting basketball games. It's hard to believe that another season is winding down.
Today I wanted to share with you a fun makeover we did in Lillie's room here in our rental with our partner, World Market. We used peel and stick wallpaper and can't get over how much personality it added to the space and love that it is perfect for renters (or really for anywhere that you want to be able to take it down again easily!)
Here's a before shot of the room: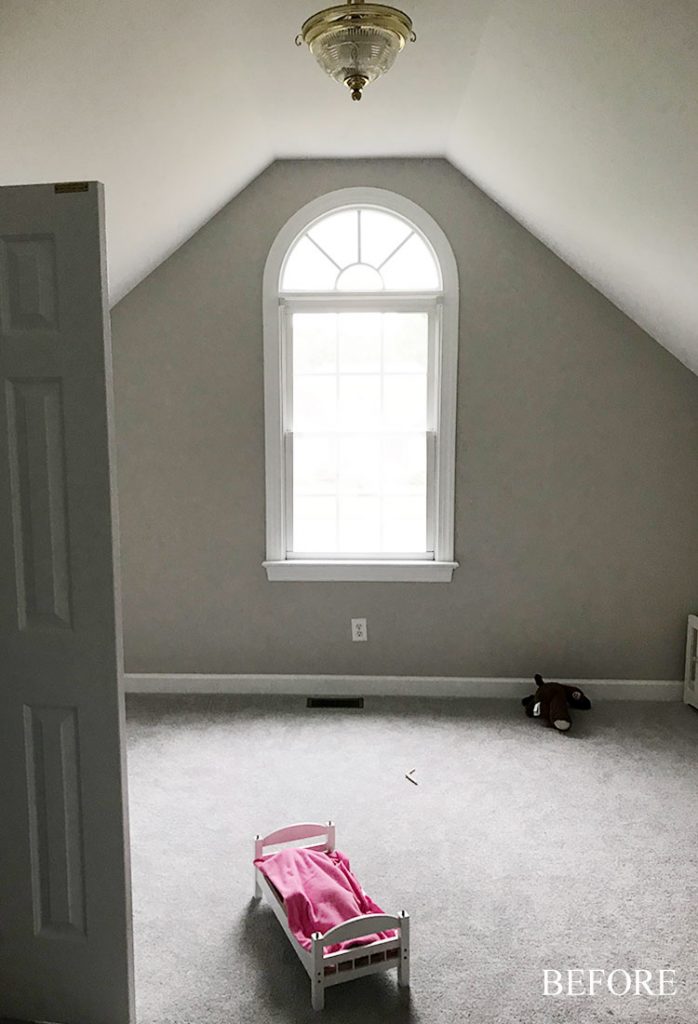 And here it is now: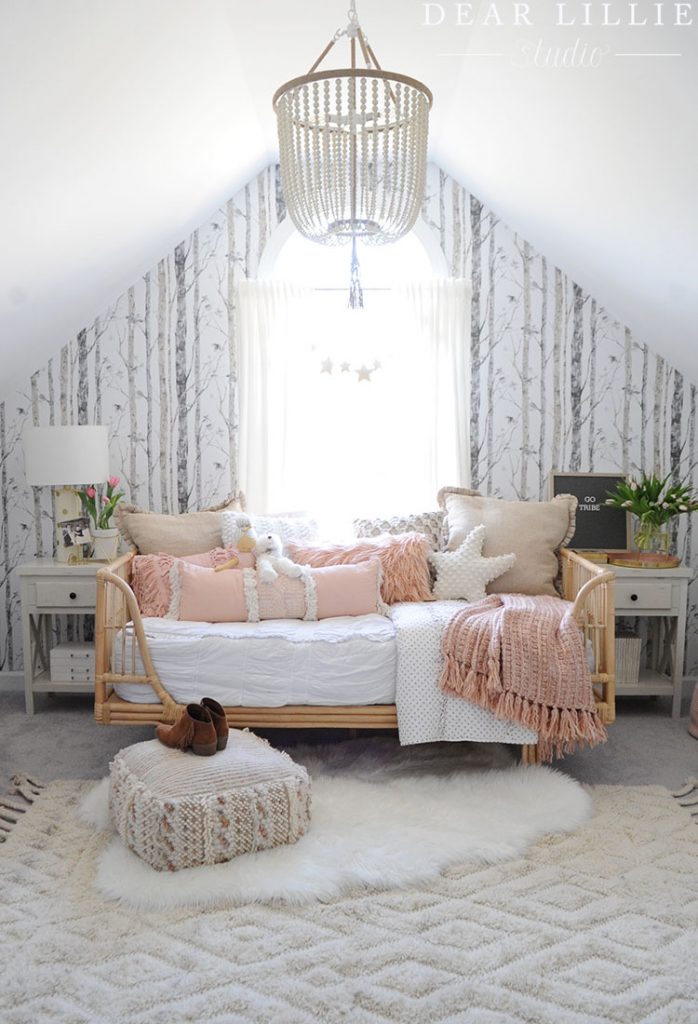 By adding peel and stick wallpaper and then layering some area rugs over the existing carpet it really helped add so much character and texture to the room without making any permanent changes to the room. I used peel and stick wallpaper about five or six years ago and it was NOT a pleasant experience. It was so sticky and difficult to hang that I ended up giving up on it and have stuck with traditionally hung wallpaper since then. (For, the record I should state though, that my sister, Jamie, who has been featured here, has hung peel and stick in several places in her home and it has turned out beautifully, I have just not enjoyed hanging it myself!)
Because of my initial experience I have dreaded trying it again. Now that we are renting and hanging traditional paper isn't an option in most of the rooms (although I do have permission to remove some old paper and hang some new paper in the powder room which is happening next month!) I decided to give the peel and stick paper another try. I absolutely LOVE wallpaper which I think you all know based on all of the different papers we have used in our last three homes – ha!
I ordered this paper online from World Market and then stared at it for about three weeks as I was dreading hanging it. Well, lo and behold when I finally buckled down to hang it last week I was in complete awe! It literally went up so easily that I couldn't even believe it! It felt too good to be true when the first strip went up easy as can be. Then the second strip went up just as easily and before I knew it the whole wall was done. I love it and I can't wait to use it again! I can HIGHLY recommend this paper to anyone that wants to give peel and stick wallpaper a try but has been on the fence based on how difficult it may be.
We also added a large area rug and then a smaller faux fur one on top of it to help break up all the gray in the room. It helps add texture and makes the room feel a lot more cozy.
The first day we moved in we realized that the queen sized bed wouldn't fit in this room without interfering with the closet doors so we moved that to the guest room and then found this great daybed on sale! I love that here it can be used as a bed here in Lillie's room, but that down the road we could also use as more of a sofa type daybed on a porch or in a sunroom. And we used one of our Beddy's zippered bedding which is the most amazing bedding ever for kids. We've been using Beddy's for several years now both in our own home and most of our client's children's rooms, and it's hard to imagine ever using anything else for a kid's room! We added some cozy throws and pillows and some other little fun details throughout the room to finish it off.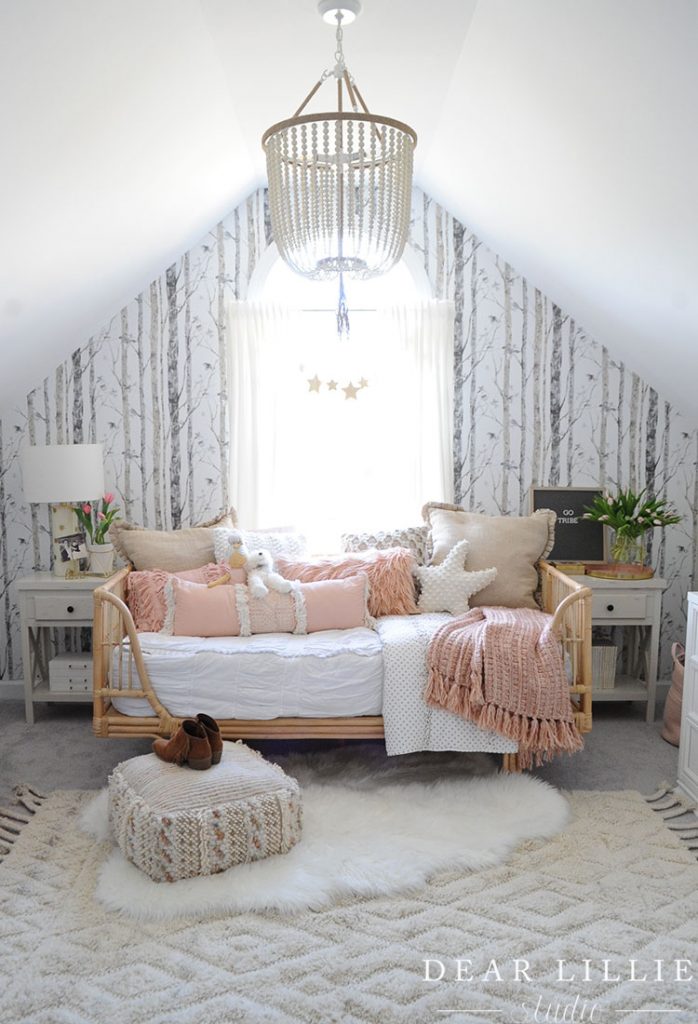 The other change we made was changing out the existing light fixture for this fun one that is a great price! When you are renting you can always swap the light fixtures out and then swap them back when you move again and bring your new one with you. (For us though, being in this profession, we will probably confirm with the owner and leave several of the new ones we added here when we leave because they work so well in the spaces they are now in!)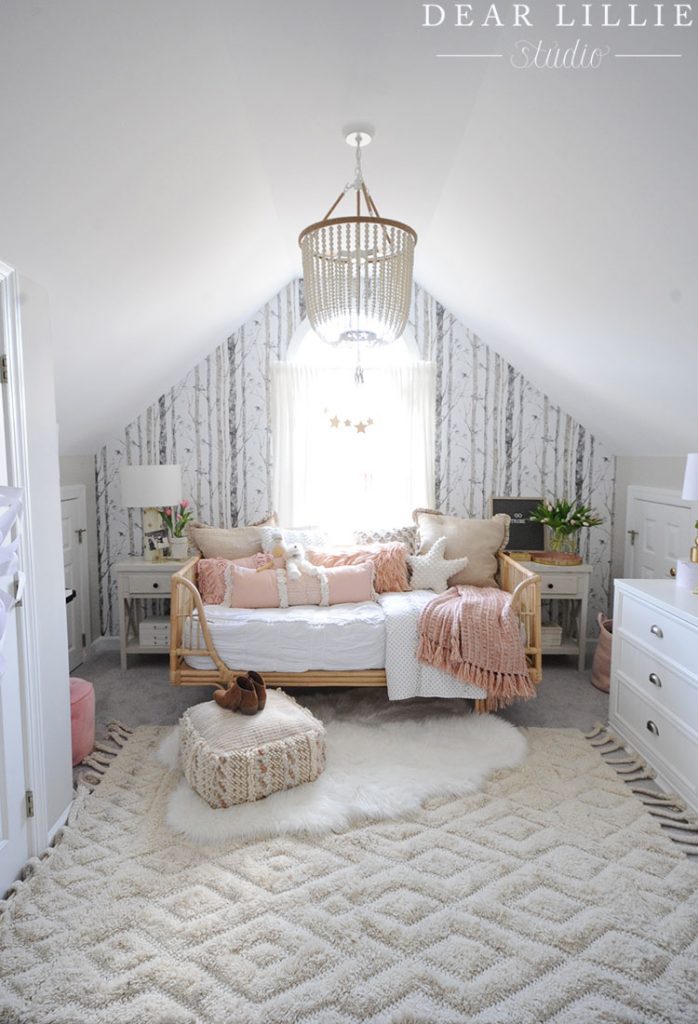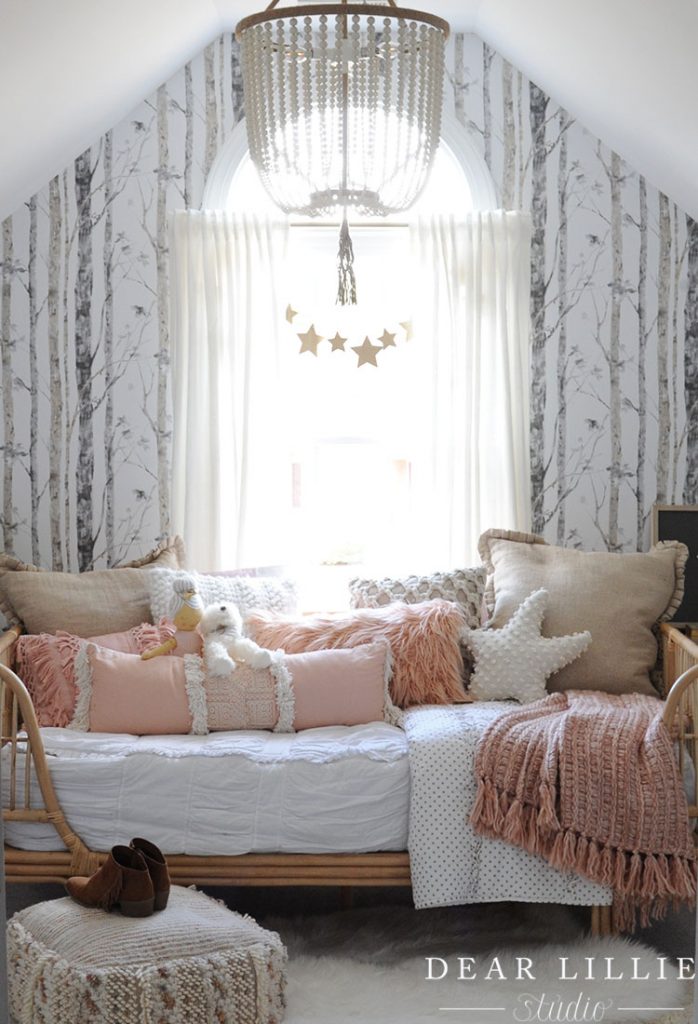 We ended up swapping some dressers when we moved in this house based on which ones fit in which rooms. Lola's dresser didn't fit in her room so we put it here in Lillie's room and then used one from our old room in Lola's room because we didn't need it in our room here at this house.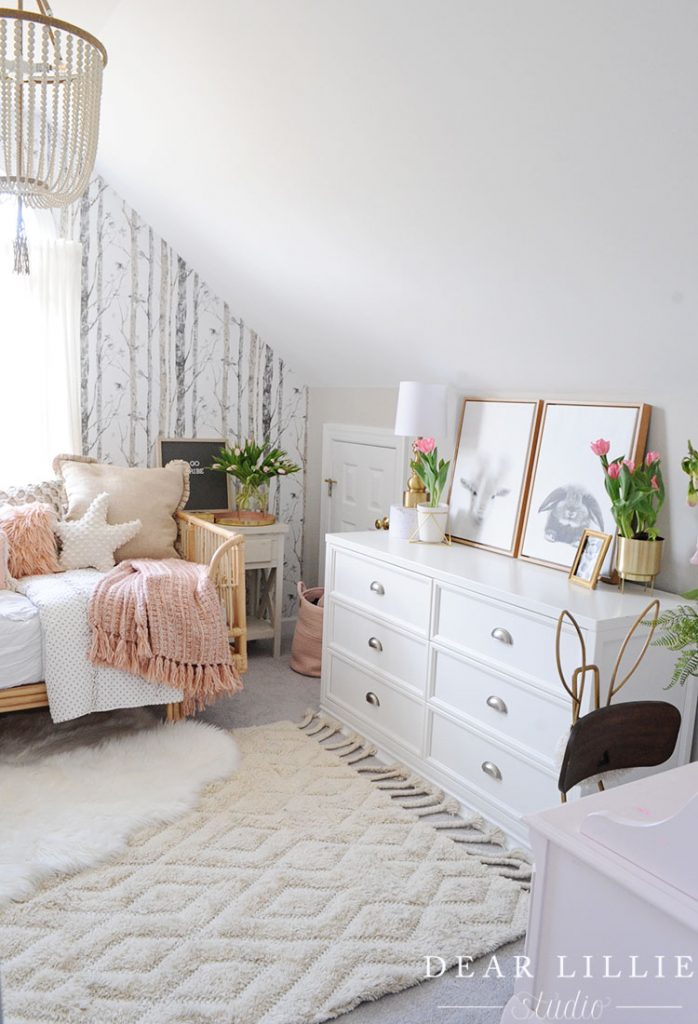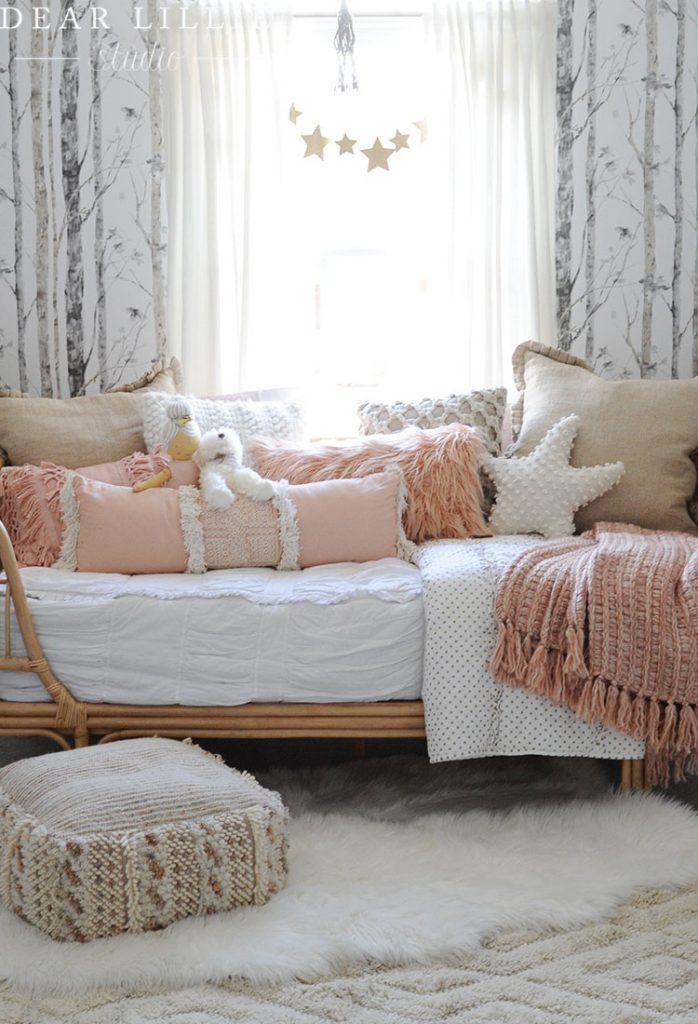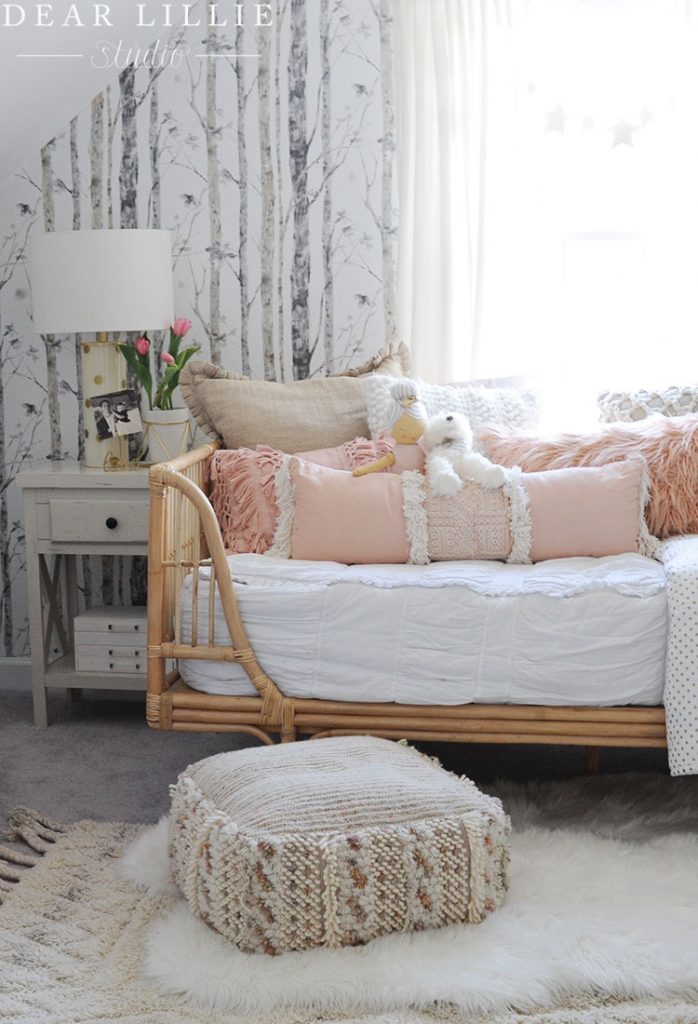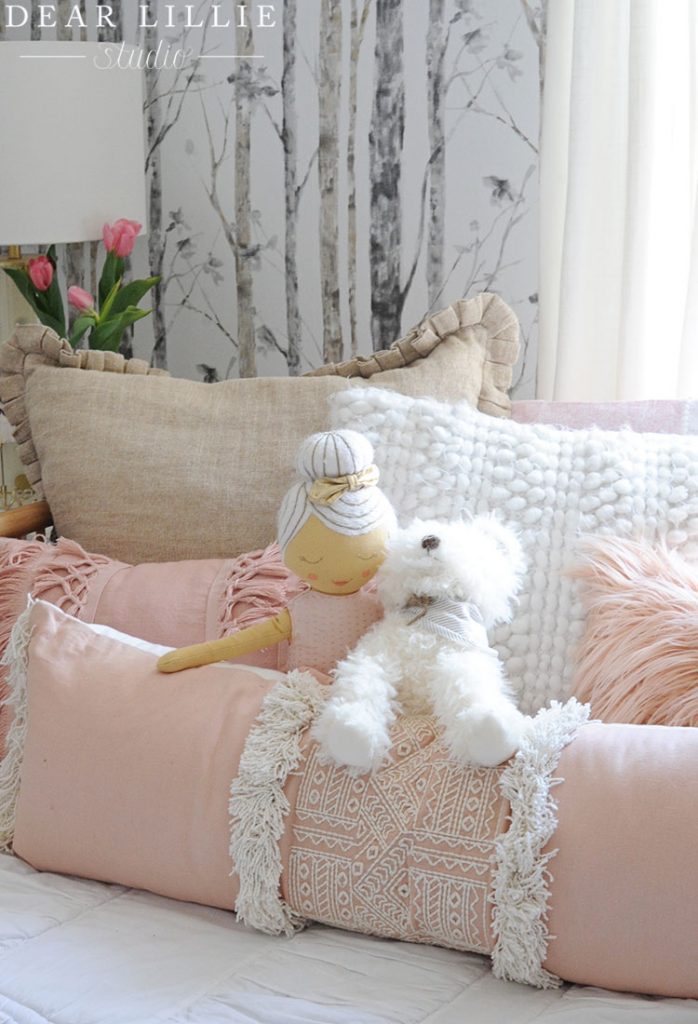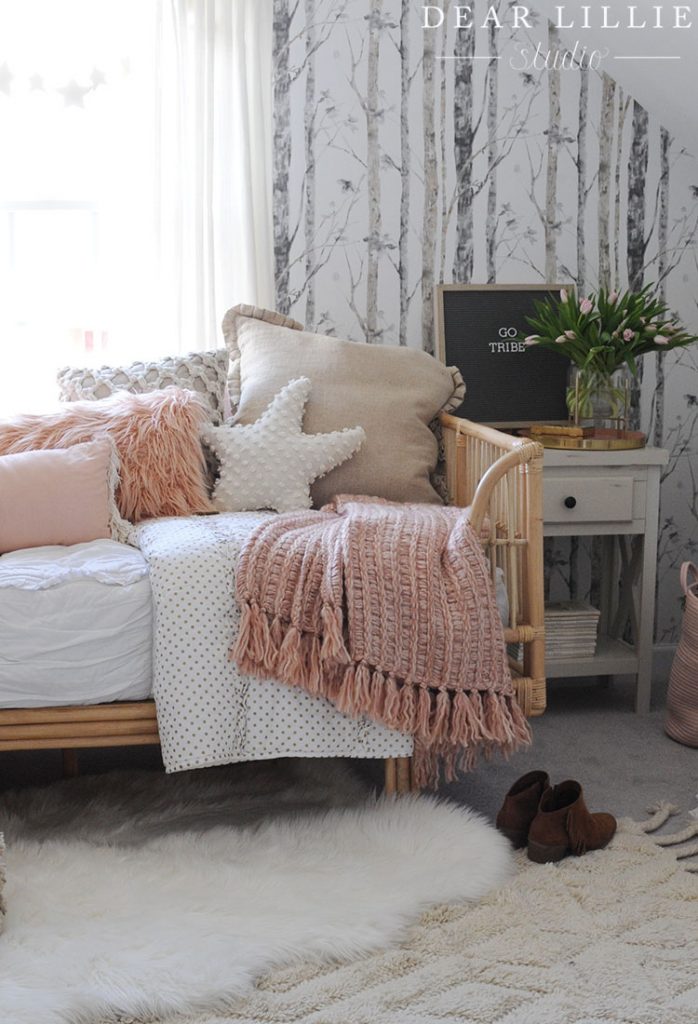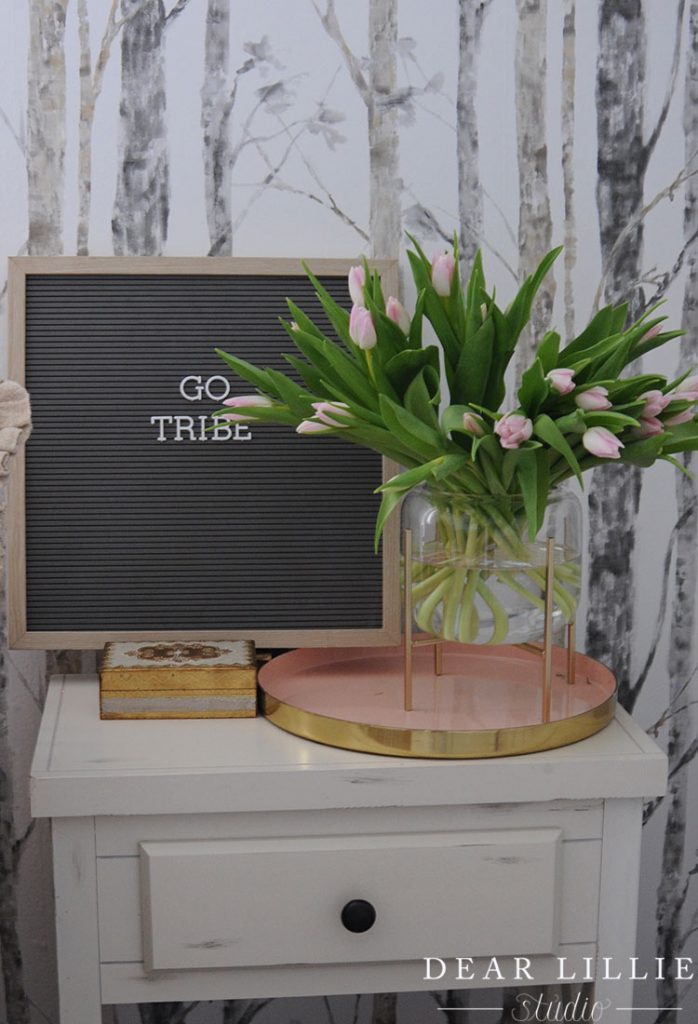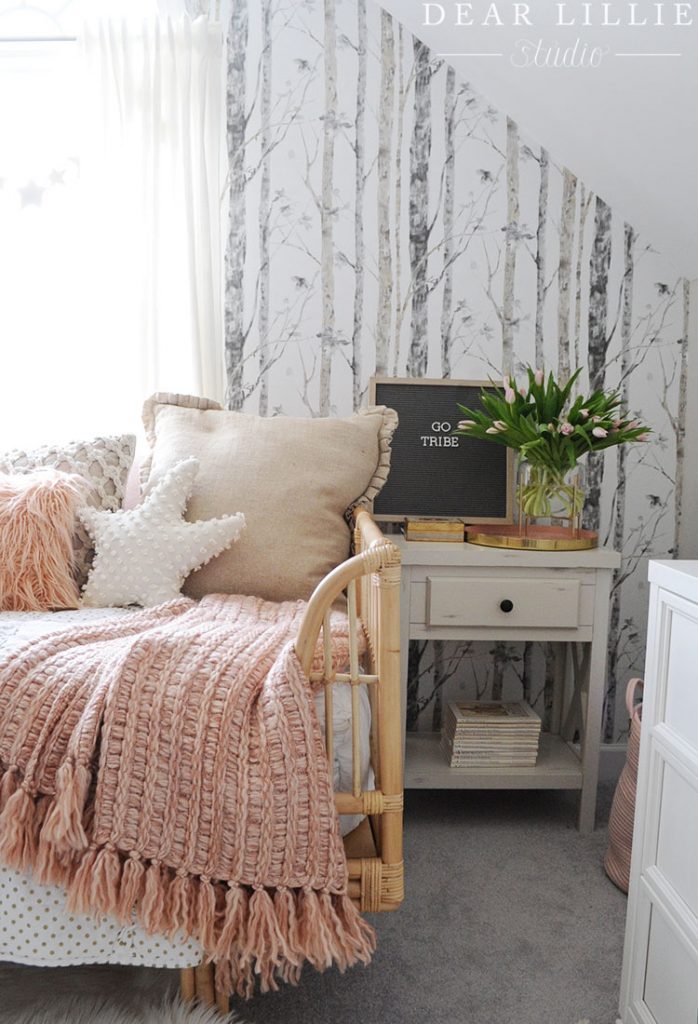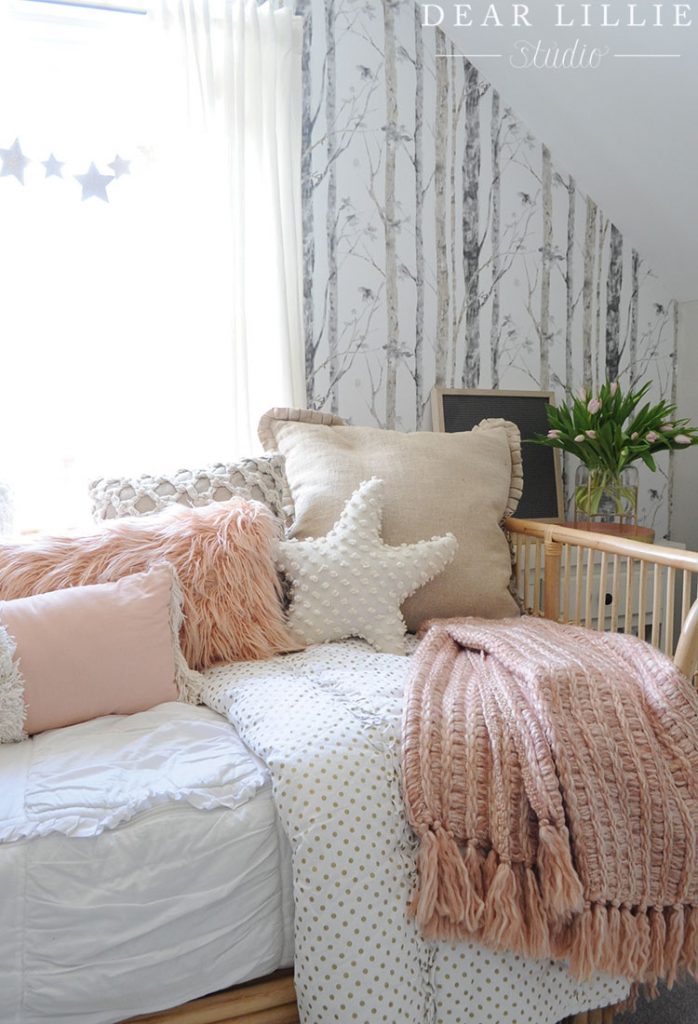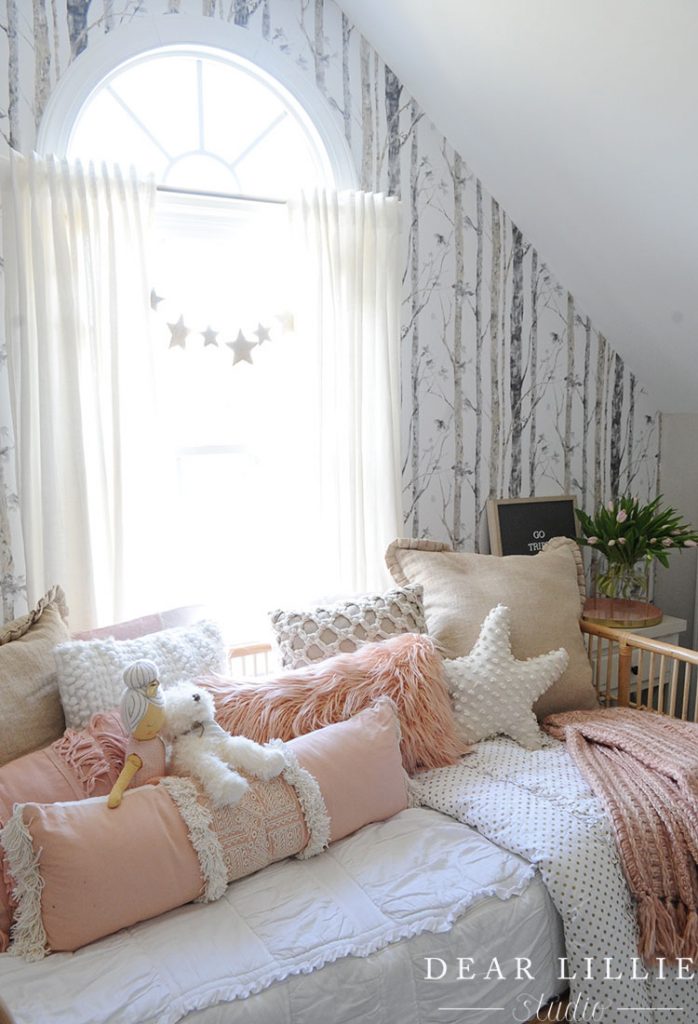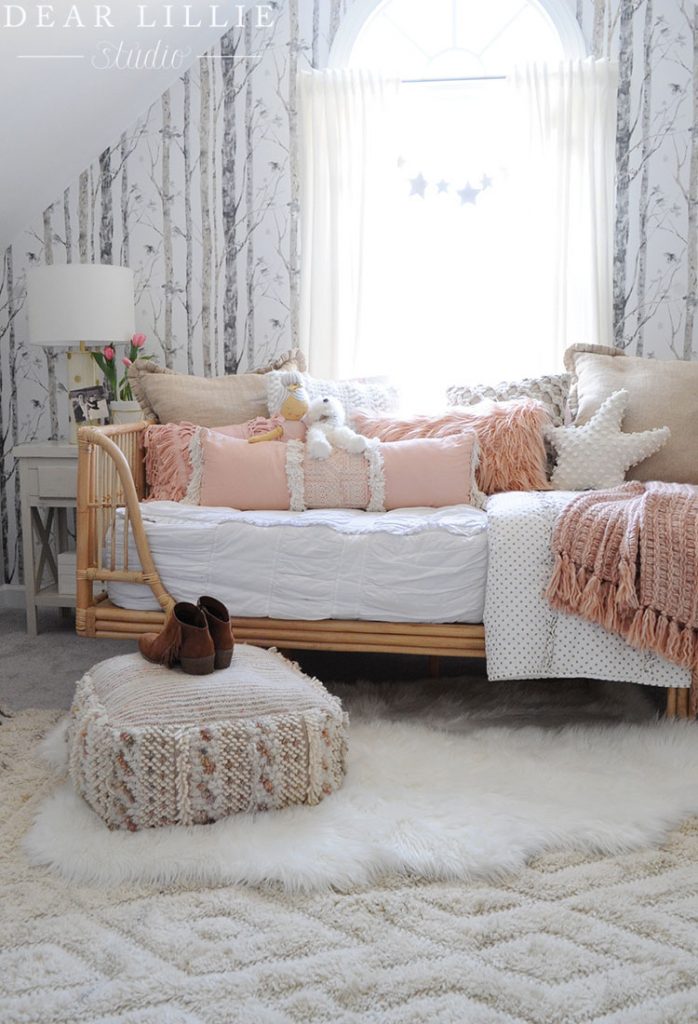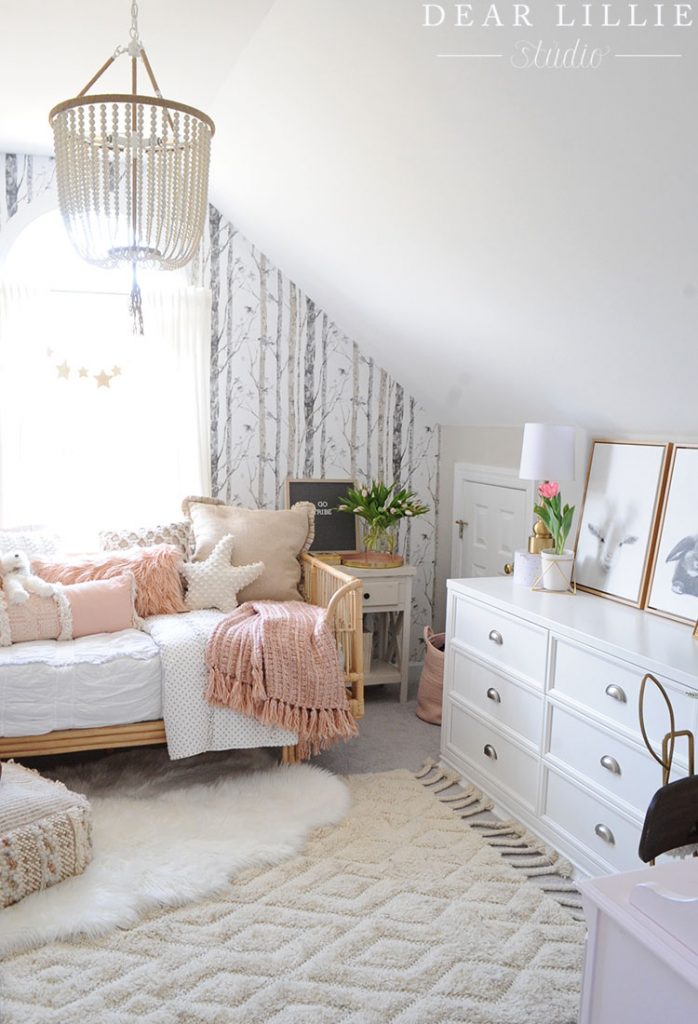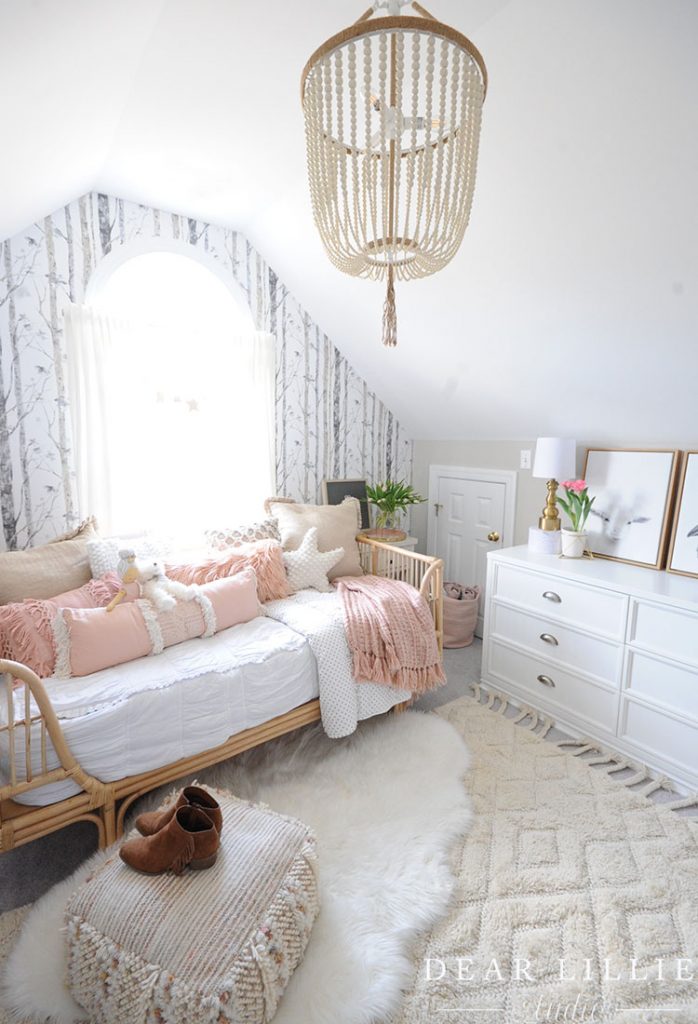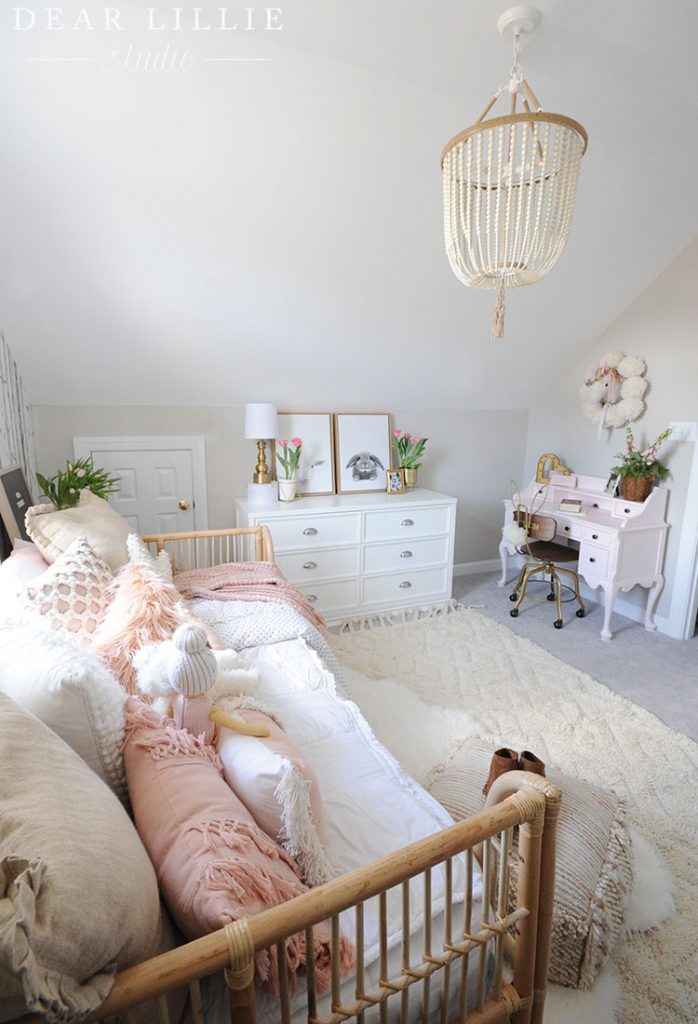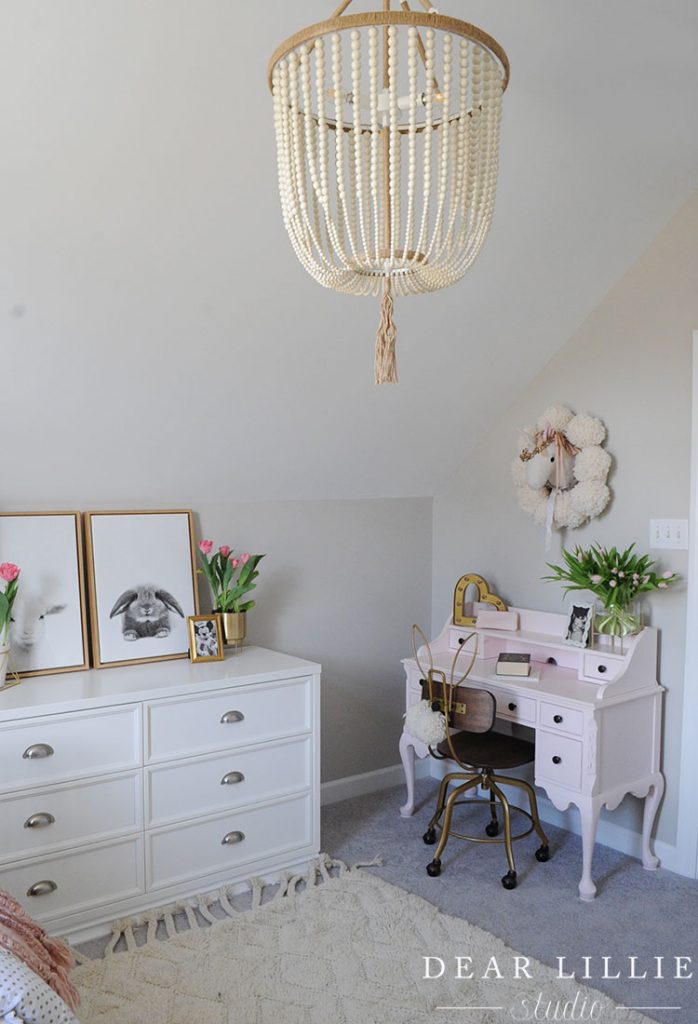 Although I don't think either of them are available anymore, Lillie's desk and chair are two of my favorite pieces!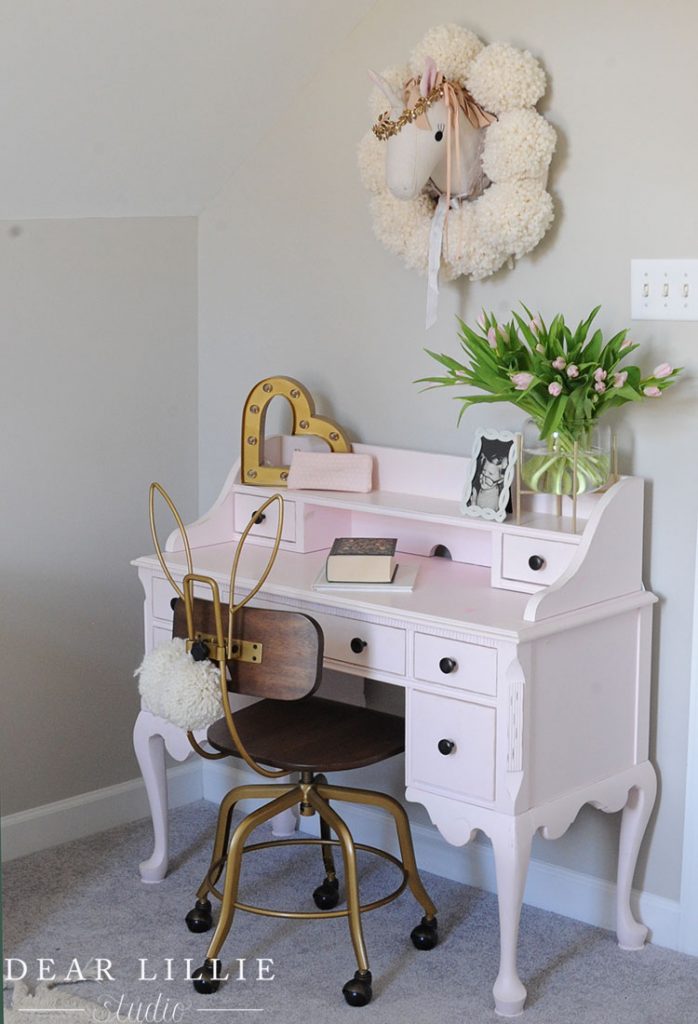 Here are a few wide angled shots: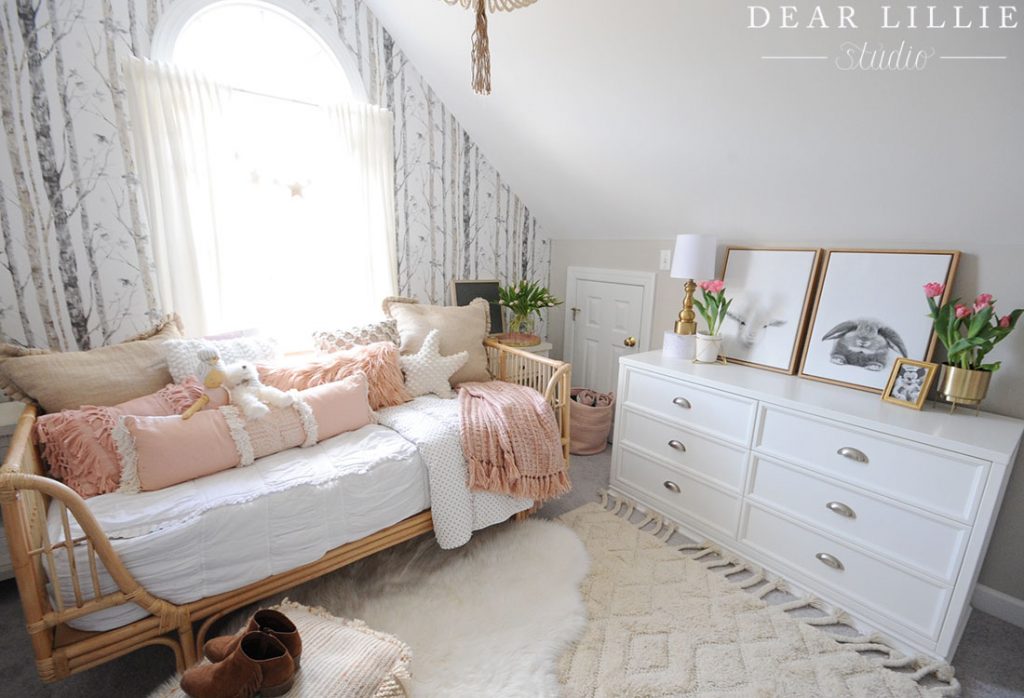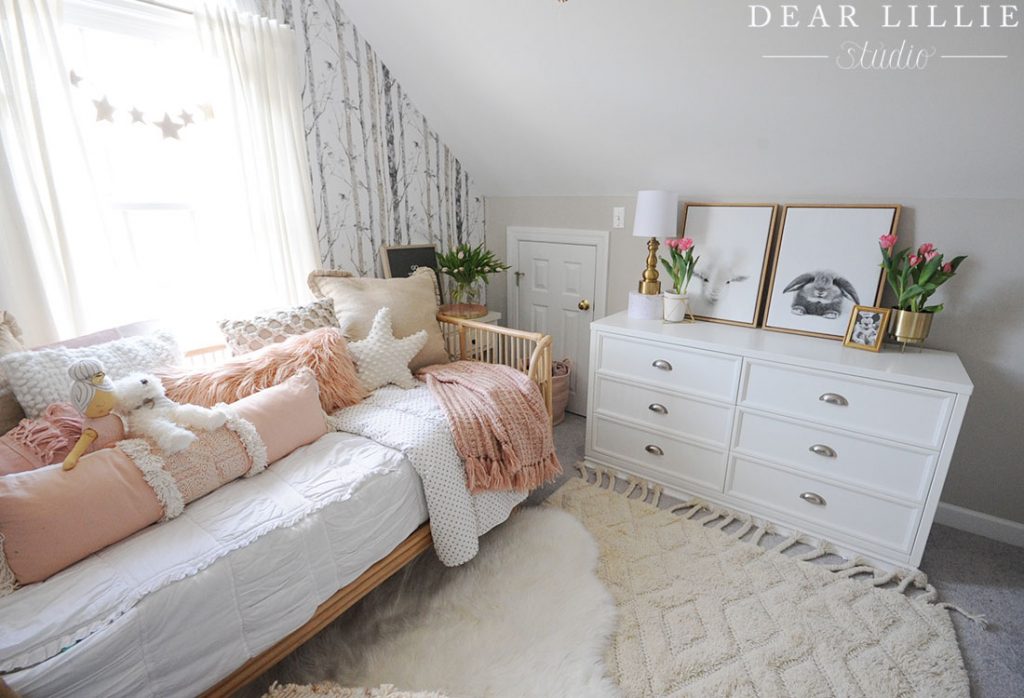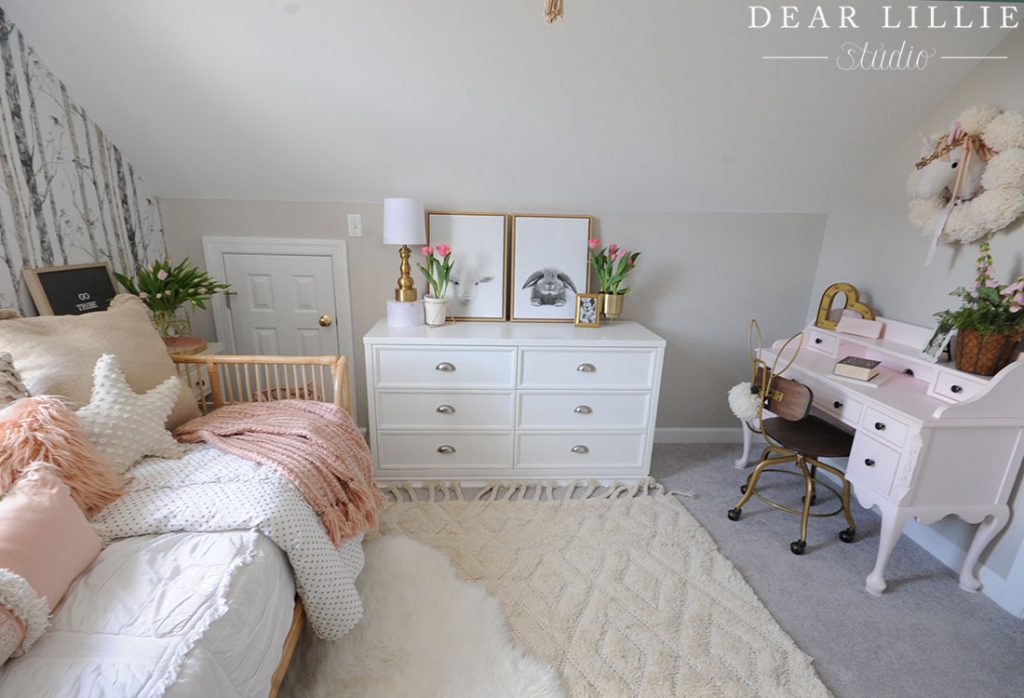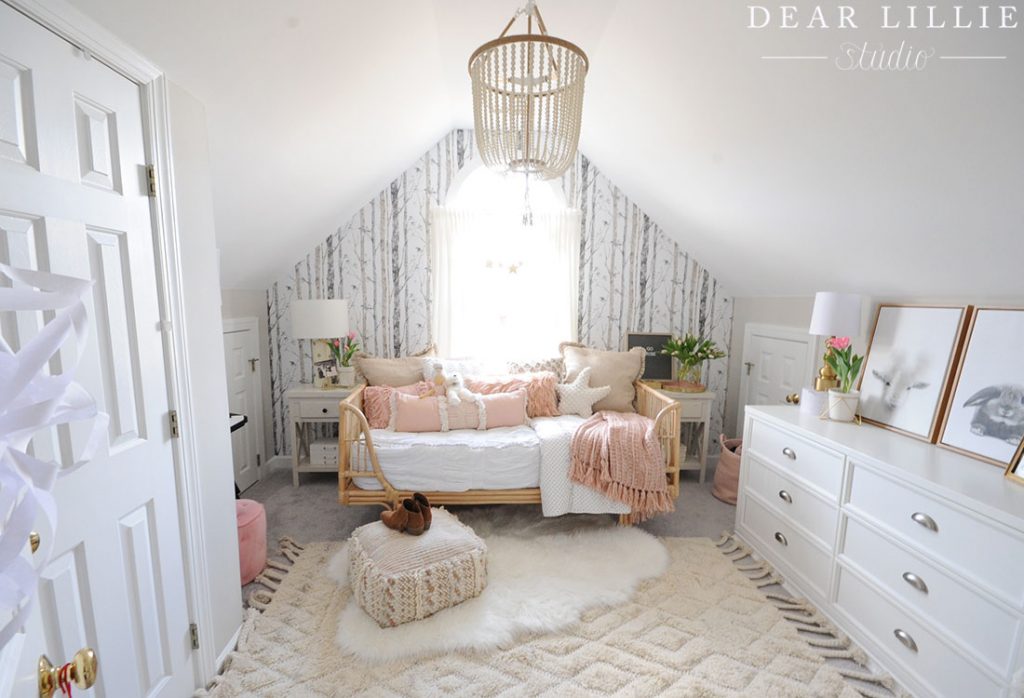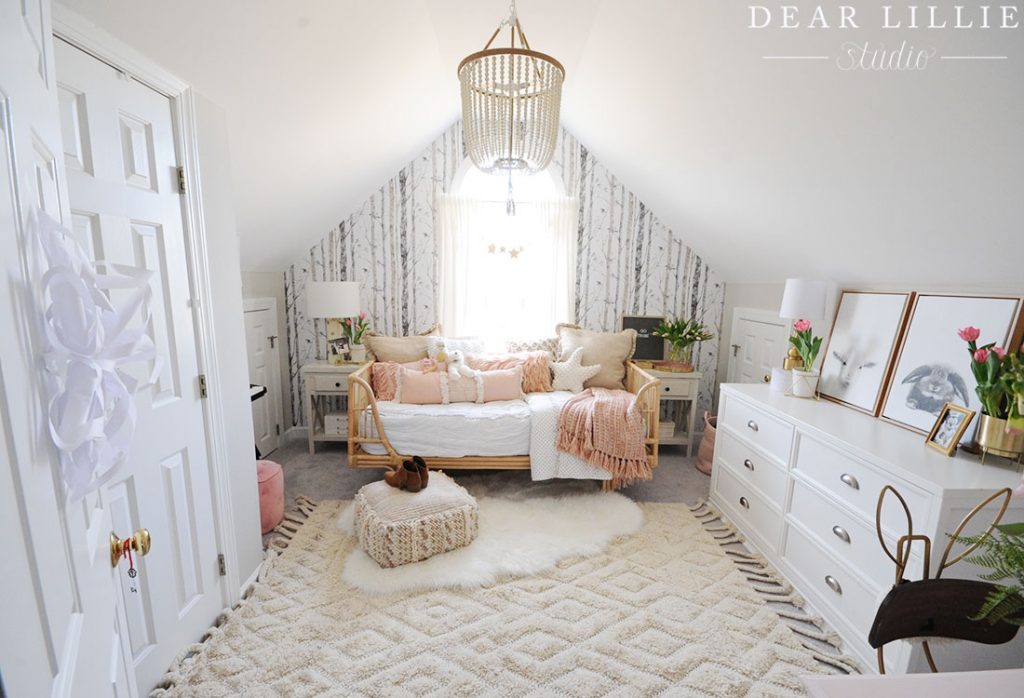 And I just LOVE this vase!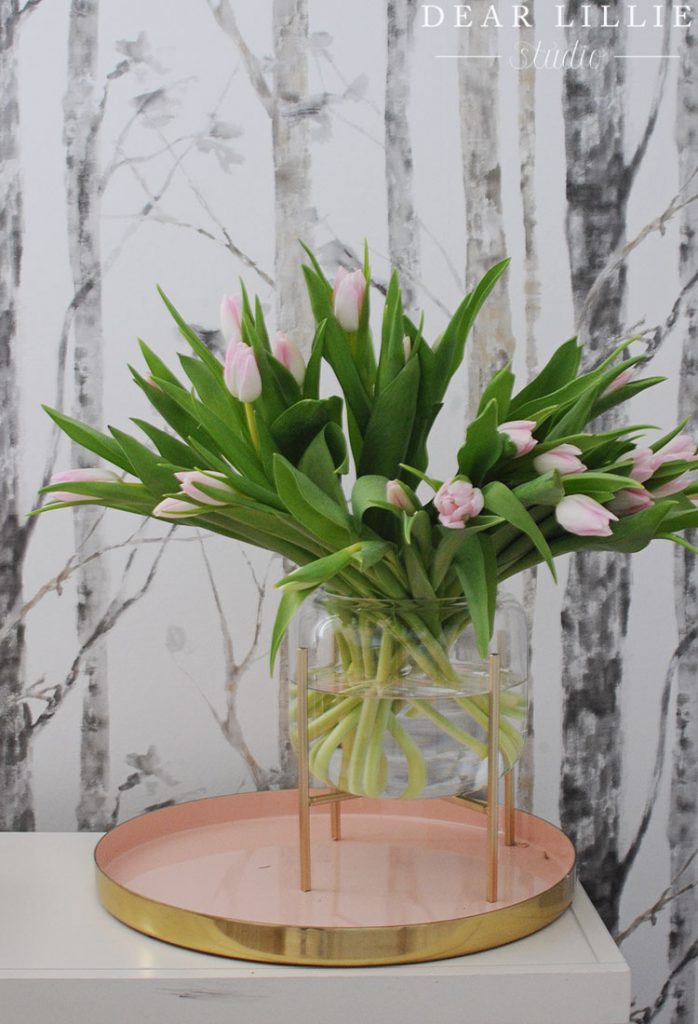 Source List:
Wall Color – Balboa Mist by Benjamin Moore
Peel and Stick Wallpaper – World Market
Daybed – World Market
Light Fixture – Wayfair
Curtain Rod – Birch Lane
Draperies – IKEA
Larger Rug – World Market
Faux Fur Rug – HomeGoods
Star Garland – Pottery Barn Kids
Zippered Bedding – Beddy's Bedding
Gold Dotted Blanket – Beddy's Bedding
Pink Blanket – World Market
Large Pink Lumbar Pillow – Target
Fuzzy Pink Pillow – World Market
Tasseled Pink Pillow – World Market
Large Gold Euro Shams – HomeGoods
Cream Knit Pillow – Joss and Main
Tan and Cream Textured Pillow – World Market
Dresser – HomeGoods
Lamp – HomeGoods
Nightstands – HomeGoods
Animal Canvas Prints – HomeGoods (can also be found here and here)
Pouf – World Market
Vase on Nightstand – World Market
Vase on Dresser – World Market
Vase on Desk – World Market
Letter Board – HomeGoods (similar one can be found here and here)
Desk – Pottery Barn Kids (no longer available)
Bunny Chair – Pottery Barn Teen
Wreath – I made it (tutorial can be found here)
Unicorn Head – Target
Crown – Joyfolie
Lamp on Dresser – Target
Pink Round Tray – Target
Boots – Target
Well, that's it for today! I hope you all have a wonderful week ahead!
Warmly, Jenni
This post was sponsored by World Market and affiliate links are used at no cost to the reader.
All thoughts and opinions are my own.