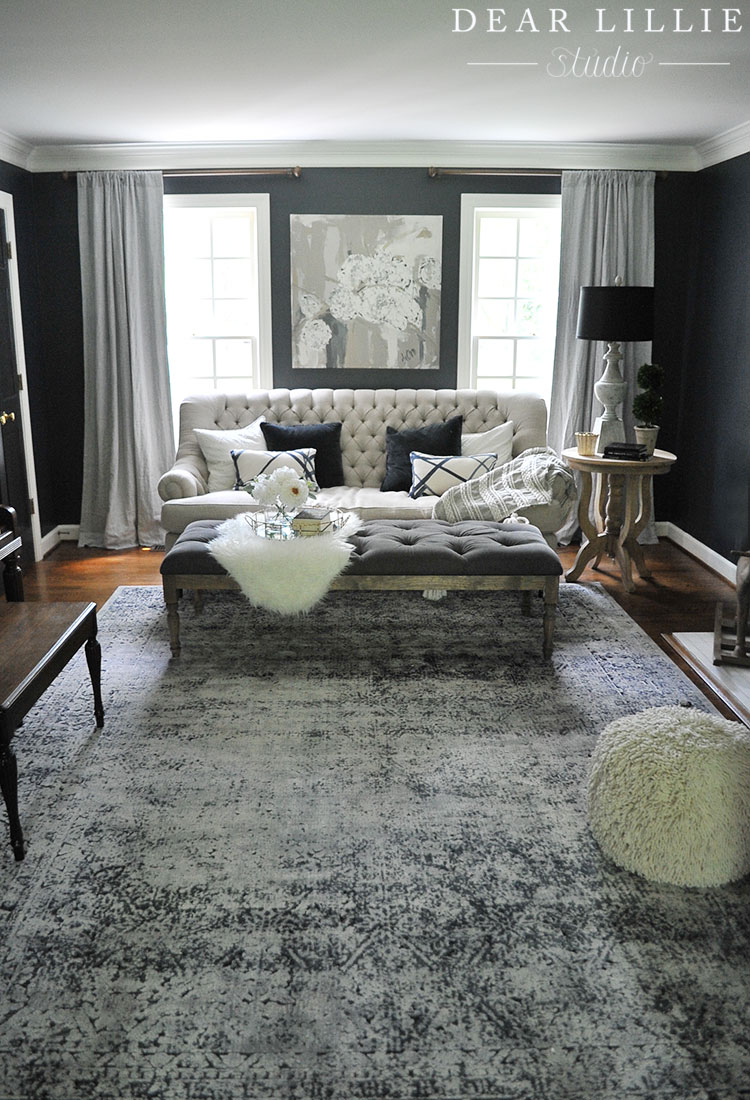 Although it definitely isn't finished, we've made some more progress in our living room. We added a new larger rug from our sponsor, eSale Rugs and it is beautiful! I love how it looks against the dark walls and light colored sofa.  It's similar to the one in our family room that we love but a little bit darker. They have so many different style rugs that I just love the colors of, so it was hard to decide but I am glad we ultimately went with this one! We moved the rug that we had in here (that was a bit smaller) to the dining room and they really complement each other. I pulled the ottoman from our family room in here for a few days to help me decide what size and shape I was going to go with for a coffee table and I think I've found one so hopefully the next time I photograph this room I will have that in here and won't have to keep stealing the ottoman – ha!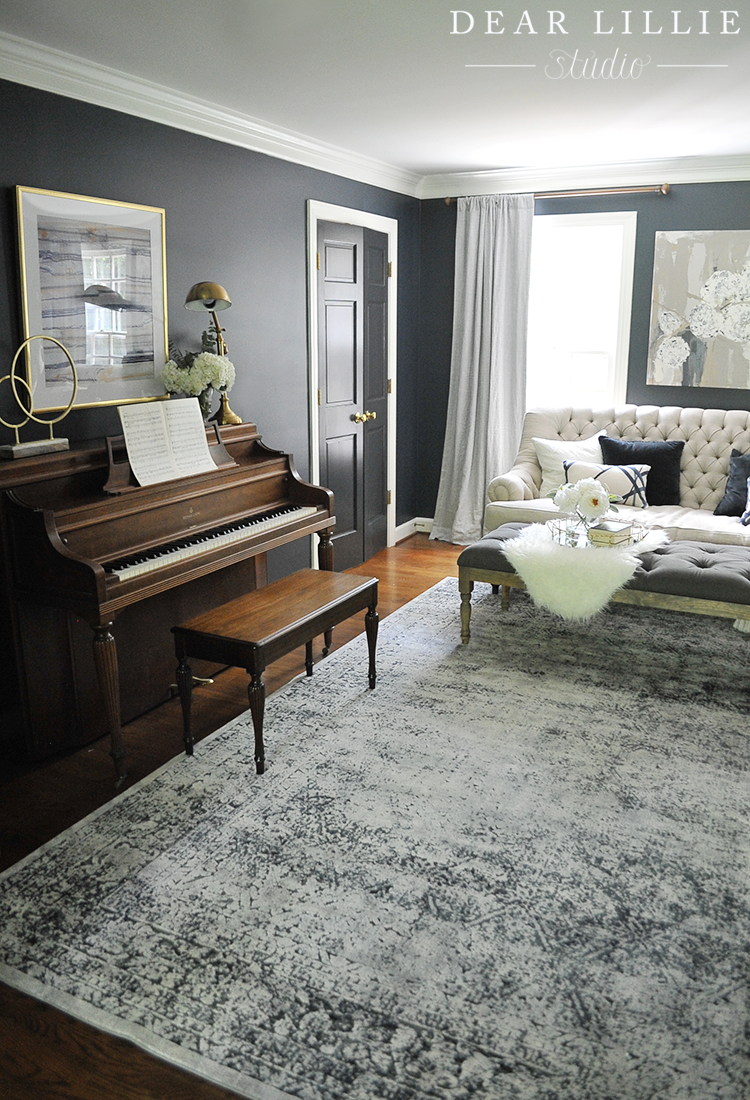 The other big addition to our living room was this piano! Lillie has started taking lessons and after hunting for months and months on Craigslist for an inexpensive one with no luck, a friend told us about an estate sale and sure enough we were able to get this one for a steal! Of course it ended up needing quite a bit of work, ha, but Lillie is absolutely in love with it and I am woken up just about every morning to the sound of her playing. I love how the vintage feel of the rug looks with the piano and the the contrast that the modern art above it adds to the space.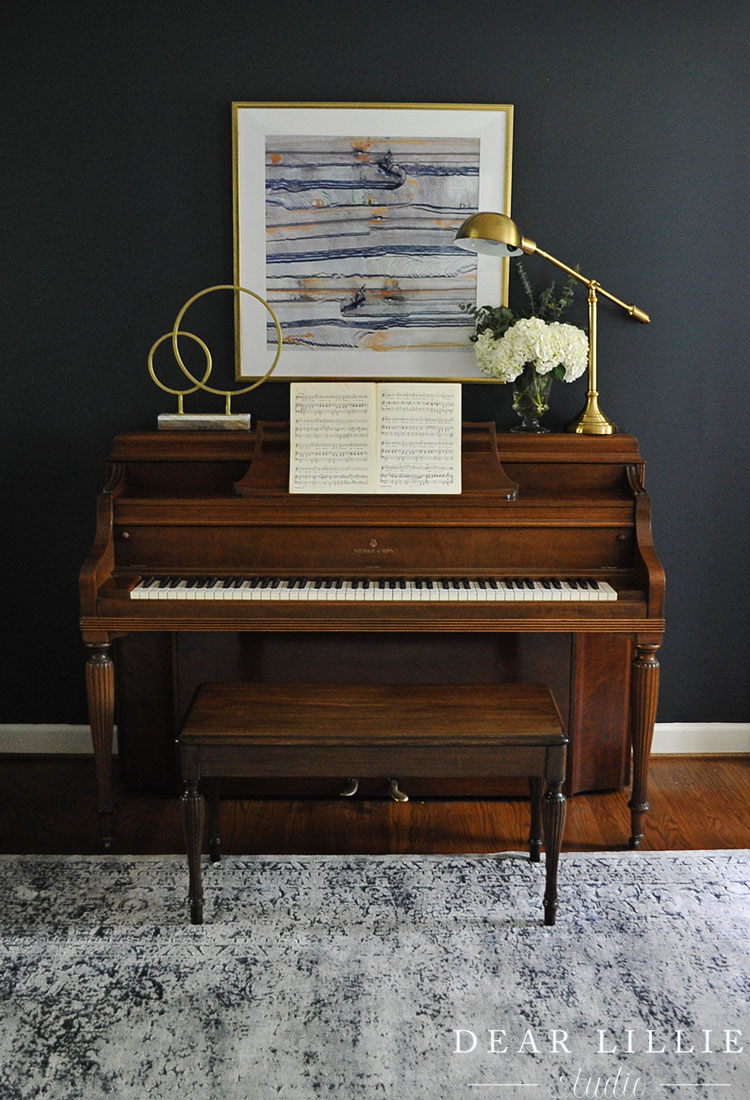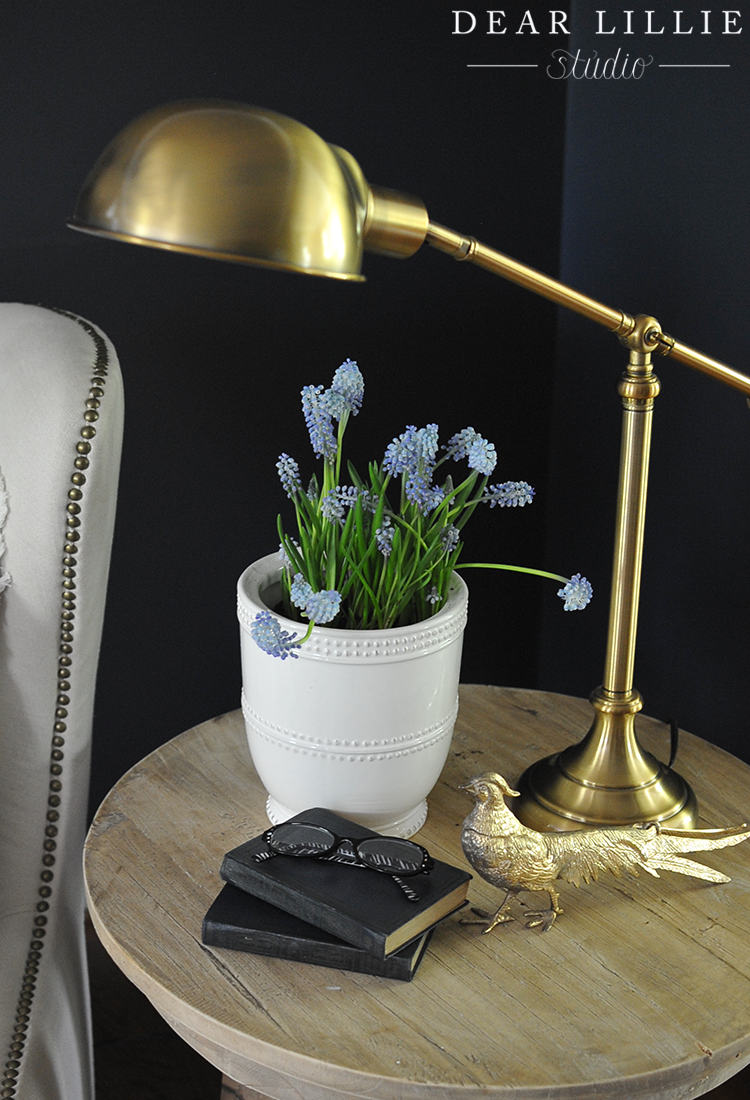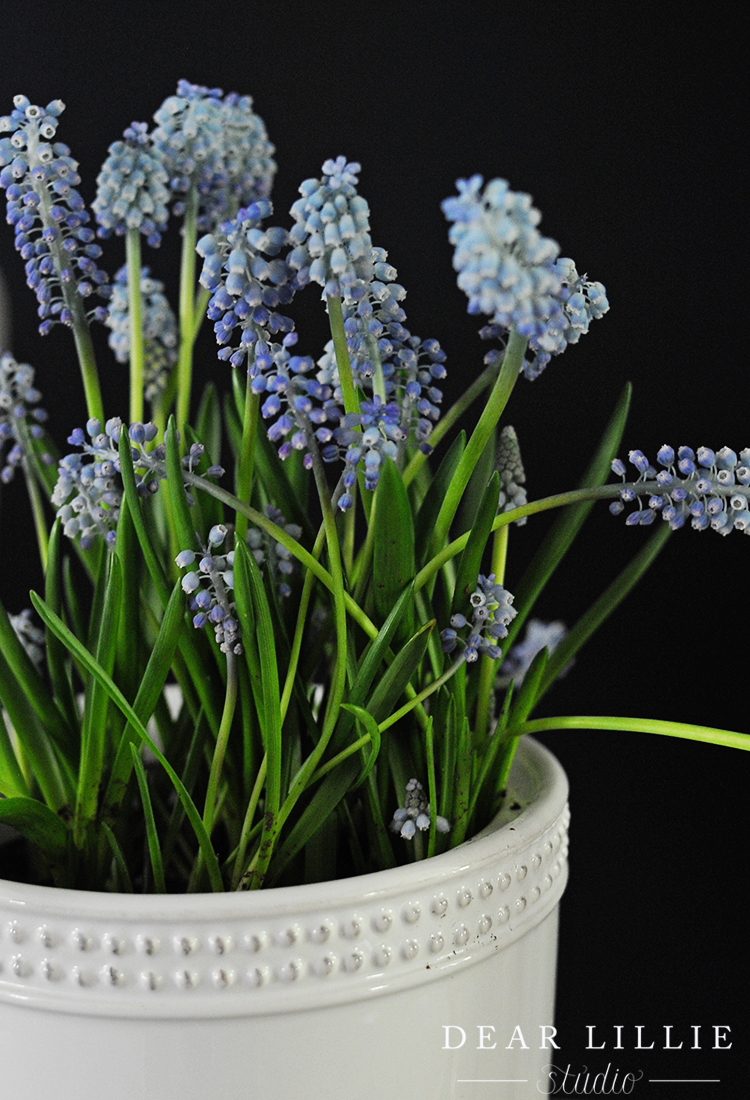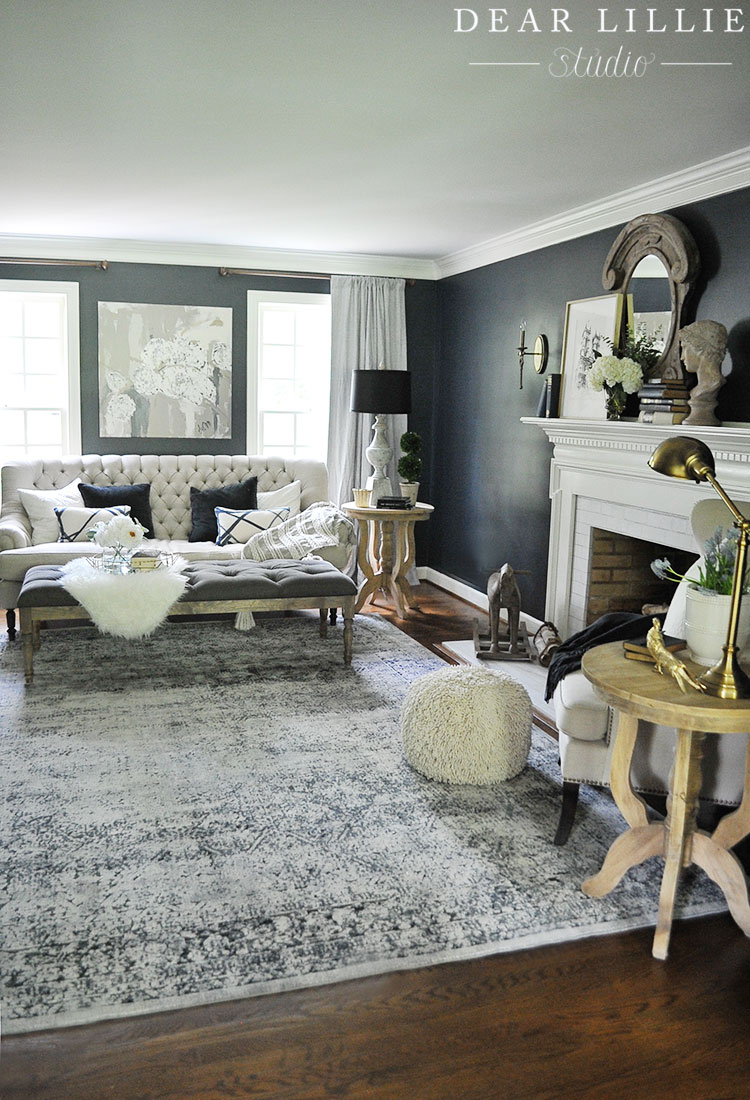 This mirror is just in here temporarily. I found a gold one that hangs horizontally that is supposed to arrive tomorrow and then this will go back into our powder room.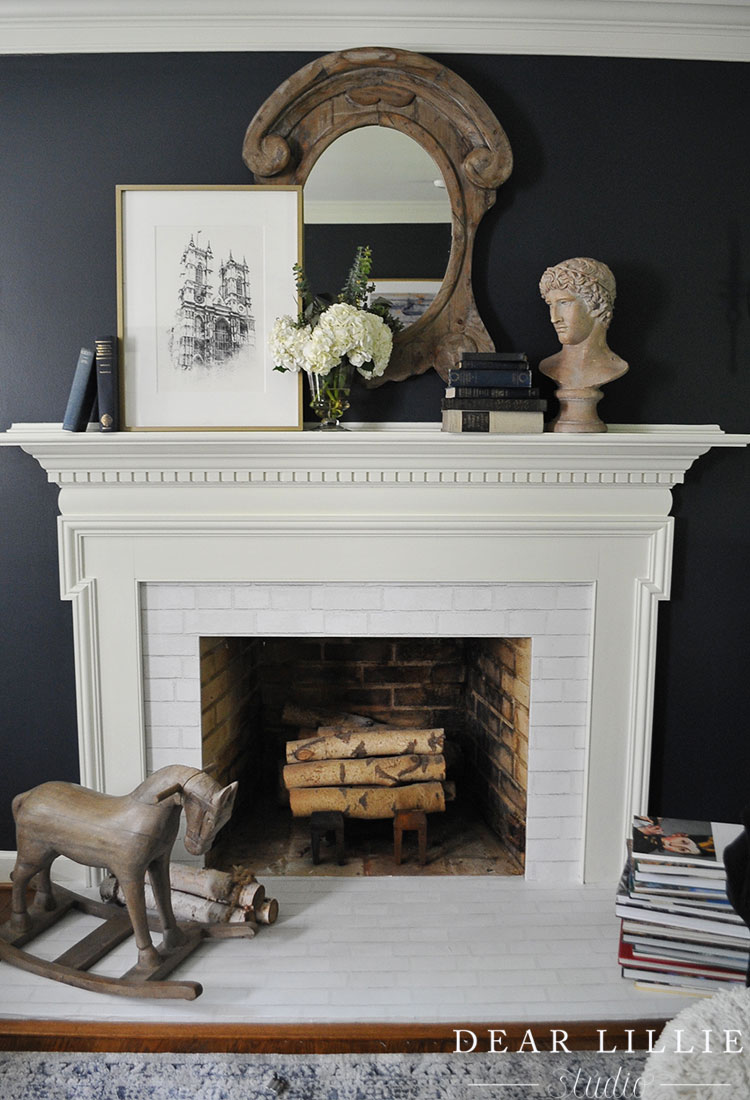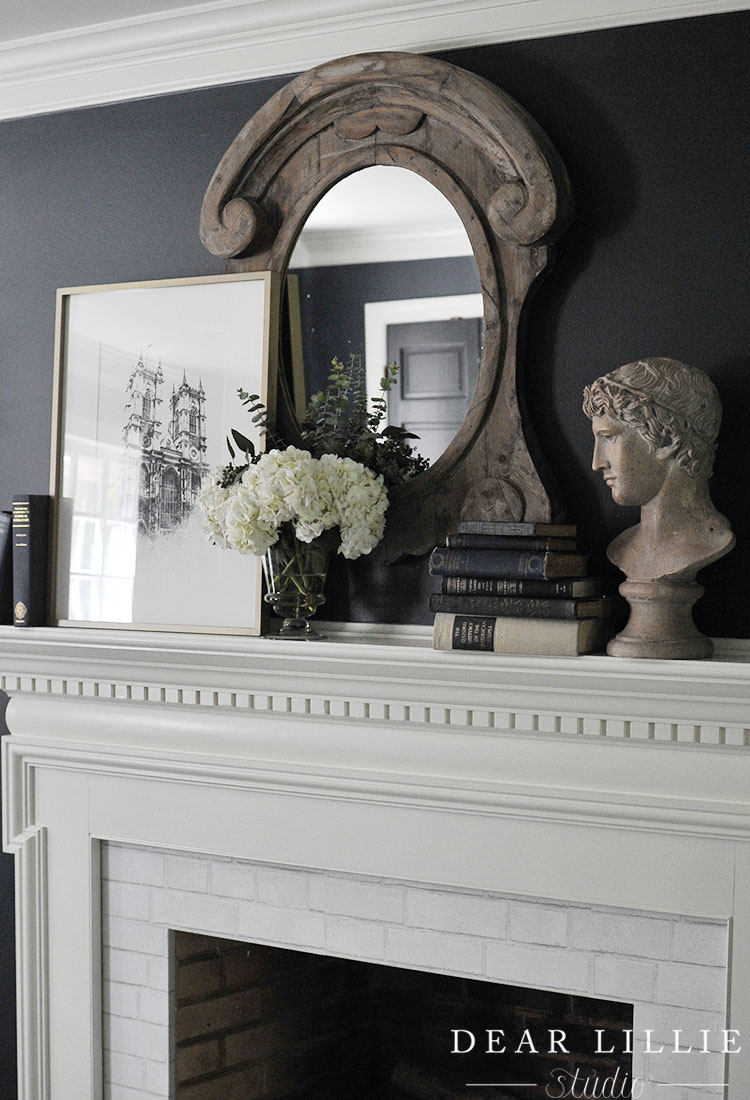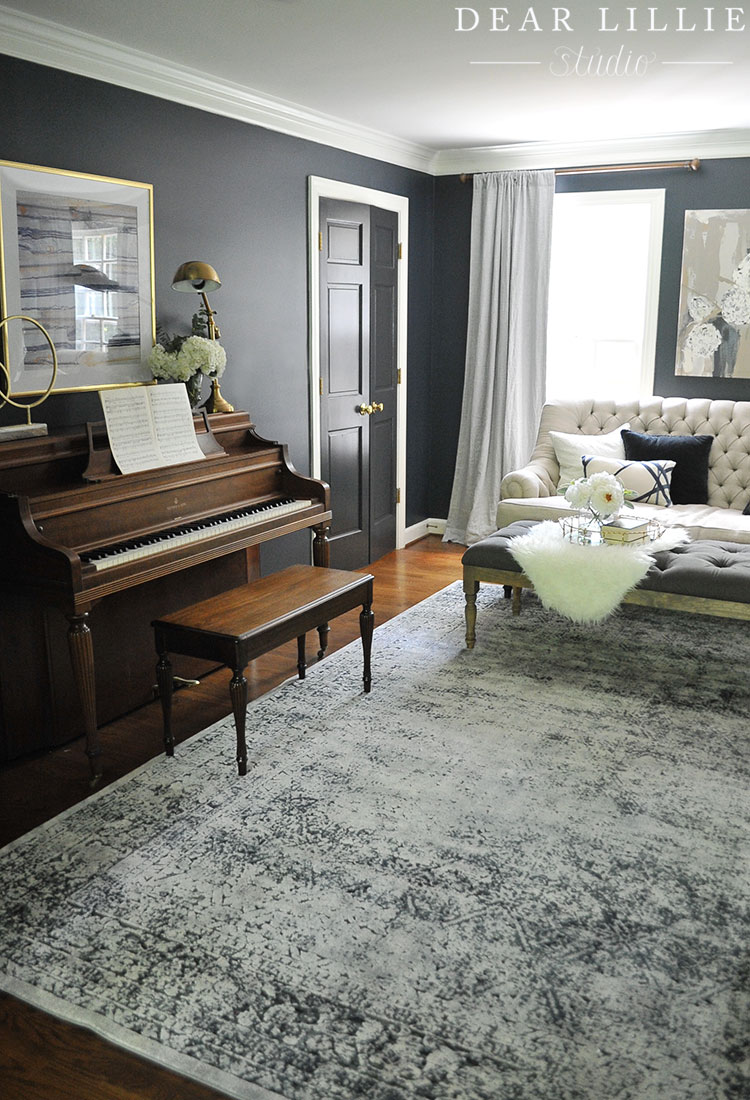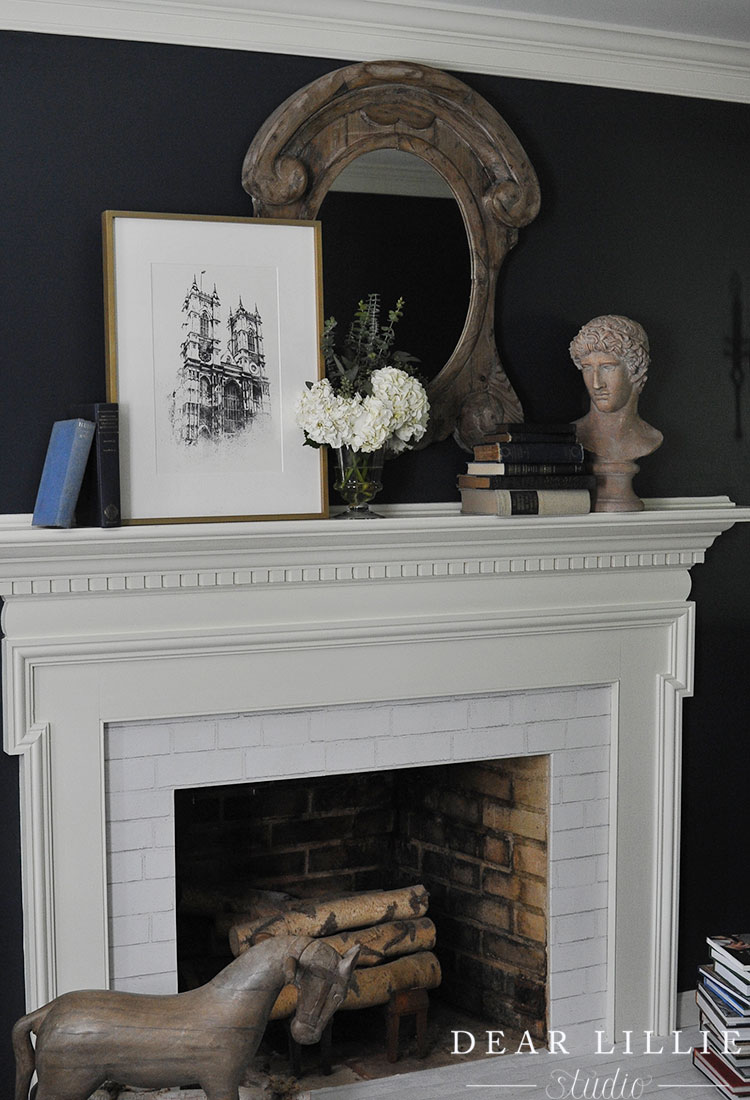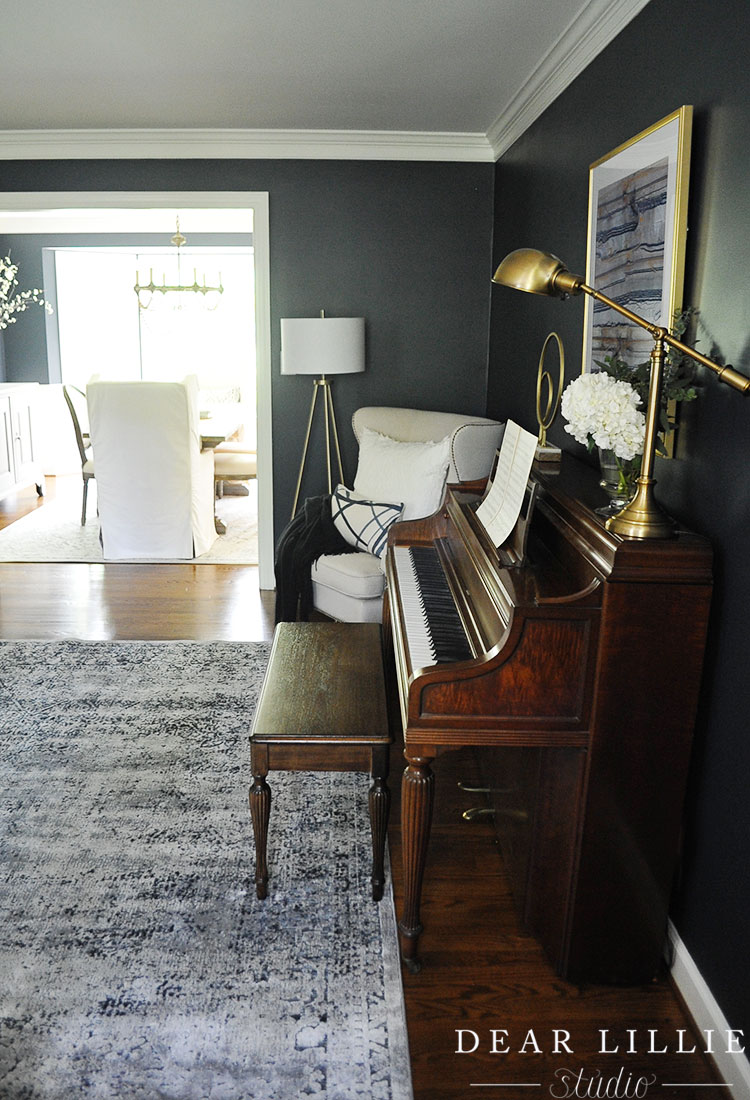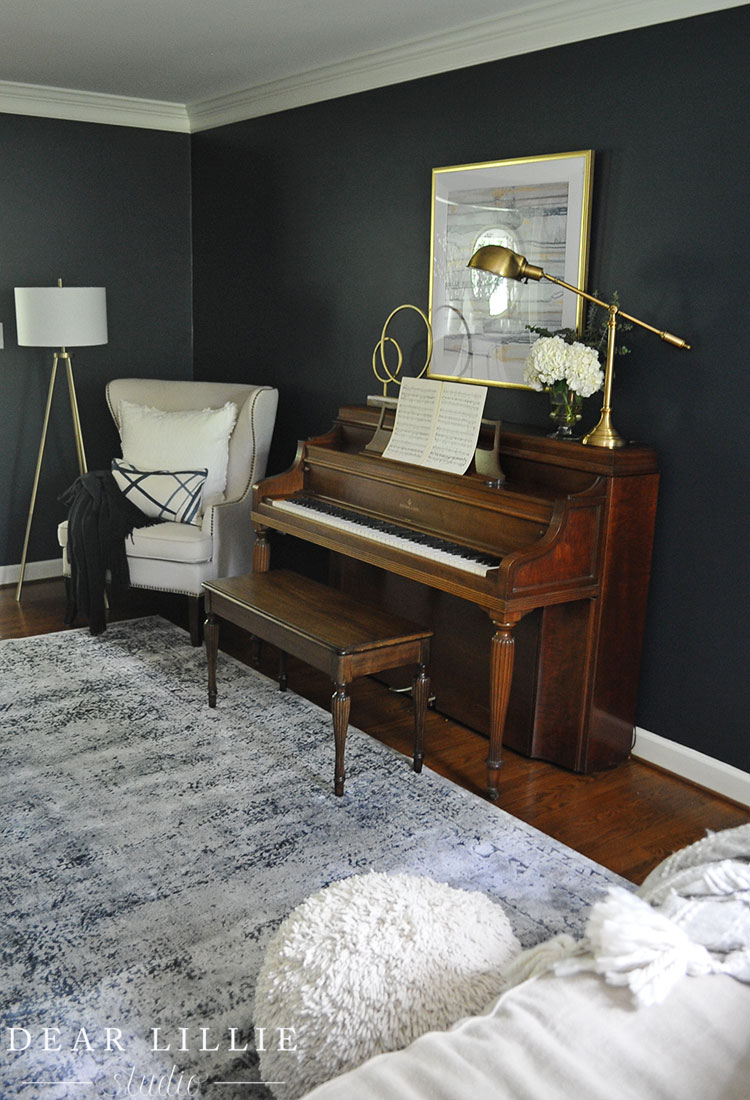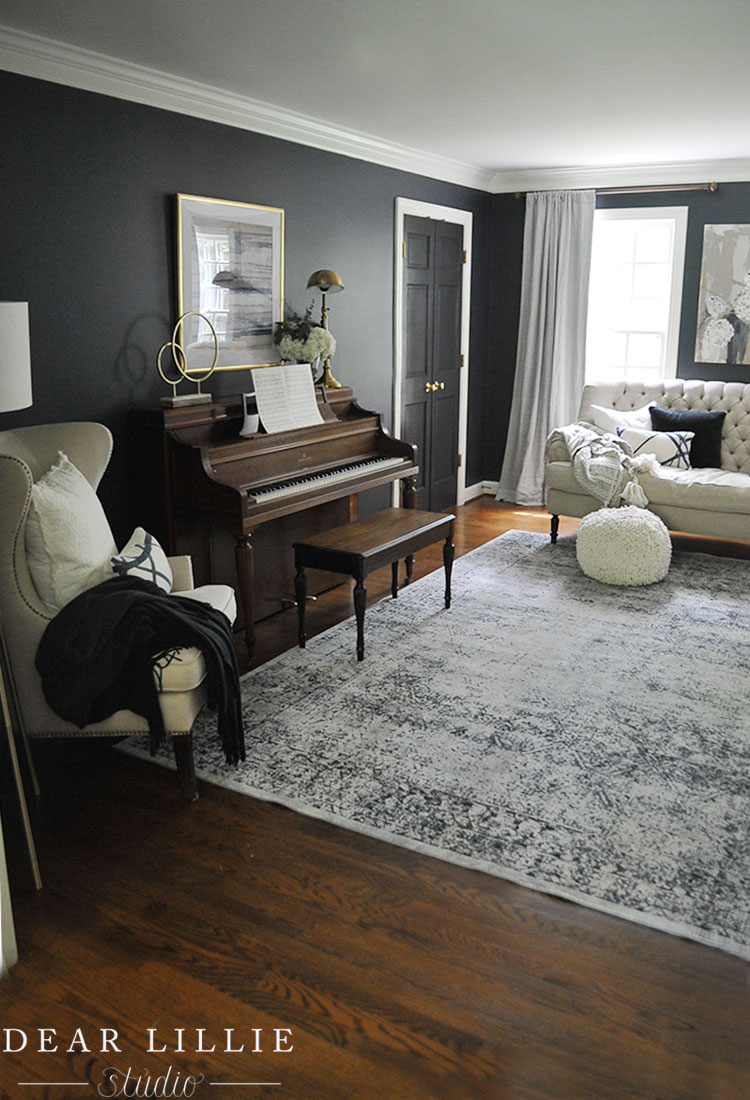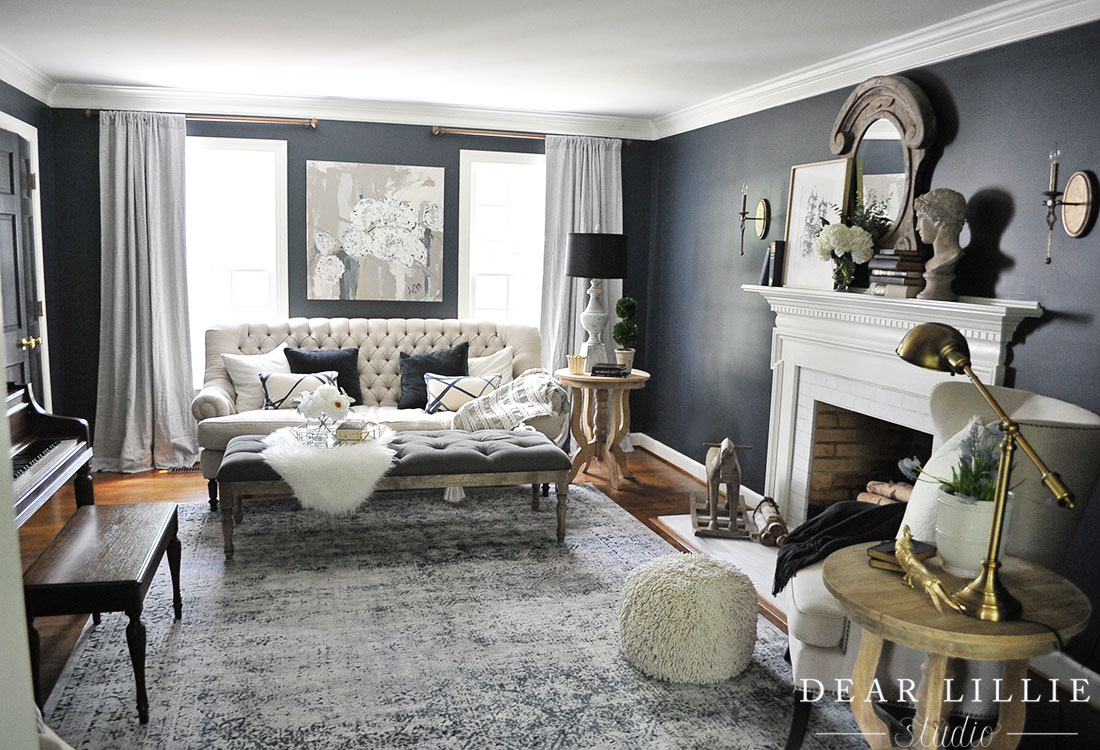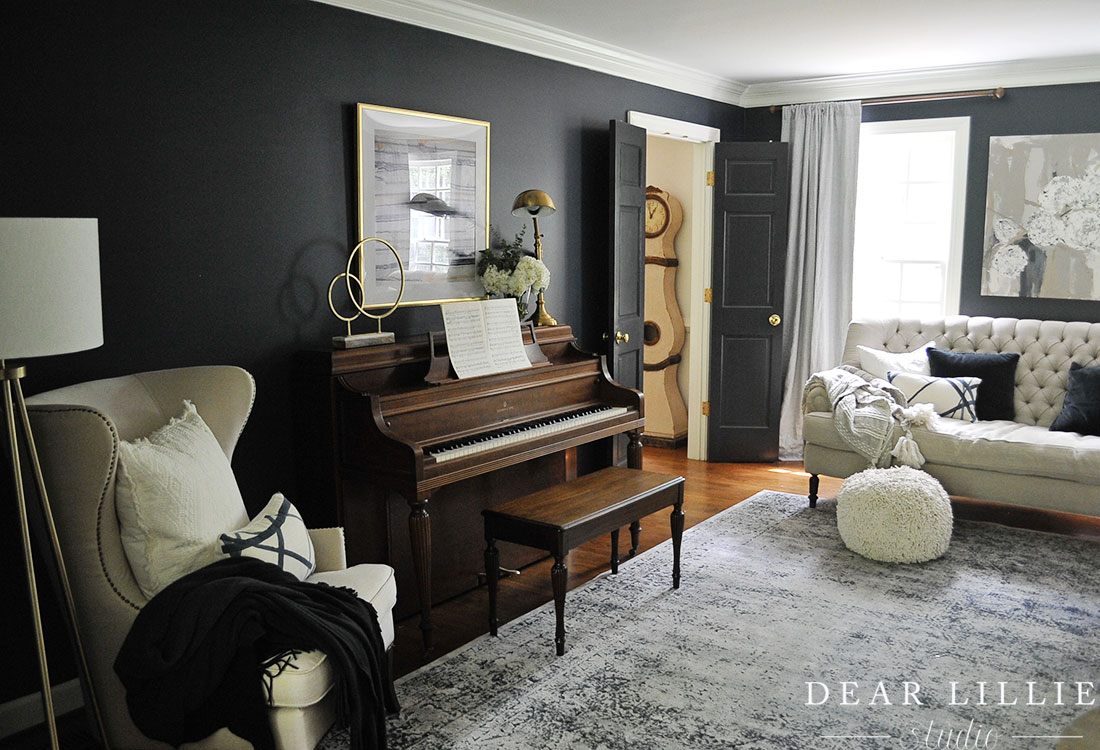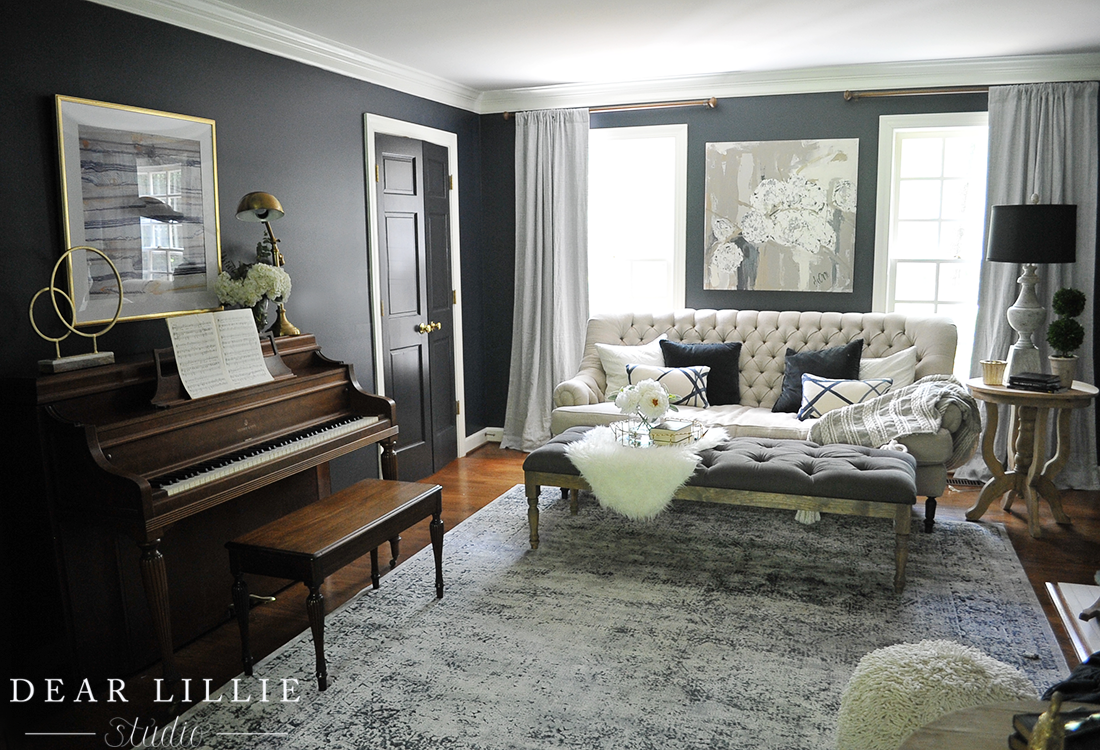 If you haven't had a chance we definitely recommend heading over to eSale Rugs to check out their beautiful selection of rugs!
Source List:
Wall Color – Blue Note in Eggshell by Benjamin Moore
Trim Color – Existing (it has a slightly greenish color to it so will get a coat of Simply White to match what we are doing in the rest of the house when I get a chance)
Doors – Mopboard Black in Semi-gloss by Benjamin Moore
Sofa – Barbara Hartman Interiors
Square Pillows – HomeGoods
Lamp – Aidan Gray (on clearance about ten years ago)
Bust – antique, gift
Throws on sofa – HomeGoods
Furry Throw on Ottoman – IKEA
Gold Tray – HomeGoods
Vase with Flowers – HomeGoods
Glass Vase with Hydrangeas – TJMaxx years ago – had a lid but it broke so now I use it as a vase
Sconces – Existing
Mirror above Fireplace – RH years ago
Books – Vintage
Pheasants – antique, gift
Piano – Found at an estate sale
Ring Sculpture – HomeGoods
Throw – HomeGoods
Warmly, Jenni