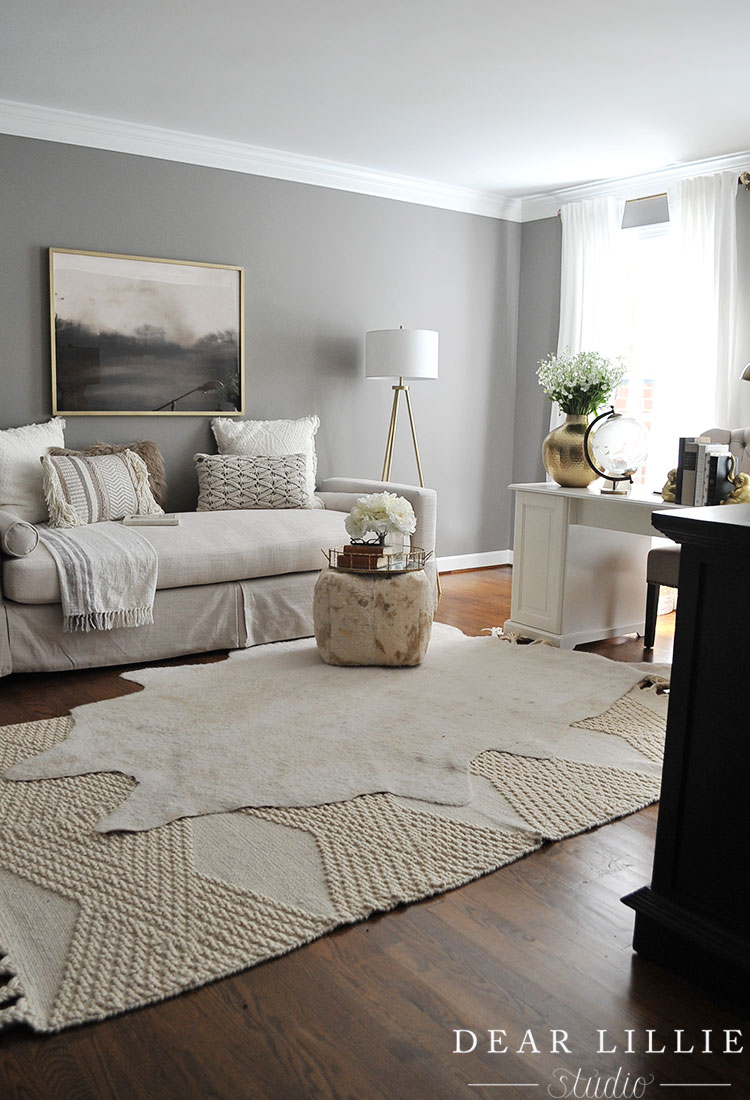 Happy Saturday! I hope you all are having a great weekend! I am excited to share some updates I've finally made to our home office that also acts as a guest room. I painted the room shortly after we moved in and put a bunch of things we already owned in here like my desk, chair, and then threw the shelves and extra sideboard we had in here until I had time to start figuring out what I wanted to do in here. Well, after living with it this way for several months I discovered that even though they weren't what I had pictured in here they were extremely functional so for now they are going to stay!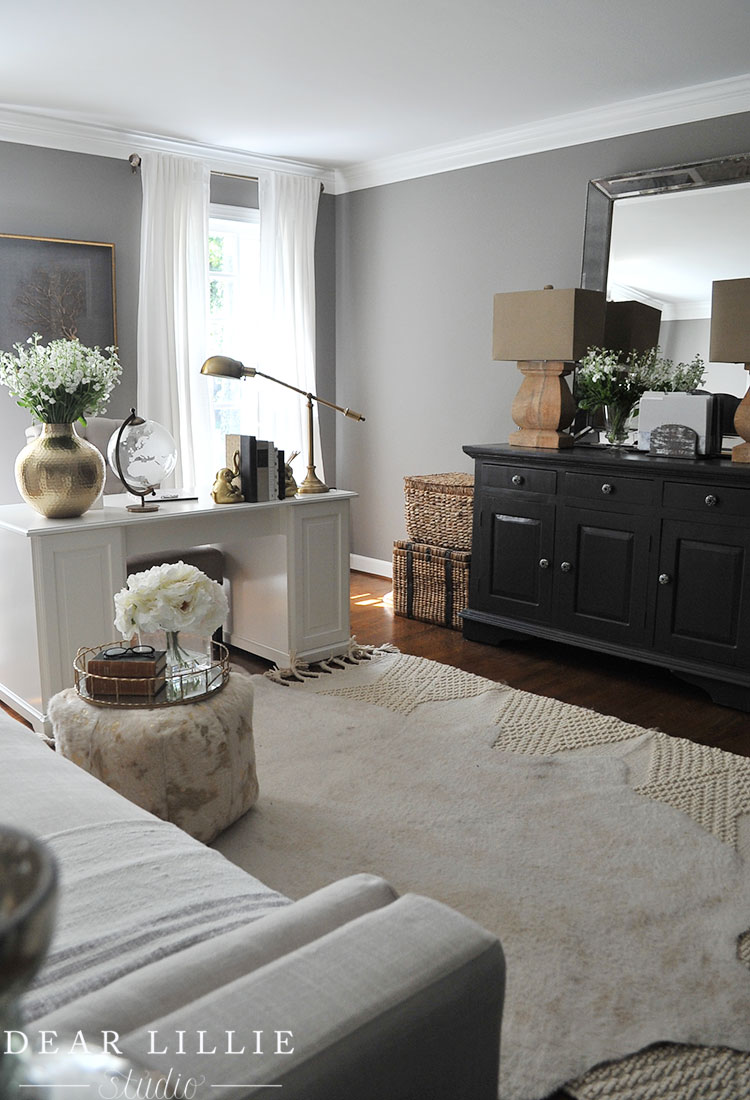 The one thing that wasn't working in here was our white sofa. We had it in our guest room at our last house but we also had a queen sized bed in there so it was actually used as a sofa not as a bed. Here in this house we quickly discovered it wasn't large enough for anyone to comfortably sleep on so we started looking for a daybed that would function as a sofa for our day to day use but could work as a twin sized bed when we had guests. The first place I always look for anything home decor related is Wayfair because of their huge selection, great prices and quick shipping. I recently downloaded their app and discovered they have this great new feature called "View in Room". I fell in love with their Halle Daybed: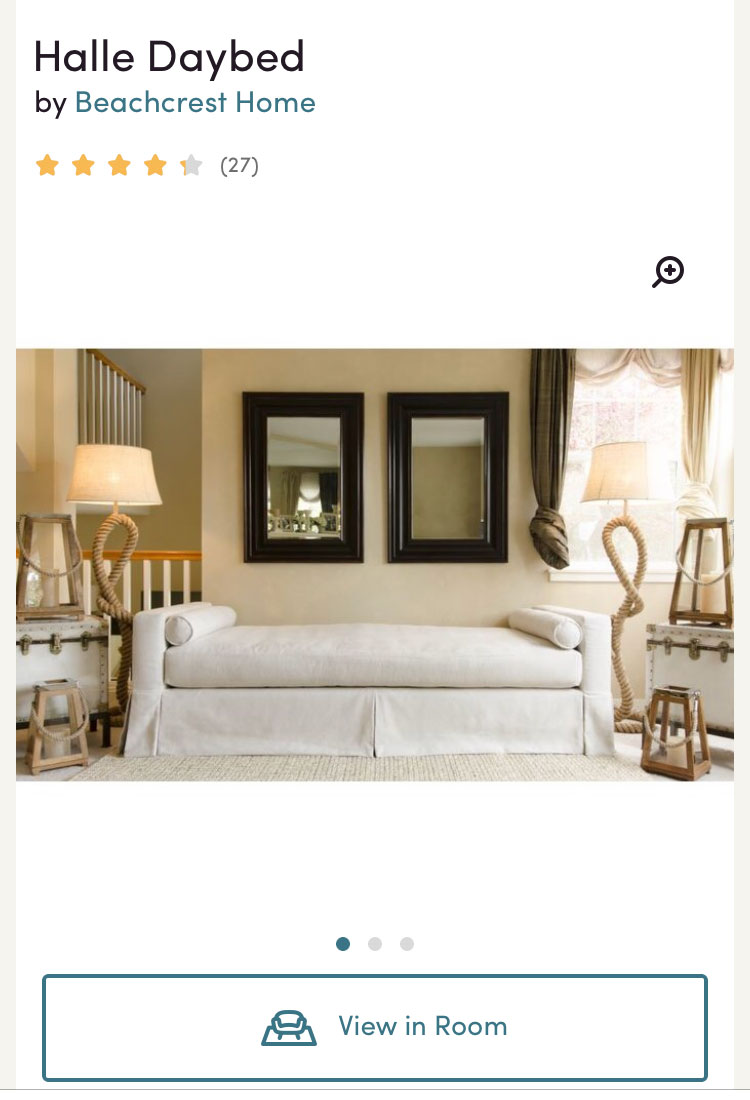 I clicked on the "View in Room" option and was able to see exactly what it would look like in our space: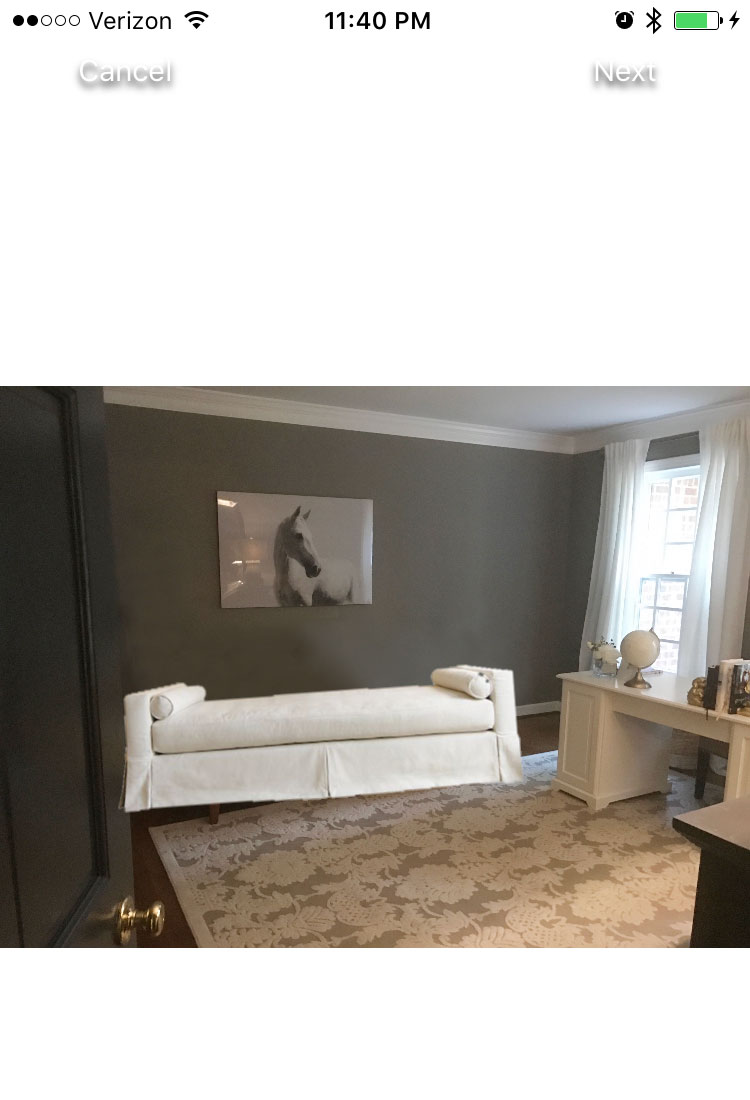 How cool is that? Being able to see that preview was helpful and I pulled the trigger. If you head on over and download their app you can get a 10% off promo code! I highly recommend the app – it makes viewing their website so user friendly and the "View in Room" option make such a huge difference when trying to make a decision!
And here is what the daybed looks like in our office: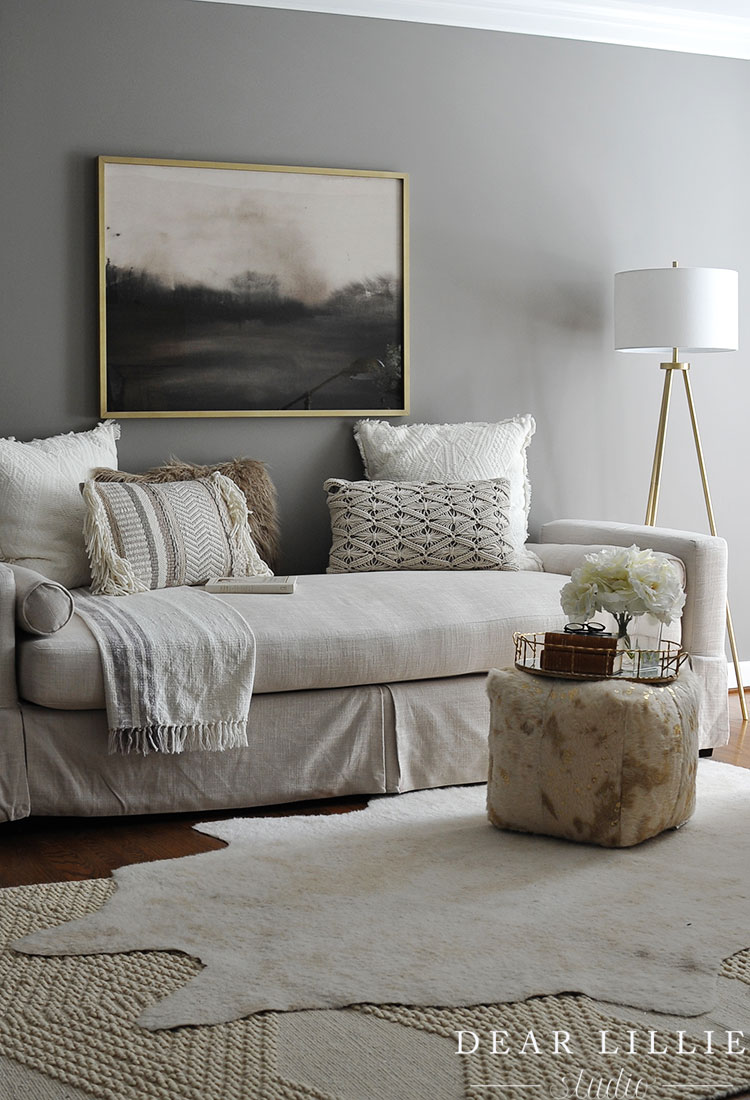 It is so comfortable and we all absolutely positively LOVE it! Here are some other photos of the room.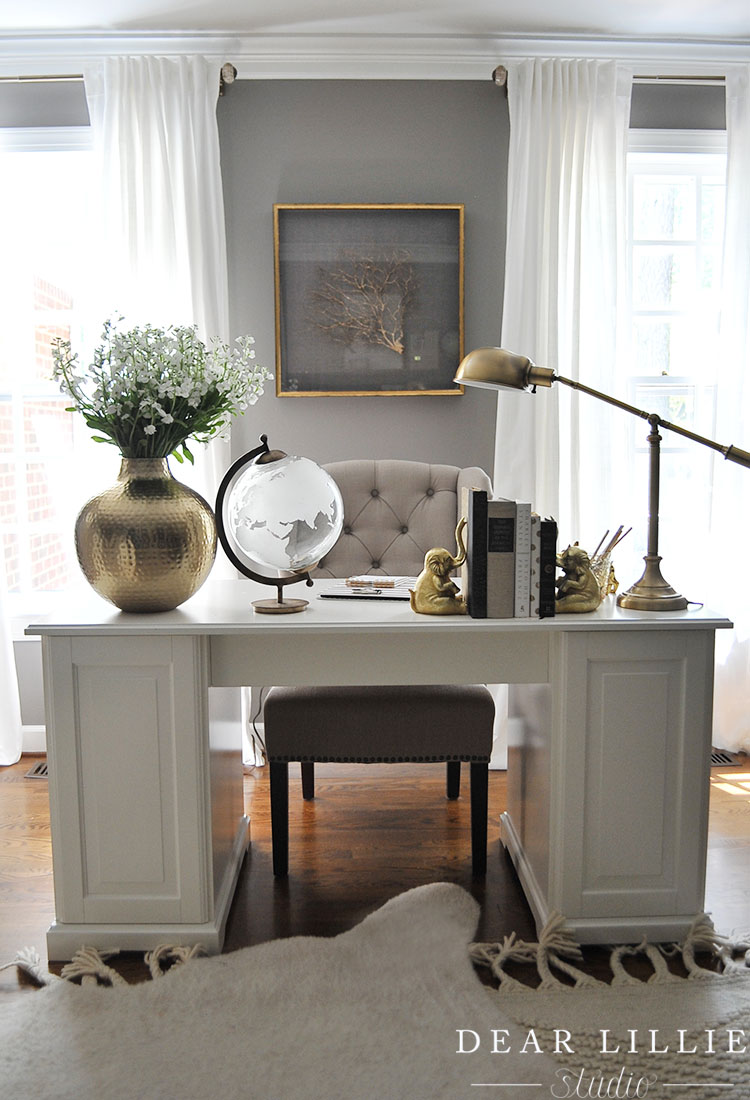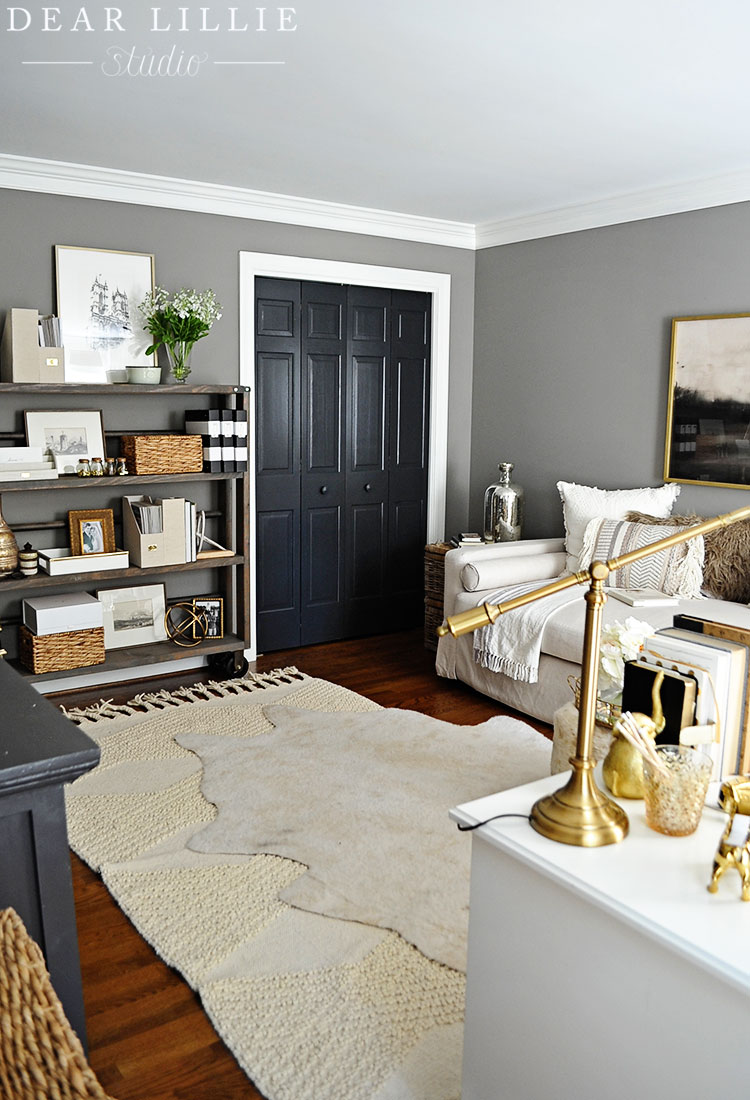 We also played around with adding a new rug to the space. I liked the idea of going with a more neutral cozy rug with texture however it moved around a lot so after two days I ended up putting the other rug back in here (you can see that in the last two photos).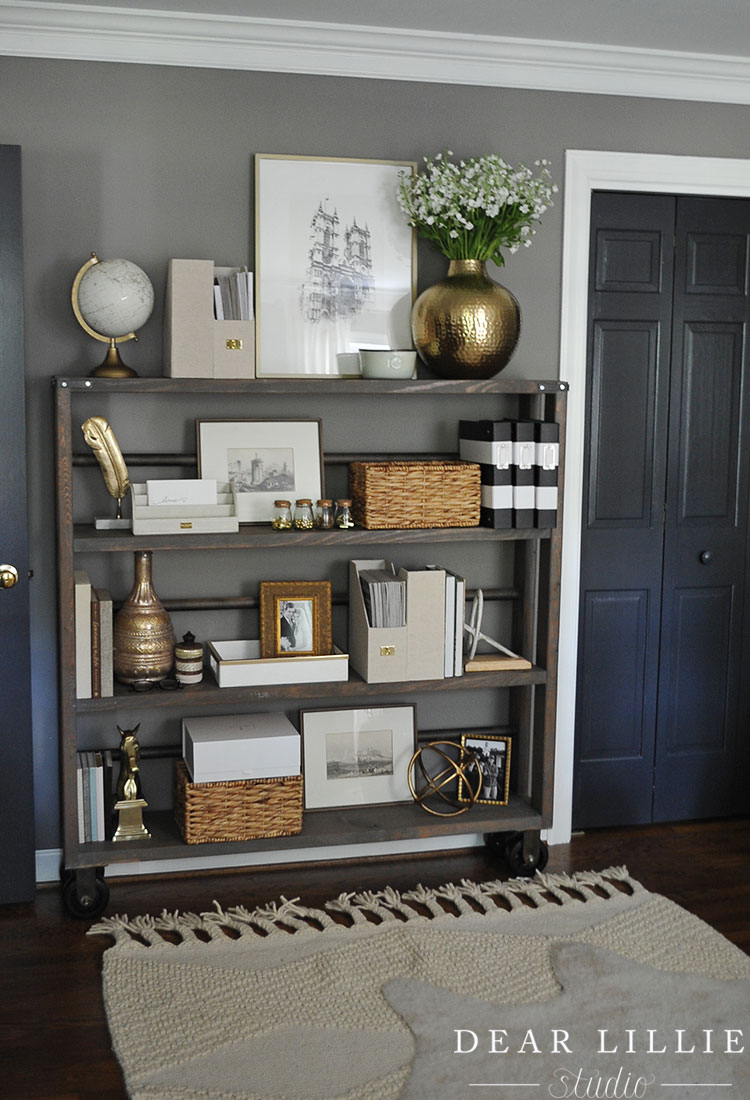 We also added some new artwork to this room. I LOVE the moody feel of this print from Minted!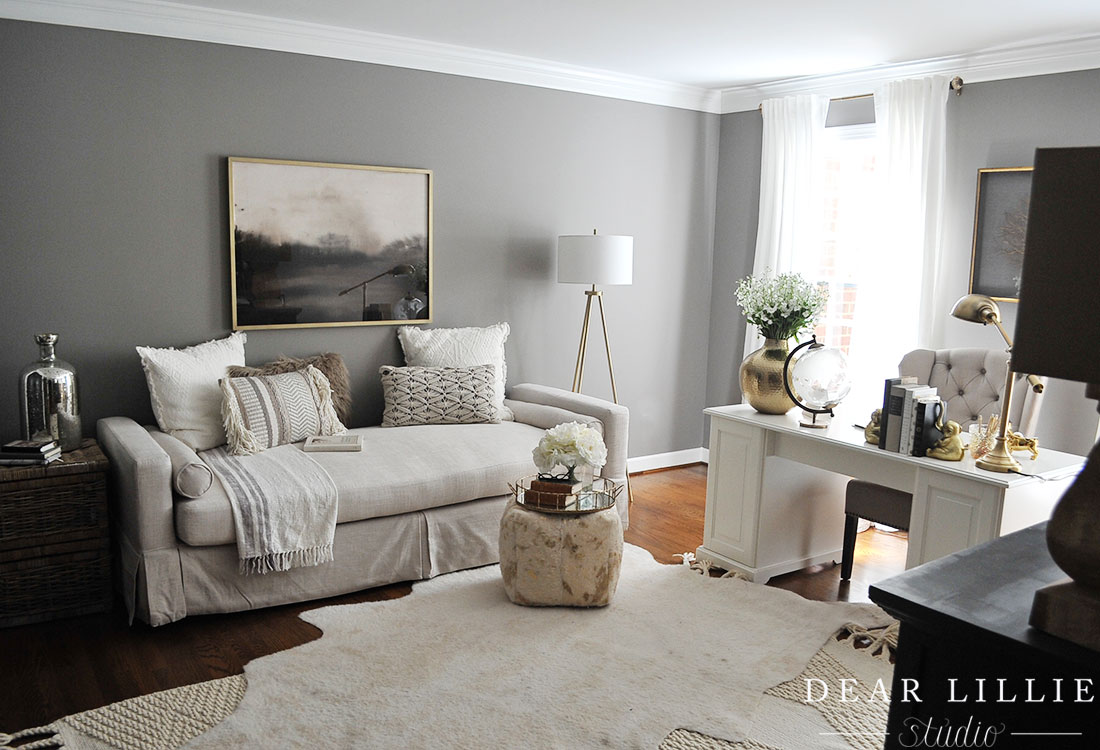 We tried this fun little pouf in the room but it really is too small so I going to keep my eye out for something a little larger.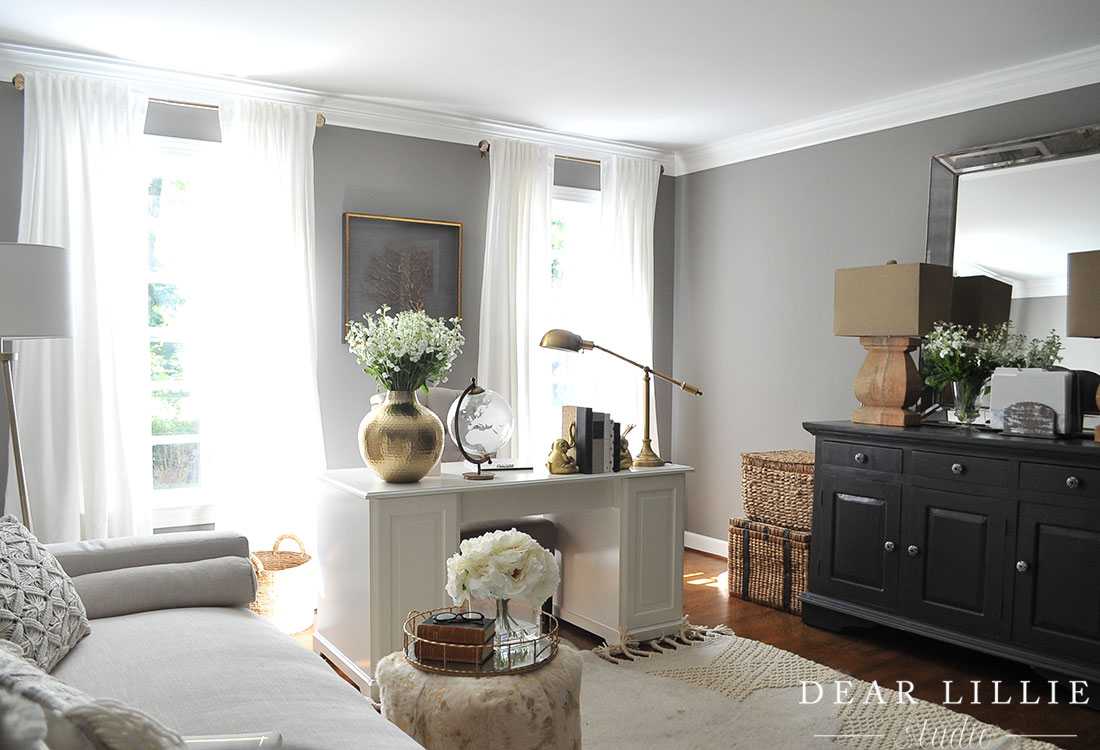 I'll probably end up painting the sideboard a different color but seeing how I'm still not sure it's going to stay there permanently I haven't gone ahead with that yet.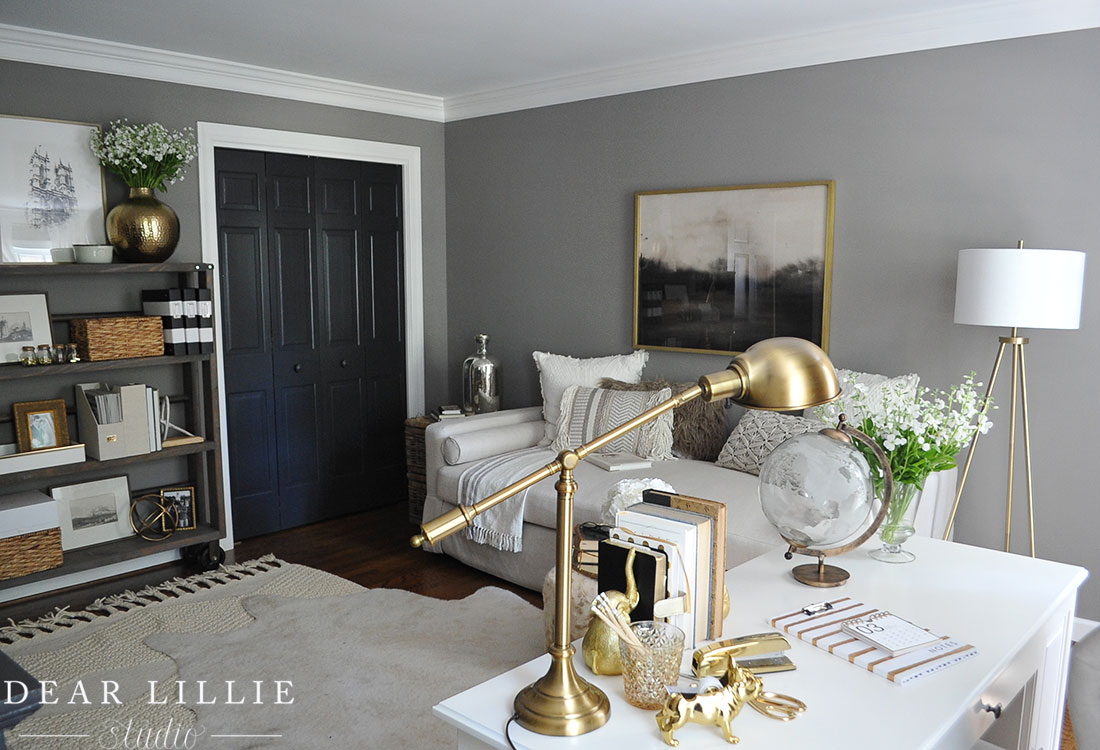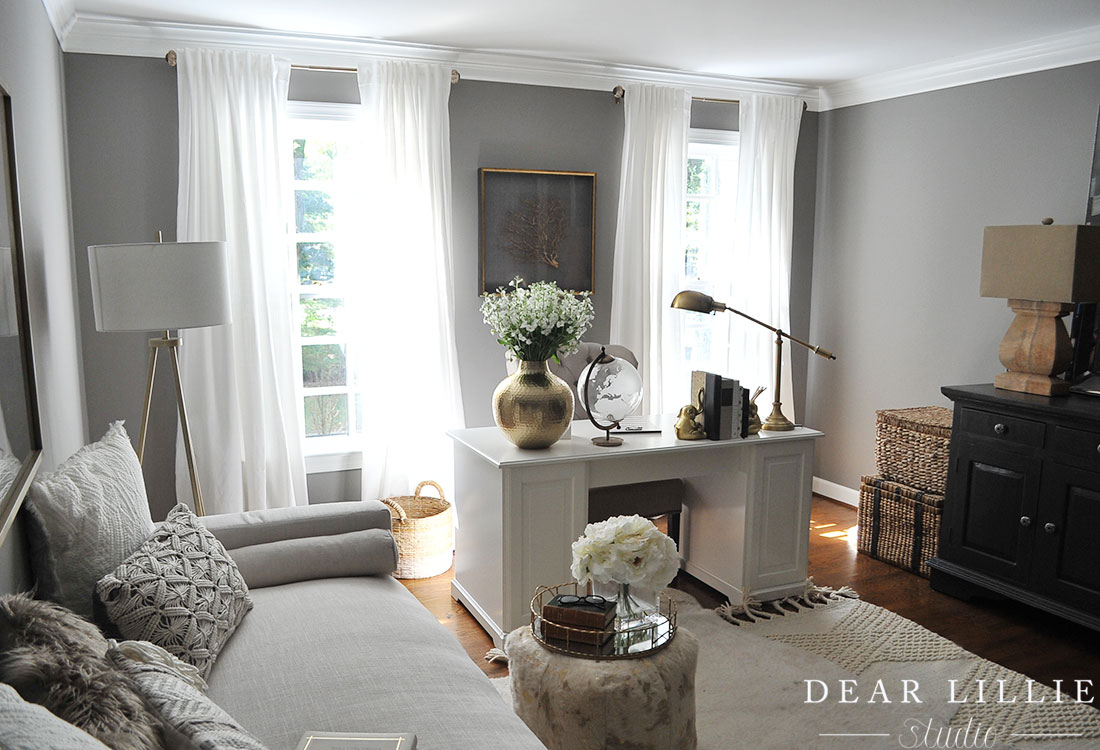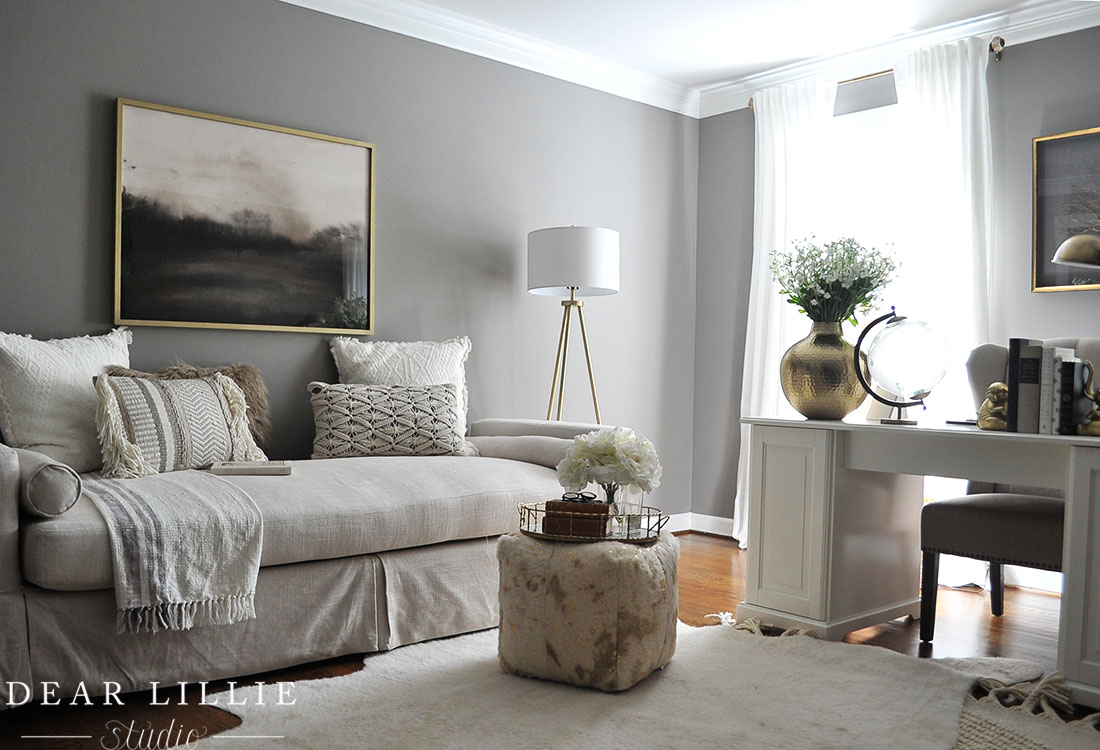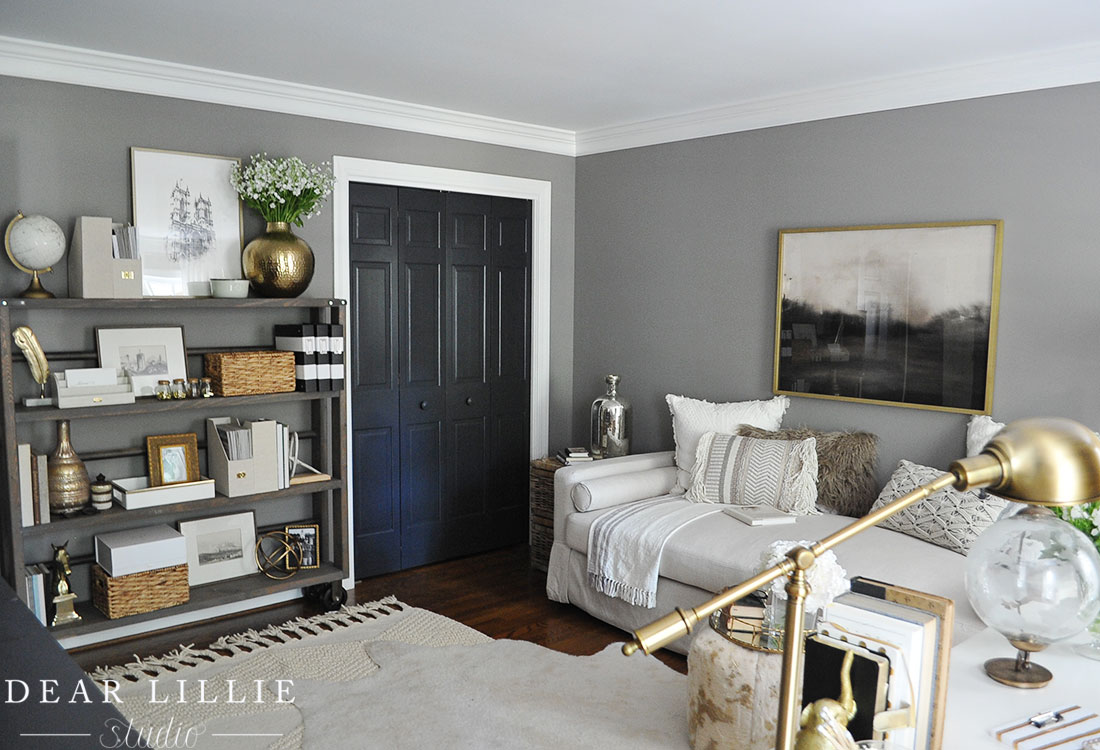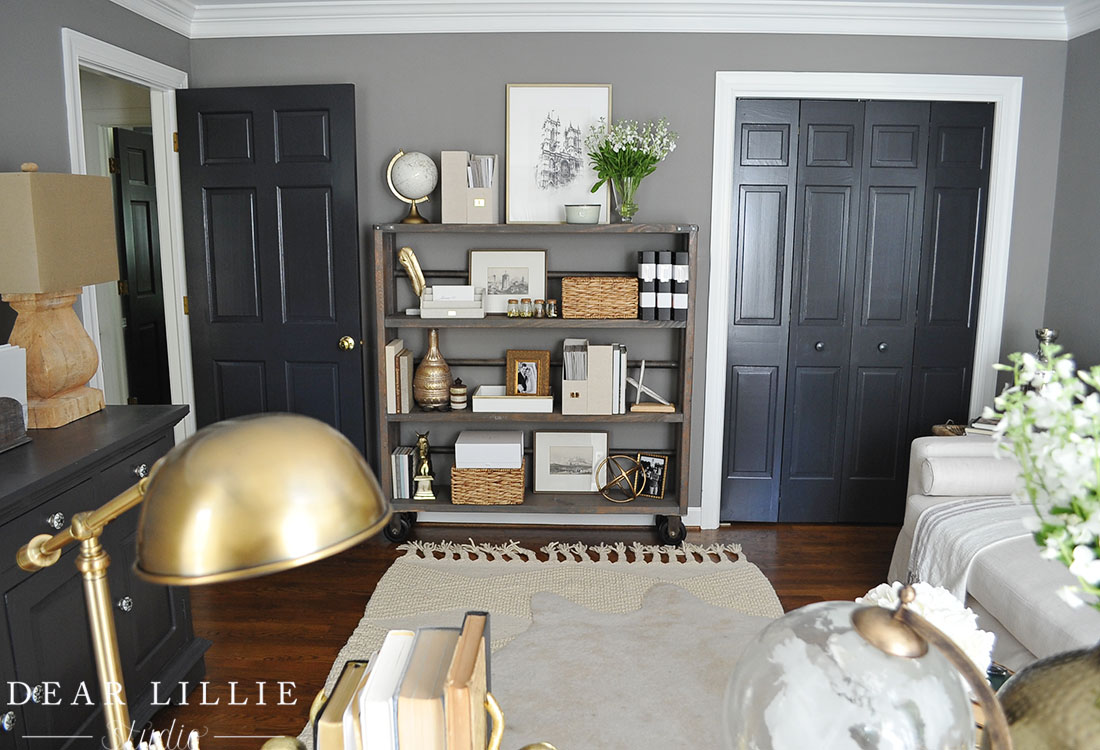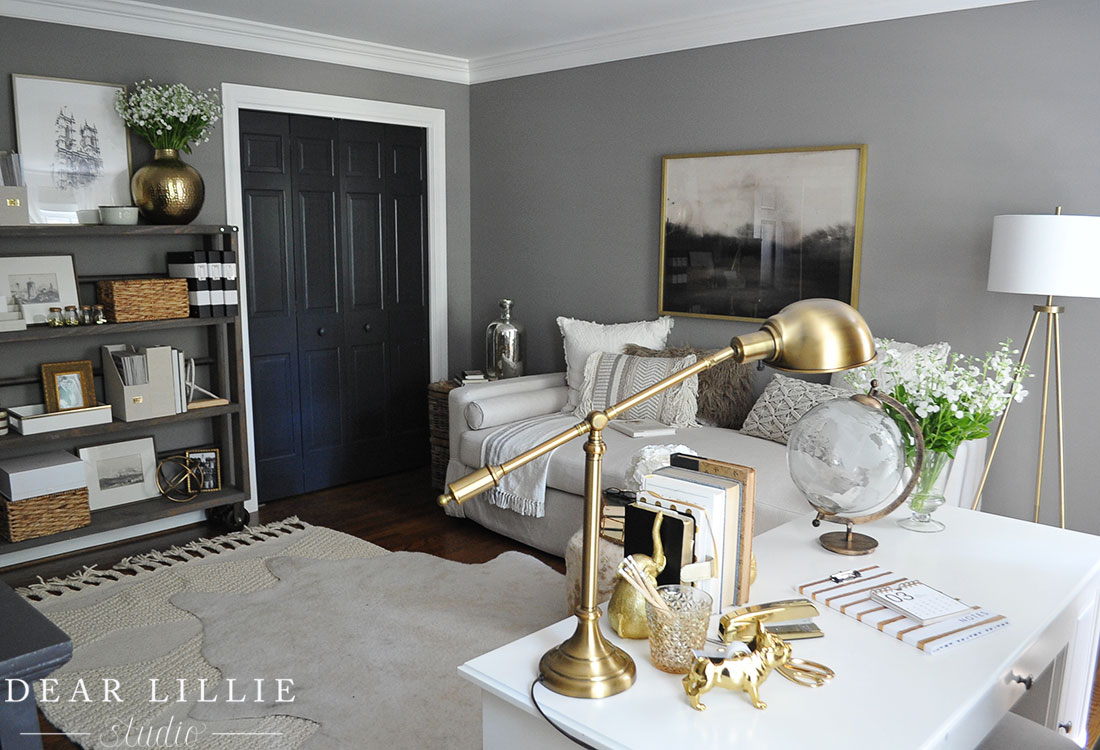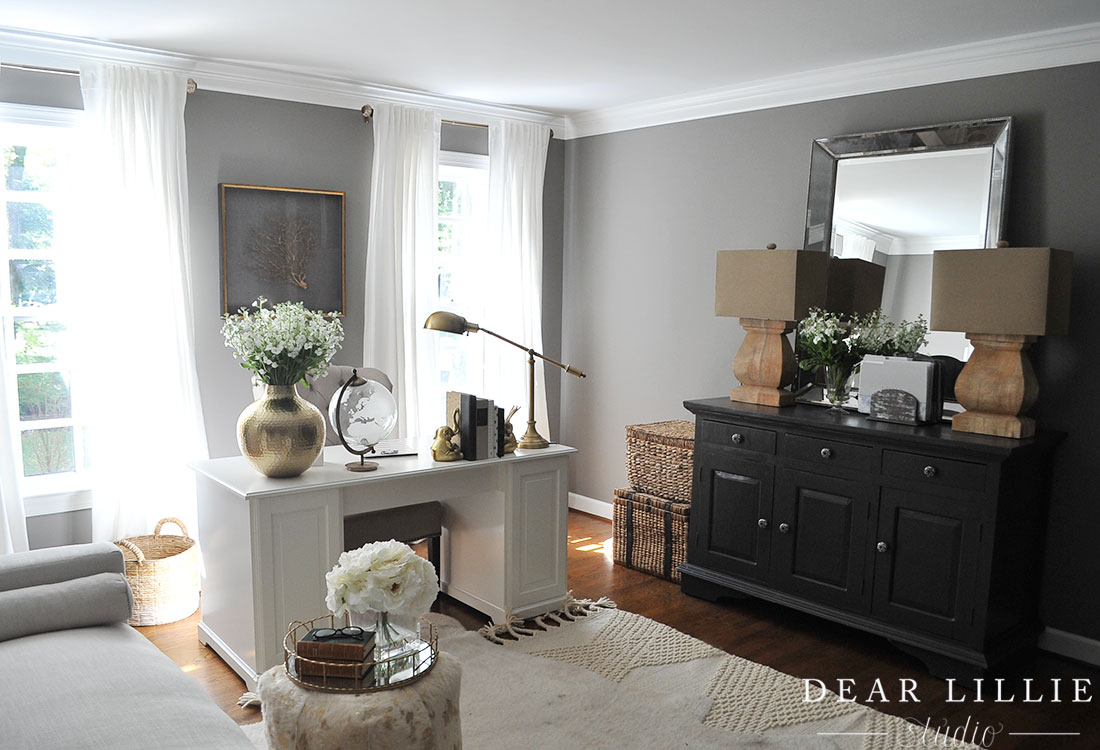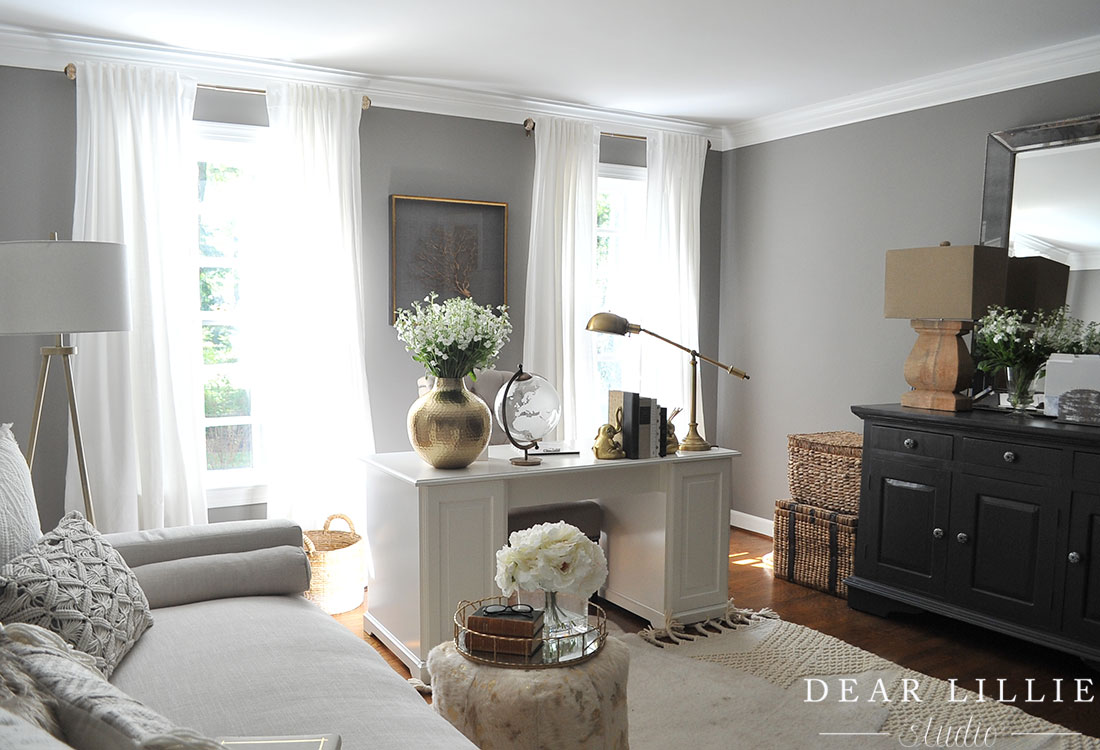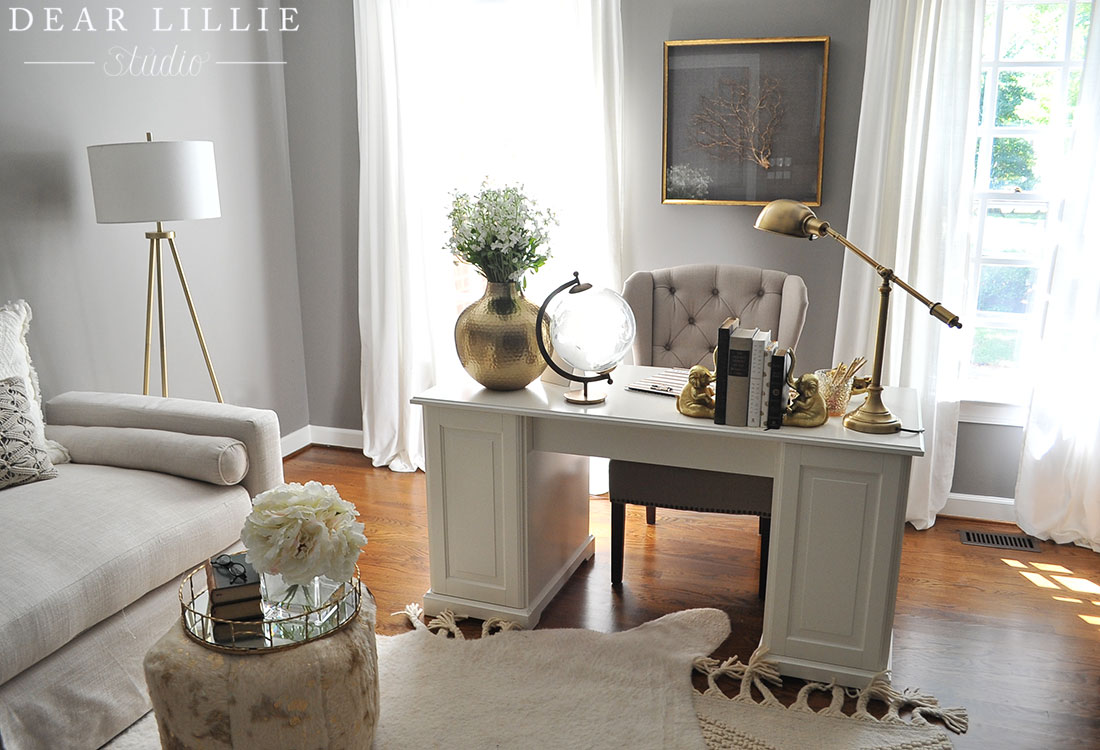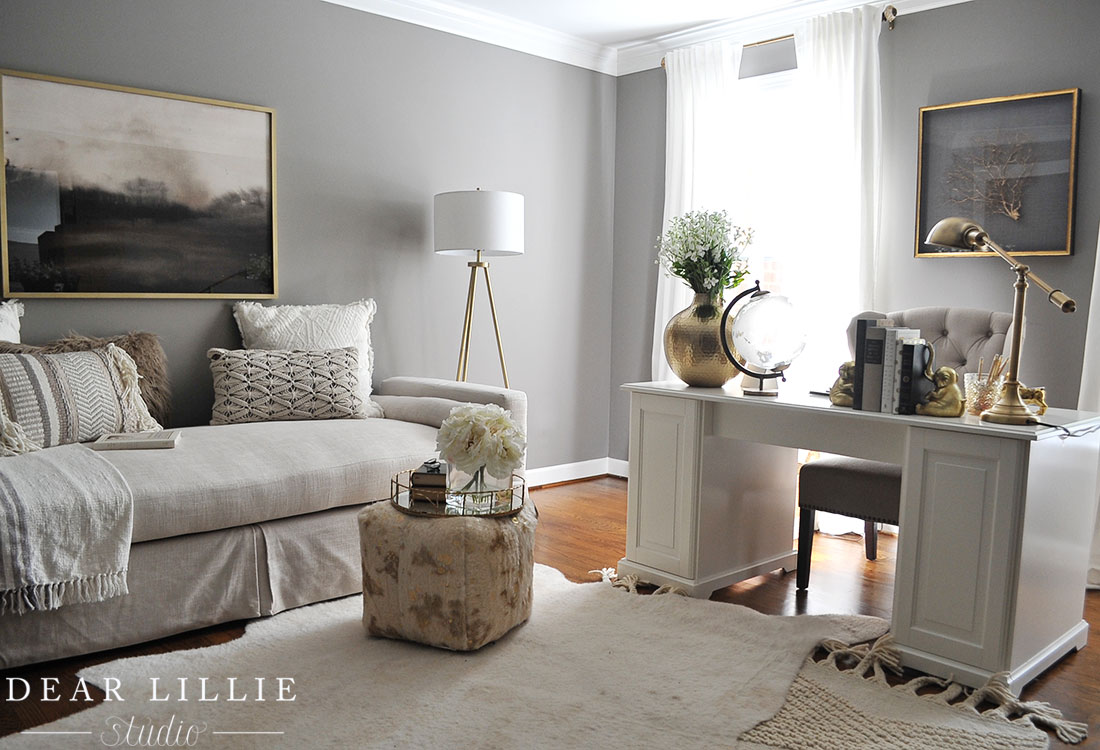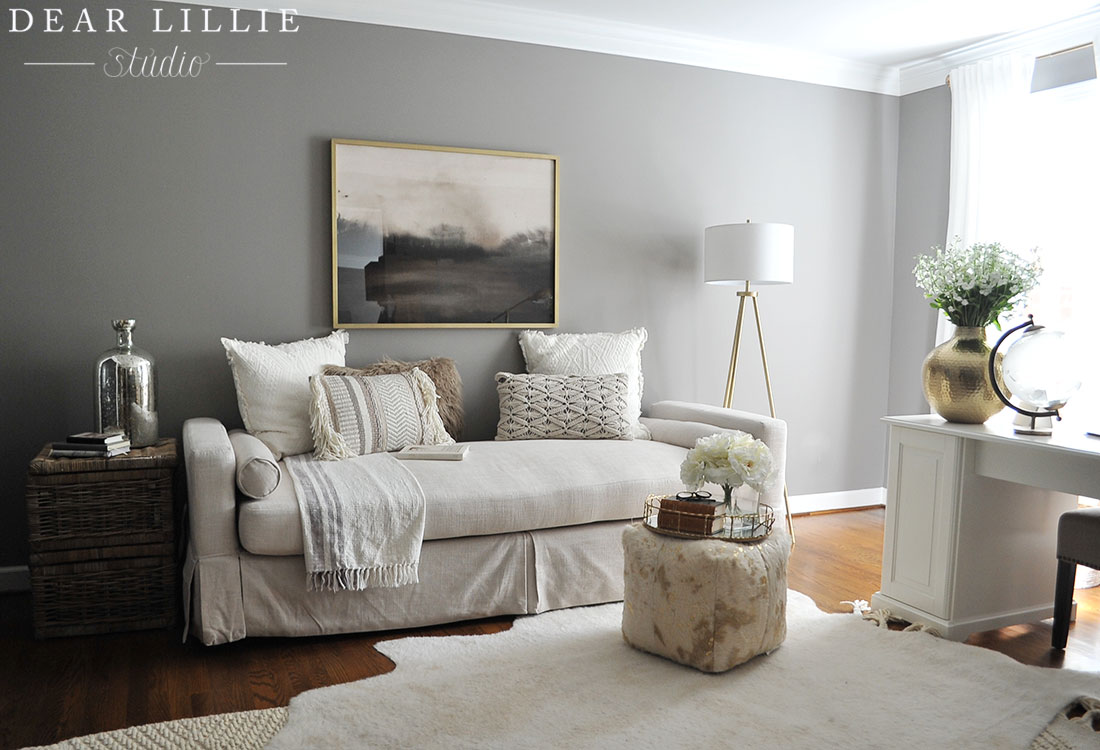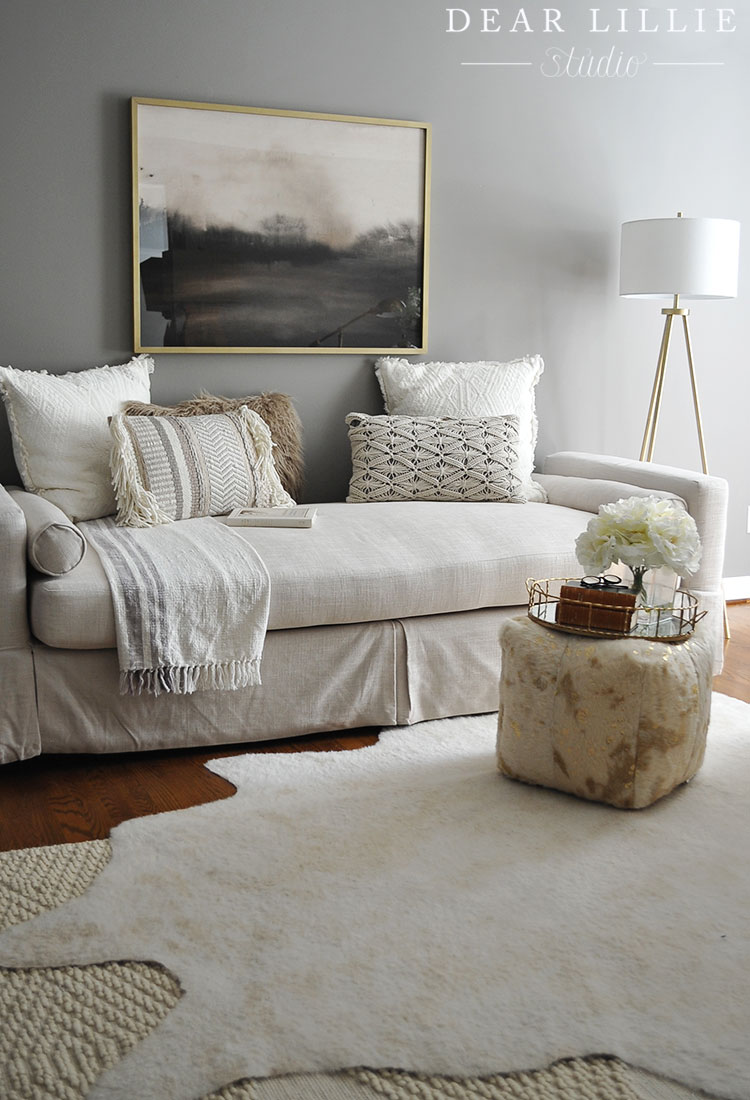 I love all the details on the daybed! The rolled pillows add such a great touch.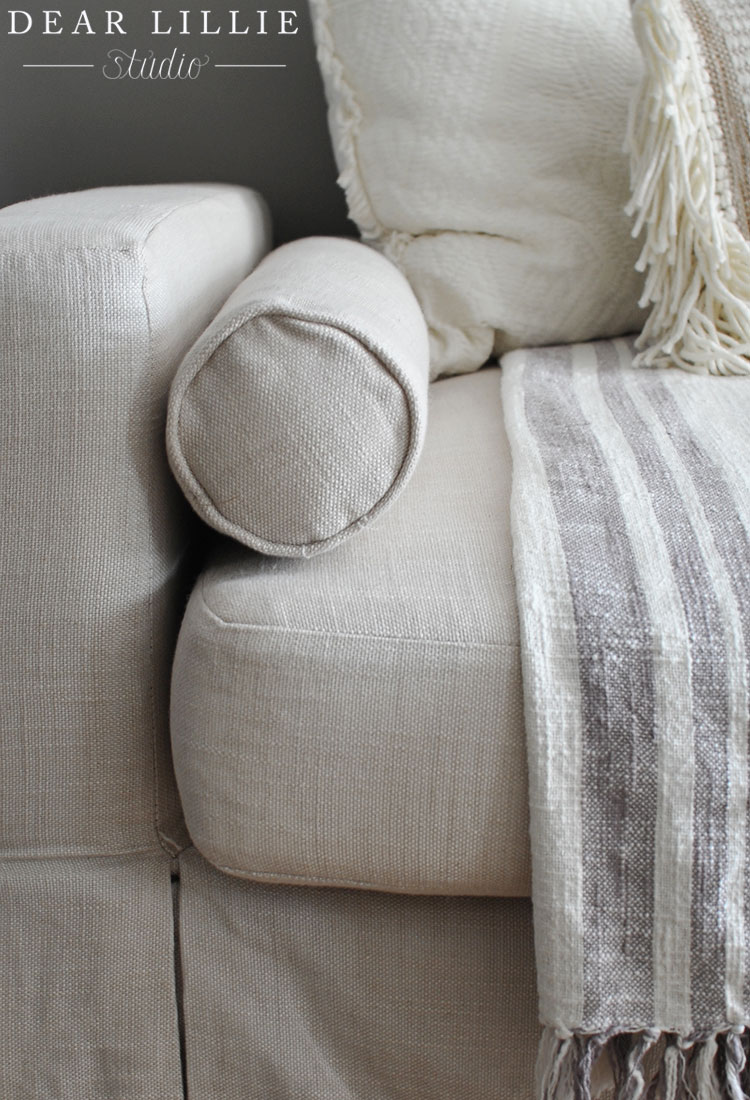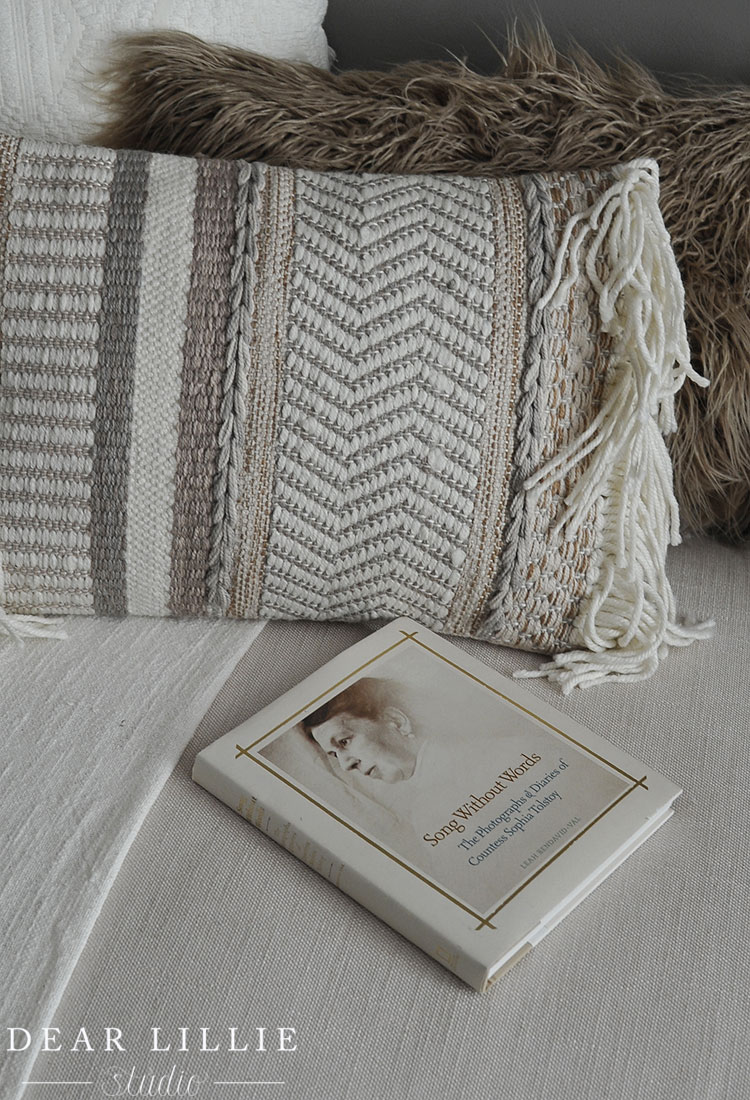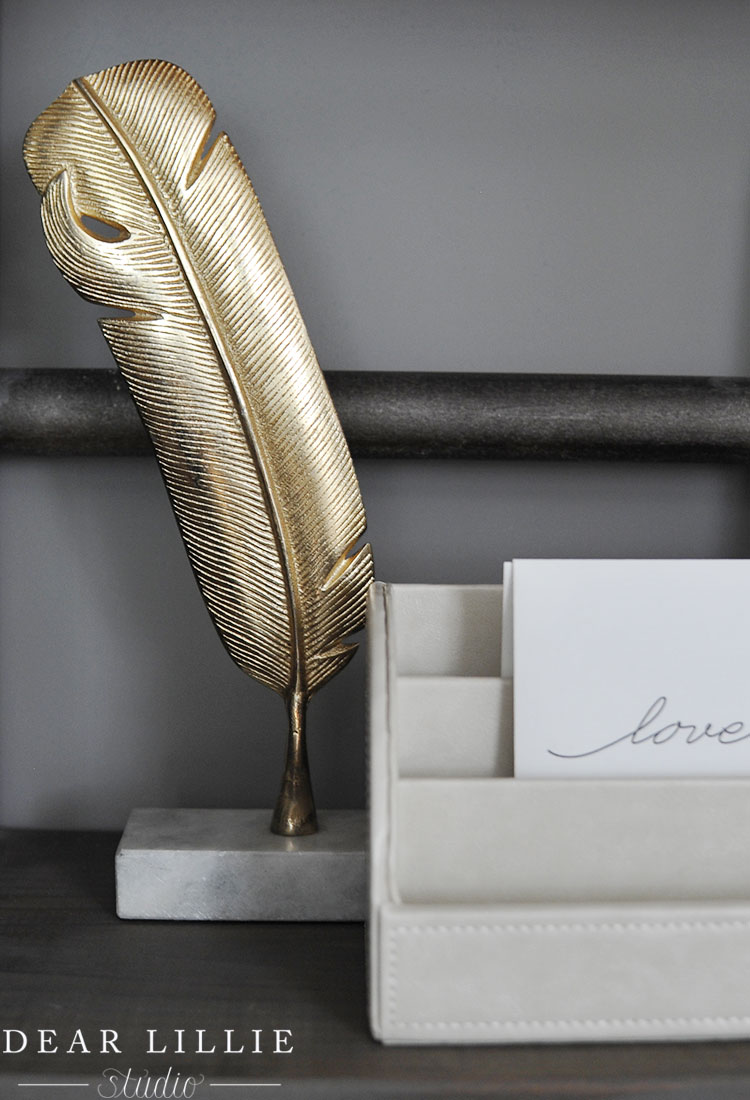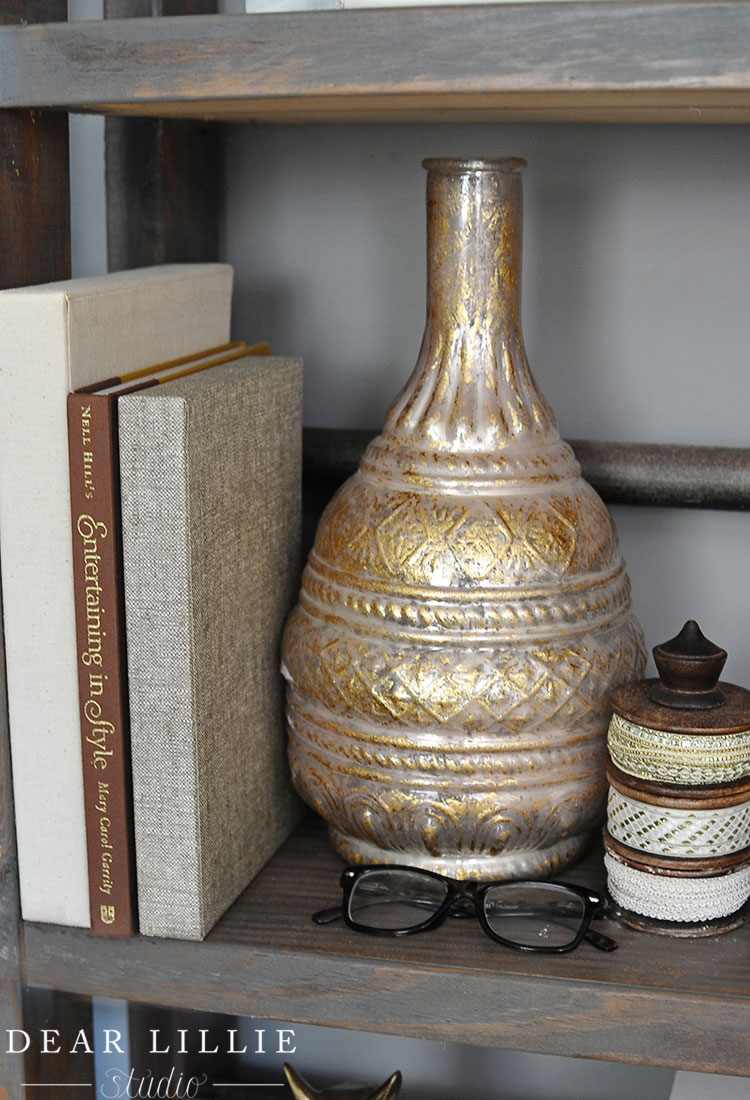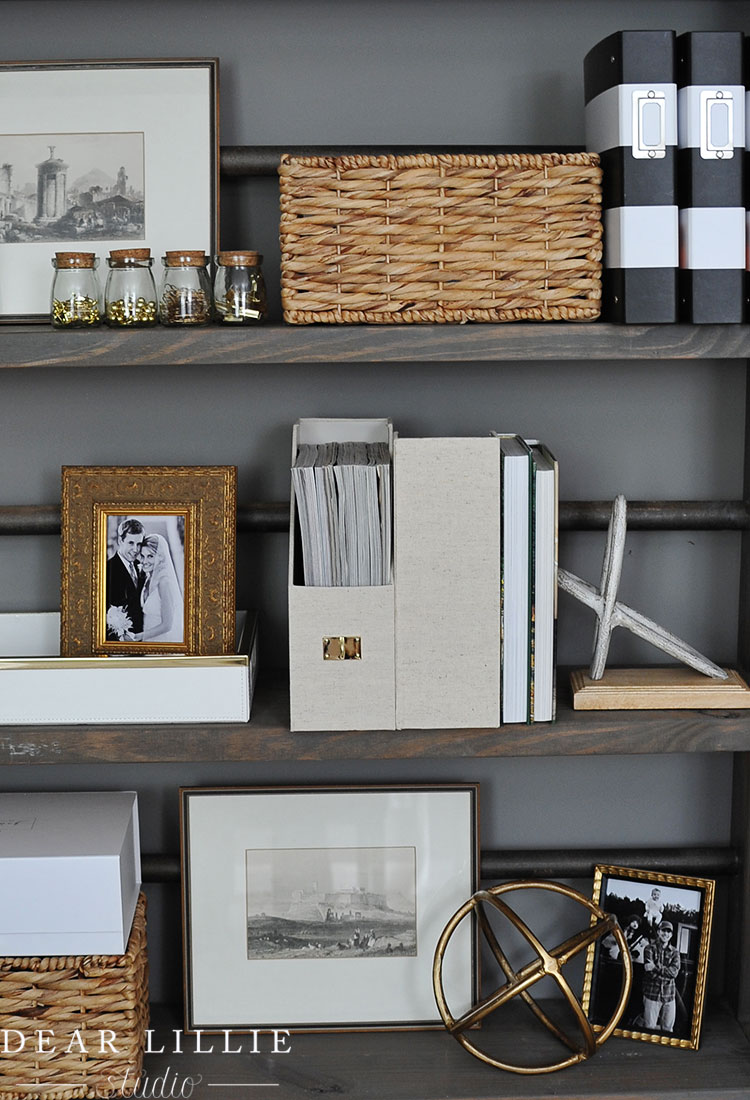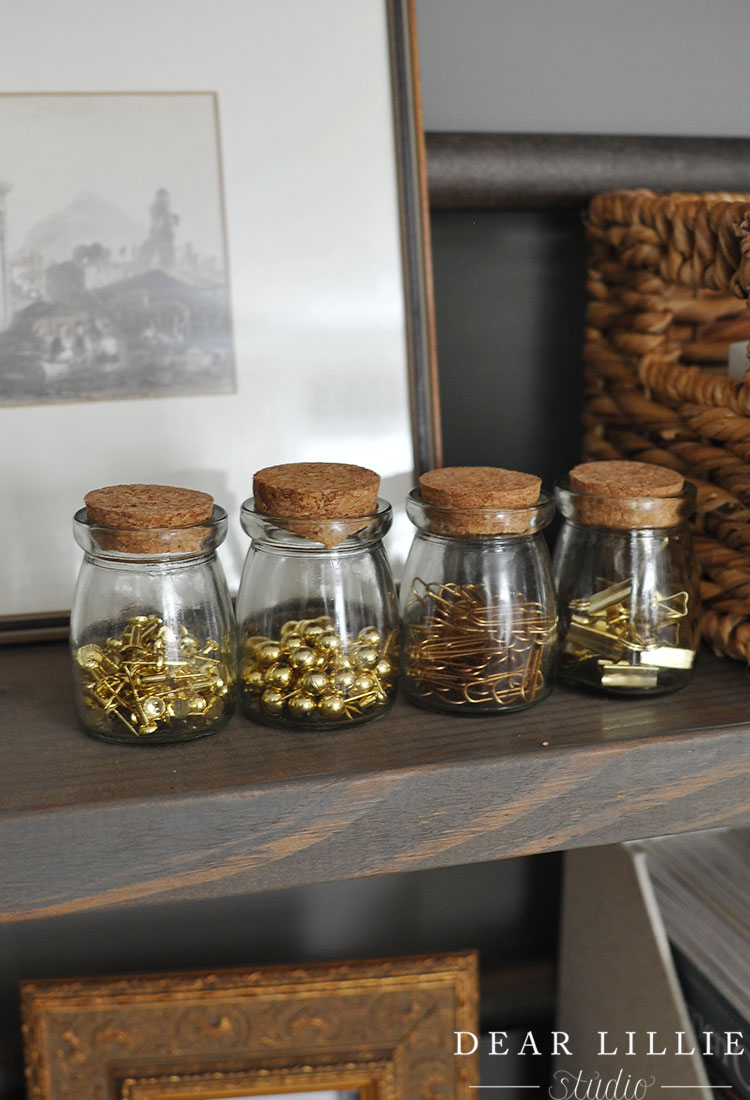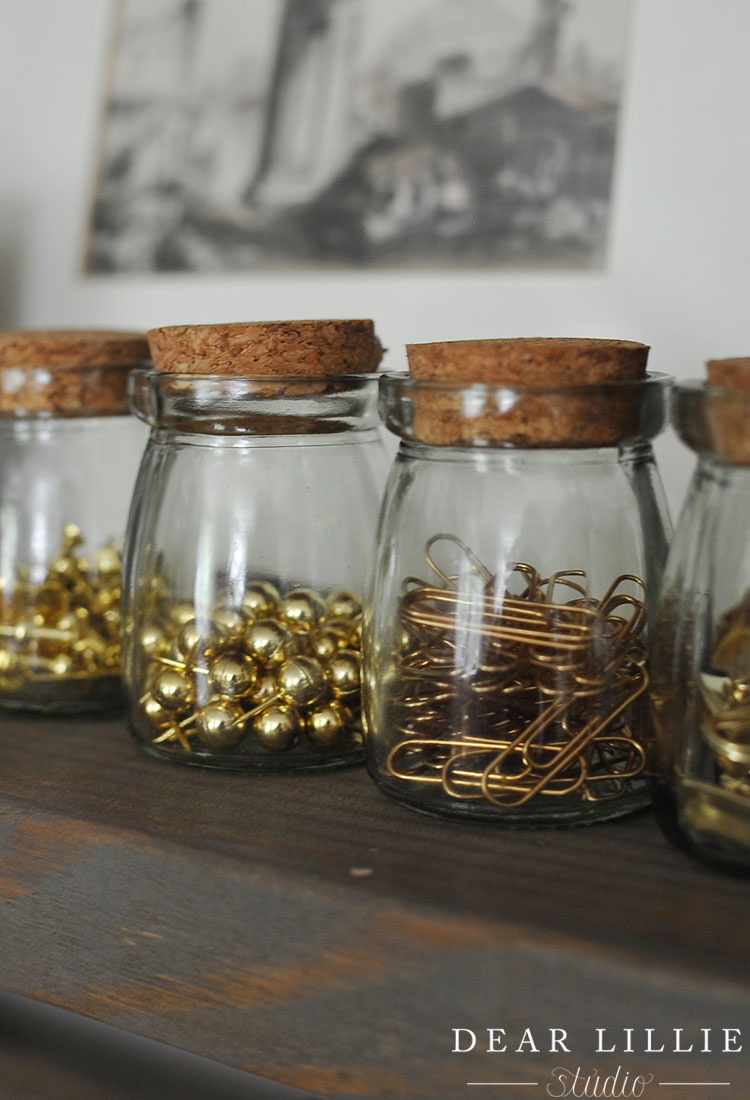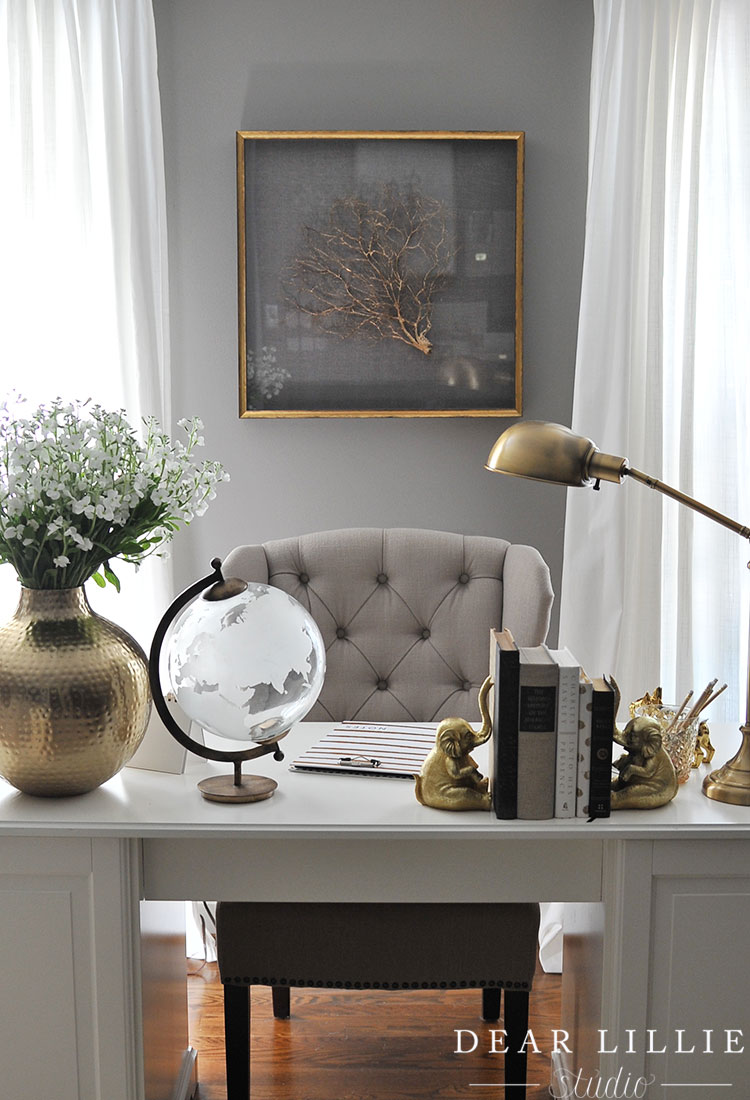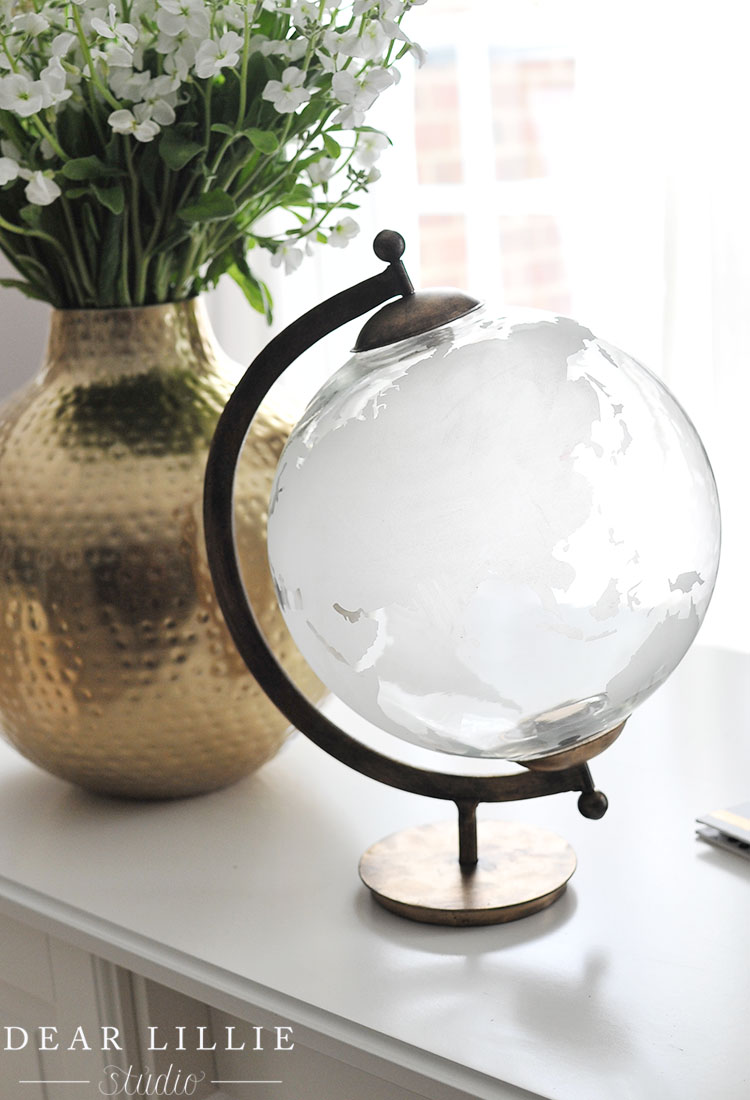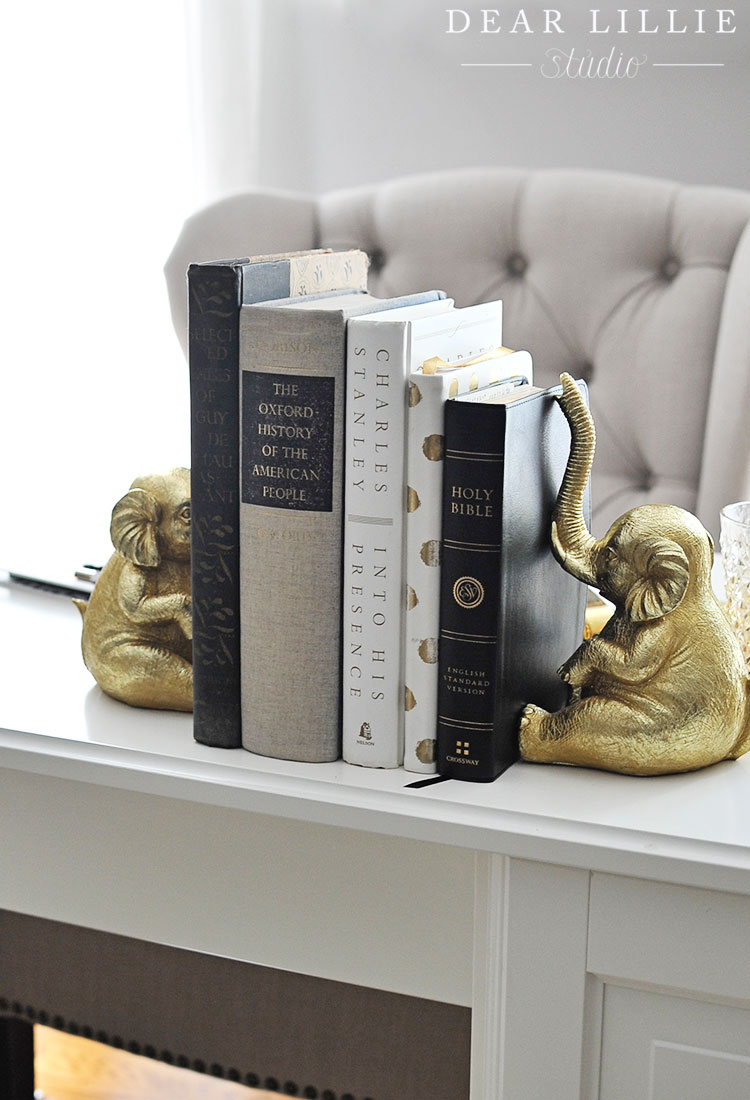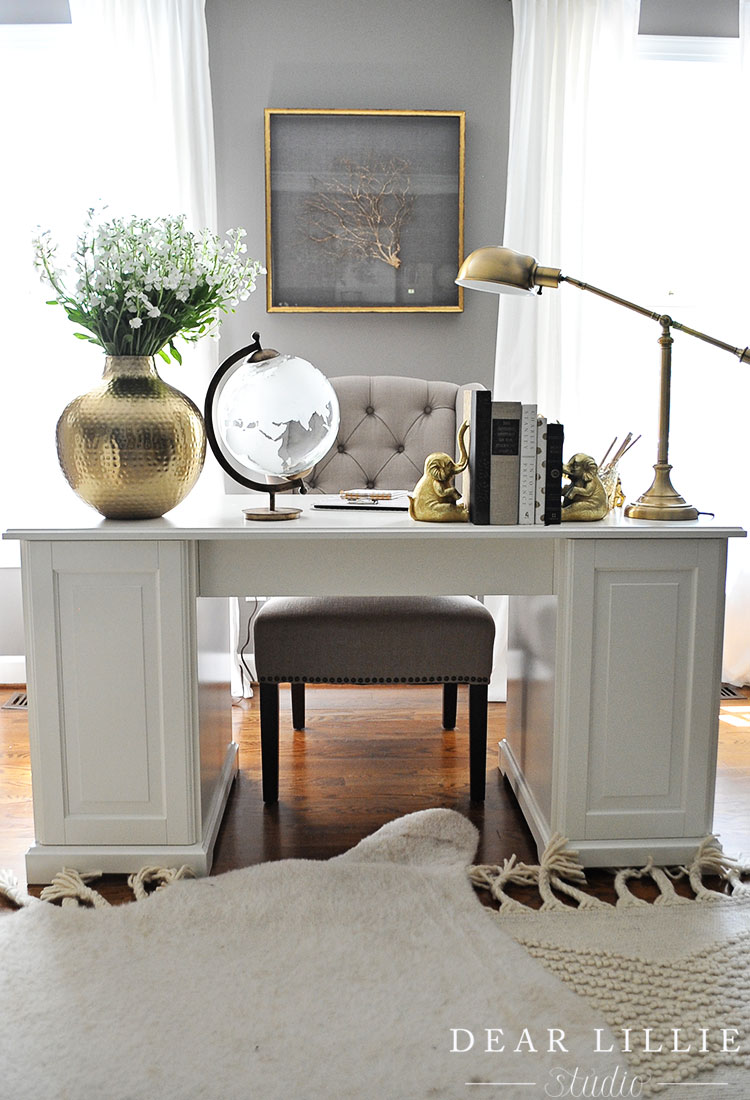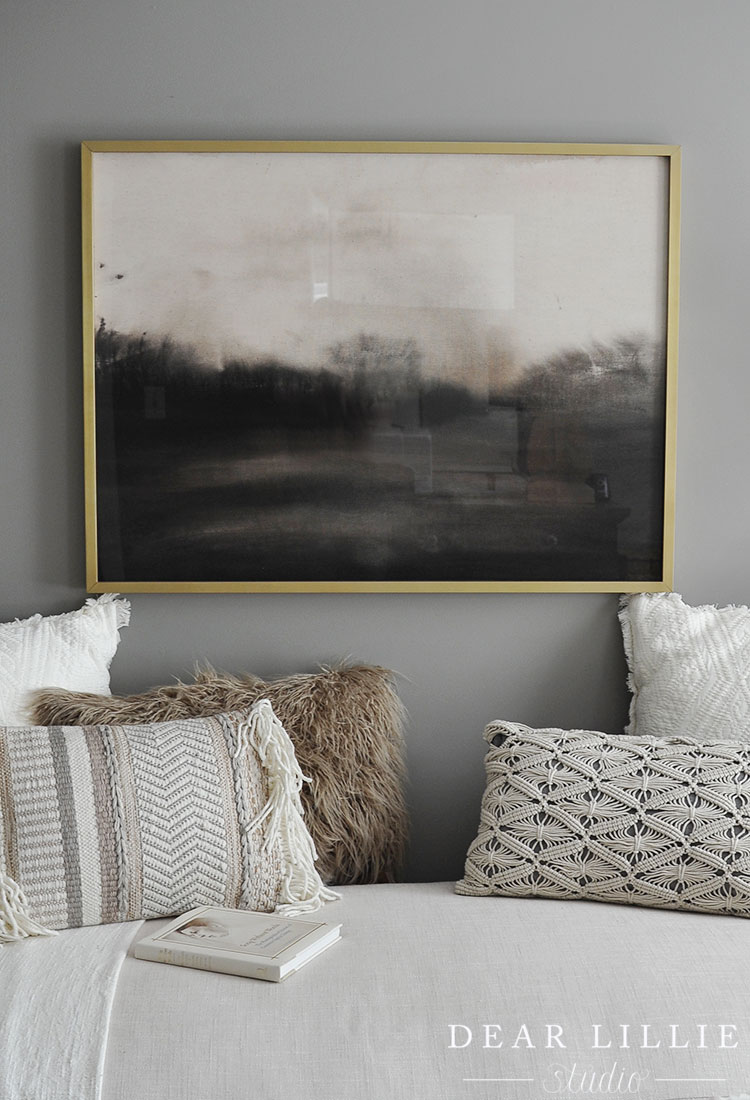 Here's the rug that was in here and ended up back in here after a couple of days living with the other one and realizing it was so slippery. I had already taken the pictures though so didn't want to take them all again but figured I would at least take a couple so you could see how it is right now: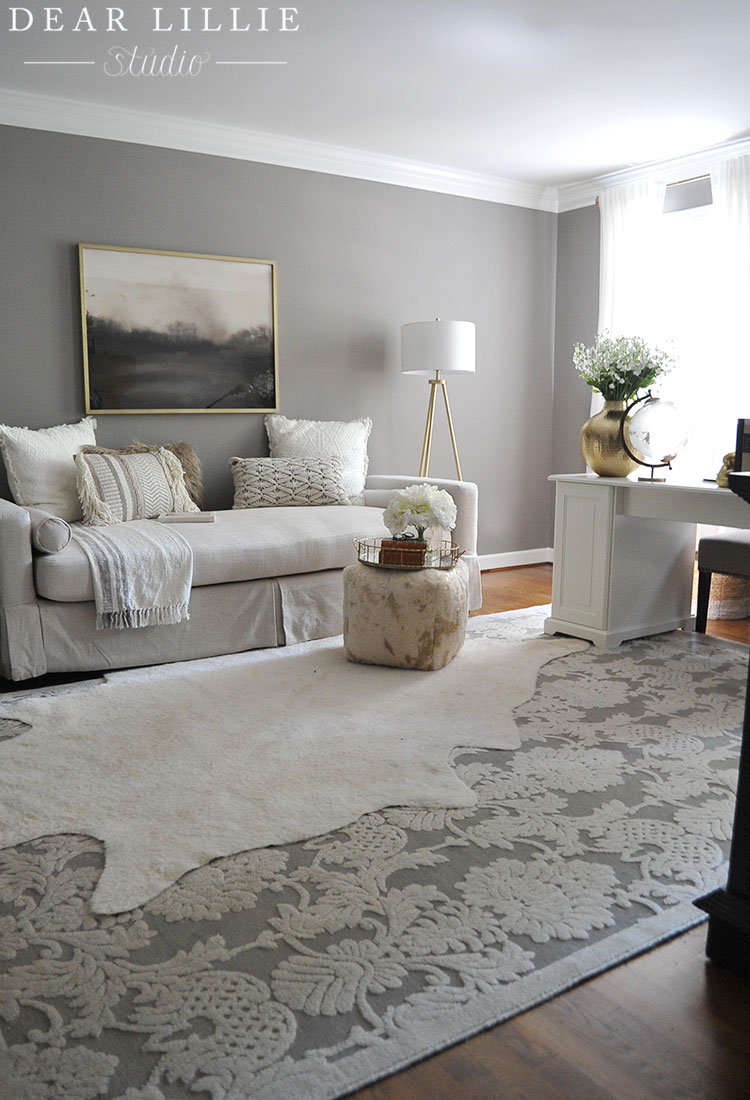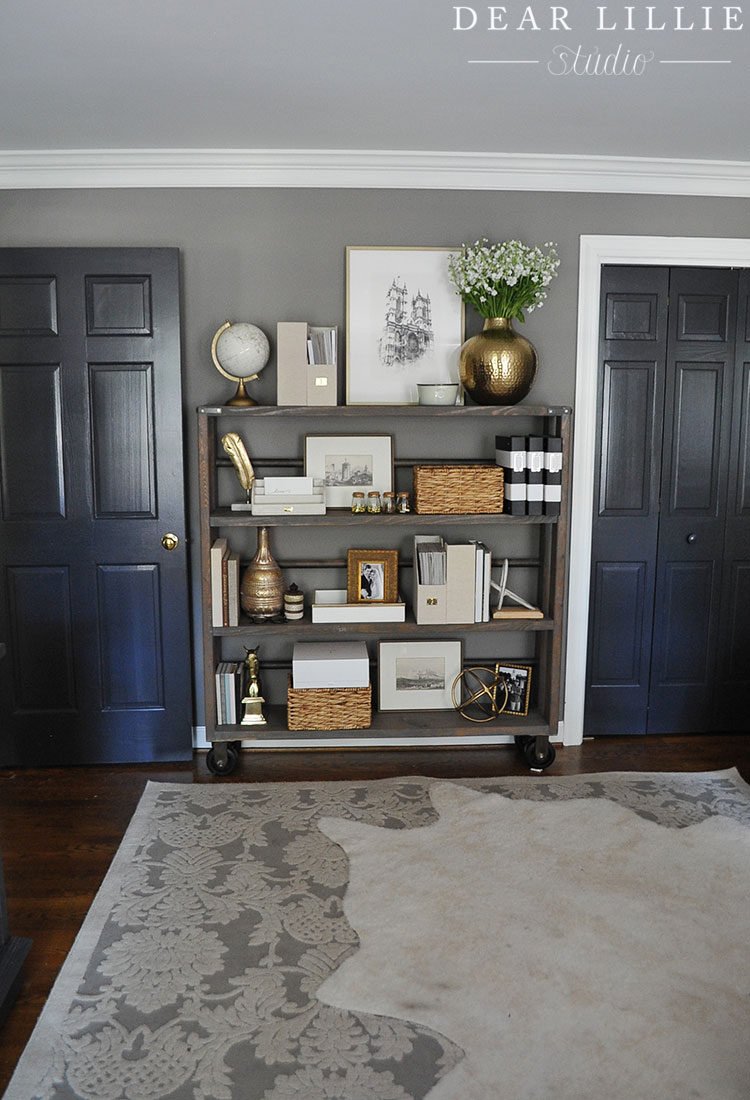 Desk – IKEA
Lamp on Desk – HomeGoods
Gold Tray – HomeGoods
Shelf – I built it a couple of years ago, you can read more about it here
Top Shelf:
     Candle – Etu Home
     Clear Vase – TJMaxx
Second Shelf:
     Gold Feather – HomeGoods
     Letter Holder – HomeGoods
     Print – Family Antique
     Little Jars – HomeGoods
     Basket – Have had for years
     Binders – Target years ago
Third Shelf:
      Books – From Family
      Vase and Ribbon – HomeGoods
      Tray – HomeGoods
      Frame – have had for years
      Sculpture – HomeGoods
Bottom Shelf:
      Horse Sculpture – HomeGoods
      Basket – have had for years
      Framed Print – Family Antique
      Orb – HomeGoods
      Frame – have had for years
That's it for today! I hope you all have a wonderful rest of your weekend!
Warmly, Jenni
SaveSave
SaveSave
SaveSave
SaveSave