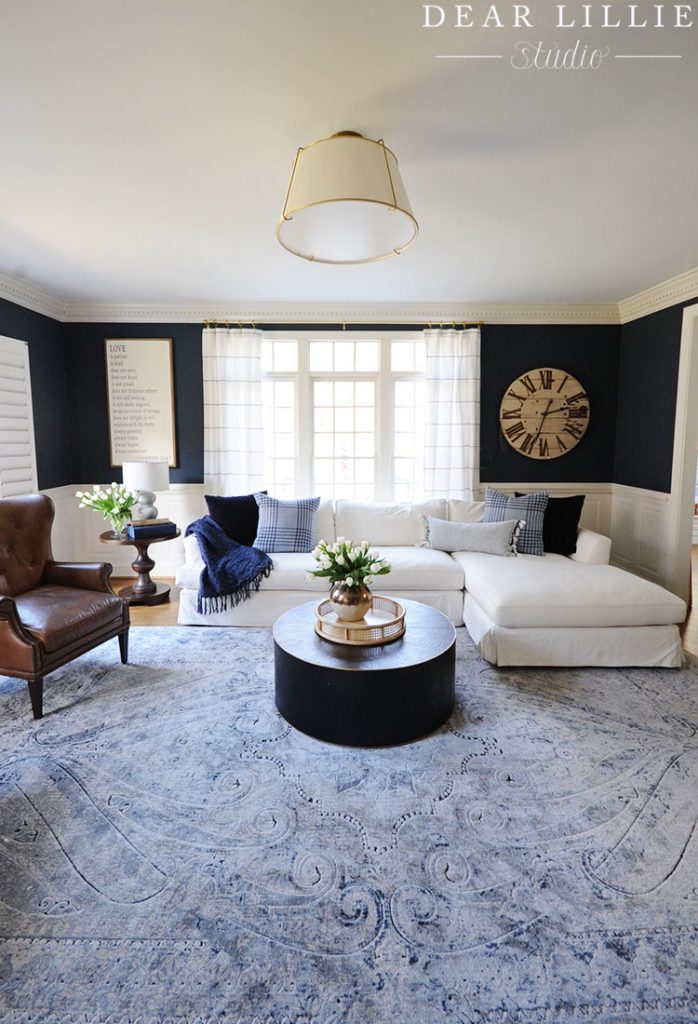 I am so excited to be sharing a new client space with you today! This living room belongs to my friend, Amy and her husband and was so much fun to work on. Amy is the owner of Wholesomelicious, and just came out with her first cookbook, One Pot Gluten-Free Cooking, which is incredible! I highly recommend heading on over to her website to check out all of her delicious recipes and nutrition based meal plans. And you can follow her on instagram as well.
This room was so much fun to work on because the space itself was gorgeous and we were able to start from scratch. We used their existing items on the walls but otherwise had a blank canvas to work with in the room and it was so much fun to pull it together! This room is pretty much the first thing you see when you walk into their entryway so we wanted to it be beautiful, but with two kids and a dog and being open to their kitchen we also wanted it to be comfortable as well.
The rug is one of my absolute favorites! Unfortunately, I don't think it's available anymore (although we did link some similar ones in the source list), but it was perfect for the space and I am so glad we found it! The sectional is from the same line as the sofa we had at our last two homes and it is the most comfortable sofa we have ever owned so I can vouch for how perfect it is for snuggling up on and and watching a movie. They have a TV that doubles as art opposite the sofa. I didn't get any photos to use of that angle this time but may at some point.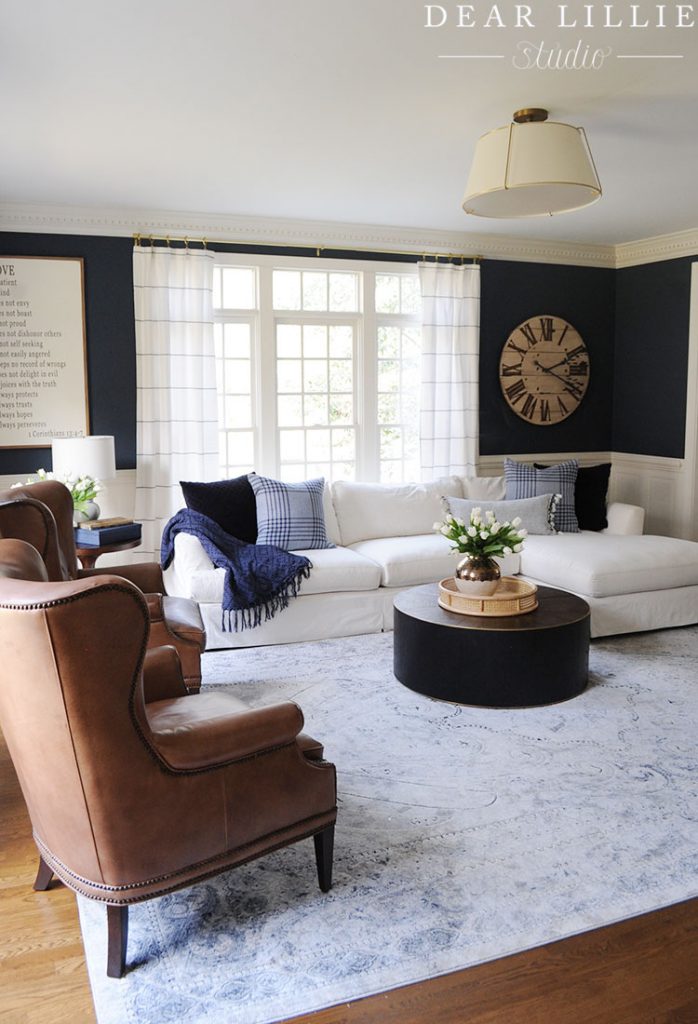 Here's a before shot from before they actually moved in. As you can see, it's a gorgeous space but Amy knew they wanted to remove the mini wall where the TV was and open it to the kitchen and go with a more simple overall look.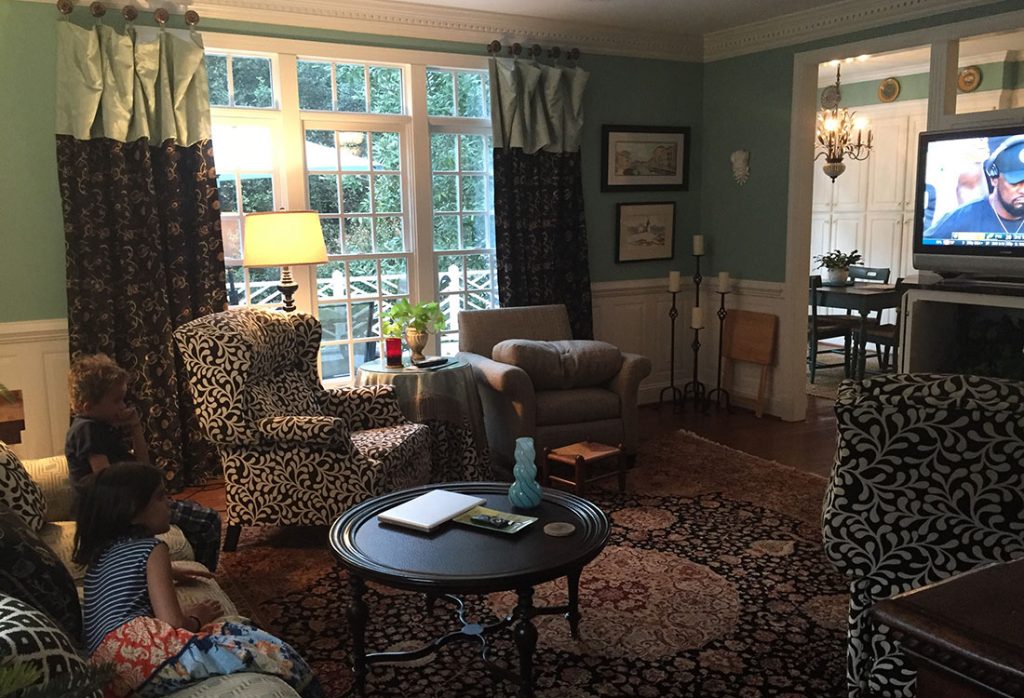 So as soon as they moved in they made some changes to the kitchen and removed that little mini wall and painted the walls. The living room at their previous home was smaller so they knew their furniture wouldn't work long-term but it's always helpful to live in a space for a while to make sure you know how it is going to function for your family before you start making purchases. This is a "during" shot: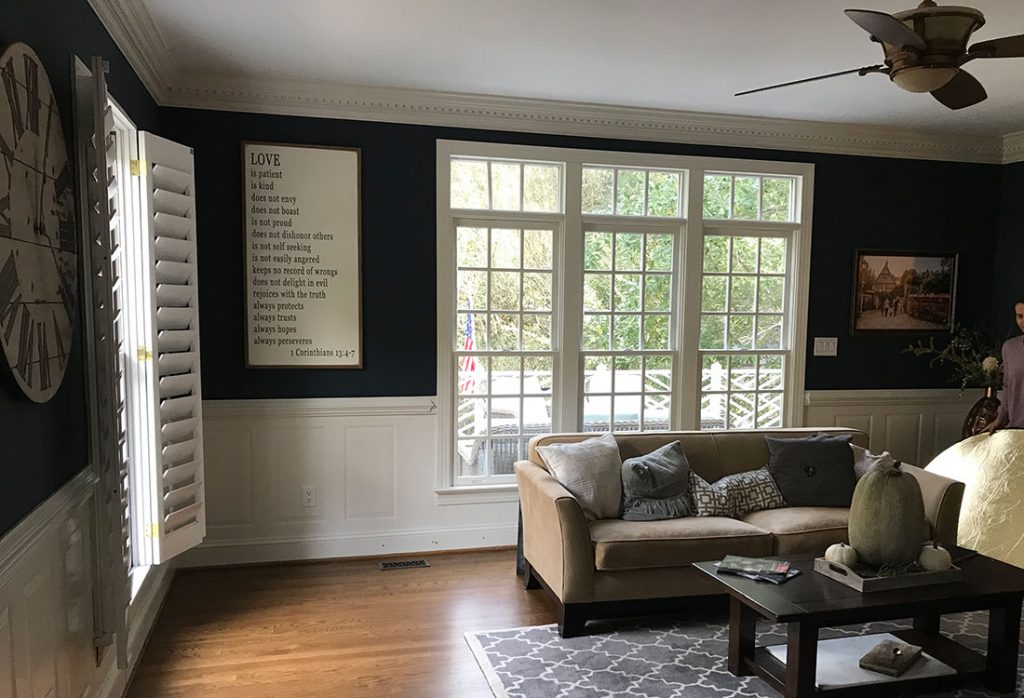 And here it is now: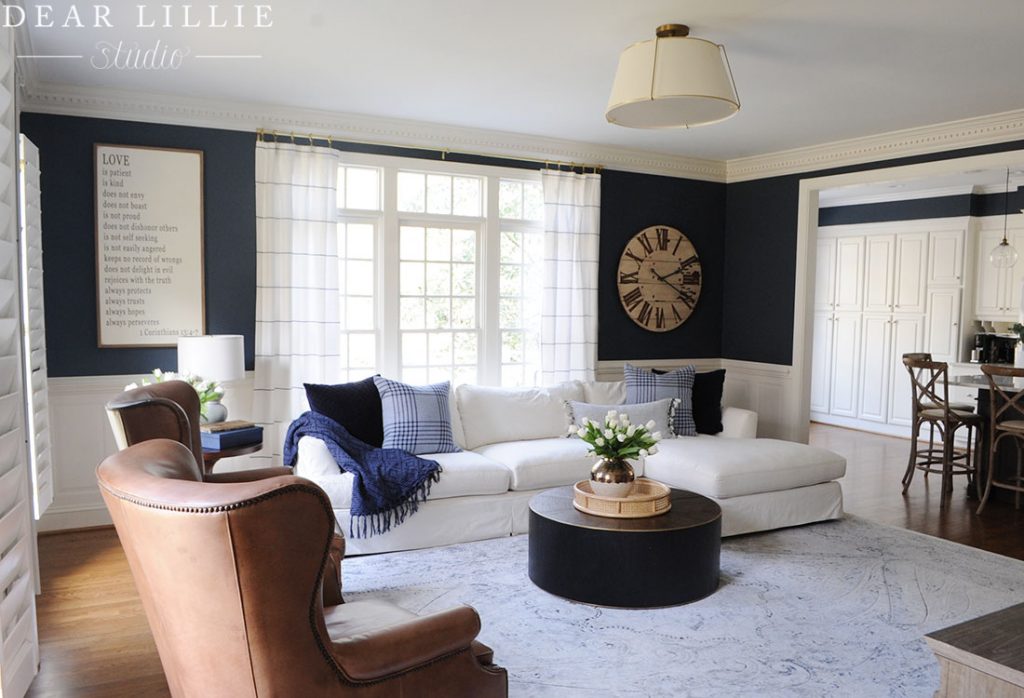 And here is a "during" shot from another angle: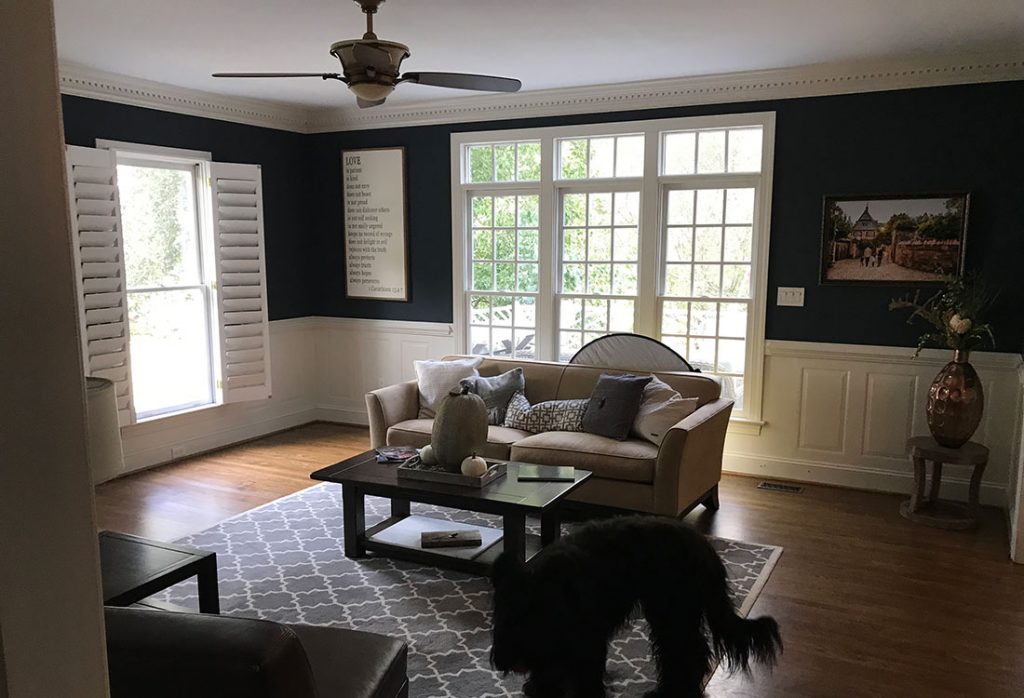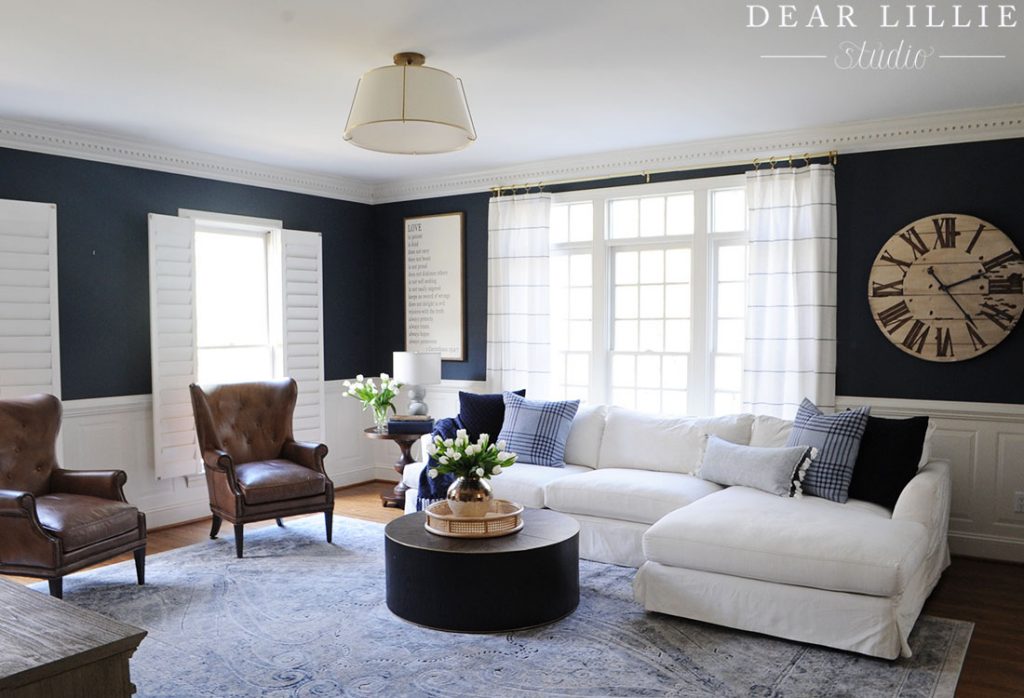 We are still waiting on one lamp so we improvised a bit on the lamp for these pictures but it's so exciting seeing a space come to life! The round coffee table was such a great focal point!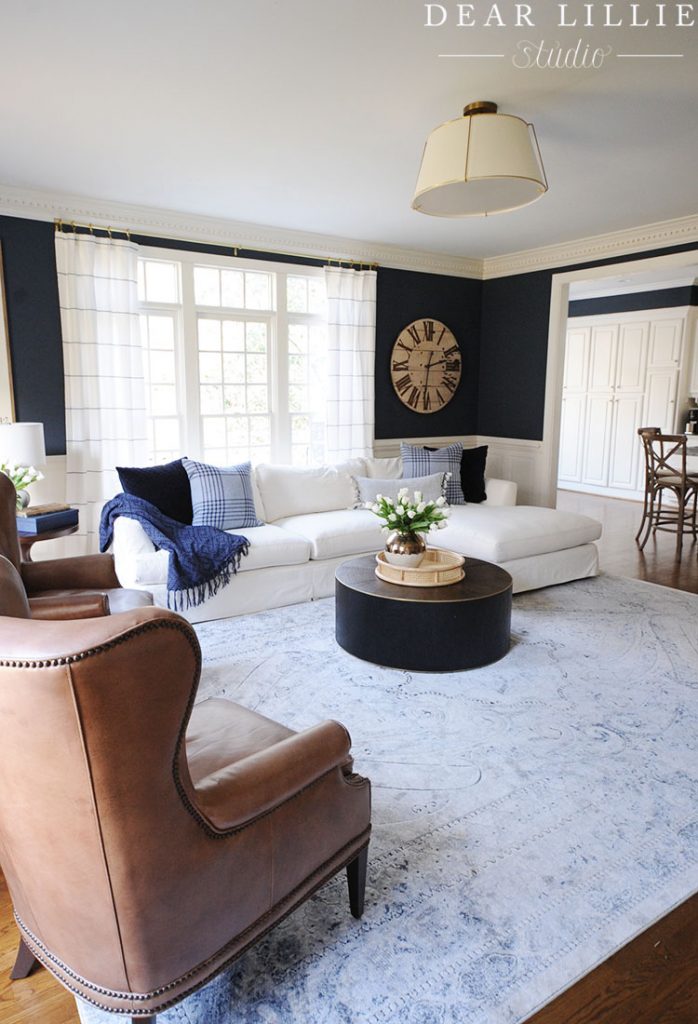 The light fixture is one I plan on using in my own home at some point in the future – it's such a great choice when you need a flush mount but still want something with substance.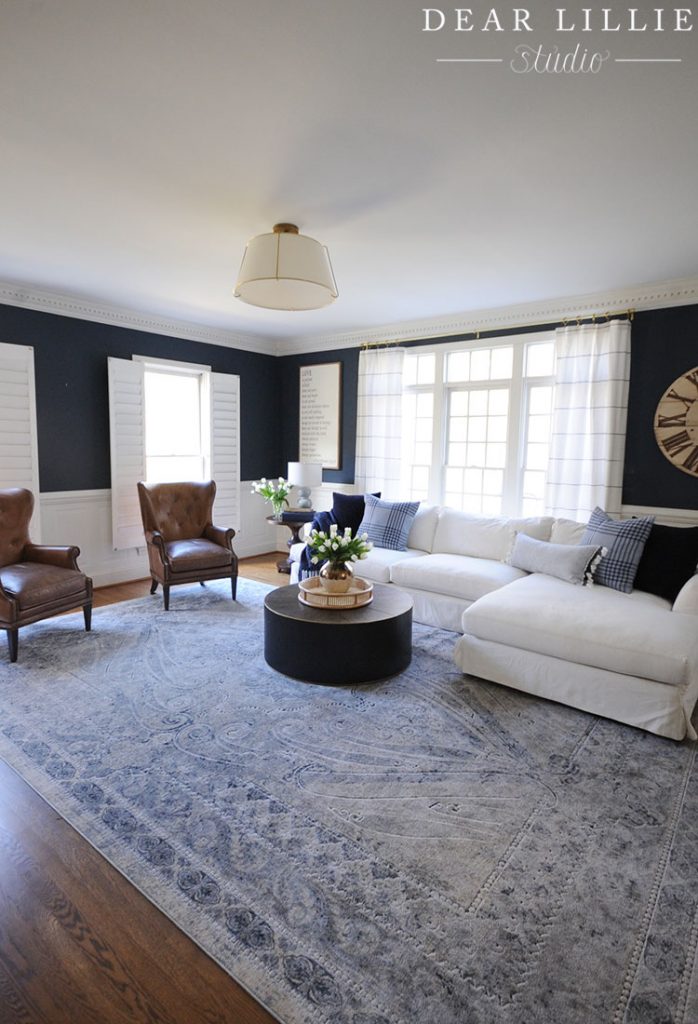 I've used these drapery panels in other client's homes before and just couldn't resist using them again. They are perfect for just about any space and I really love them!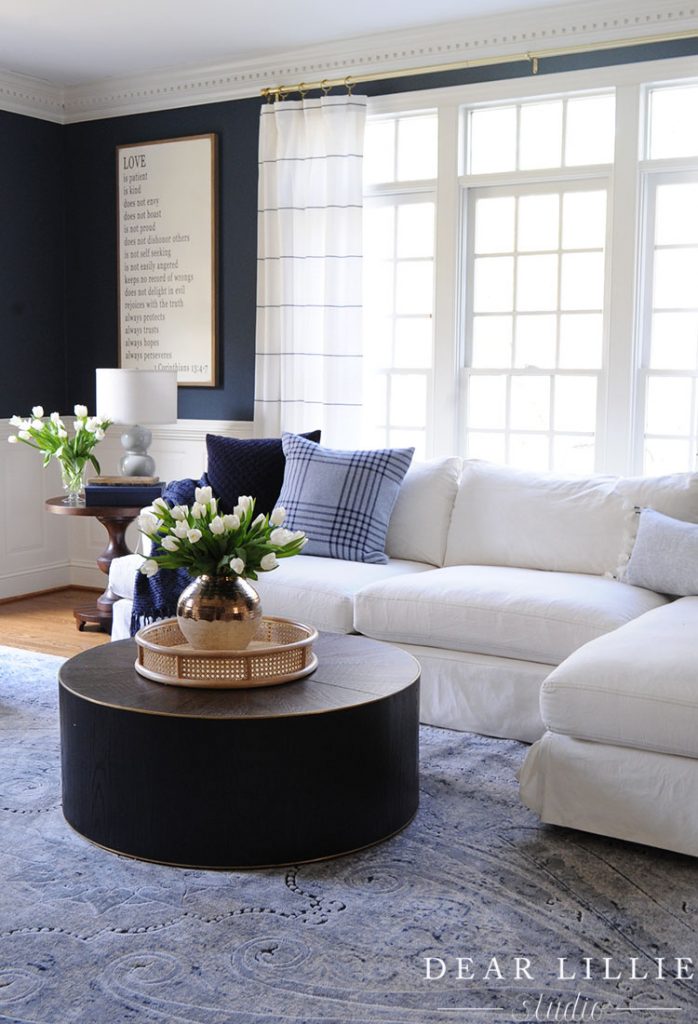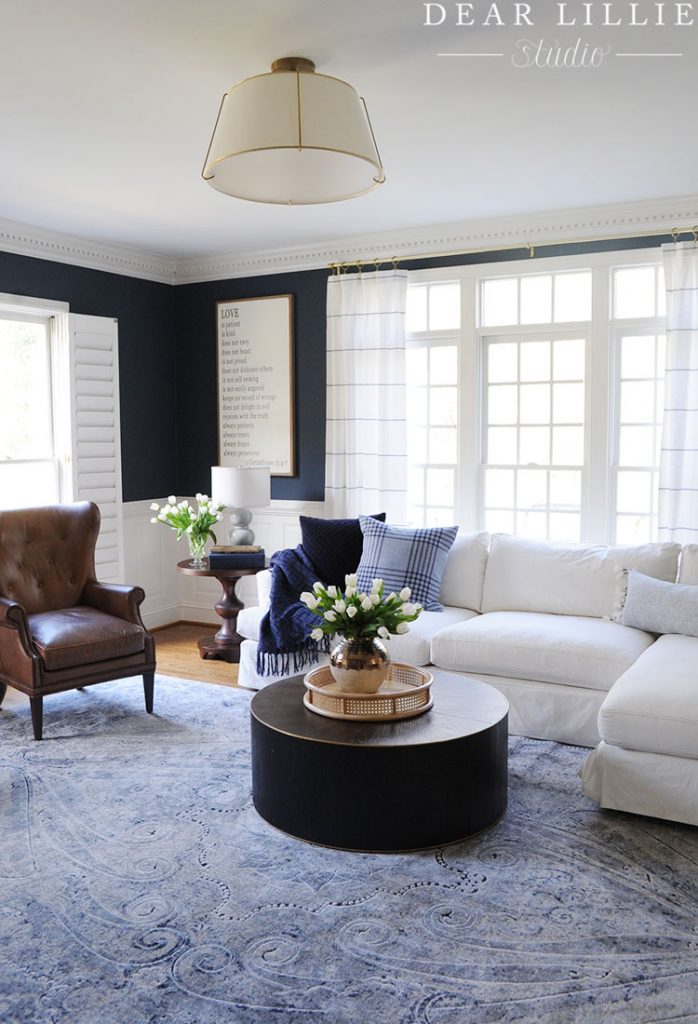 The leather chairs are a great size and my favorite color leather! The shape has a formal feel but the leather makes them feel more casual.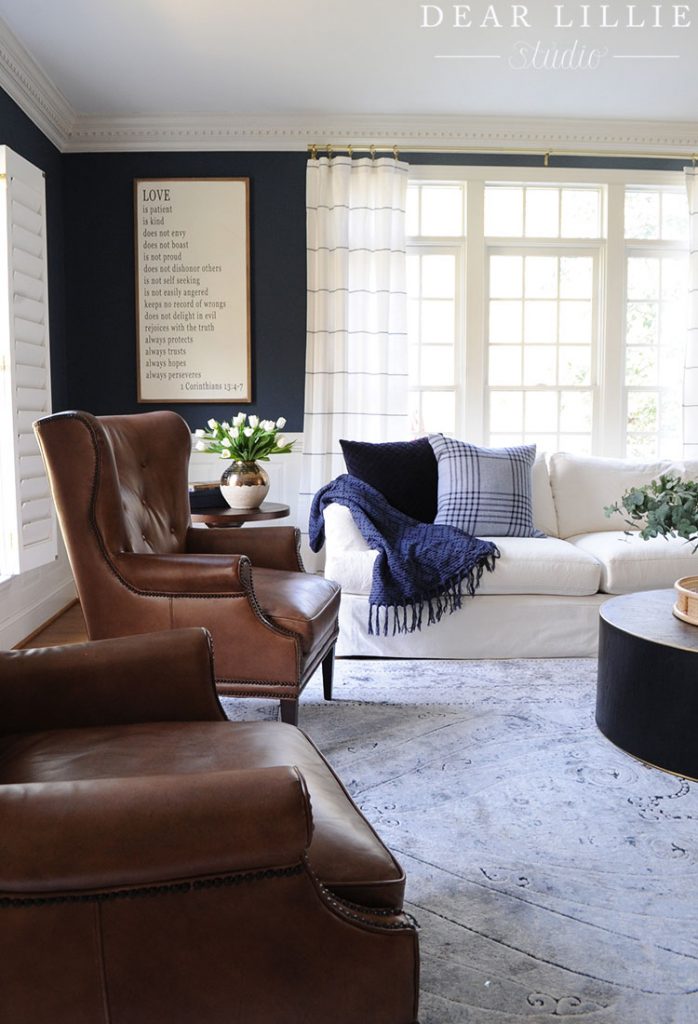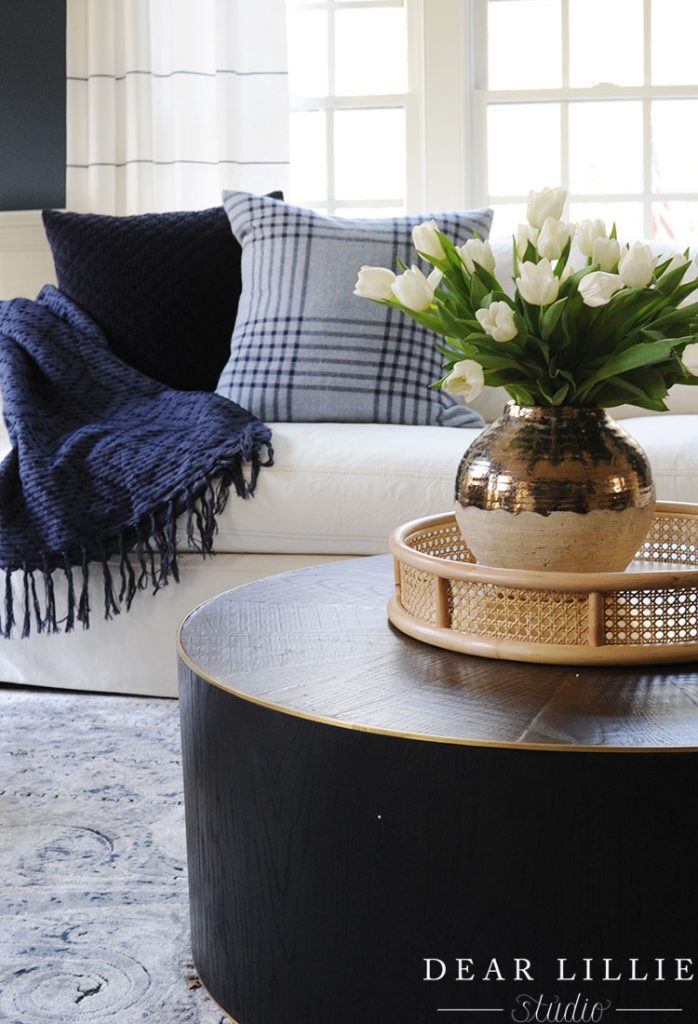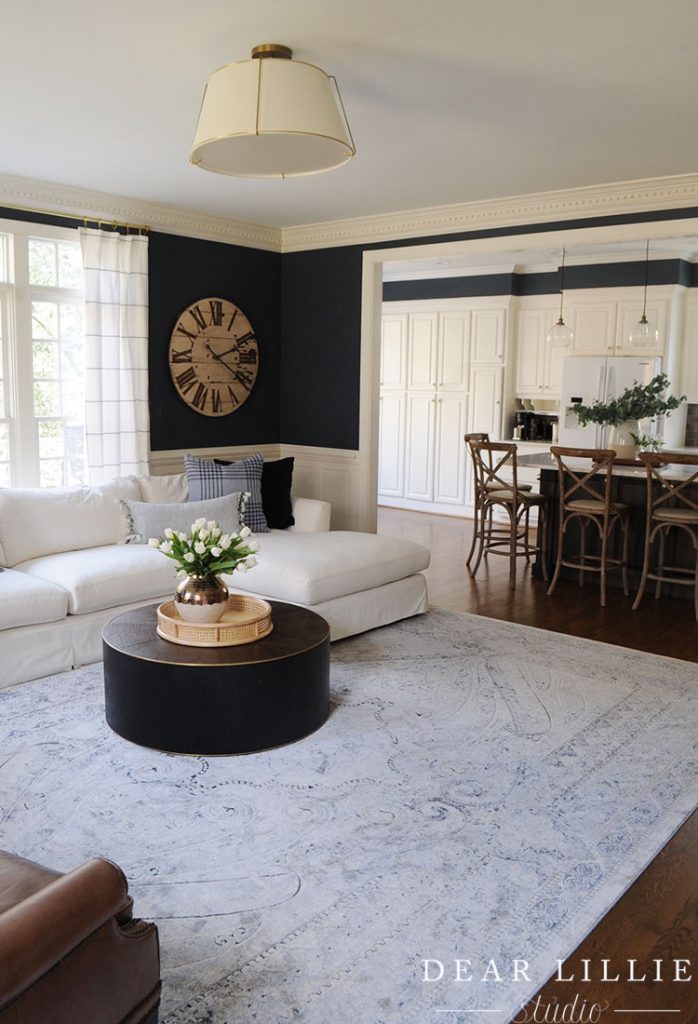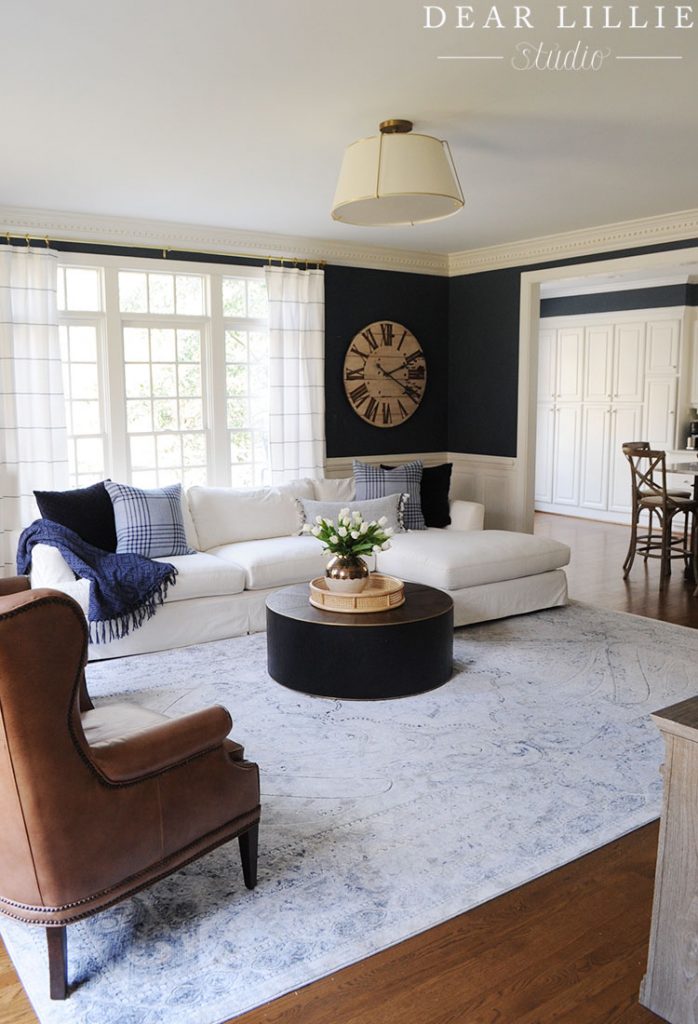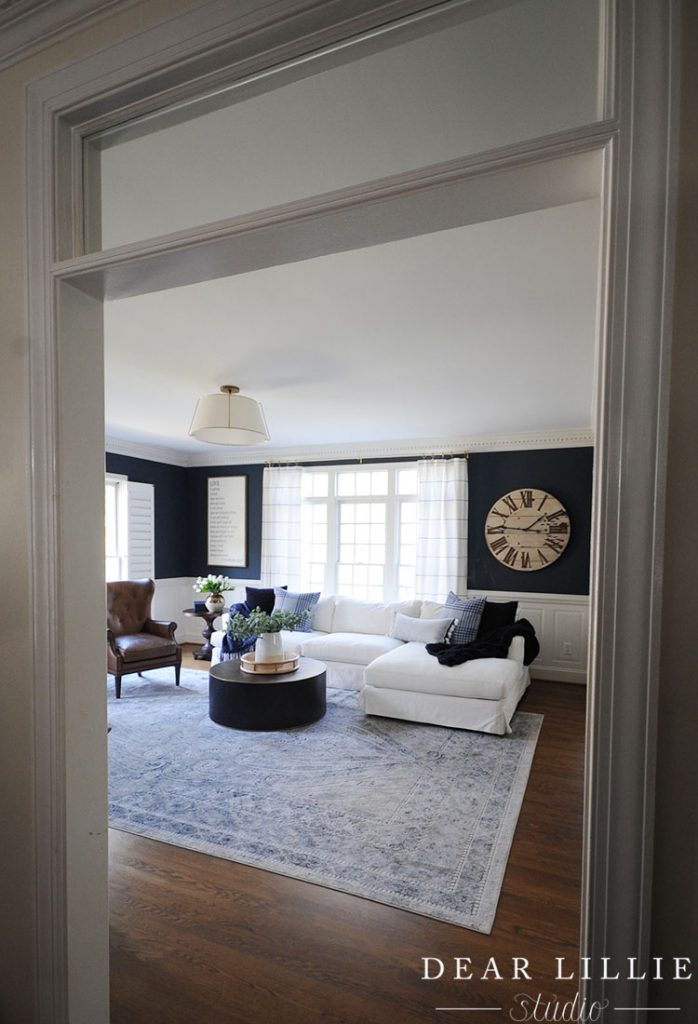 Here are a few shots from the kitchen. I don't have any info on any of the kitchen items but it is beautiful and I love how the two spaces flow together!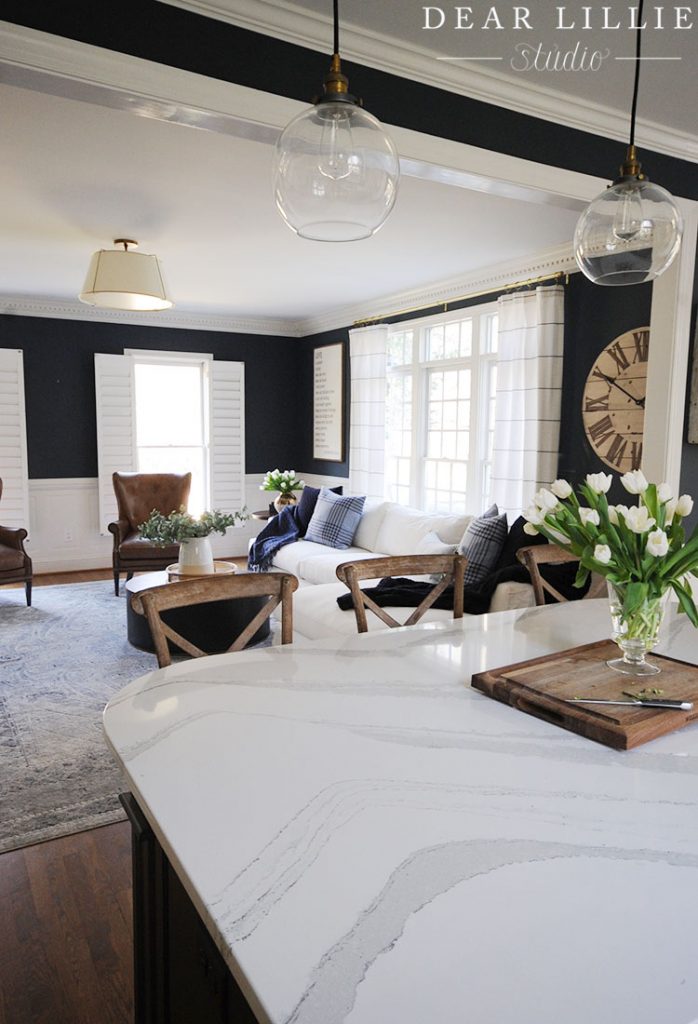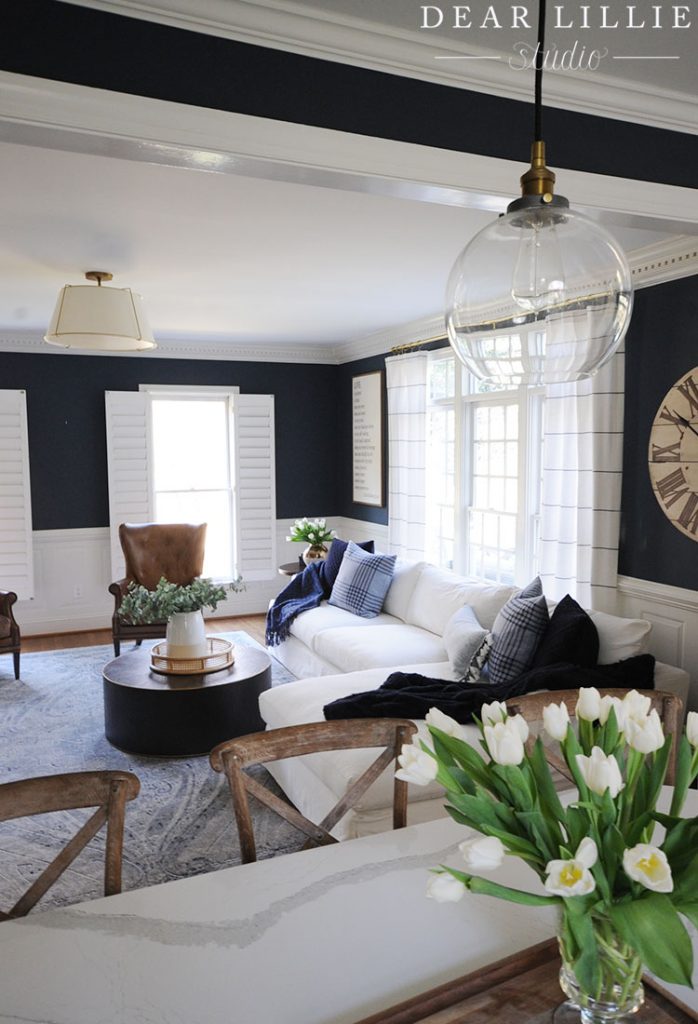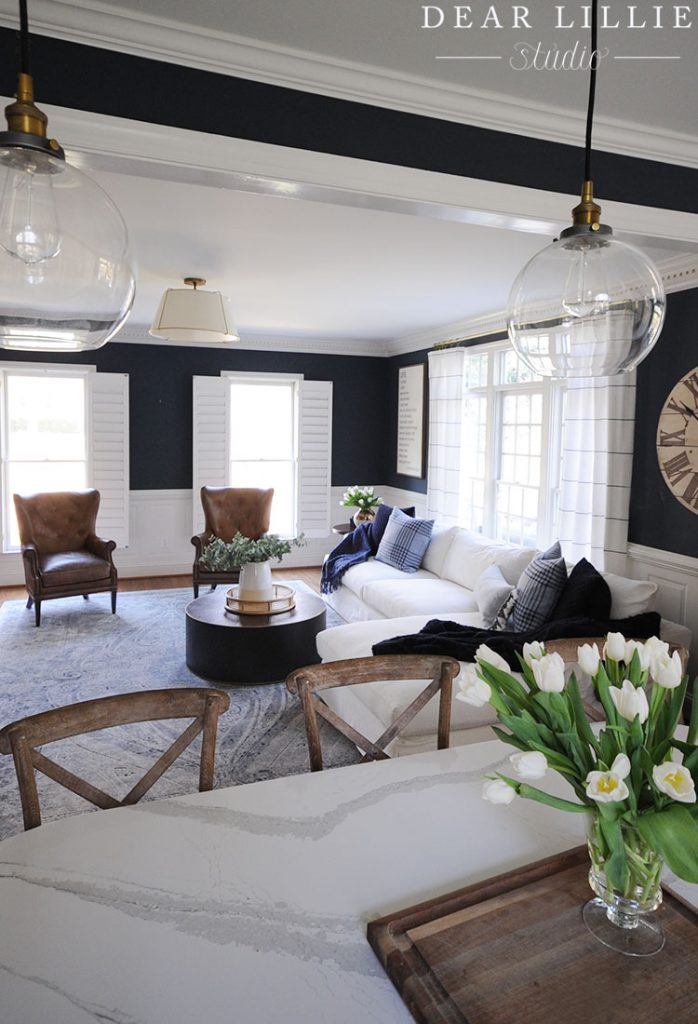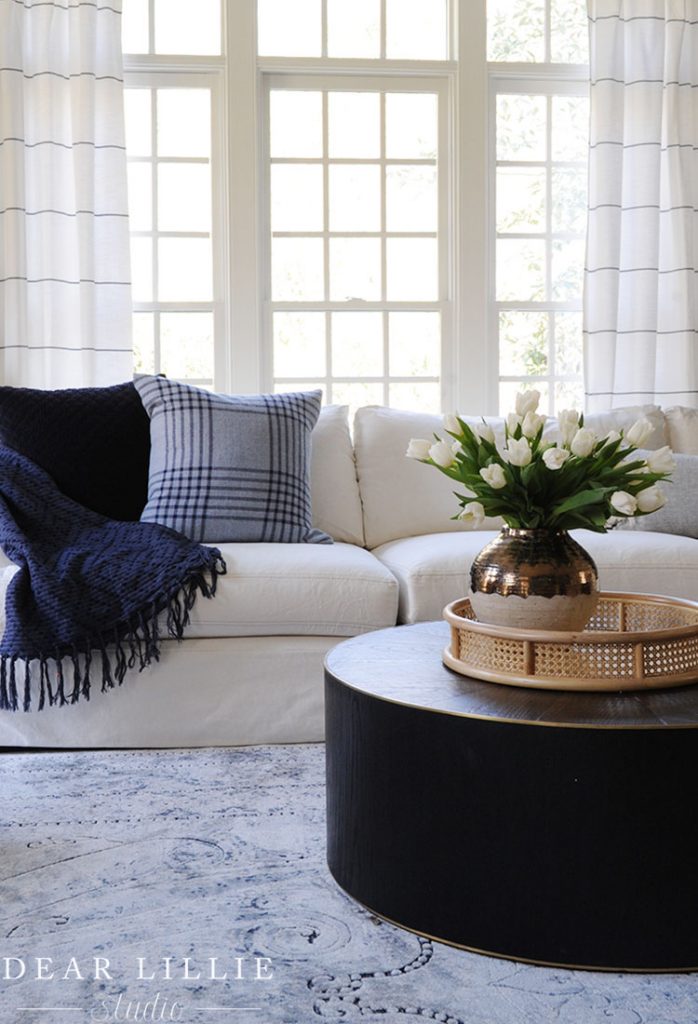 And here are a few wide angled shots: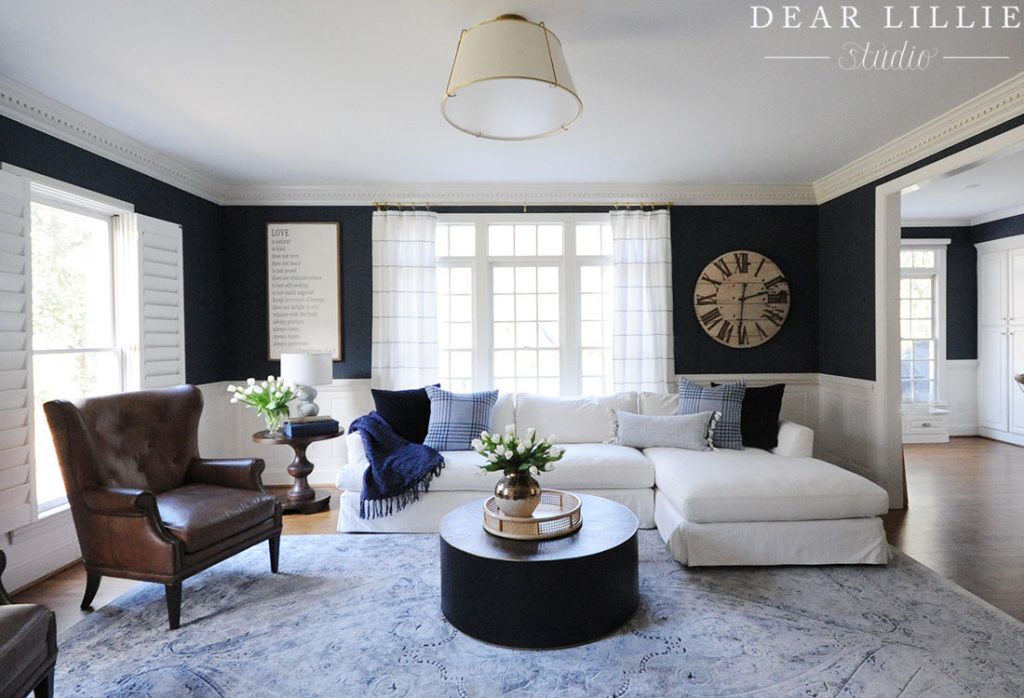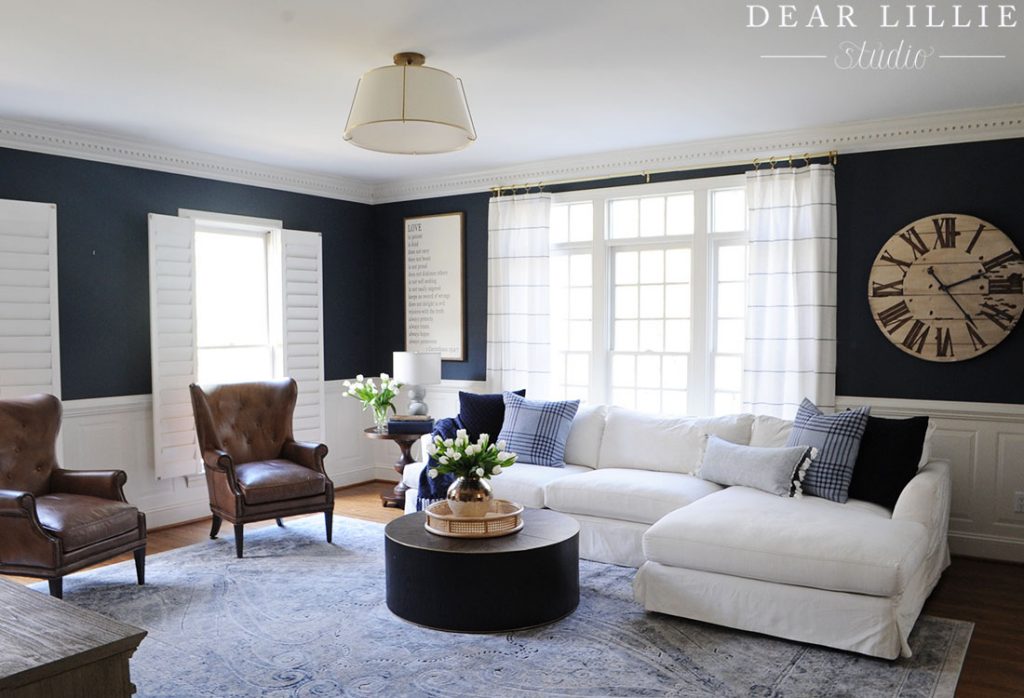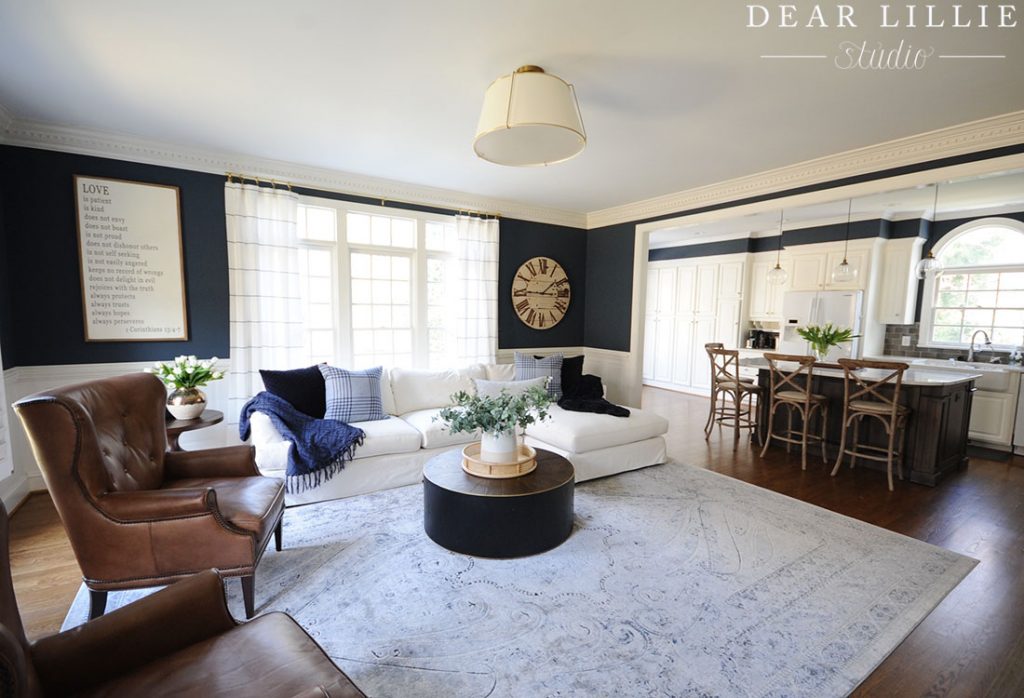 Client Living Room Source Info:
Paint Color – Blue Note by Benjamin Moore
Trim Color – Existing
Light Fixture – Rejuvination
Rug – ESale Rugs (no longer available) Similar one here and here
Sofa – Arhaus
Round Coffee Table – McGee & Co.
Large Navy Pillow – Target
Plaid Pillows- Serena and Lily
Lumbar Pillow – Serena and Lily
Throw – HomeGoods
Leather Chairs – Wayfair
Tray on Coffee Table – Target
Urn Holding Tulips – The Home Depot
Urn holding Eucalyptus – HomeGoods
Side Table – Birch Lane
Lamp – Already belonged to Client
Clock – Already belonged to Client (can be found here)
Wooden Sign with Verse –Already belonged to Client (can be found here)
Bar Stools – Restoration Hardware
Pendants in Kitchen –Already belonged to Client
Drapery Rods – Birch Lane
Drapery Panels – Ballard Designs
That's it for today. I hope you all have a fabulous rest of the week! And don't forget to head on over to Wholesomelicious!
Warmly, Jenni