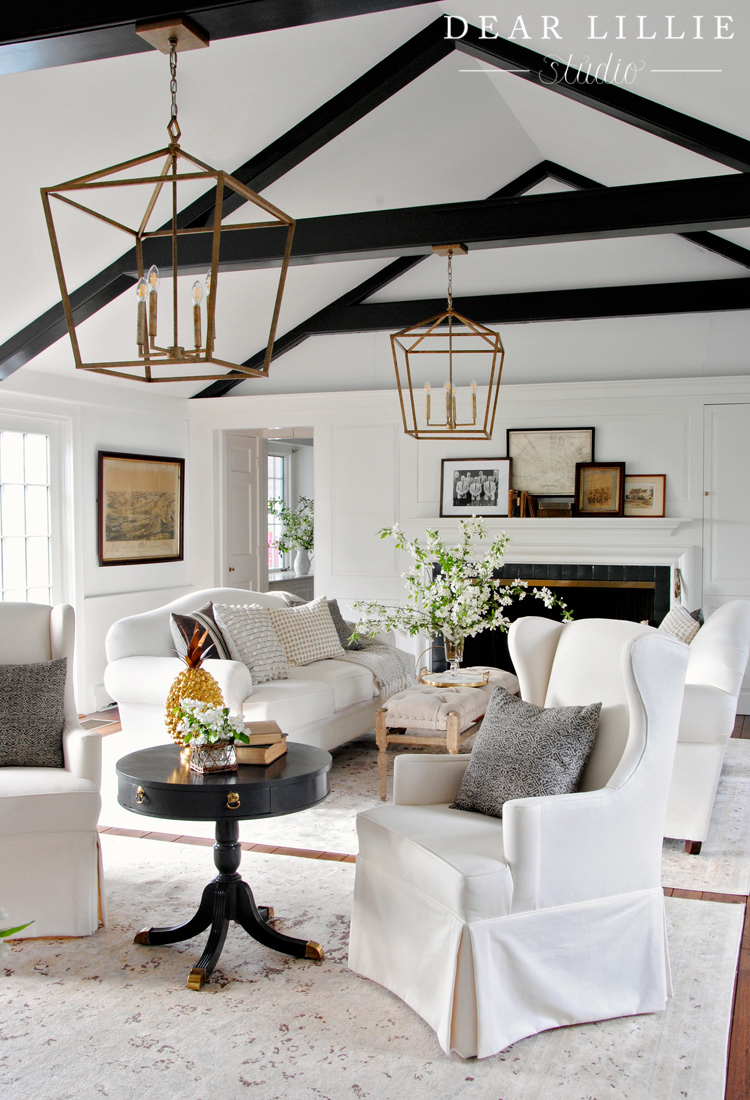 This is the living room that never ends…I can't believe I actually began painting it last summer! And even though I say it is "finished" there are actually two windows on the wall opposite the doors that need to be replaced because you can feel the draft if you stand right in front of them in the winter, and I'm on the lookout for a narrow table to go along the wall on that side as well. But since I won't be the one physically taking the windows out of the wall, I'm considering my job here to be done! 🙂 My favorite feature(s) are these large lantern pendants from Bellacor that helped give me focal points to arrange the furniture around. This was the room we usually visited with my uncle in, and it was hard to get the original layout out of my head. We tried a few different arrangements at first, but sometime this winter we flipped the sofas to face each other, and when we put the lanterns in, we placed the chairs and table underneath the second pendant and focused that second area around a small TV that we put in the built-ins.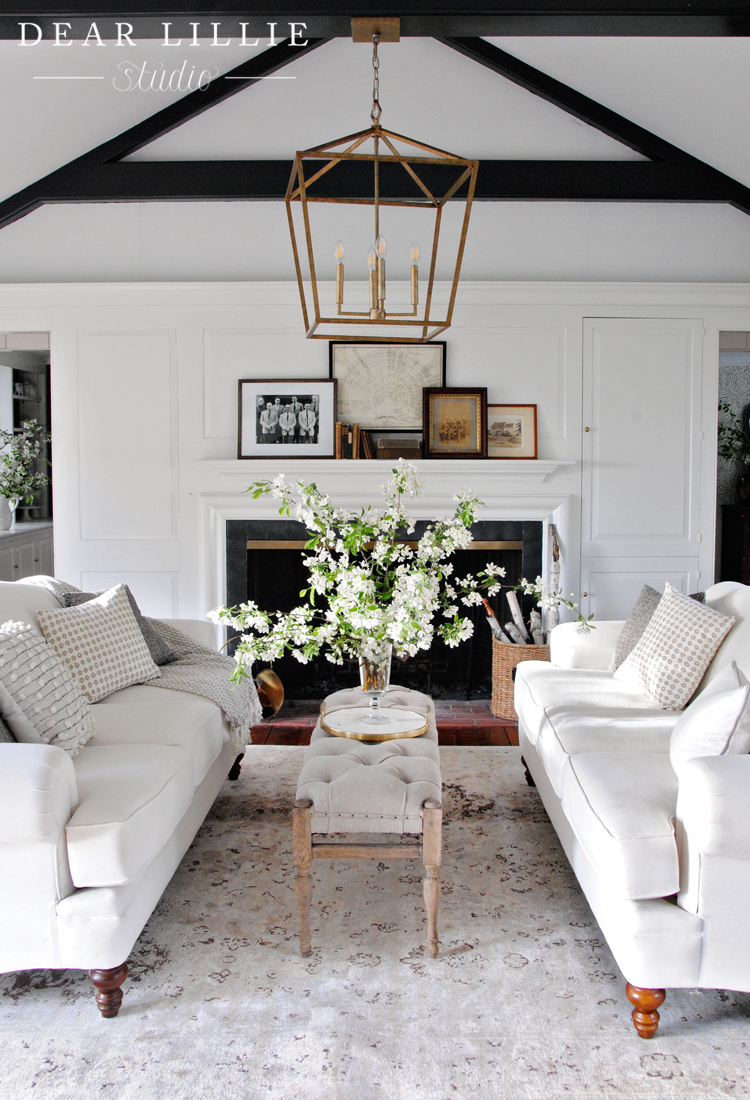 I love the classic, timeless elegance of the lantern shape with its updated sleekness giving it a fresh feel. The room felt so much more pulled together once my father-in-law installed them.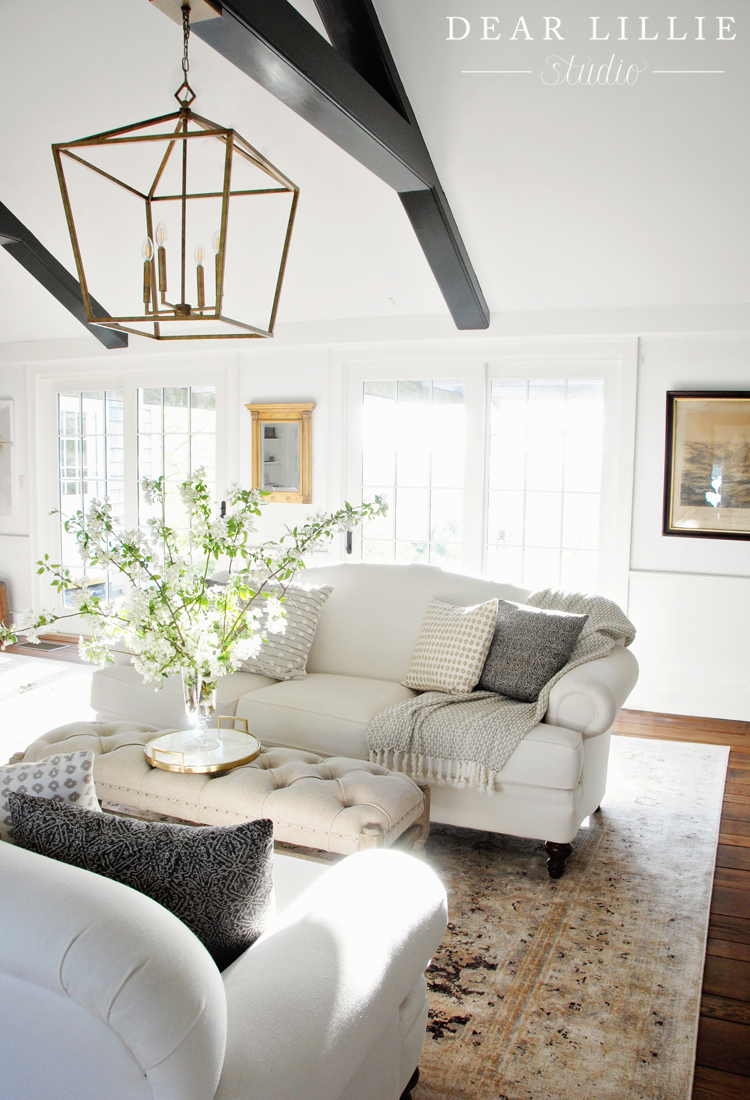 I finally finished painting the last few shelves I had been dragging my feet on and styled the bookshelves mainly with books, old family photos, and some suitcases and baskets. I have always had a difficult time with styling shelves (I am the queen of clutter), so I tried keep pulling things out to avoid them becoming too knickknacky. Some of the books were from family, some I got at the Salvation Army or our town book sale last year, and some I've collected over the years and covered in white Kraft paper.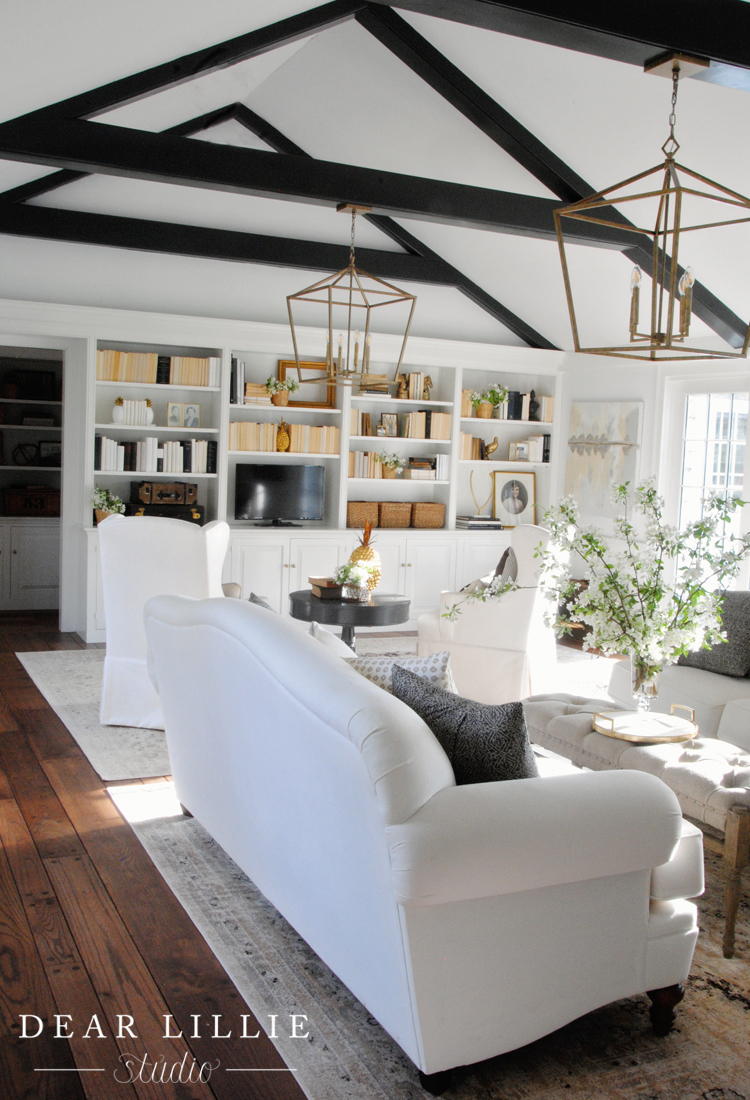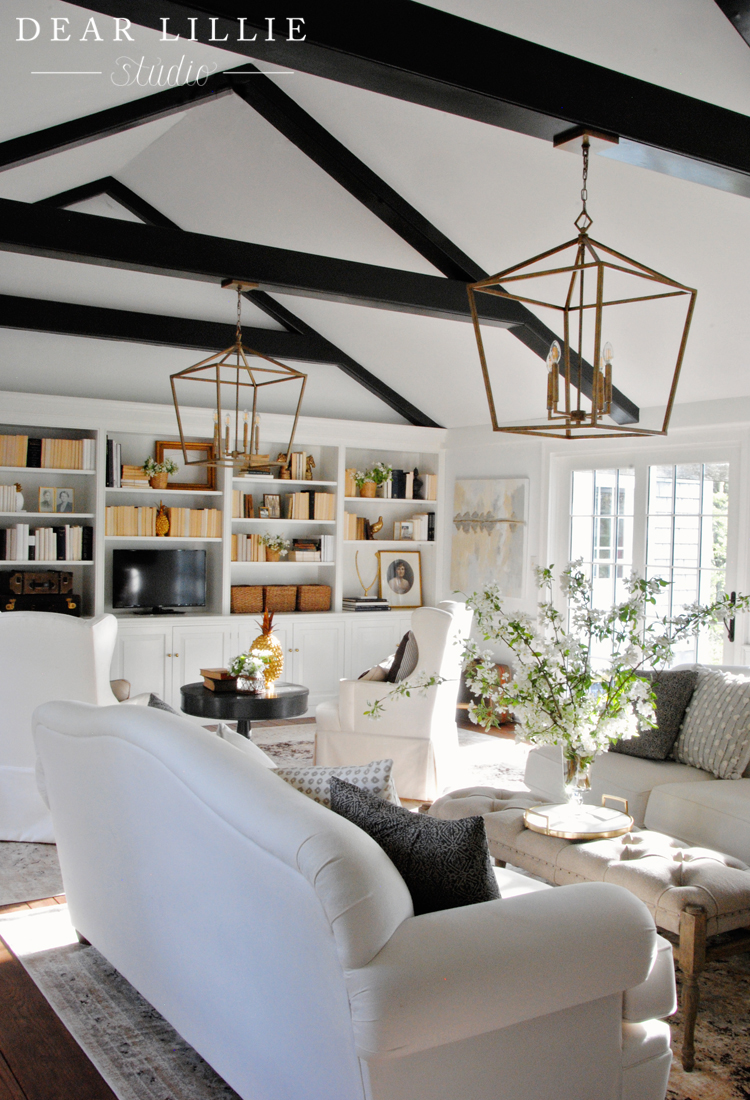 We had all of four of the white pieces of furniture in our first home when we were just married, before we had children. (Since having kids, we have only gotten white if it was slipcovered!) However, we have somehow made it through four years of parenting without any major stains. Our younger daughter recently left some faint pen marks on the seat of one of these chairs, but since we don't usually eat in our formal living room, that's the worst we've seen!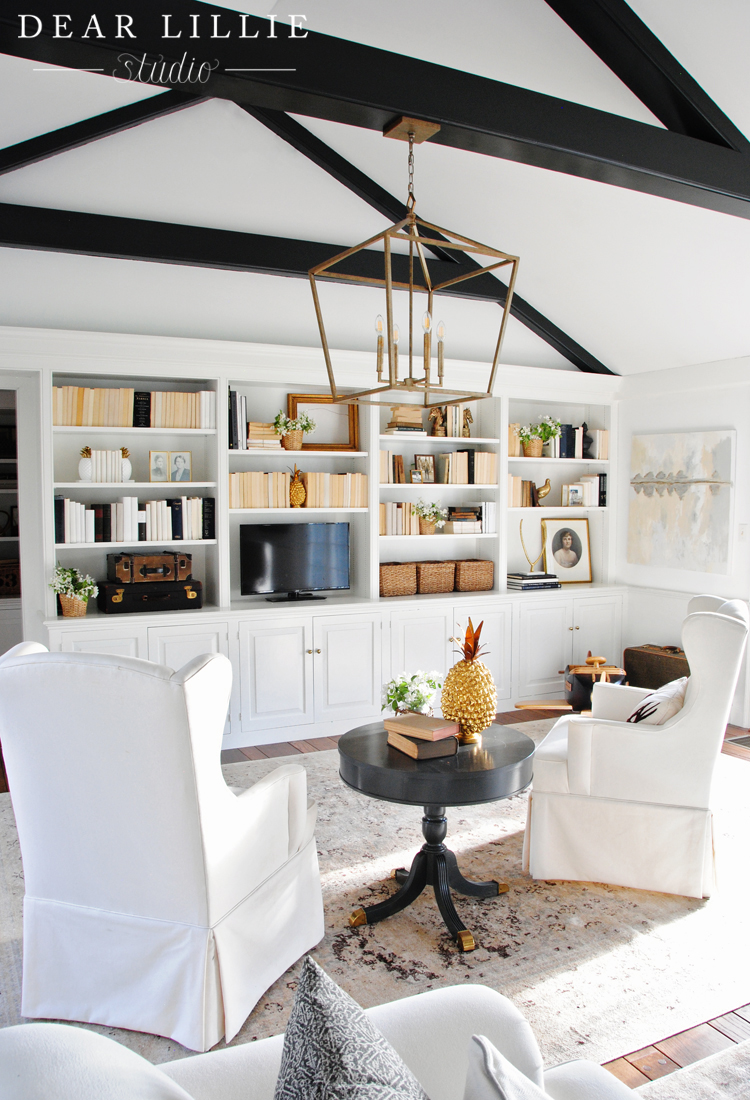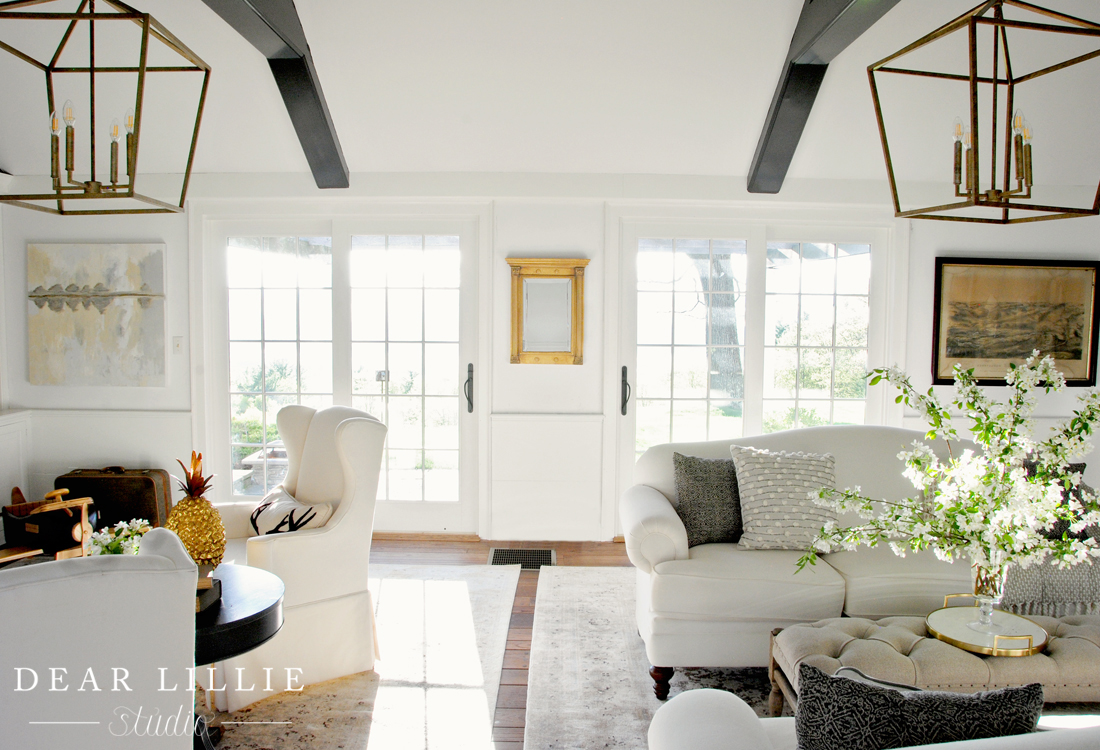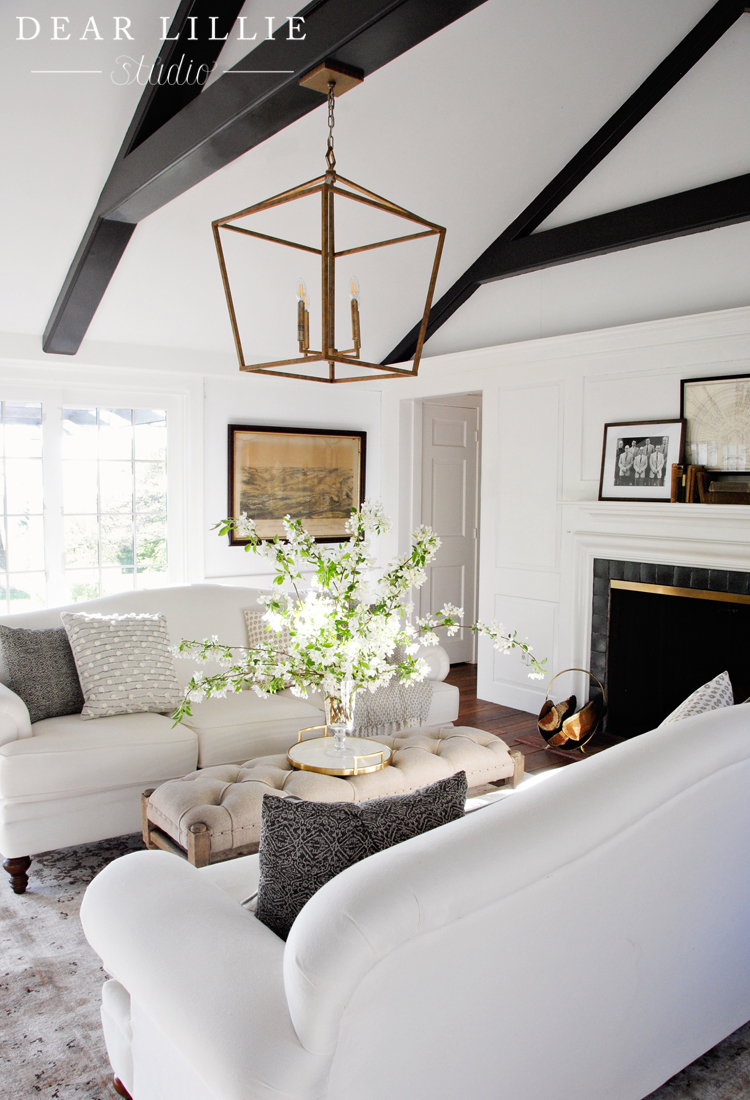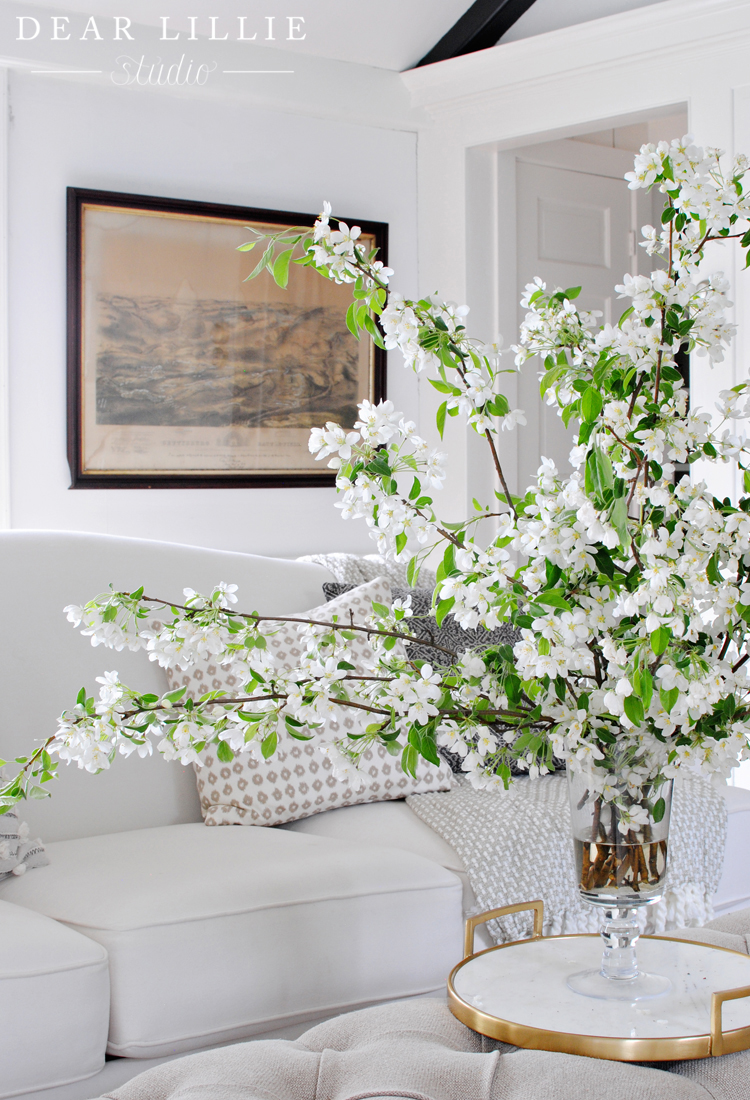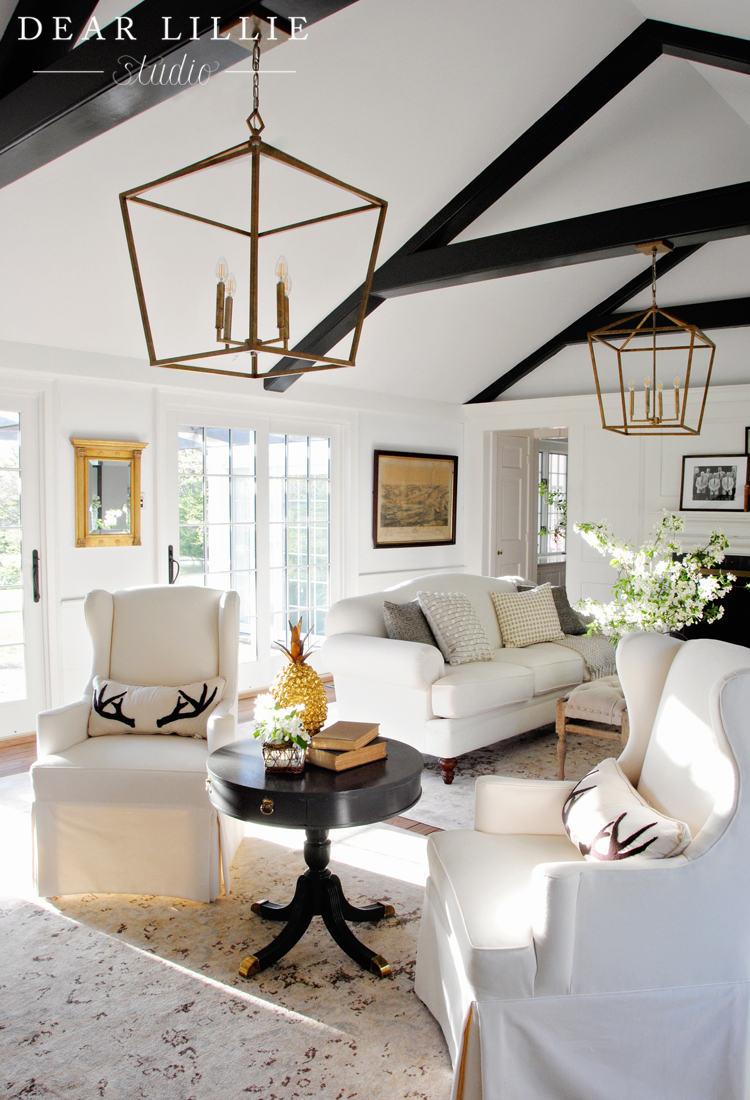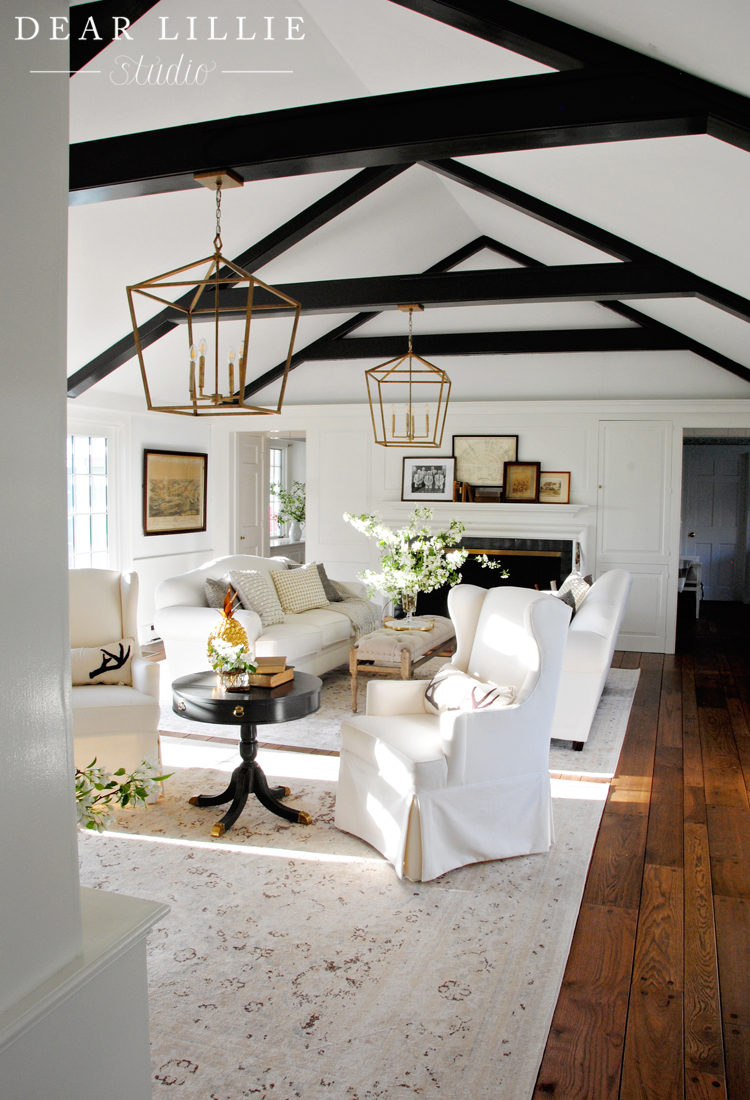 You might recognize this little plane that Jenni also has, they were given to us by our aunt, and the girls love to pretend they are flying to visit their cousins in it: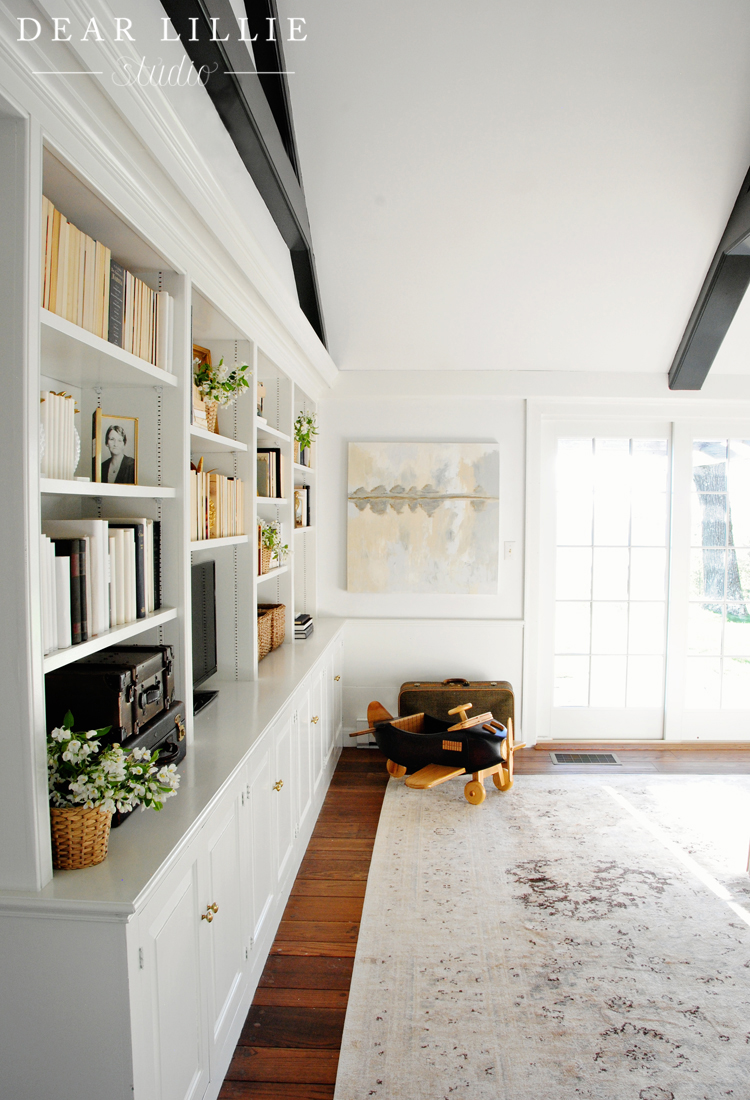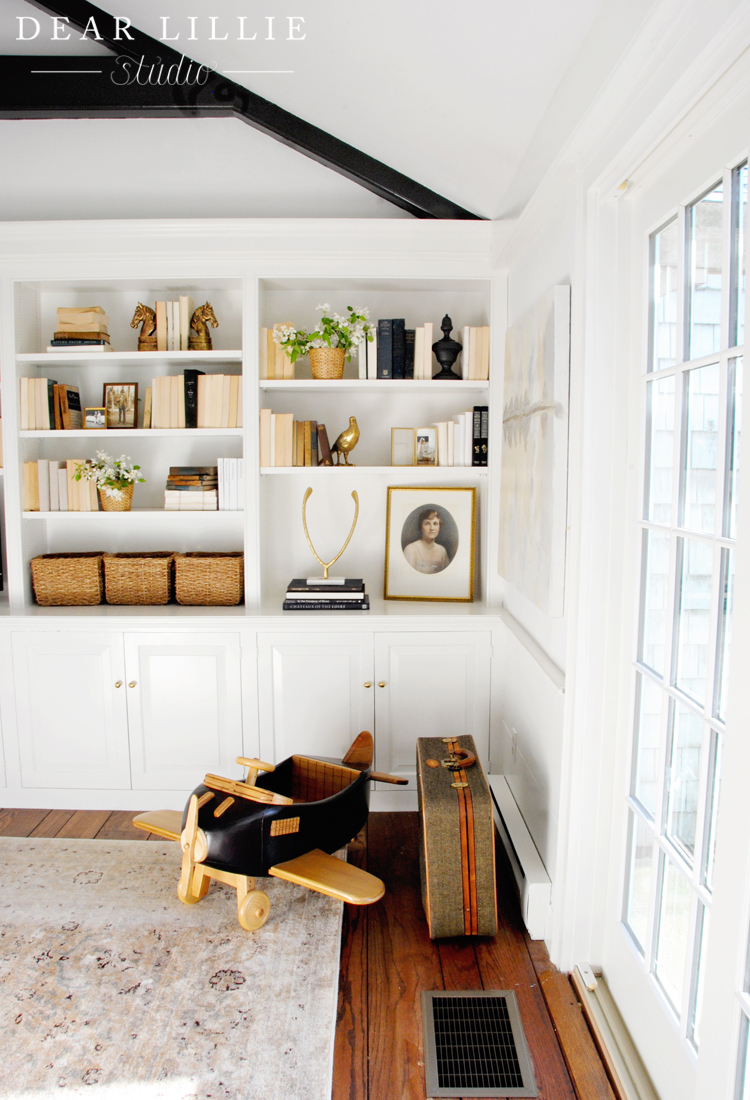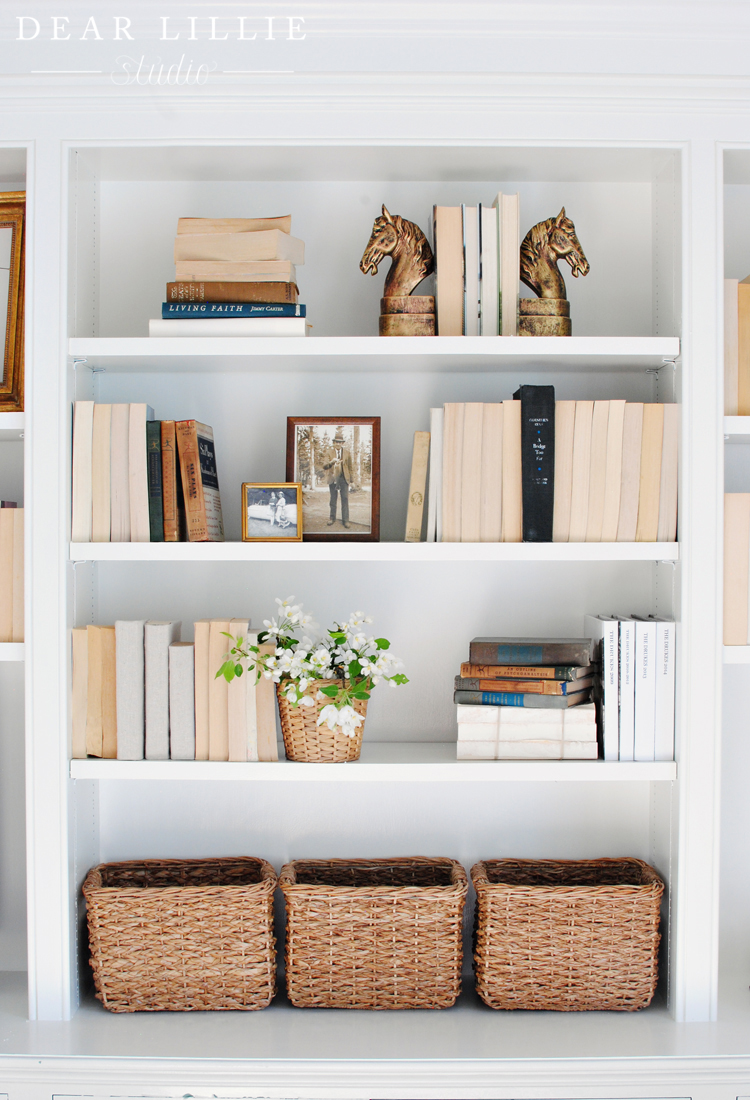 This room has changed alot (it was green before), so I like having pineapples in the room as a reminder of our uncle. (Pineapples make us all think of him, he had them everywhere throughout the house.)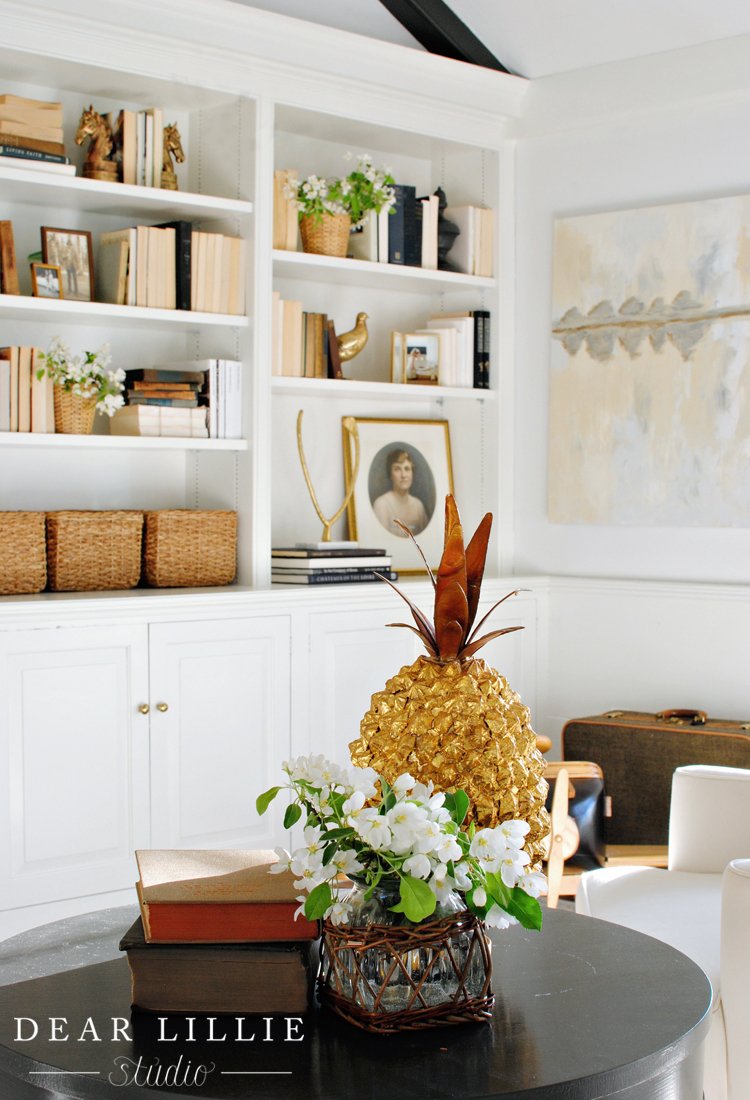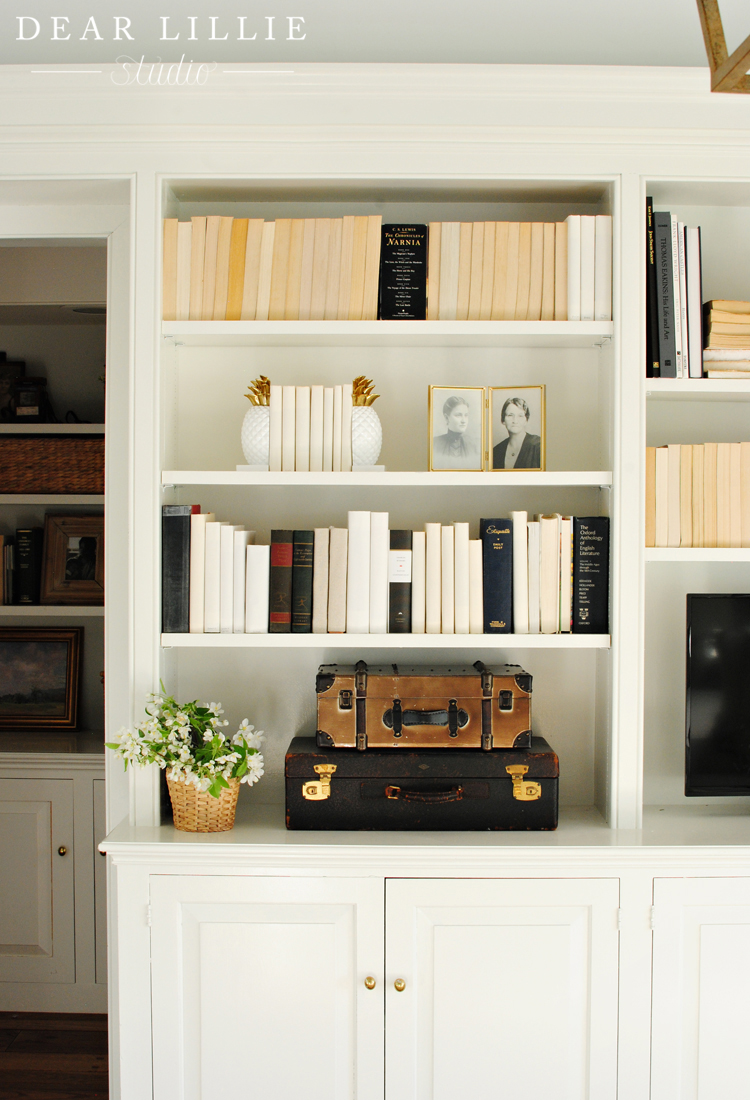 This is the room through the back hallway, which connects it to our family room/kitchen area.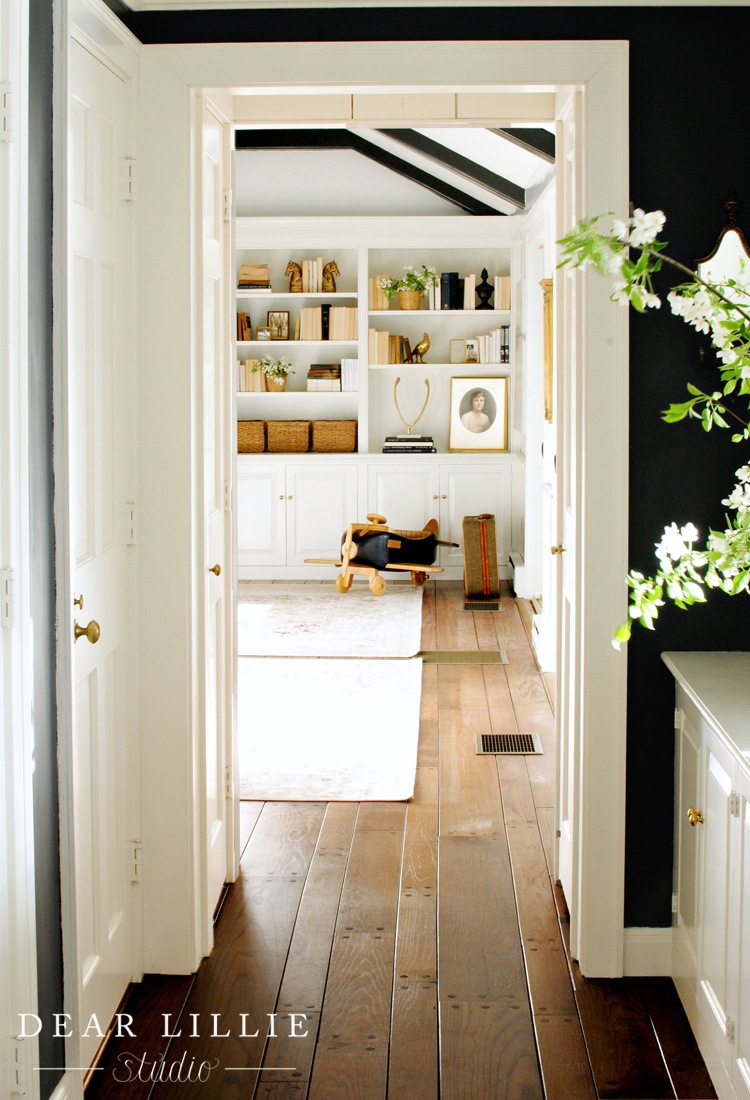 Source List:
251 First Kenwood Vintage Gold Four-Light Lantern Pendants – Bellacor Lighting
All white trim and built ins – Benjamin Moore White Dove
Black Beams and fireplace surround – Benjamin Moore Nightfall
Wall color in back hallway – Benjamin Moore Blue Note
Couches – wedding gift
Most pillows – I made
Throw – Target
Tufted Bench – Hedge Apple
Tray on it – Target
Rugs – Rugs USA (9'6″ by 12'10")
Wing Chairs – Ballard Designs
Black table in between chairs – from family
Gold pineapple (large and small) – Home Goods
Vases – secondhand
Baskets holding flowers in bookshelves – IKEA
Gold Bird and gold wishbone in bookshelf – Home Goods
All photos on mantel and in bookshelves and large antique Gettysburg print – from family
Gold mirror between doors – from family
Large canvas in corner – I painted
French doors – Marvin Windows & Doors
Airplane – gift from a relative
Standing suitcase and larger stacked suitcase – from family
Top suitcase in bookshelf – Home Goods
Pineapple bookends – Target
Horse bookends – Home Goods
Basket by fireplace – Target
Gold firewood basket – from family
Have a wonderful day! – Jamie