Over the years we've used quite a bit of wallpaper in our homes. In our first house we used it in our entryway, in our second house we used it in our dining room and guest bedroom, in our third house we used it in both Lillie and Lola's rooms, the upstairs bathroom, the playroom, the guest room closet, the hall closet, the powder room and the laundry room and in this house we have used it in both girls' rooms again, their bathroom, and then the dining room. Until hanging a neutral pattern in our dining room last fall I had never once regretted using wallpaper.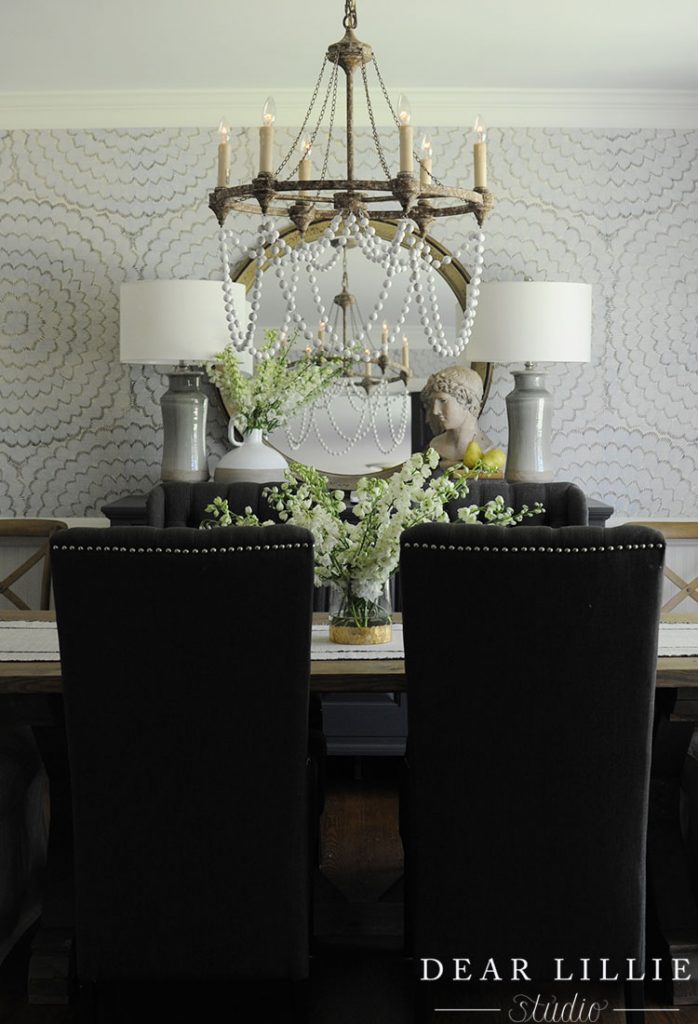 In fact, the rooms we used it in were often my favorite and I loved that they made a room feel so fun and added so much interest. I LOVE wallpaper! Last fall I chickened out of going with a more bold paper in our dining room and went with a "safe" subtle one. I had actually used that paper before in our laundry room in the blue color and absolutely loved it! So much so that I encouraged my sister to use it in her entryway and loved it even more there! I went with the taupe colored version of it in our dining room and even though it was pretty it felt so boring. I tried to do some other things in that space to help make it not feel so dull, but just found myself never loving the space. In the meantime I ordered this gorgeous Feather Bloom paper from our partner, Schumacher, for my office. (You can order it here). Once it I arrived I kept thinking how much I wished I had just gone ahead with this in the dining room last year.
After taping it up in the dining room and loving it (this was one of the papers I had been wanting to use initially in here!) I decided to just go ahead and use it in there even if that did seem a little crazy. I know one thing that always makes people nervous about using wallpaper is that they think it is such a nightmare to take down. That usually is true of paper that was hung 30 years ago if it wasn't hung properly. However now if the walls are prepared correctly and it's done right, wallpaper comes down really easily! In fact the wallpaper came down in this room in less than and hour! Although I like to do most projects myself, I do NOT enjoy hanging wallpaper and honestly am just not very good at it so it's a job I much prefer hiring a professional wallpaper installer for, and this new paper is a hand trimmed grasscloth so it was definitely out of my comfort zone. I was so excited when my wallpaper guy was able to come hang it and as each piece went up I got so excited and have to say I am so glad I decided to go ahead and use this in here! I know that it probably will seem a bit bold for some people but I LOVE it!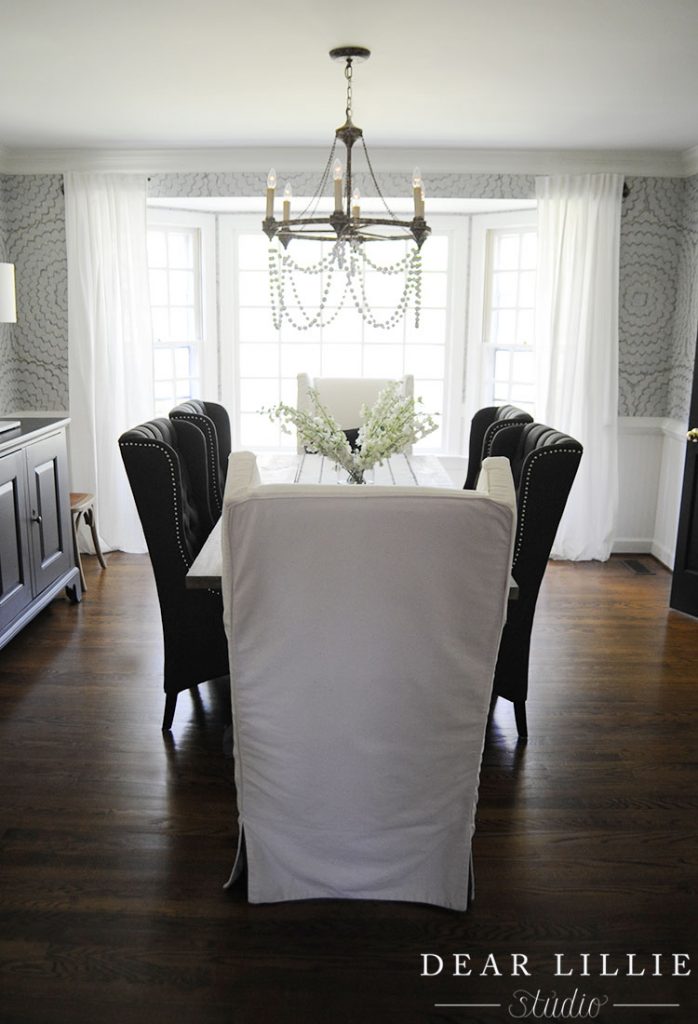 Lola and I took all the beads off of the chandelier a couple of weekends ago and spray painted them white. The mirror is also just leaning for right now because that's not the one I am ultimately going to use in here. I am going to use a slightly larger one with a slimmer gold frame and then I think I am going to rub some gold leaf onto the iron part of the chandelier to help finish off giving it a slightly more sophisticated makeover. Also I quickly did some chair swapping with our kitchen table for now but may do a little more chair swapping to get the exact look I want in here.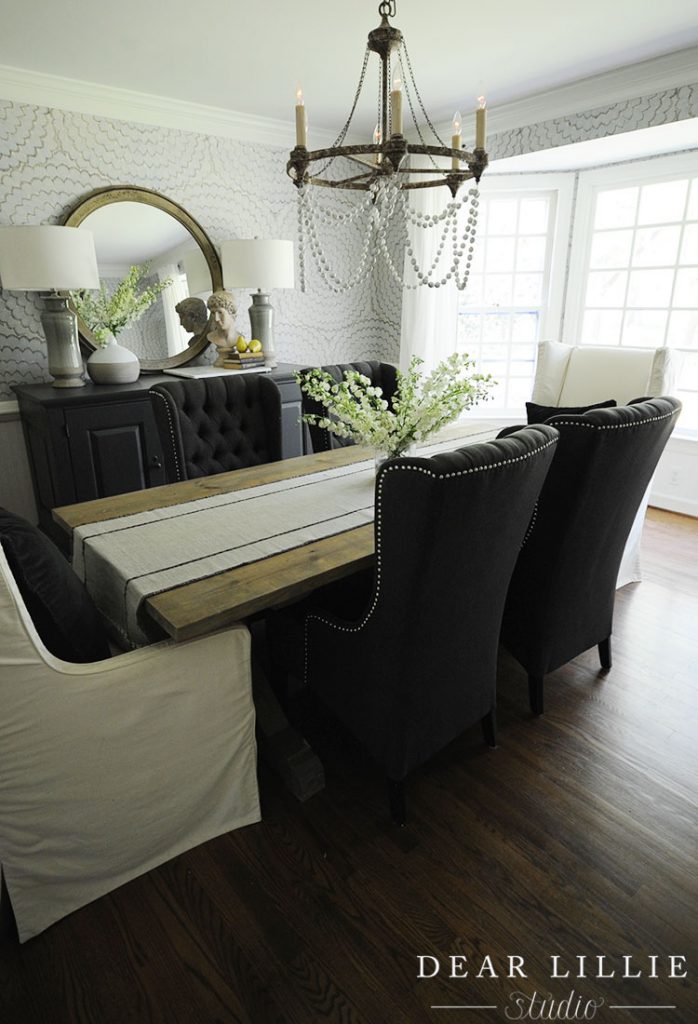 This is the spray paint we used. I just picked it up at Ace Hardware when we were getting some other supplies.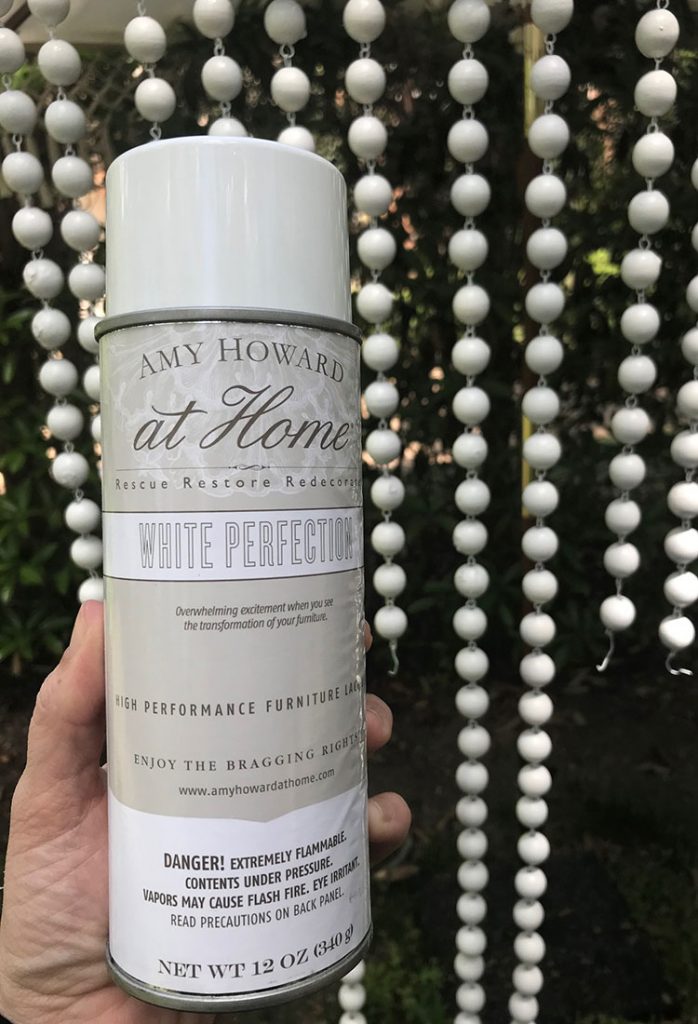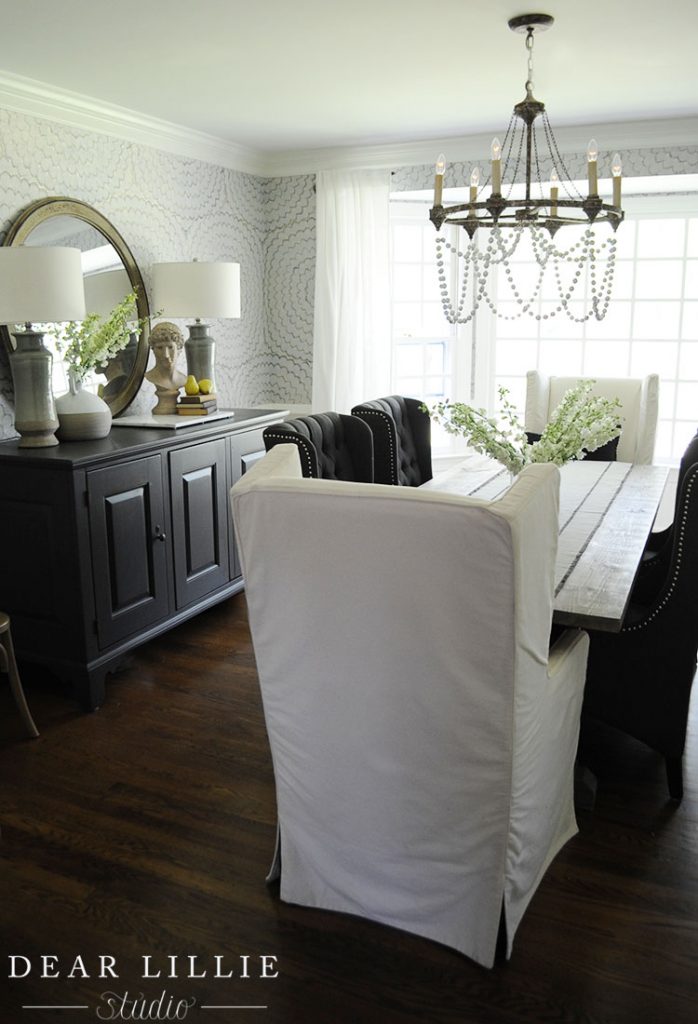 I love how much happier this space feels now!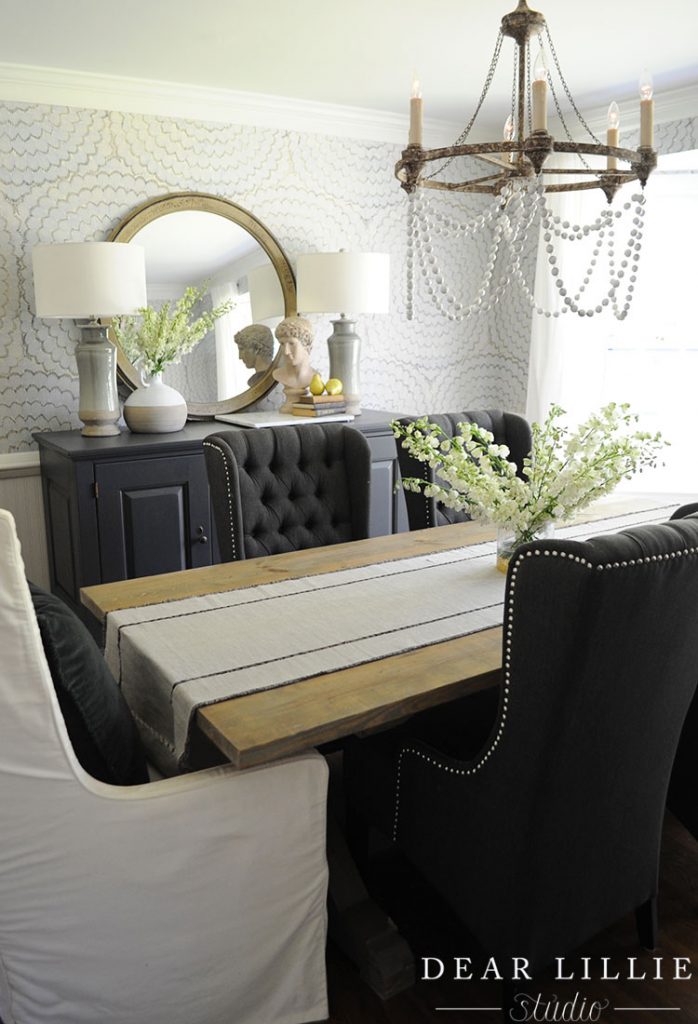 I switched around a few things in the living room to help make the blue flow nicely.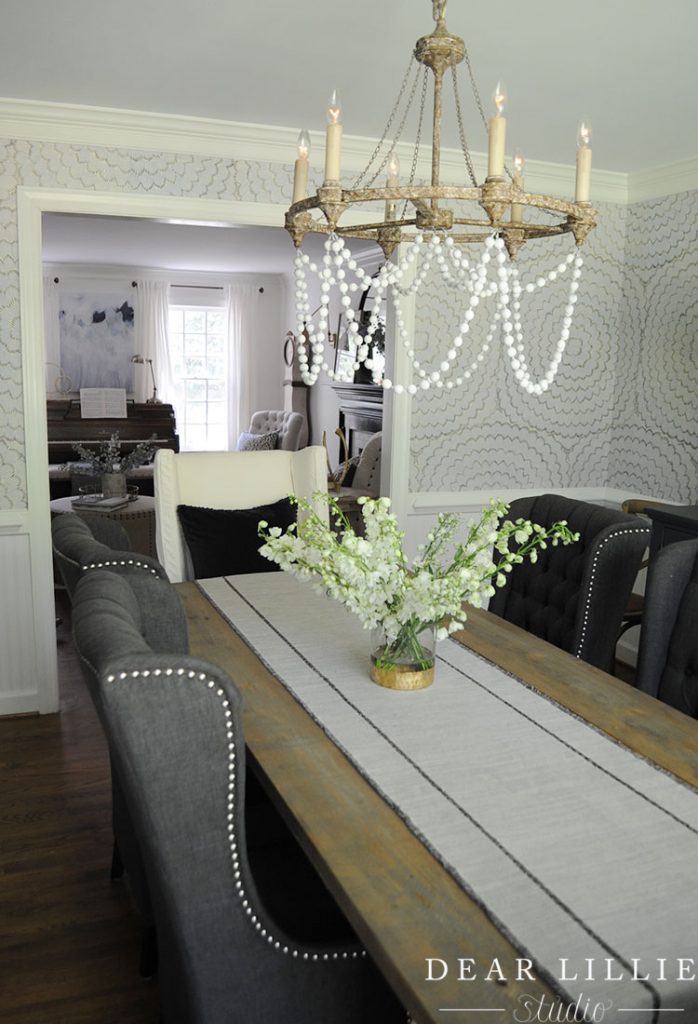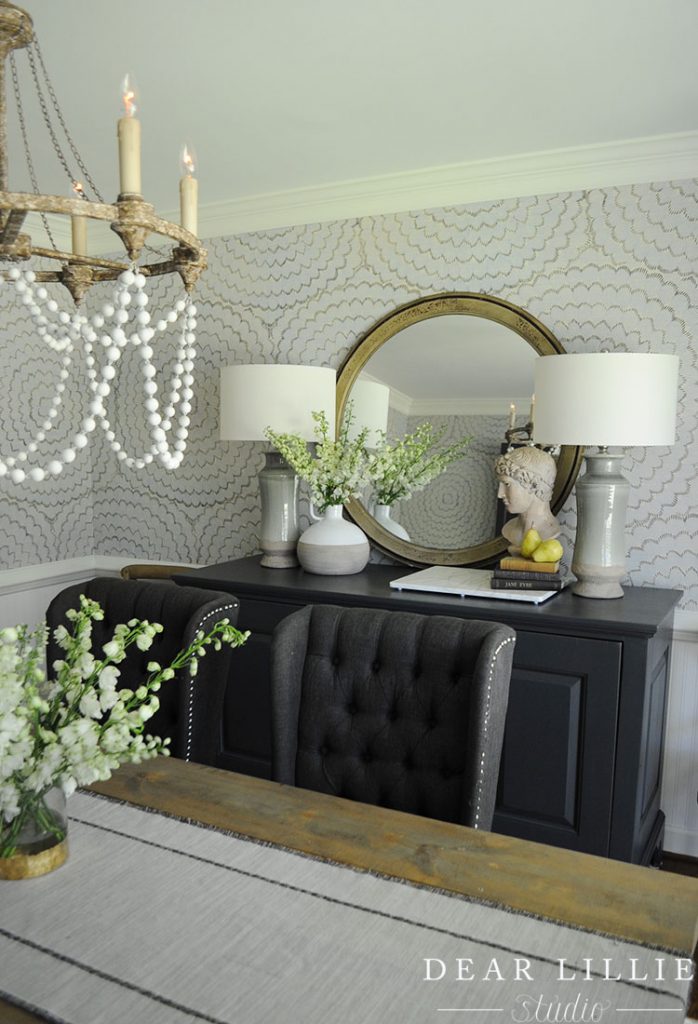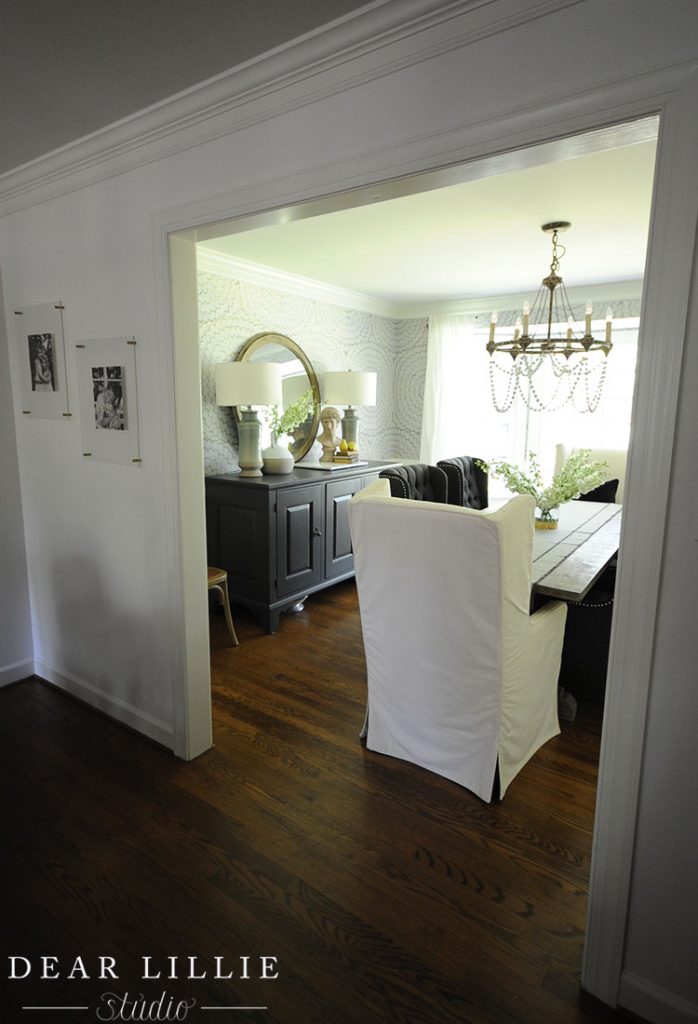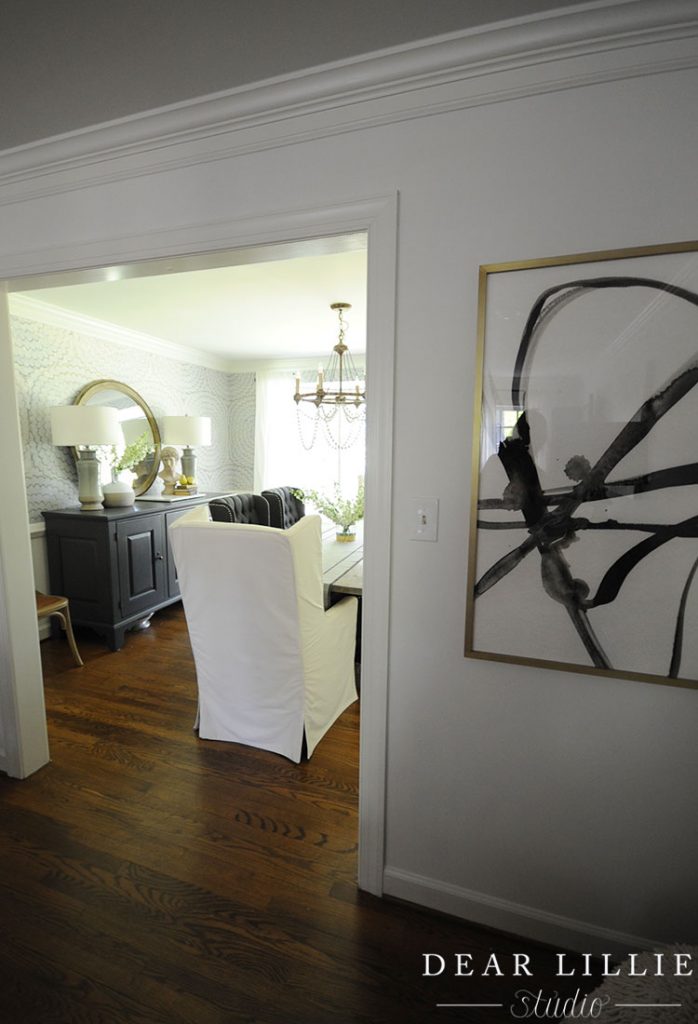 I swapped the rug from my office with the one we had in here for a lighter look for summer and added in a few blue touches with pillows and a few other things we already owned to help the rooms flow better together.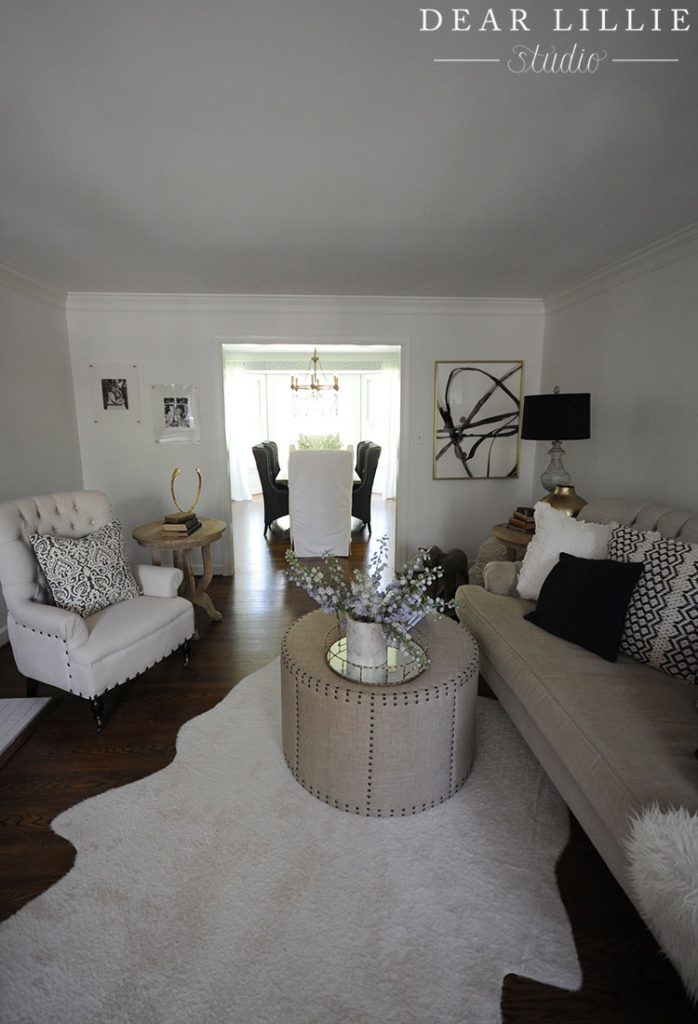 I think my favorite part about the new wallpaper is how well it looks with the kitchen cabinets! We just about always have those doors open and I love looking at the way the cabinet color and wallpaper play off each other.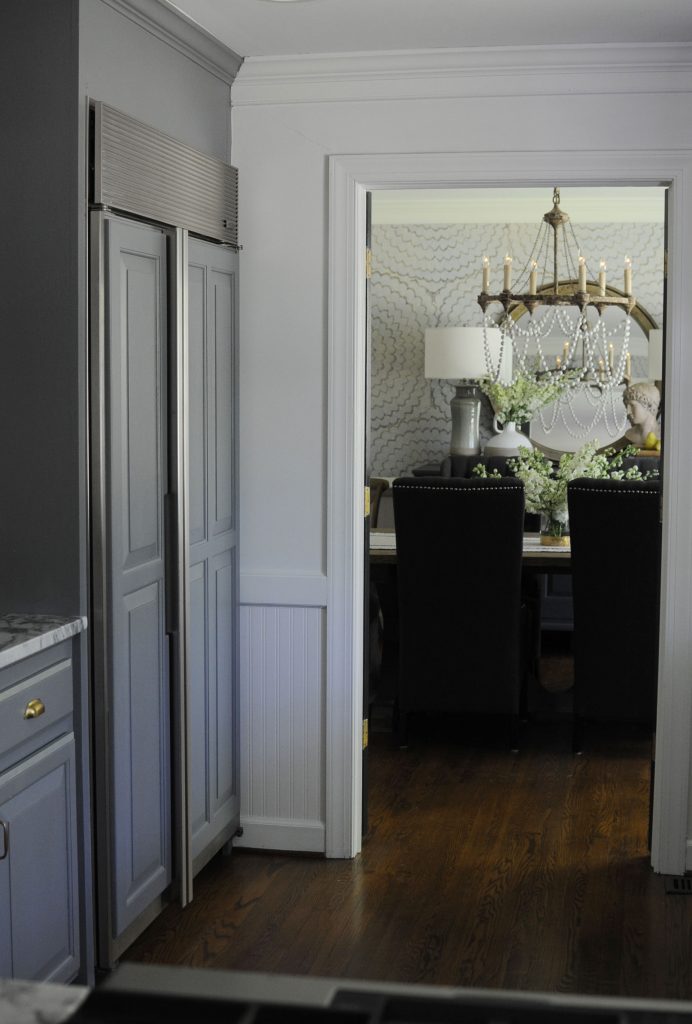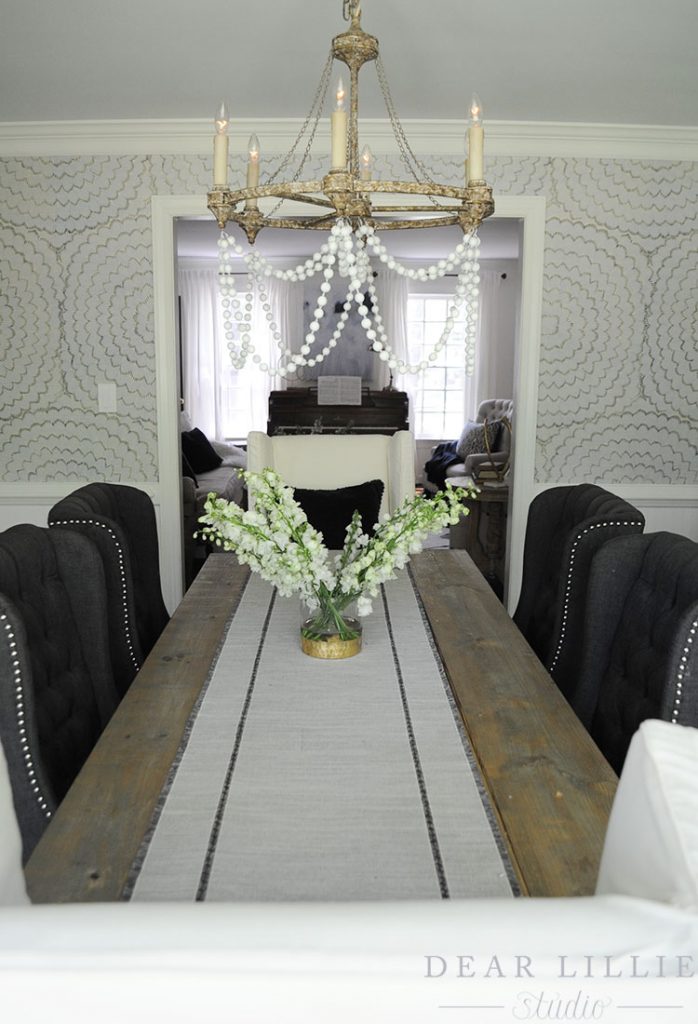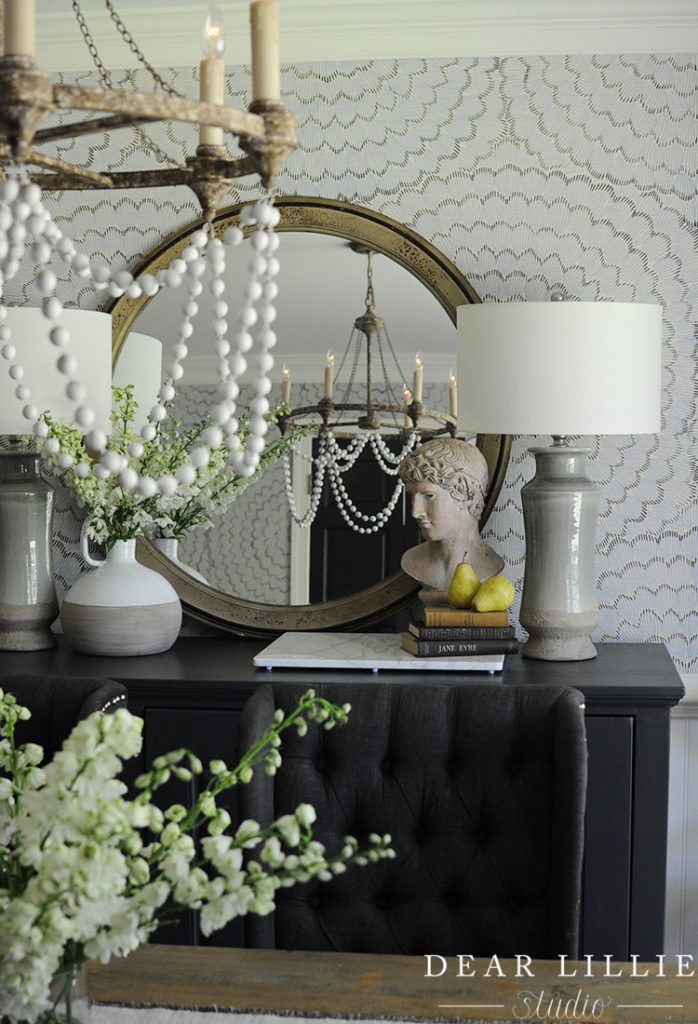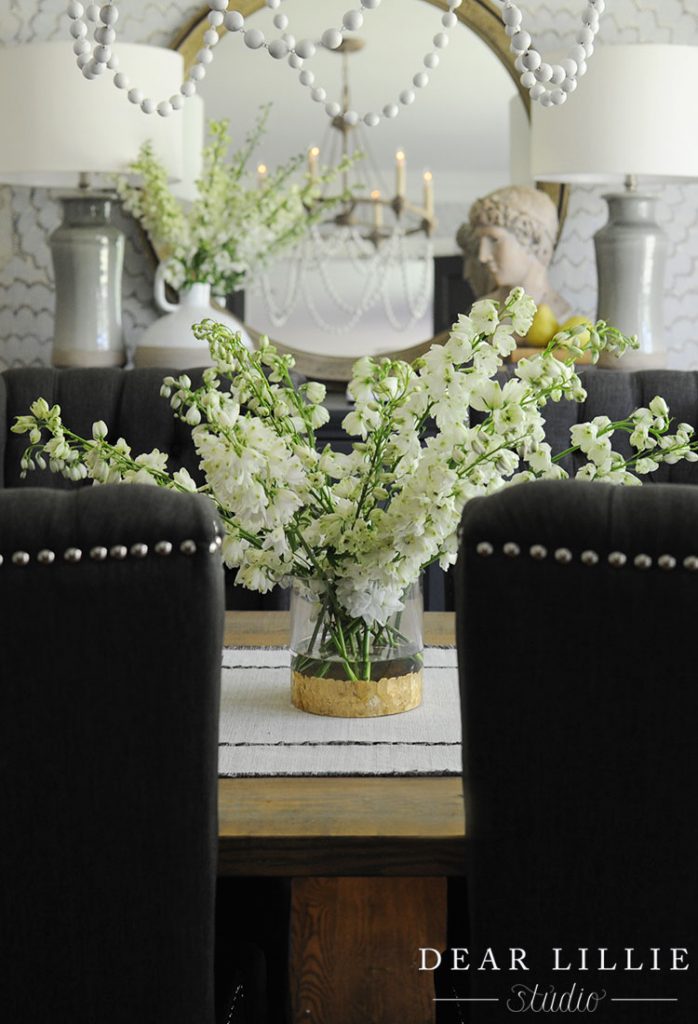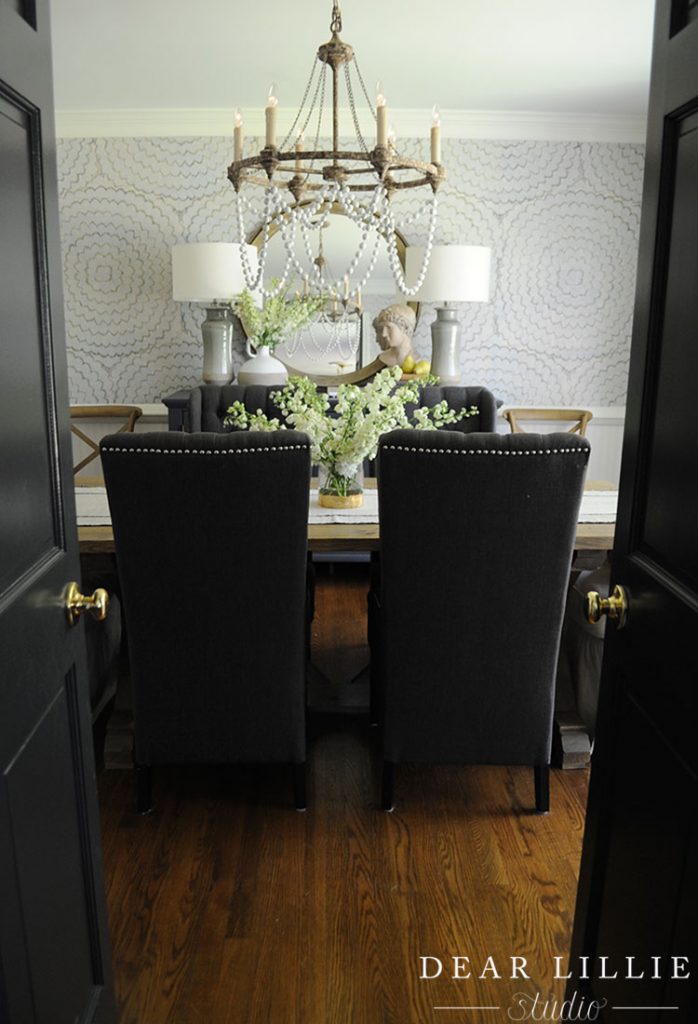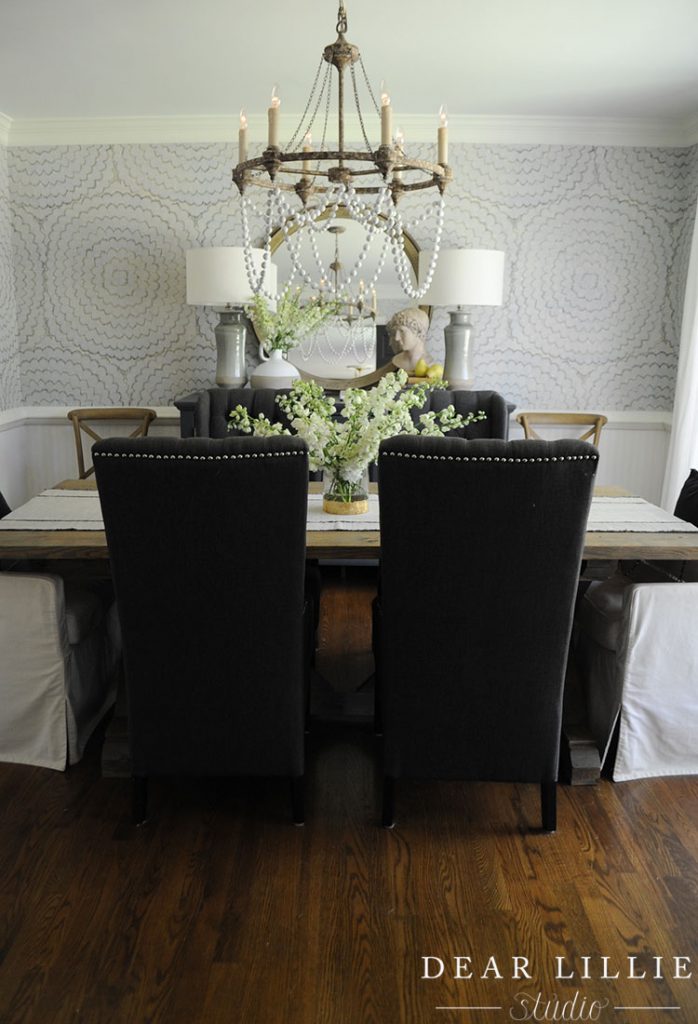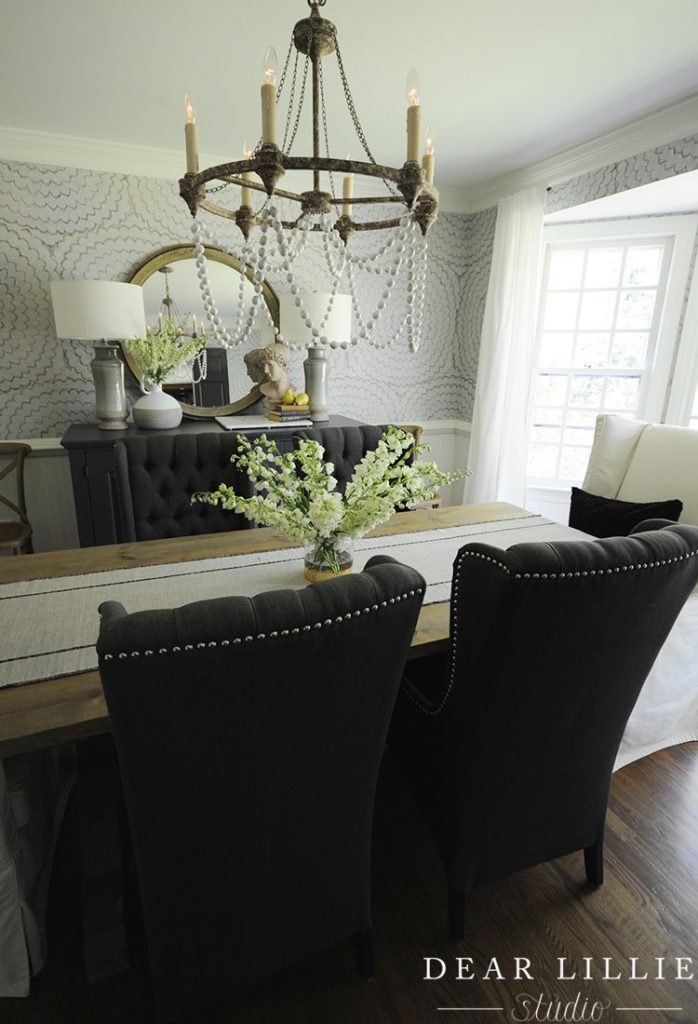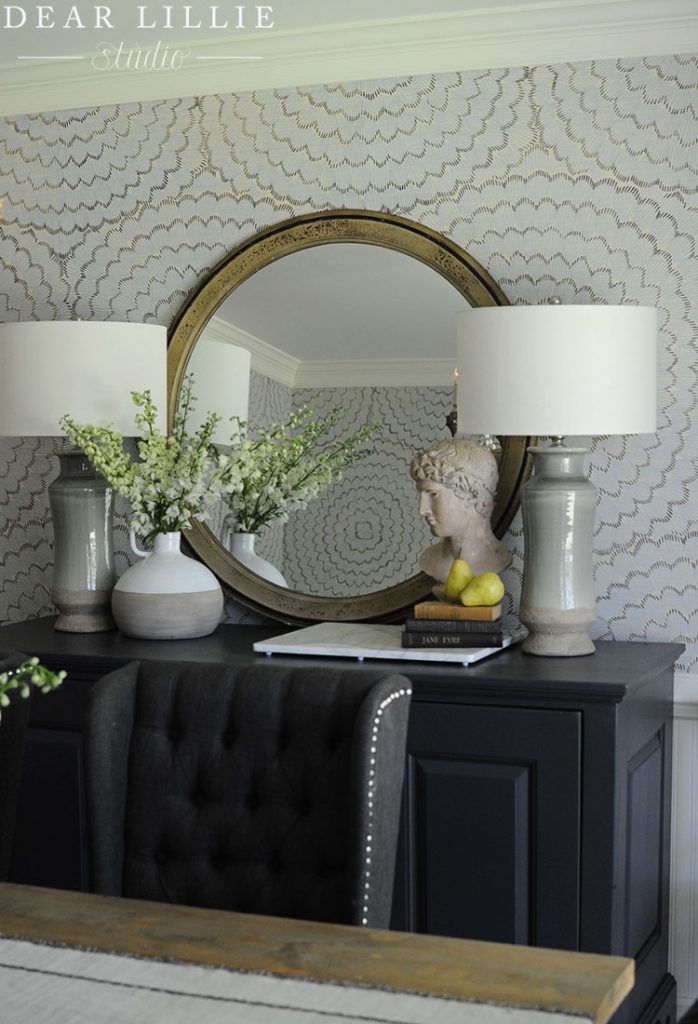 Here's a closeup of the paper. It's hard to tell in a photo but the texture is beautiful!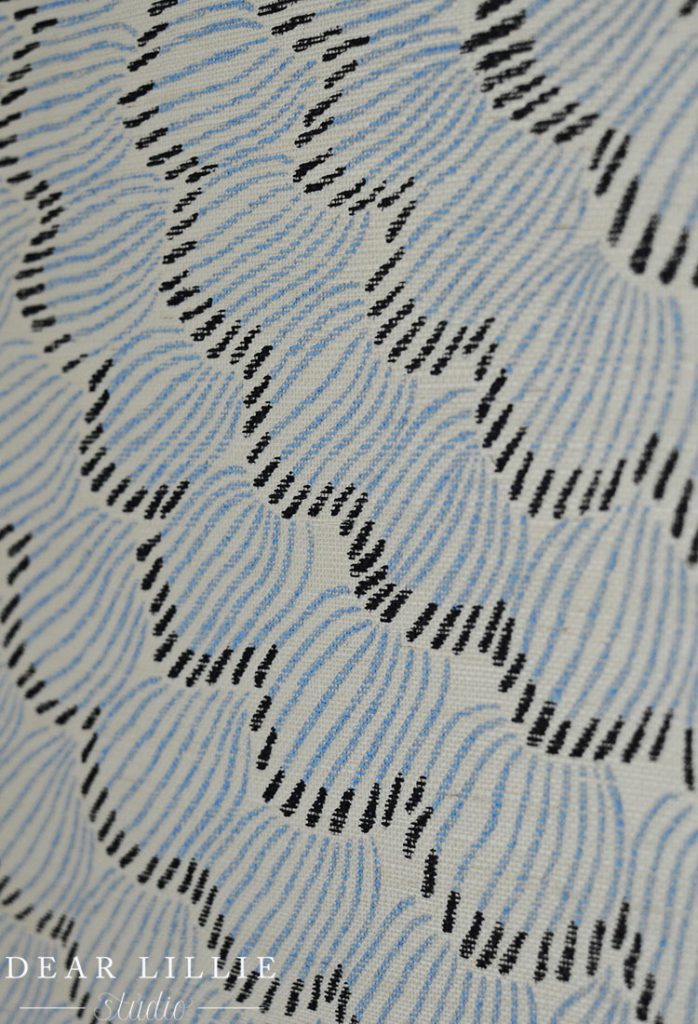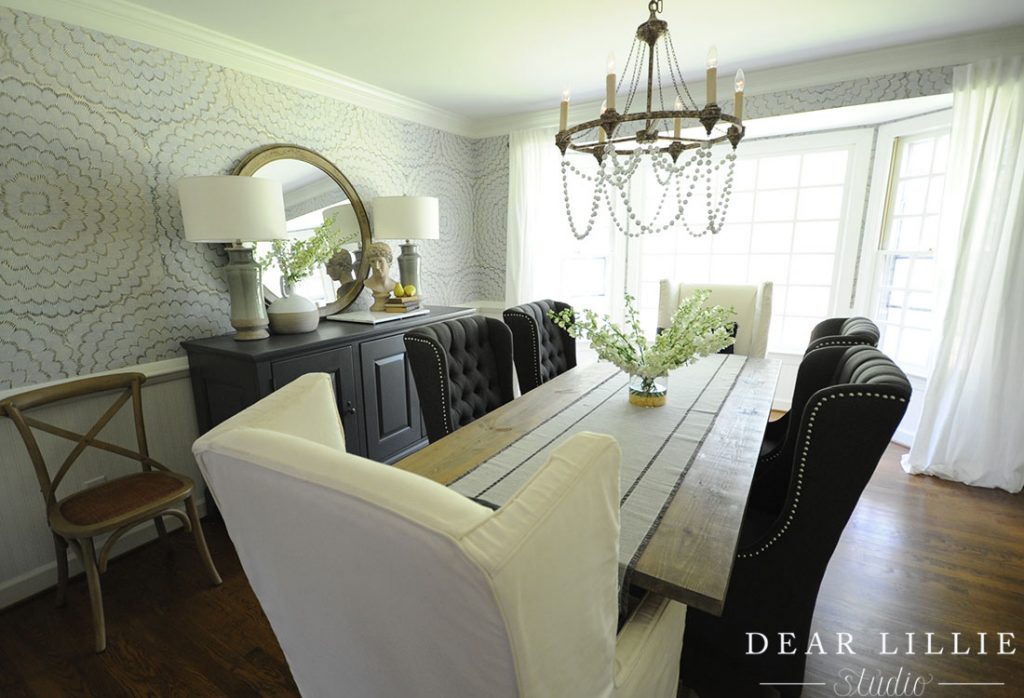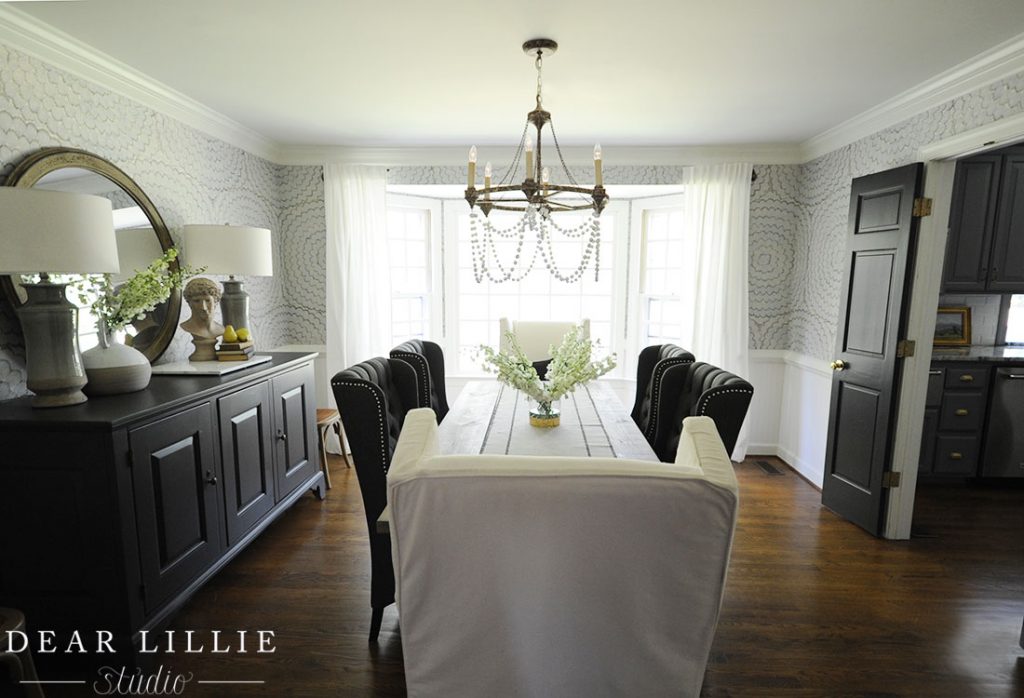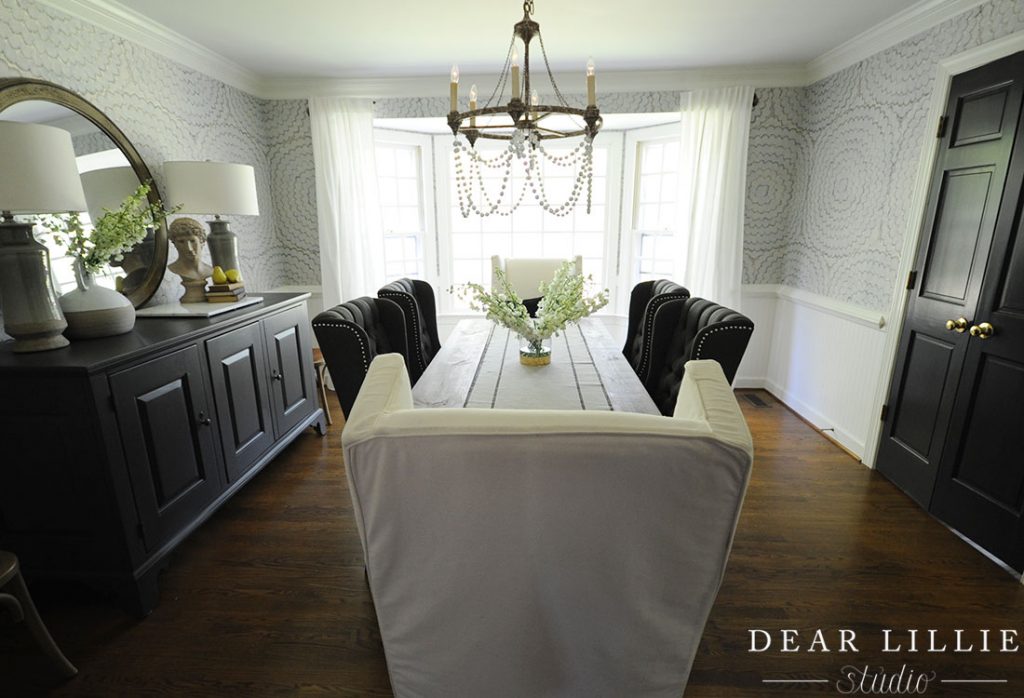 And here's another look in from the living room: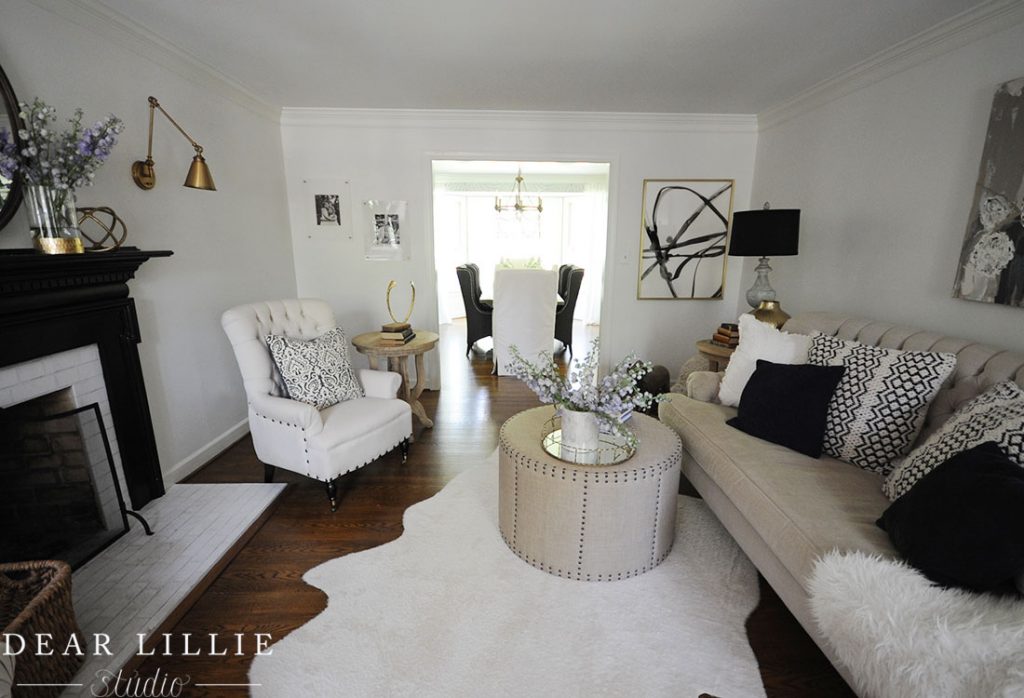 Dining Room Source List:
Wallpaper – Schumacher's Feather Bloom in Two Blues
Trim – Existing but planning on painting it Simply White eventually
Door Color – Mopboard Black by Benjamin Moore in Semi-gloss Finish
Beadboard Wallpaper (below chair rail) – can be found here
Chandelier – Shop Candelabra – Chandelier can also be found here (we spray painted the beads white using this spray paint)
Farmhouse Table – I made it using this plan from Ana White's site. Stained with Rustoleum's Weathered Gray and Minwax's Provincial
Charcoal Side Chairs – Wayfair  (Also can be found here)
Slipcovered End Chairs – Lee Industries (about 8 or 9 years ago)
Black Velvet Pillows – HomeGoods (similar ones here and here)
X Back Wood Chairs – Wayfair
Runner – World Market
Sideboard – Found at a Consignment Shop years ago (painted with some leftover paint, was a custom mix but similar to Kendall Charcoal)
Lamps – Bassett Furniture
Mirror – Joss and Main
Vase with Gold at Bottom – World Market
White and Natural Ceramic Vase – World Market
Bust – Antique from Family
Books – Vintage
Flowers – Trader Joe's
Drapery Panels – Ritva from IKEA
Drapery Rods – Amazon
Marble Board – Sur La Table

Living Room Sources:
Wall Color – White Dove in Eggshell by Benjamin Moore
Trim Color – Existing (it has a slightly greenish color to it so will get a coat of Simply White to match what we are doing in the rest of the house when I get a chance)
Doors – Mopboard Black in Semi-gloss by Benjamin Moore
Mantel – Black Satin in Semi-gloss by Benjamin Moore
Tray on Top – HomeGoods
Vase World Market
Gold Orb – HomeGoods
Sofa – Barbara Hartman Interiors
Piano – Found at an estate sale
Pheasants – antique, gift
Ring Sculpture – HomeGoods
Wishbone – HomeGoods
Books – Vintage
Lamp – Aidan Gray – have had for almost 12 years
Large Gold Urn – Target
Drapery Panels – Ritva from IKEA
Books – Vintage
Throw – HomeGoods
Well that is it for today! I hope you all have an amazing week ahead!
Warmly, Jenni
Wallpaper was gifted from Schumacher. Affiliate links are used at no cost to the reader.