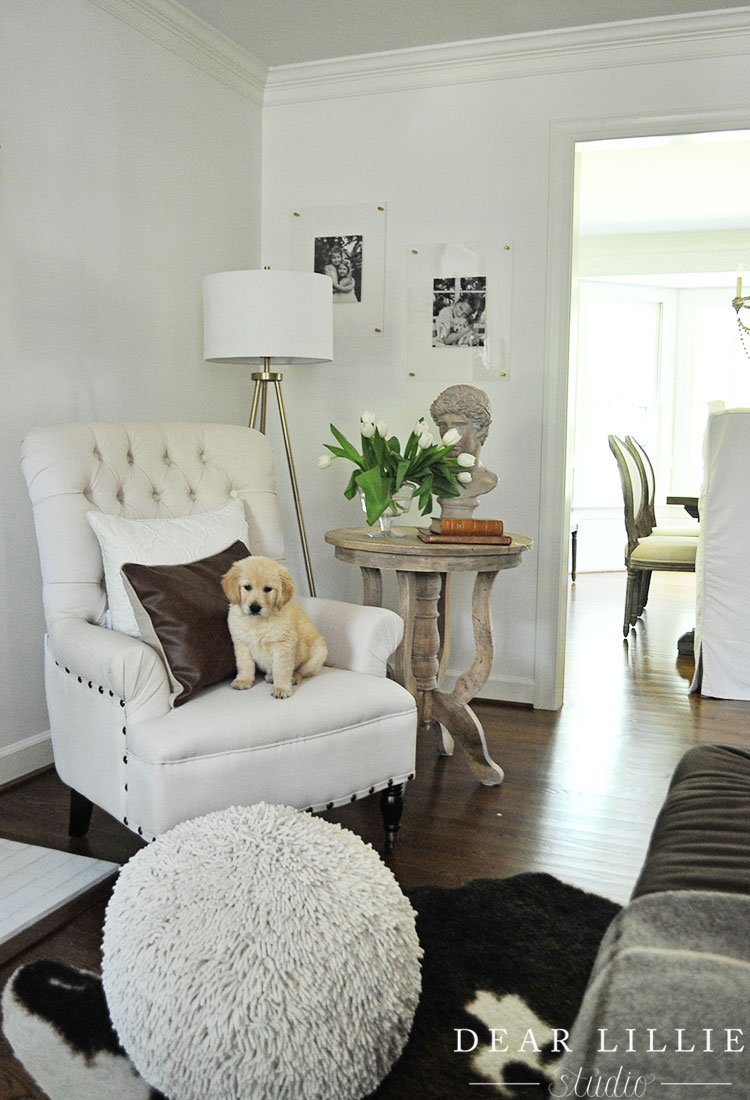 I knew that I wanted to add a couple of family photos to the walls in our living room but I wasn't sure what to do about the frames. The room already had two large pieces of artwork with gold frames and a large gold framed mirror (which I think will finally be moving to Lillie's room this week because I think I've found something for above the mantel) and a huge framed canvas that will be going over the sofa soon so the idea of adding more frames sounded so heavy. When I discovered these cool acrylic frame kits, from our sponsor, Highland Hardware, I knew they would be perfect! They have such a light airy feel to them and I love that I can display some of our photos without it feeling too heavy!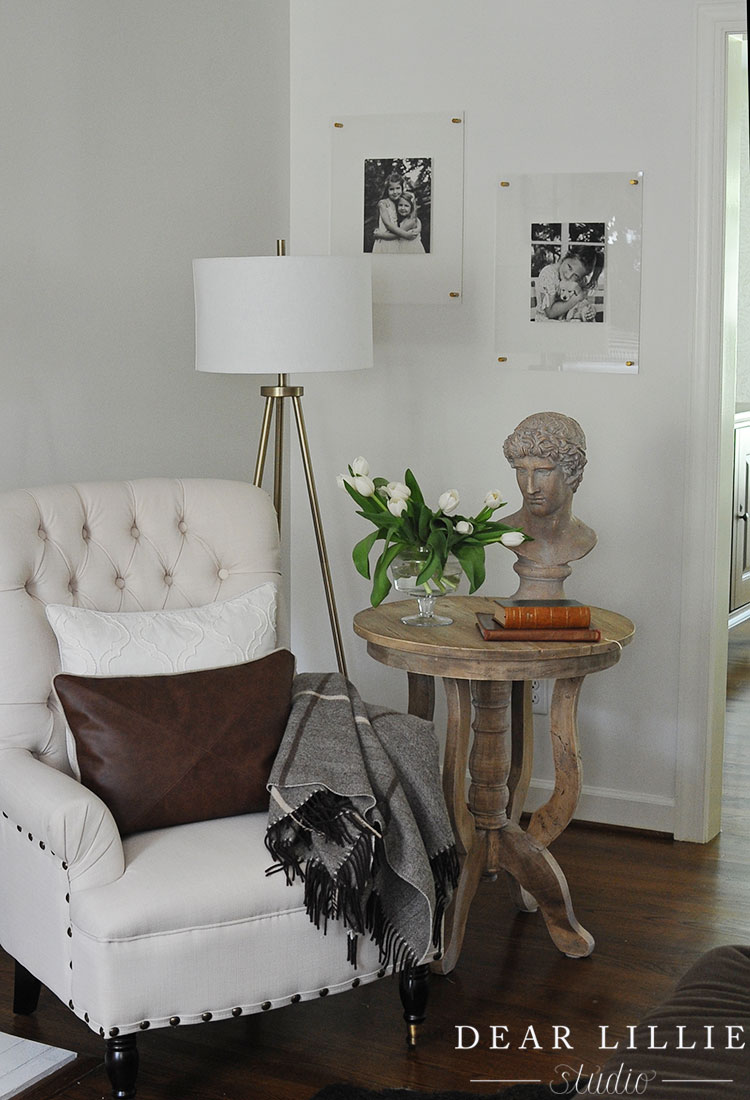 I was a little nervous about hanging these frames because they are different than a typical frame but I quickly discovered it was ridiculously easy to hang them! You just hold the acrylic (which comes covered for protection) up to the wall and pencil in where the holes are and then just screw the base piece in (I only screwed in the top two) and then you attach the top piece and that's it! It was actually fun hanging them because it was so different and so easy!
Here's a closeup of one of them: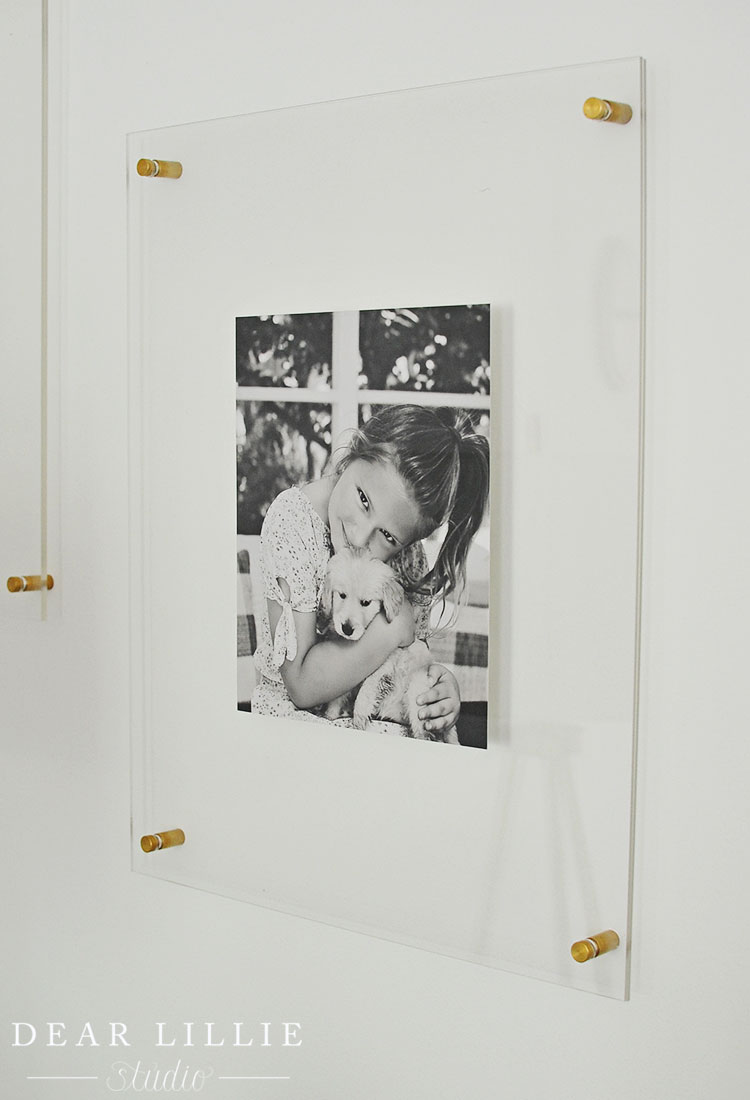 I plan on replacing the photo on the left with a picture of Lillie holding Ruby to go with the one one the right of Lola holding her once I've got one.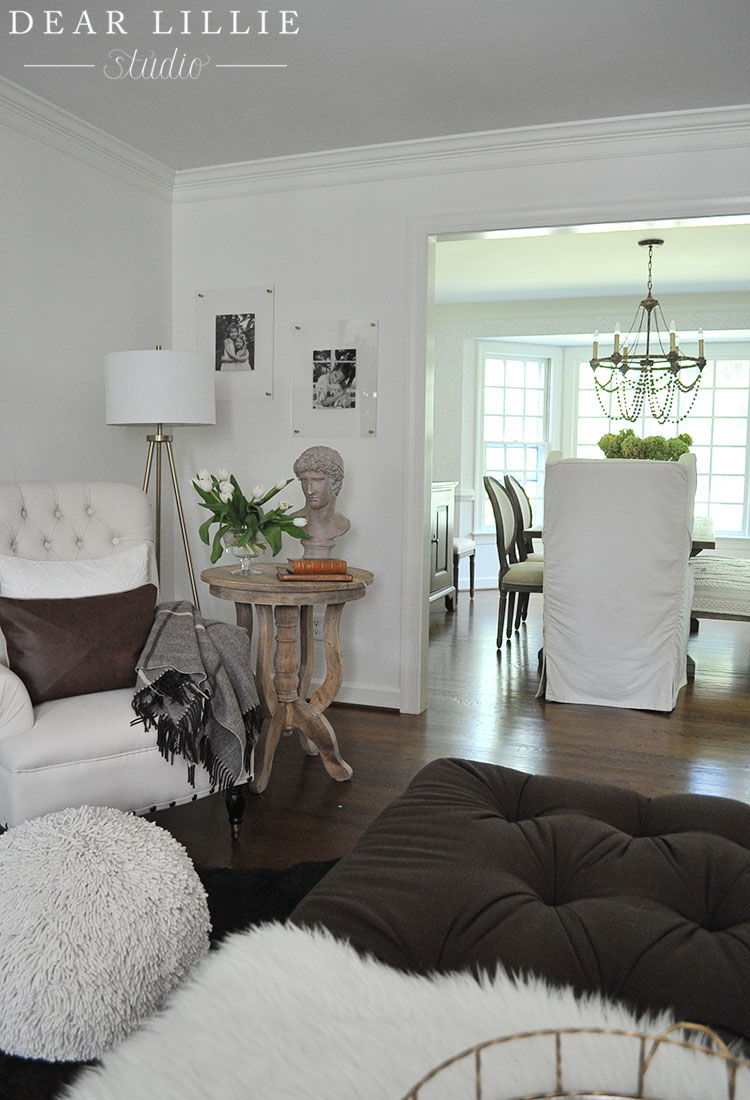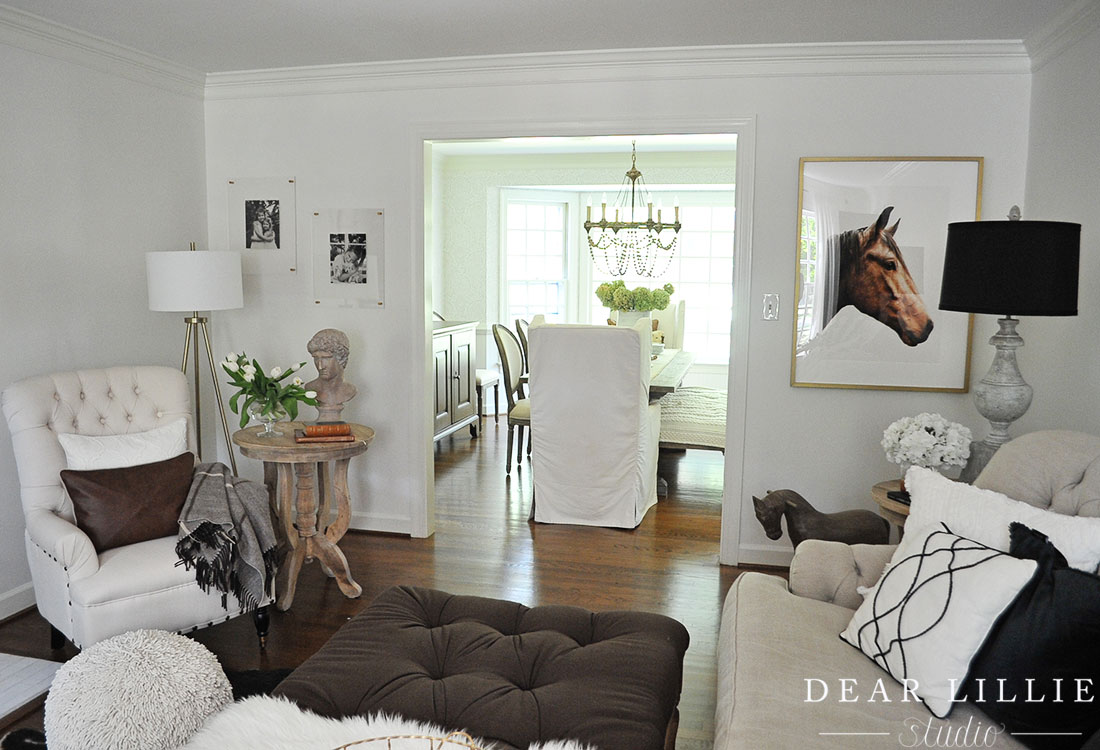 You can also see in the background of these shots that the dining room walls are no longer dark. That's because we finally have wallpaper hung in there! I'll have a post about that soon! Another thing you can see from this angle is that the sofa is now where the piano was! I have been wanting to switch the sofa and piano since the day we got the piano but it was so heavy I couldn't move it by myself (I know because I tried – haha!) and I finally convinced my husband it was a good idea so we did it a couple of weeks ago and it makes a huge difference in the flow of the room. I am going to switch this ottoman out for a smaller one at some point so it will open up the room a bit more but for now it already makes such a big difference. And I love how the piano looks over there! ( I still am planning on changing out the sconces I just can't decide on which ones – I have it narrowed down to three but haven't pulled the trigger yet – ha!)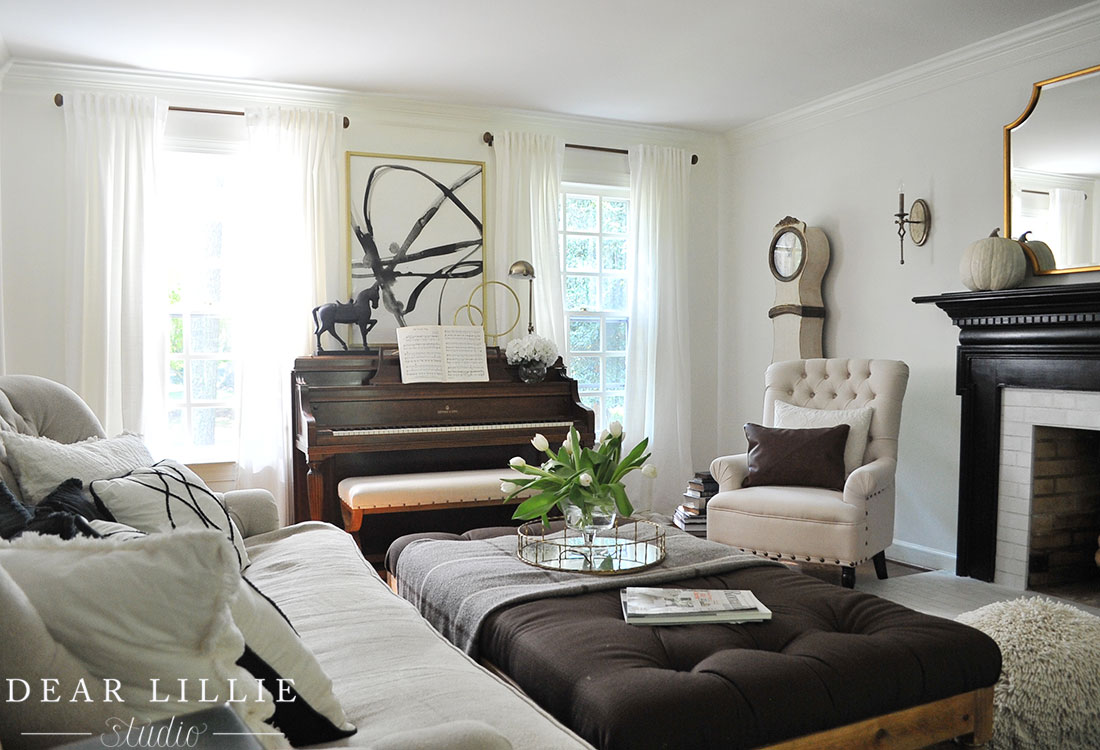 The biggest difference in the flow is when you walk into the room from the front hallway. Before the sofa didn't give a ton of room to enter but now it's so much more open.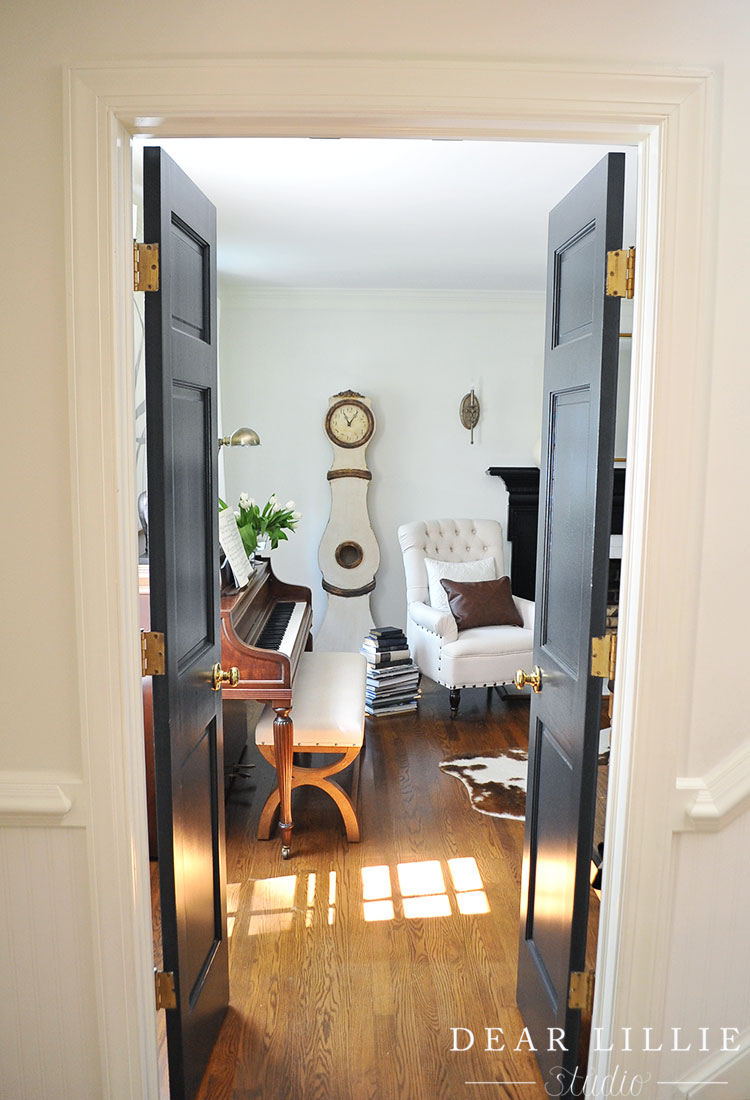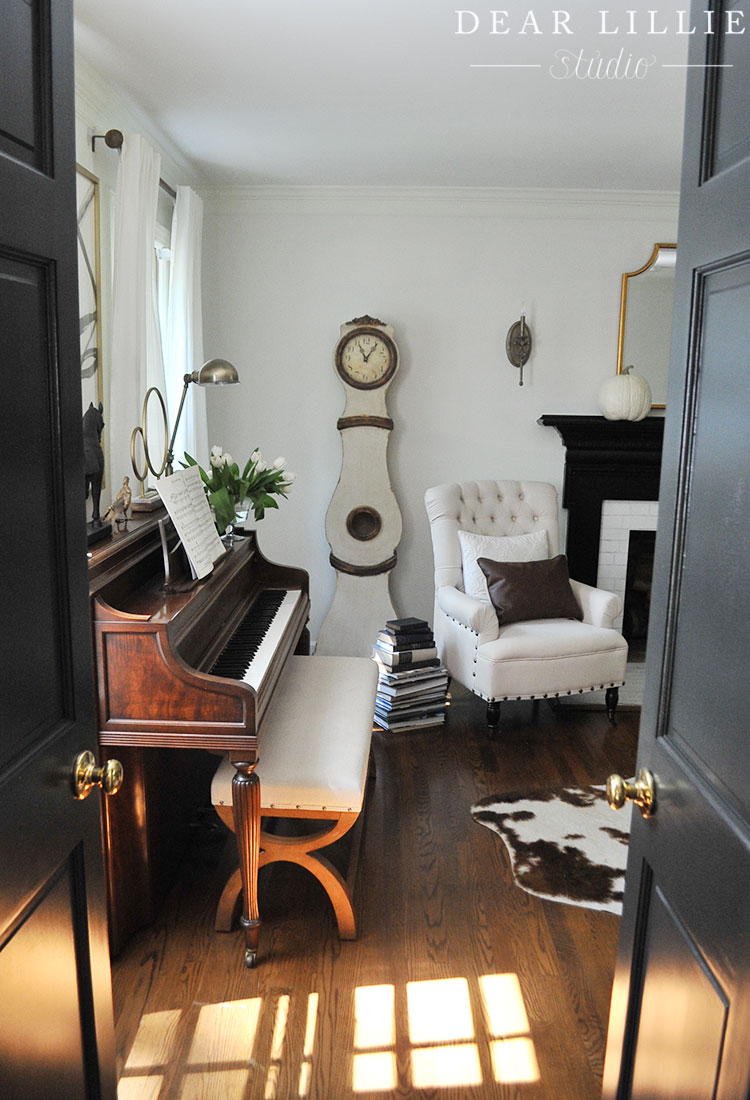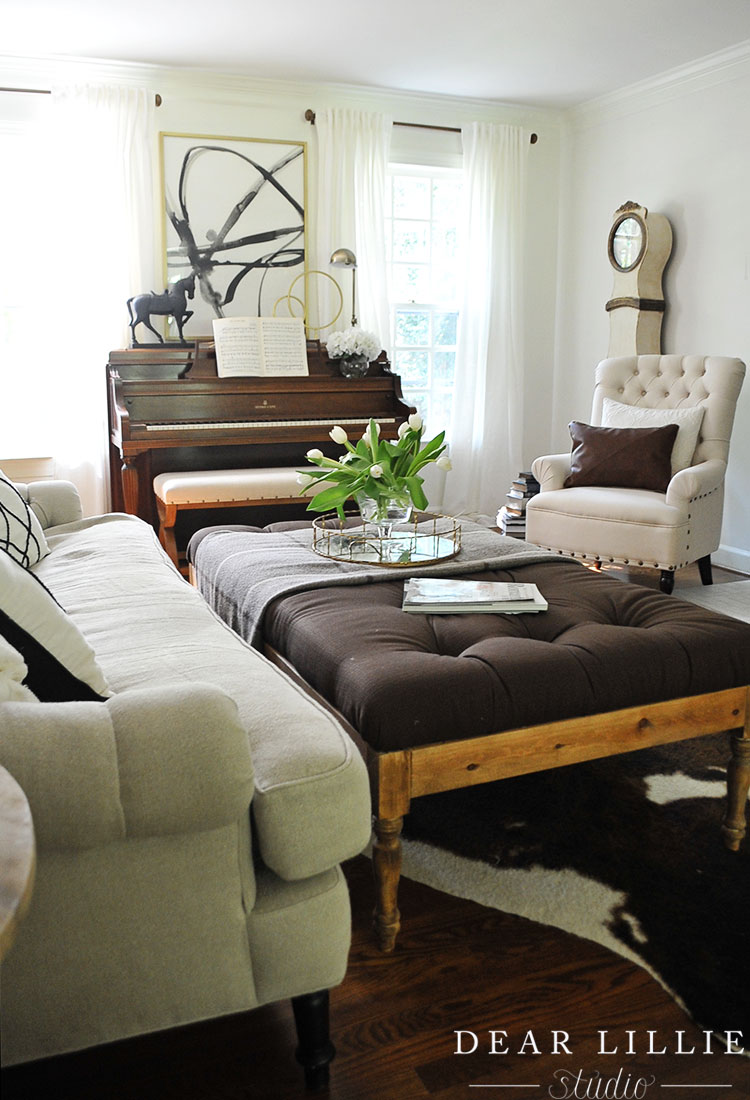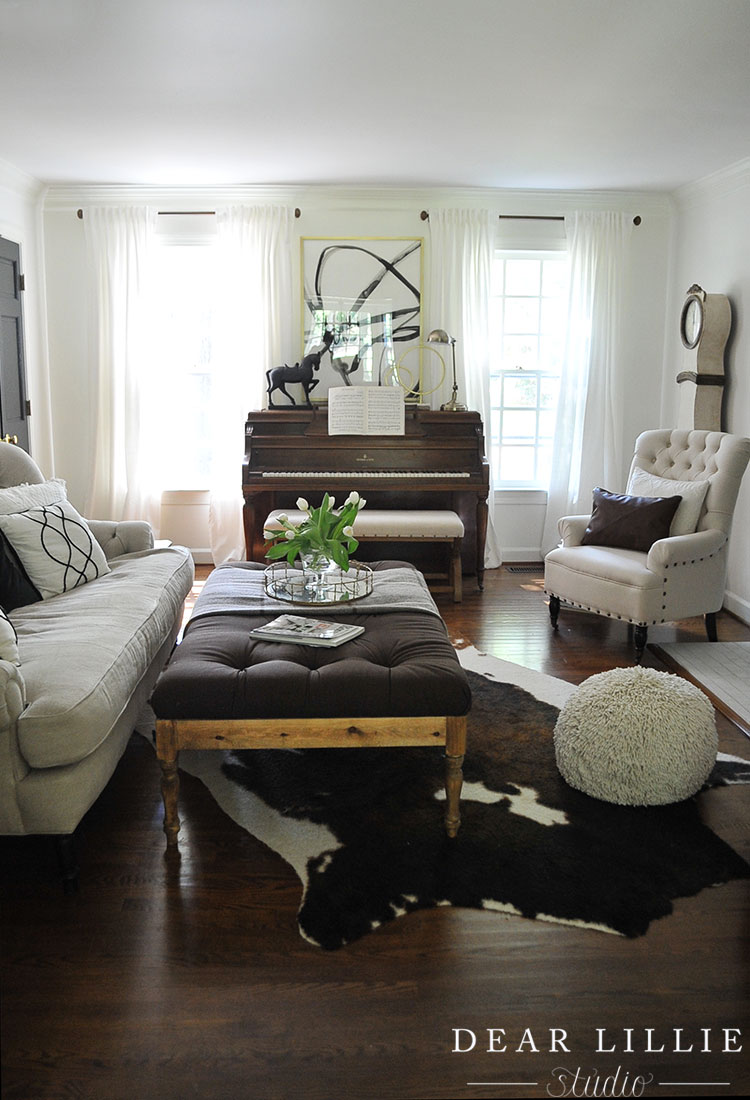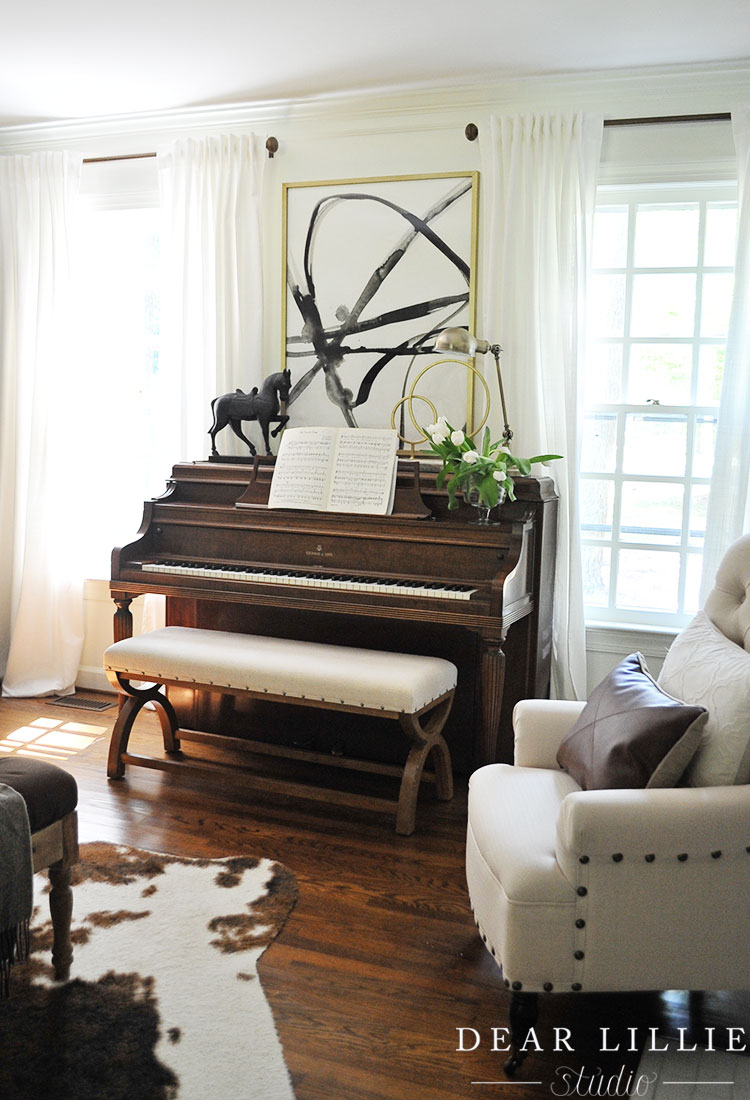 And of course little Miss Ruby had to get in on the pictures – ha! She already looks bigger than two weeks ago when we took some pictures of her on the piano bench!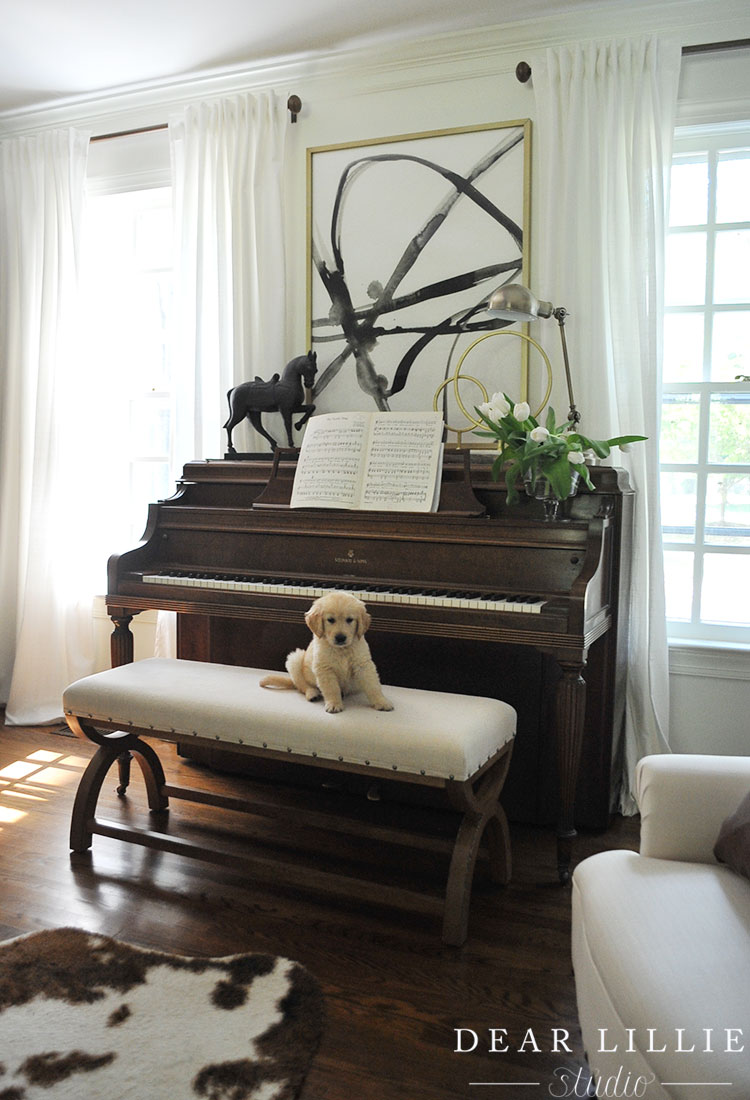 That's it for today. I highly recommend heading on over to Highland Hardware and checking out all of their amazing frame options! They add such a updated modern touch!

Source List:
Wall Color – White Dove in Eggshell by Benjamin Moore
Trim Color – Existing (it has a slightly greenish color to it so will get a coat of Simply White to match what we are doing in the rest of the house when I get a chance)
Doors – Mopboard Black in Semi-gloss by Benjamin Moore
Mantel – Black Satin in Semi-gloss by Benjamin Moore
Cream Pillows in Chairs – HomeGoods years ago
Piano – Found at an estate sale
Pheasants – antique, gift
Ring Sculpture – HomeGoods
Horse Sculpture – Home Goods
Sofa – Barbara Hartman Interiors
Black Pillows – HomeGoods (same ones can be found here)
Black and White Pillows – Target years and years ago
Bust – antique
Drapery Panels – Ritva from IKEA
Sconces – Existing
Books – Vintage
Throw – HomeGoods
Tufted Ottoman – we made it, you can read more about the method we used here
Warmly, Jenni