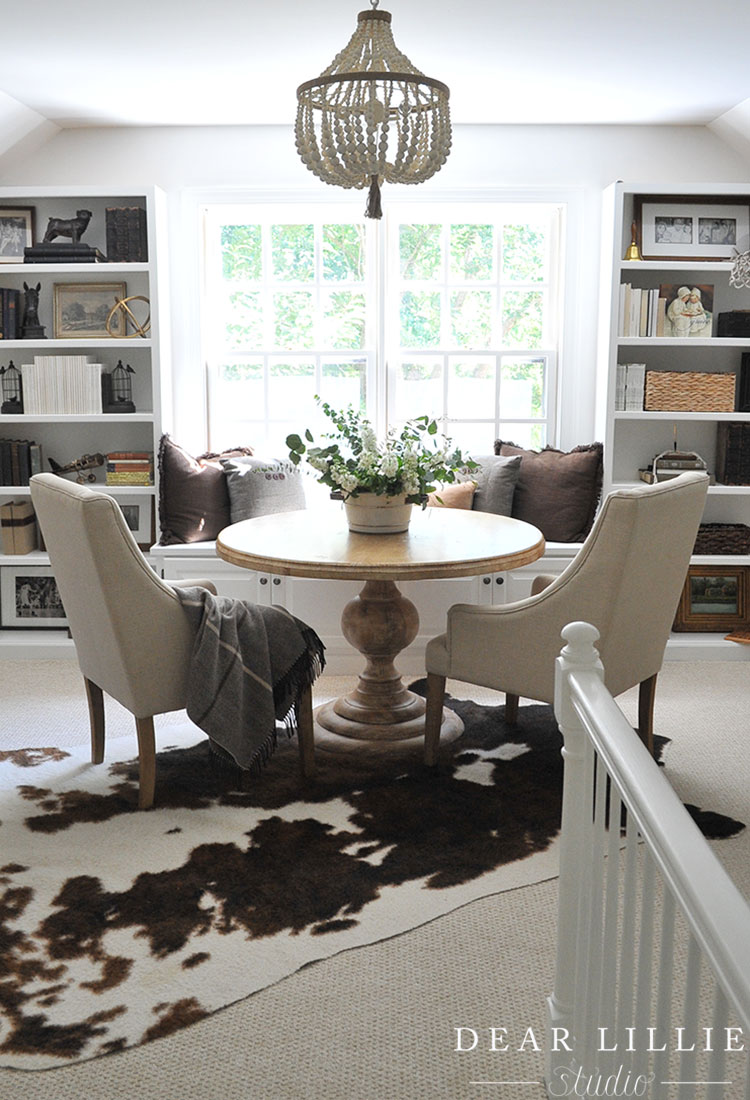 I hope you all are having a wonderful weekend! Today we are going to share a space we haven't shared yet on the blog – our bonus room. I was waiting to share pictures of it until we were finished but seeing how that is taking a little longer than I had planned, I decided just to go ahead and share some photos of the progress we've made so far in one section of it and then eventually once we've made a little more progress in here on the other side as well as this side we will share some more updated photos.
This room left me a little baffled at first – it's hard to see in these photos because they are of one side but eventually when we share the whole space it will be easier to see – it's got one long narrow side that we have broken up into a play area for the girls and then a TV area where we have an old uncomfortable sofa (but that's where are downstairs sofa is going to go once our sectional arrives – and then we will take some pictures of that side of the bonus room) and then this side which we are sharing today that has a great bookshelf and window seat area but then the stairs kind of break it up from the rest of the room. Once we started playing around with it a little bit though we've been able to really make it functional and although it's not finished it is starting to come together!
I still need to add some window treatments and play around with the bookshelves but we are almost finished with this side: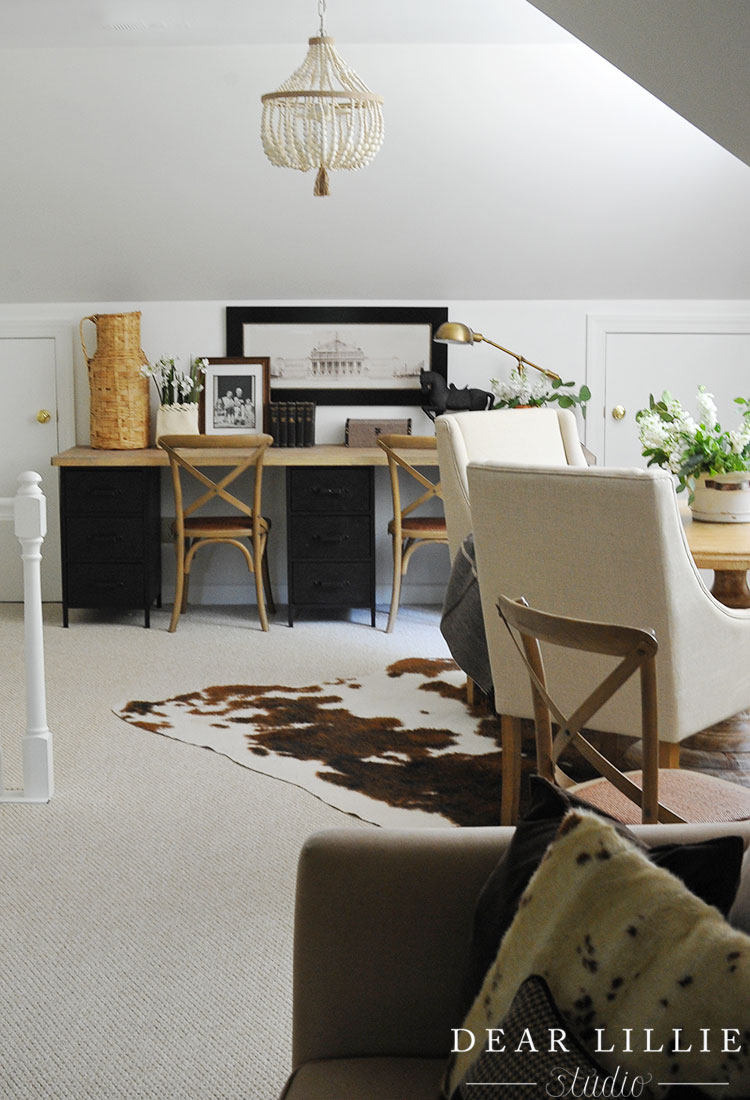 Because of the sloped ceiling we initially weren't sure what to do on this wall but then decided it might be a good spot to add a desk. I couldn't find anything in the size I was looking for but then saw these filing cabinet bases and decided if I bought three of them and then built a basic top from plywood (it's just two pieces that I glued together and then trimmed and stained – I can't remember which stain color I used though – it was lighter than the Provincial that I usually use, but can't remember the name of it and can't find the can). The hardest part of this project was getting the plywood home in my car and then up the stairs. Once that was done though it was a super easy and quick project and I love how it turned out. It's a great spot for the girls to work on homework and do crafts. Lillie uses it all the time!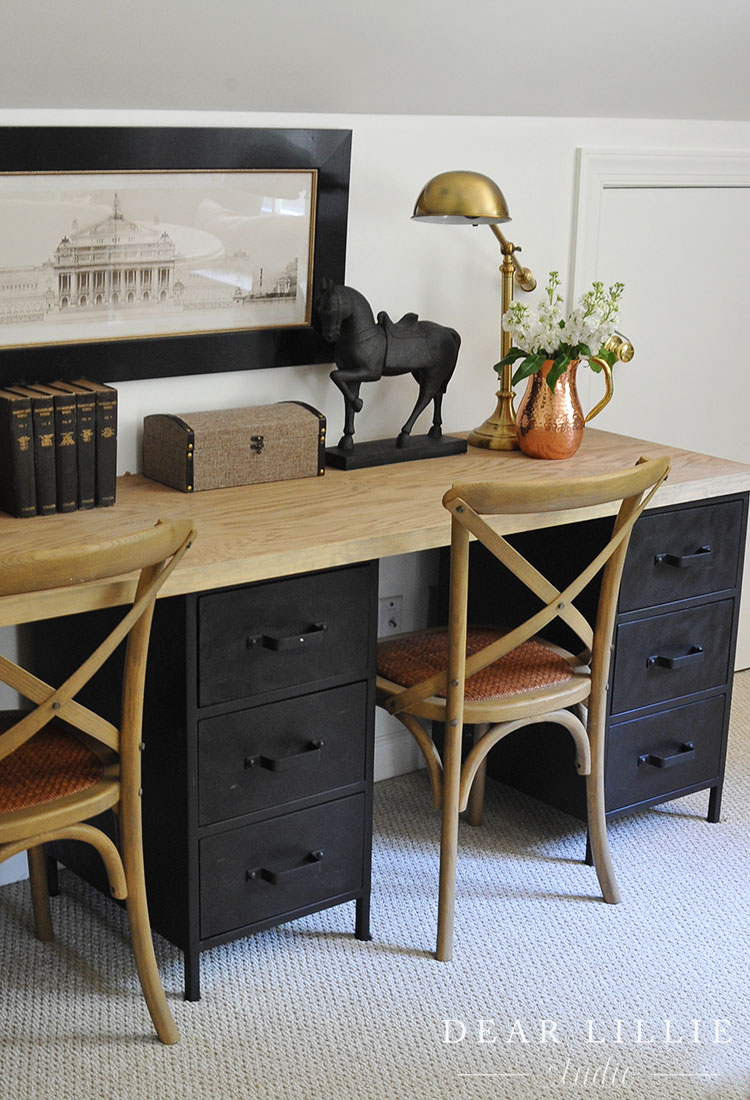 We never planned on adding a table up here but tried this one when we ended up with an extra table due to a shipping mixup and it has become one of my favorite things in this room. It is so functional! It's great for board games, crafting, sewing and most often it's used as an additional table when we are having groups over and there's a game on, some of them eat and watch the TV downstairs and then the rest of the group ends up eating up here and you still have a clear view of the TV that's up in this room (not shown in these photos but we will eventually once we make some more progress on the other side of the room). It's also a great spot to sit and work when the kids are playing up here! So, even though this wasn't part of the original plan for the room it is now one of my favorite spots in the house!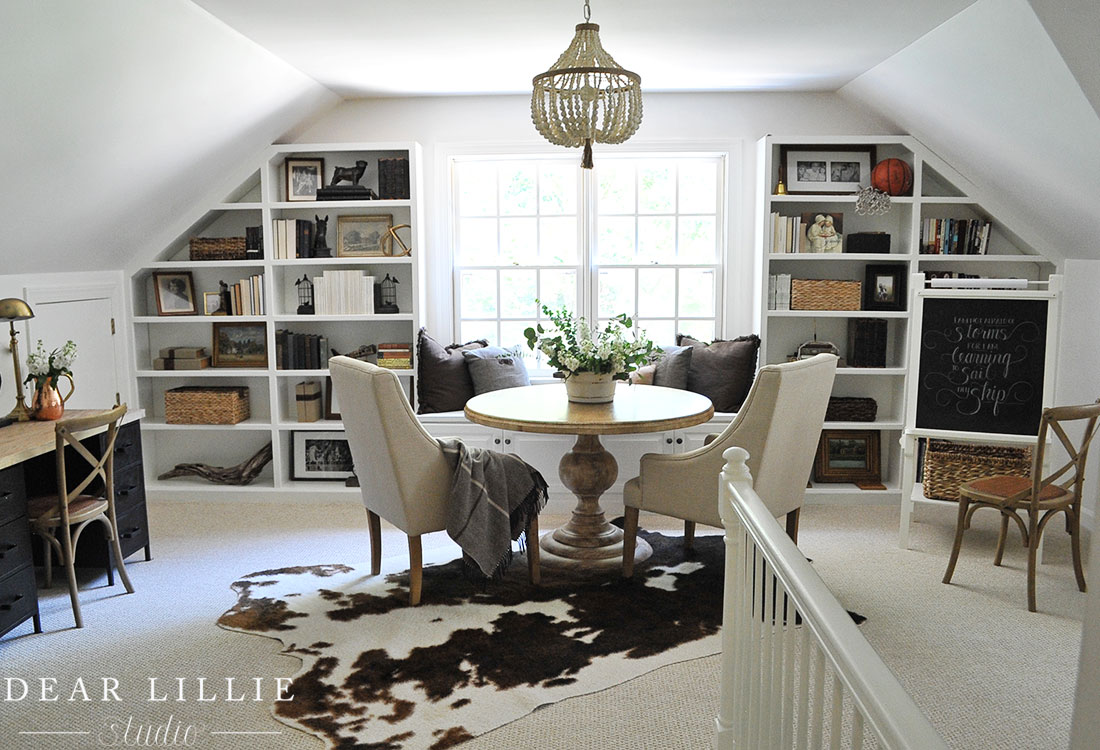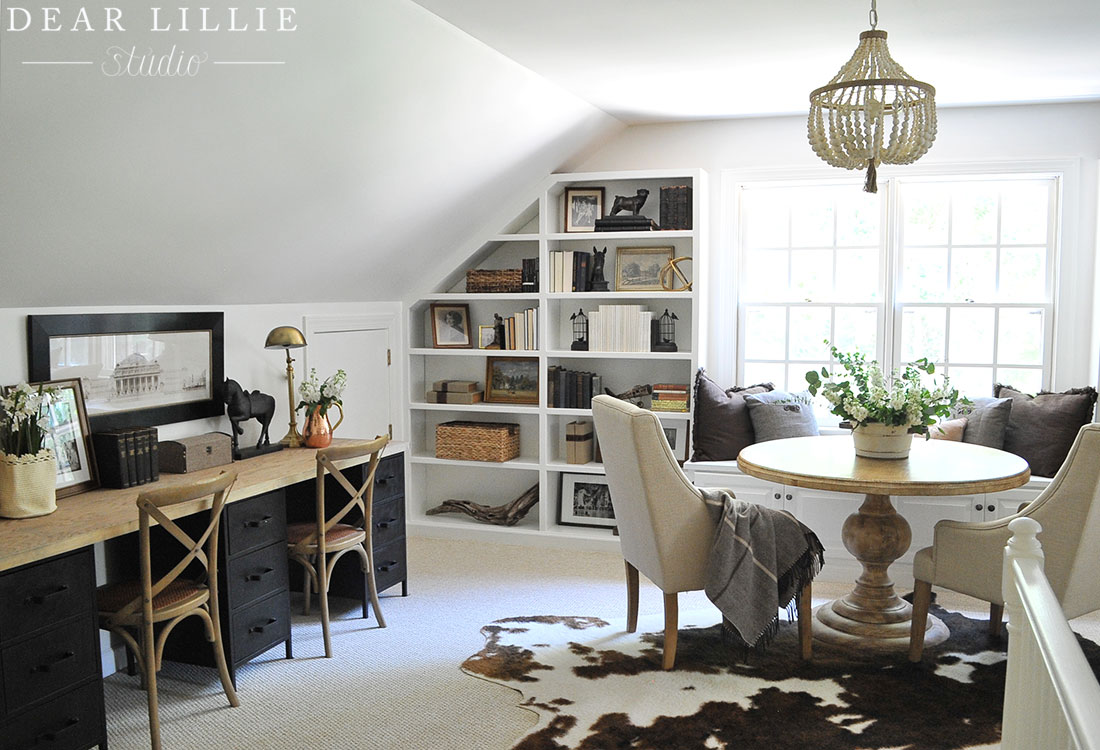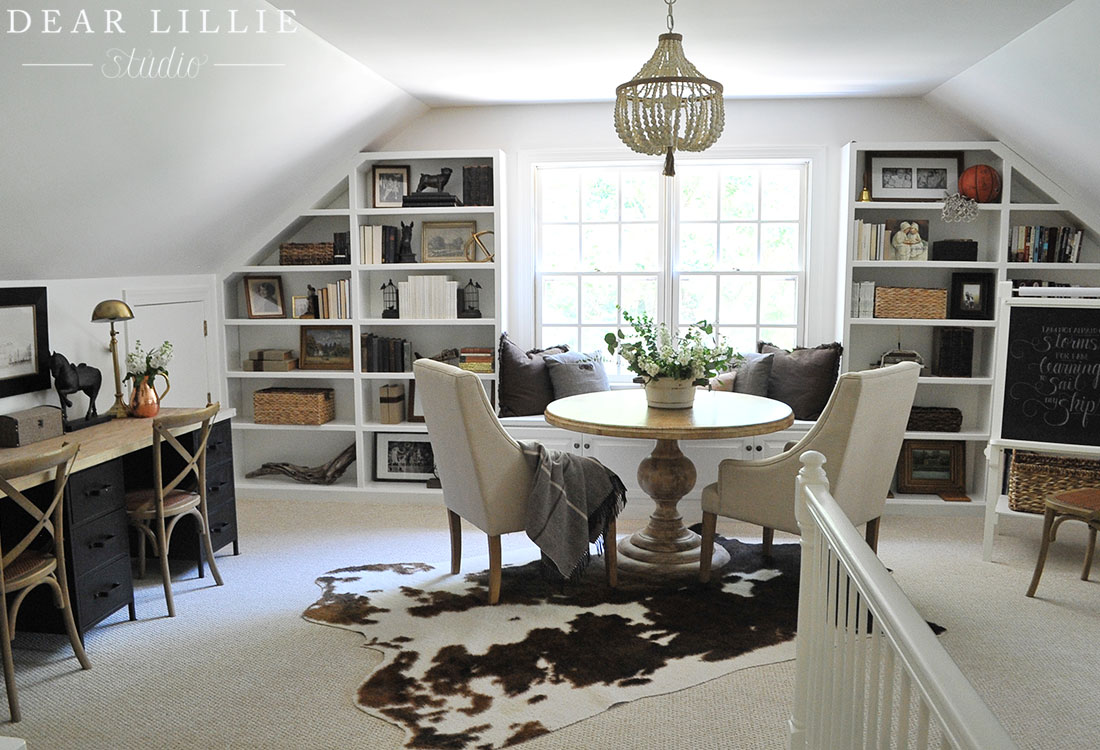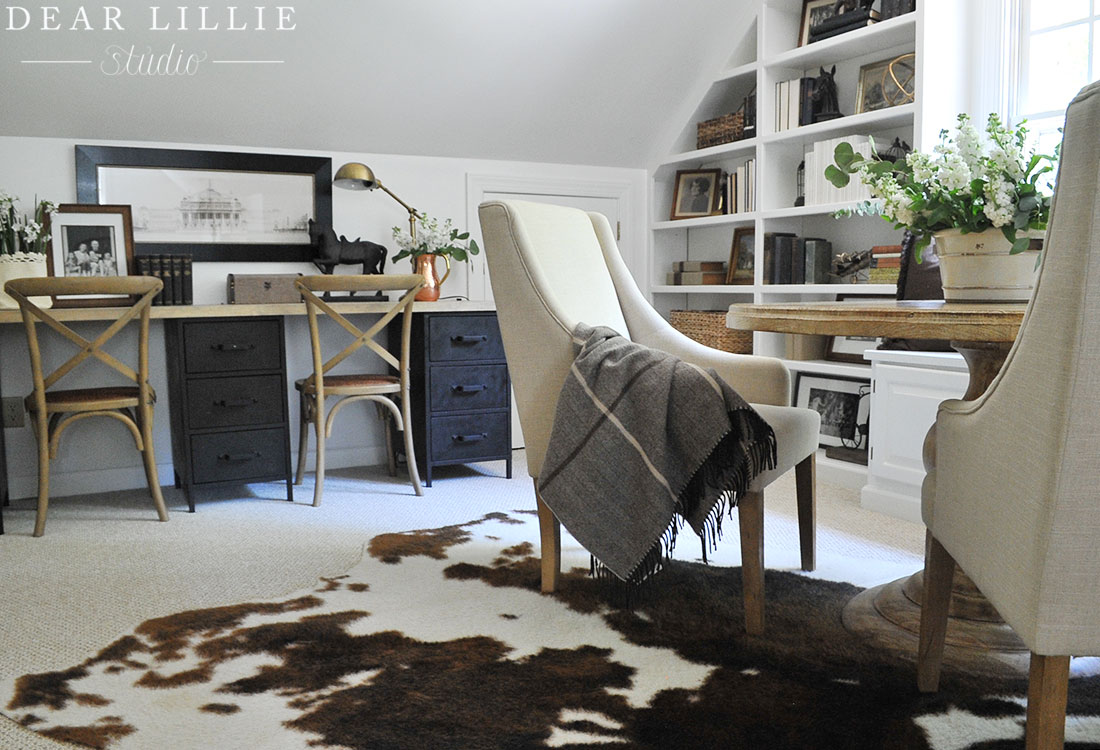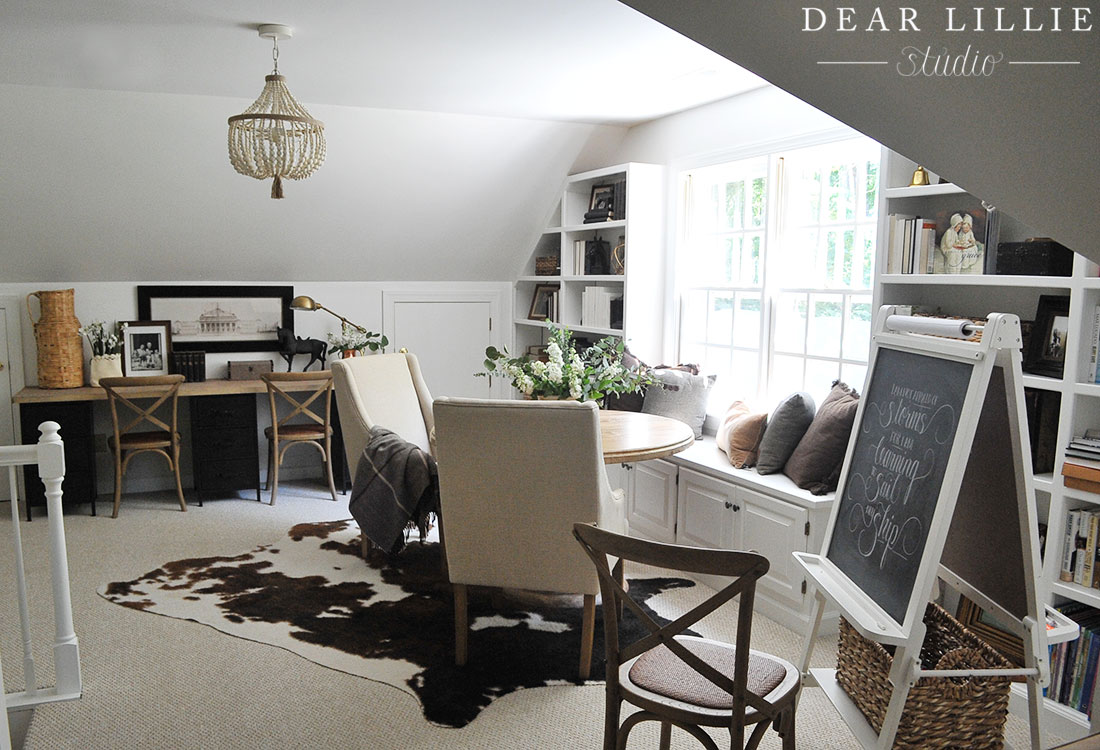 Our IKEA easel broke right before we moved. I had fixed it several times over the years and even completely repainted it, but it officially was beyond repair. It was hands-down one of the items my girls played with the most over the last several years so I promised them we would find a new one and this was actually the very first thing to be delivered to our new house. This one is larger and quite a bit sturdier and I absolutely LOVE it! It is still one of their favorite things to play with and usually is the first thing their friends and cousins gravitate towards too. I had to erase a basketball scoreboard they had drawn on here last week to write this. Ha! It has a dry erase board on the other side that is even more popular than the chalkboard side.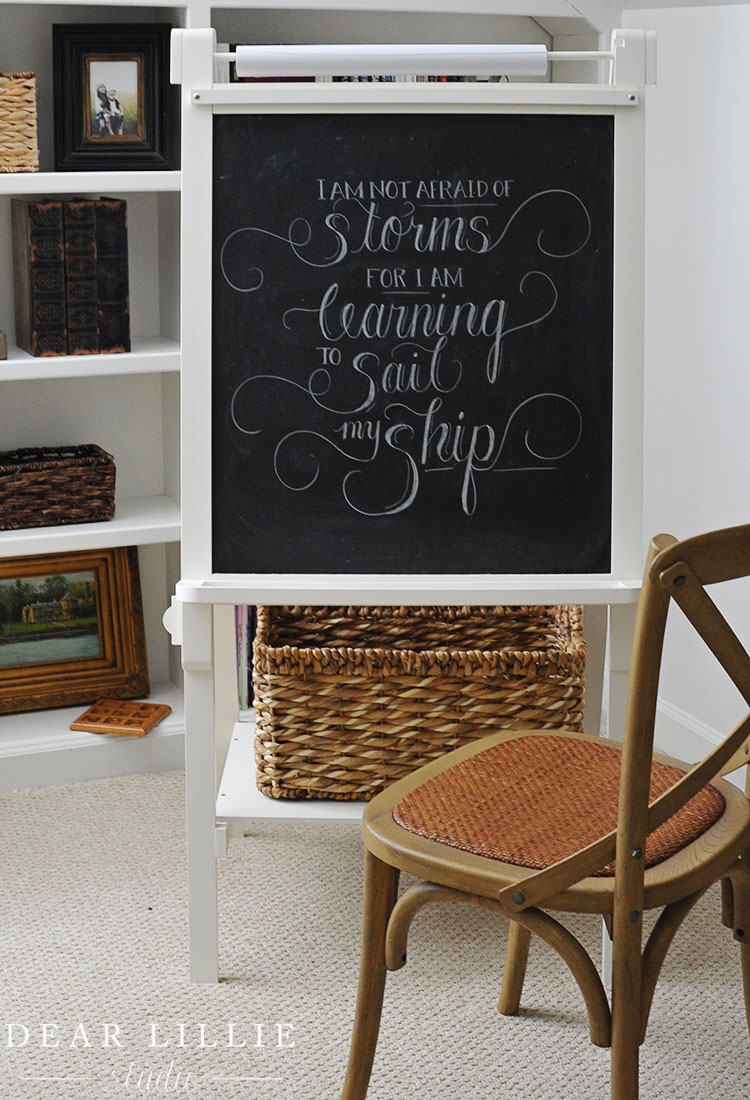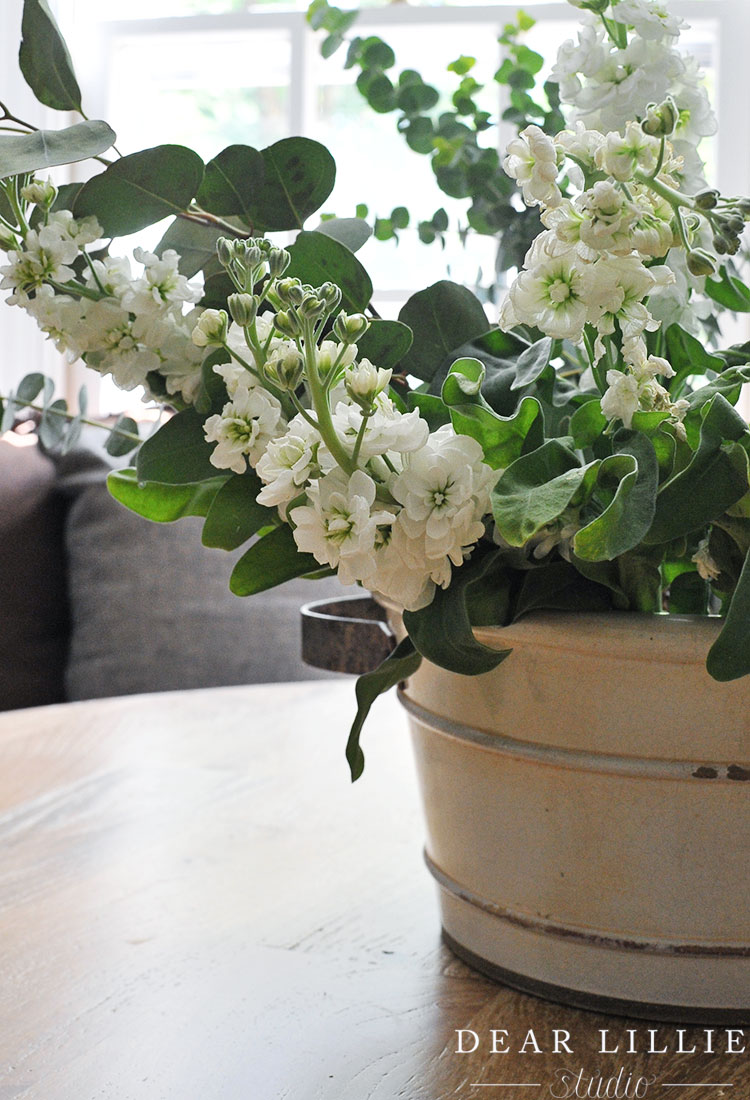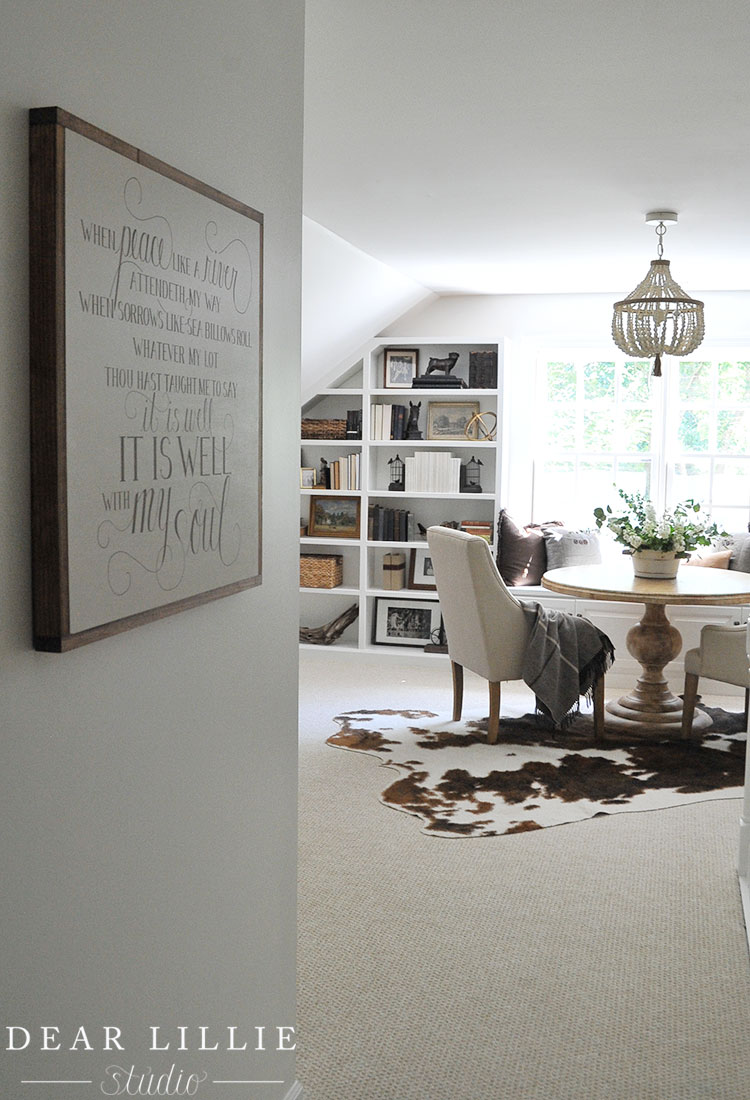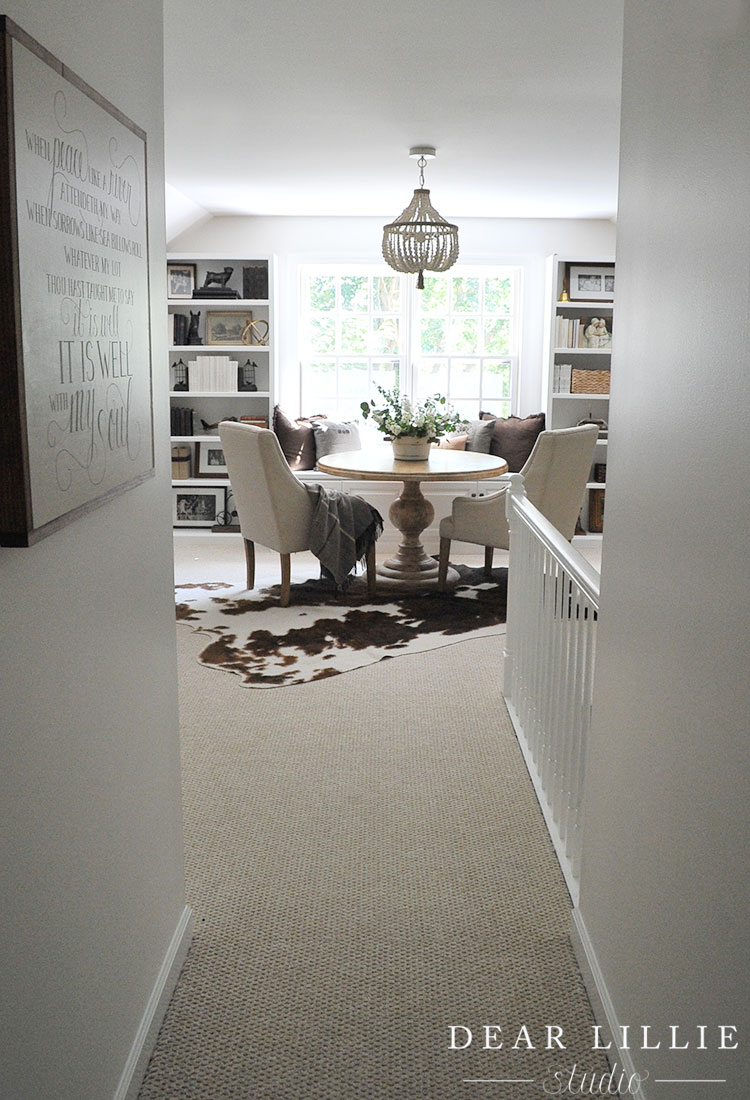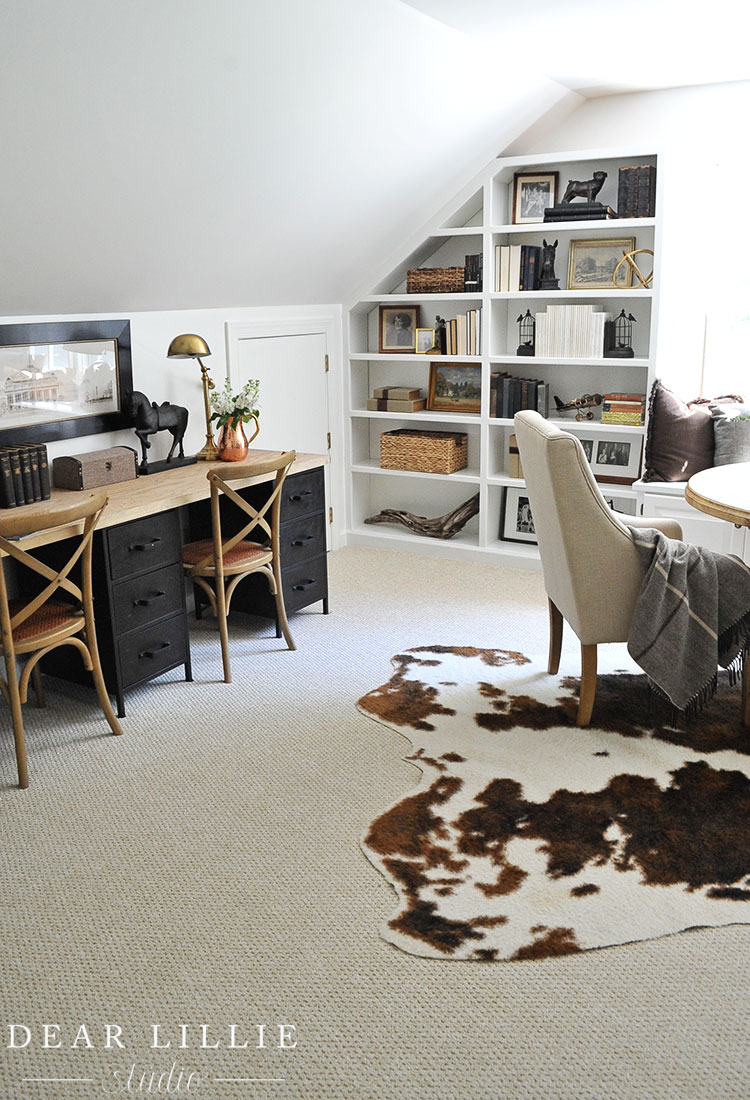 Someday I want to play around with the bookshelves some more but this is how they are for now.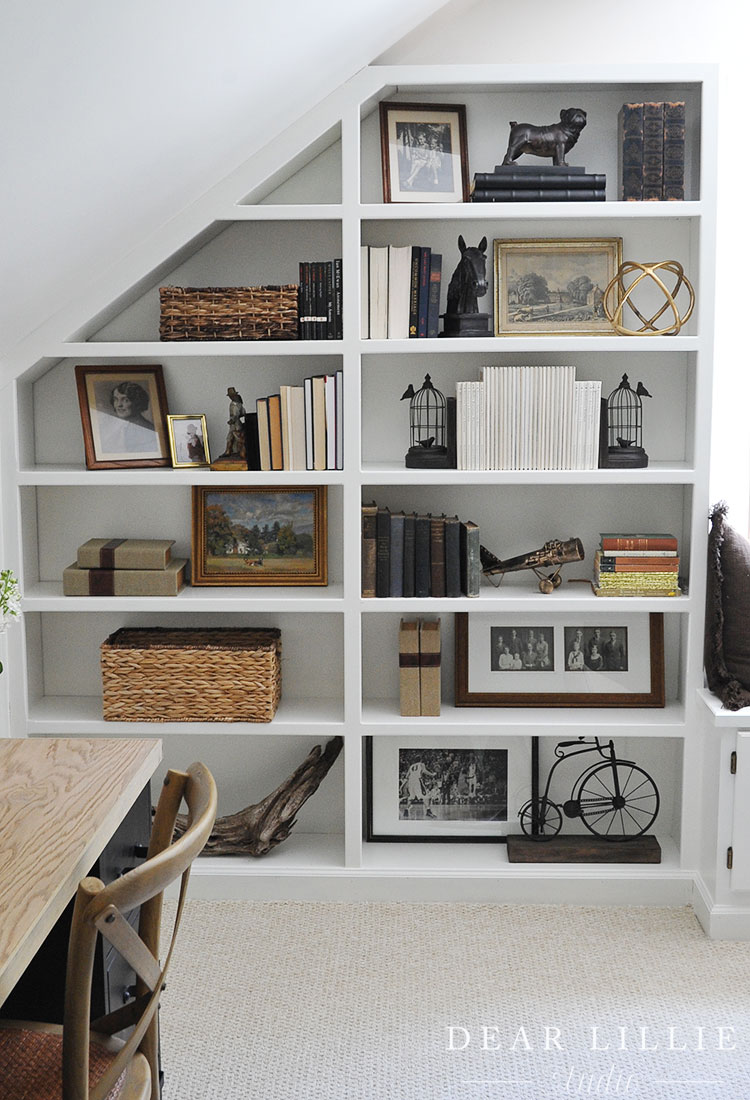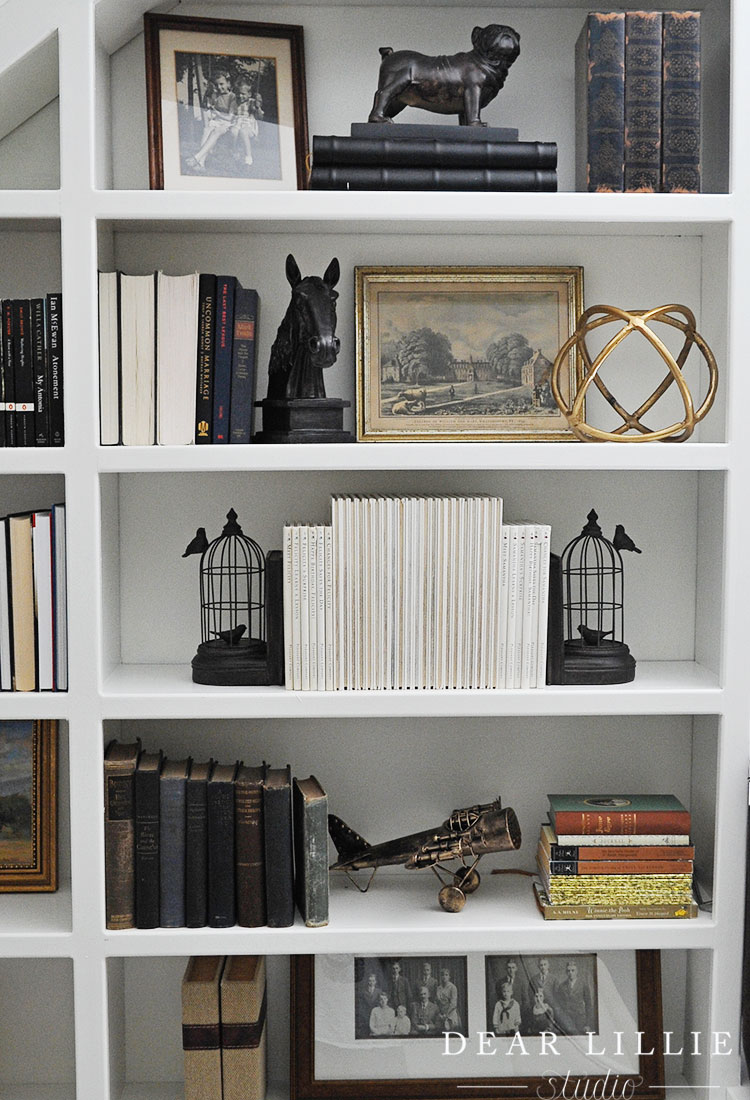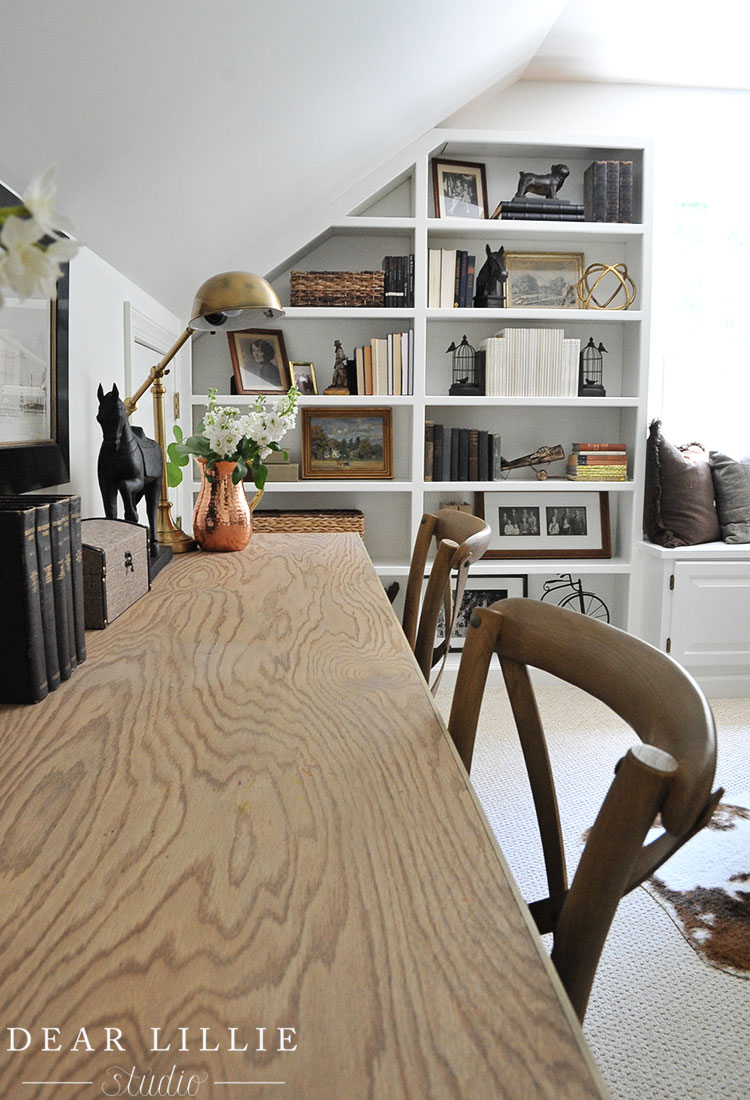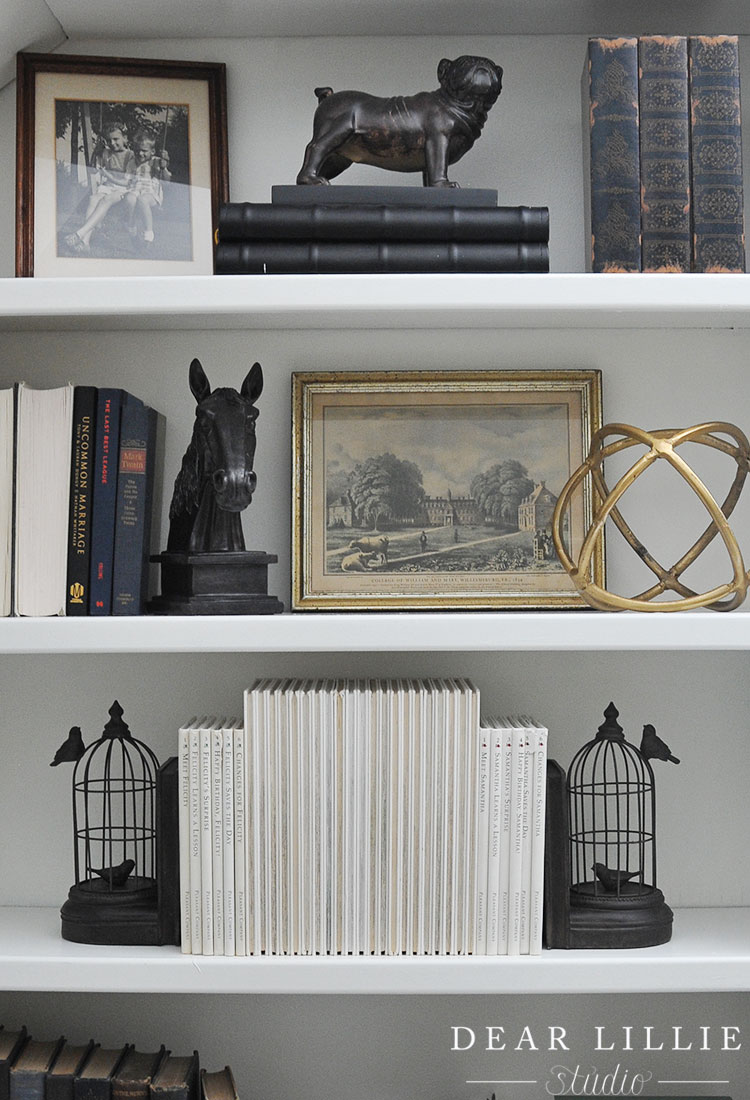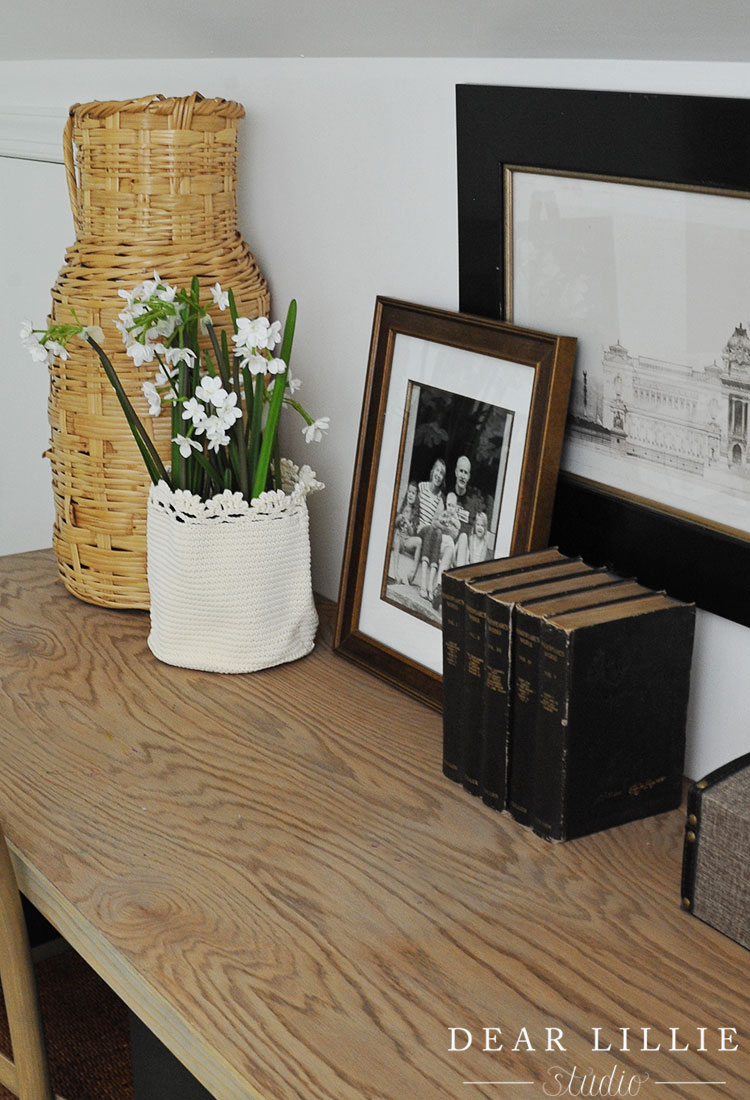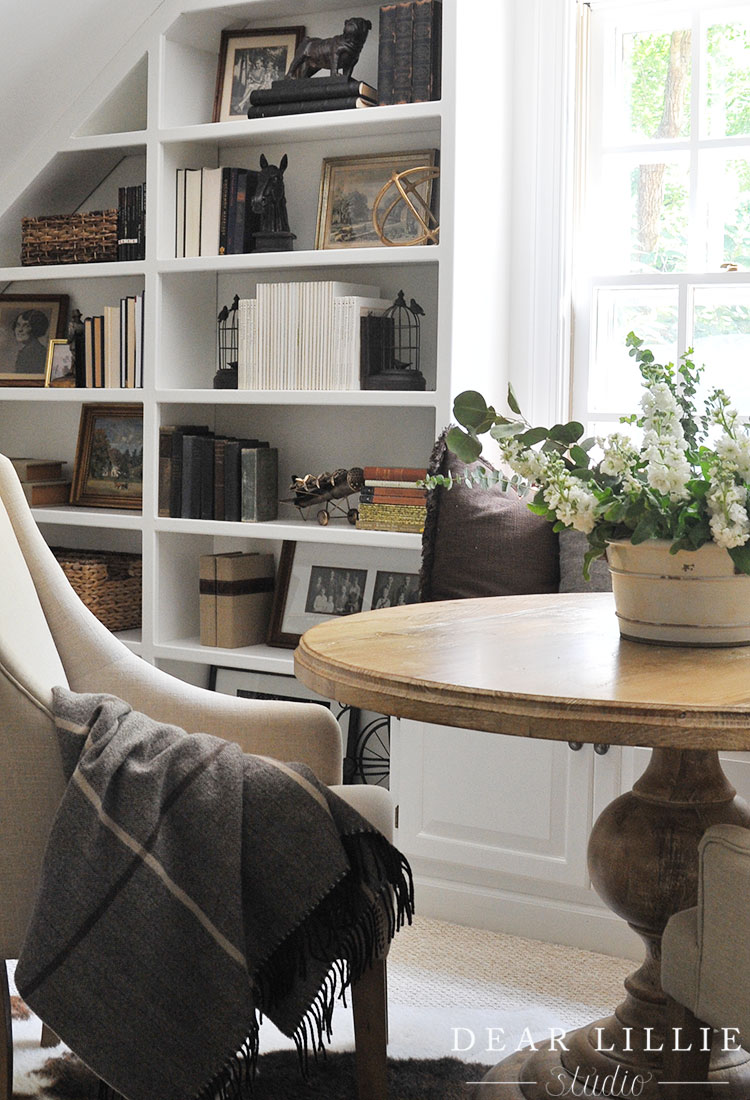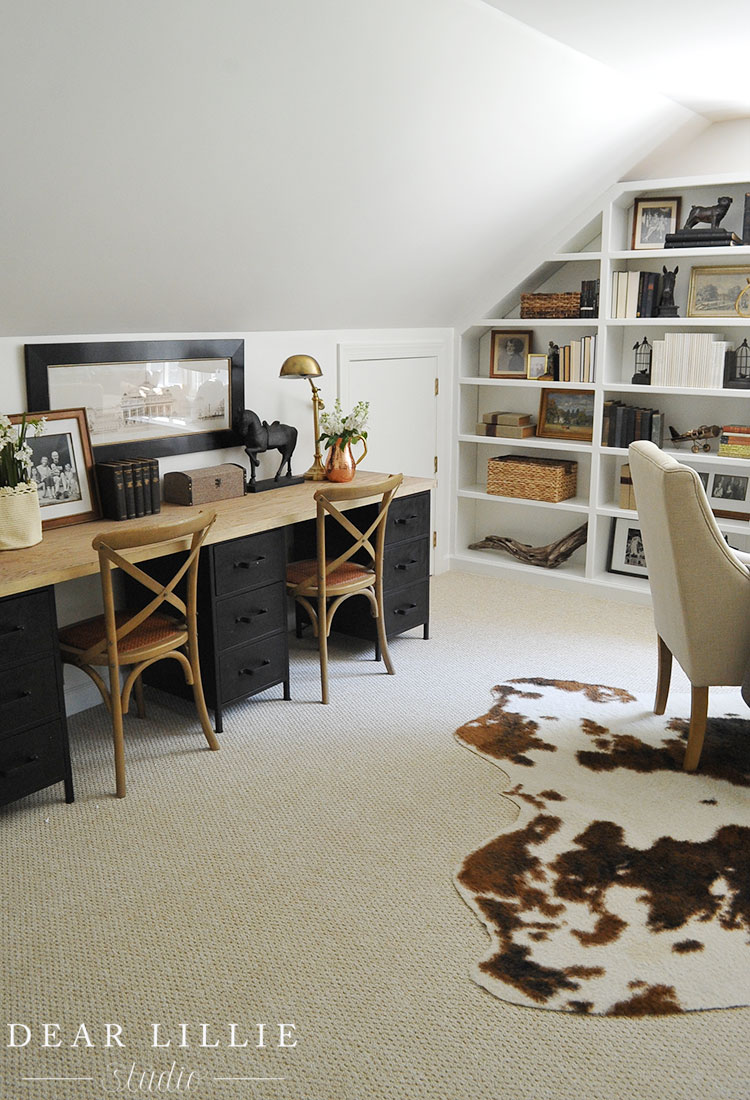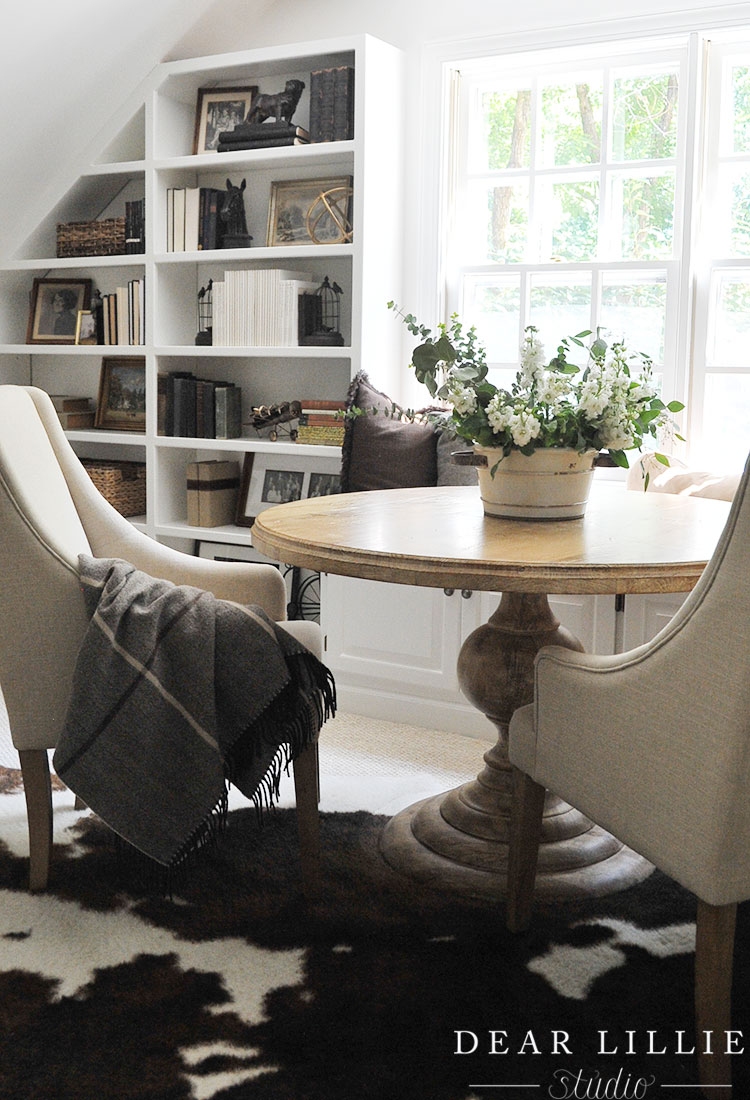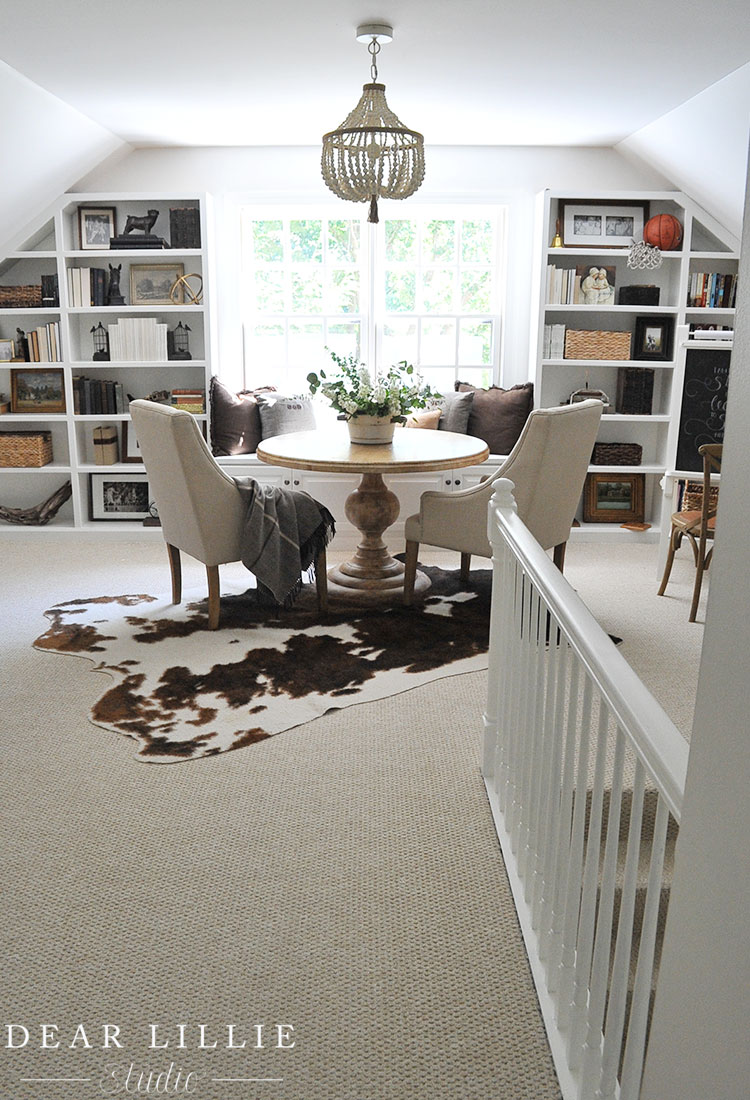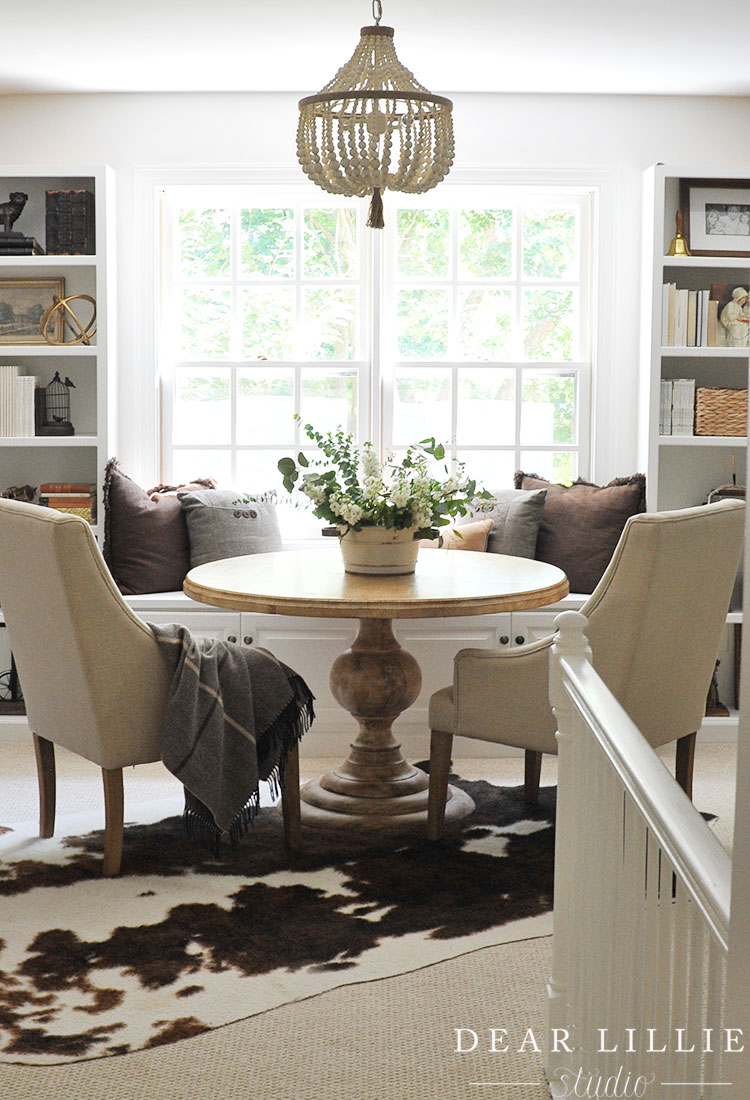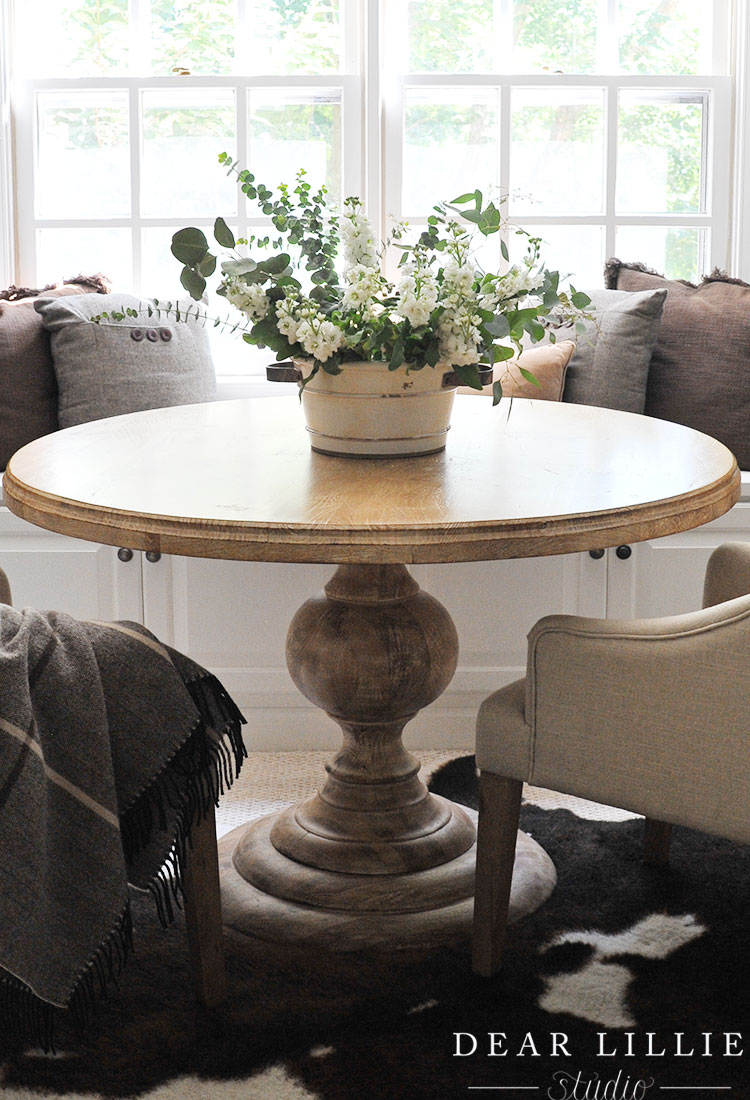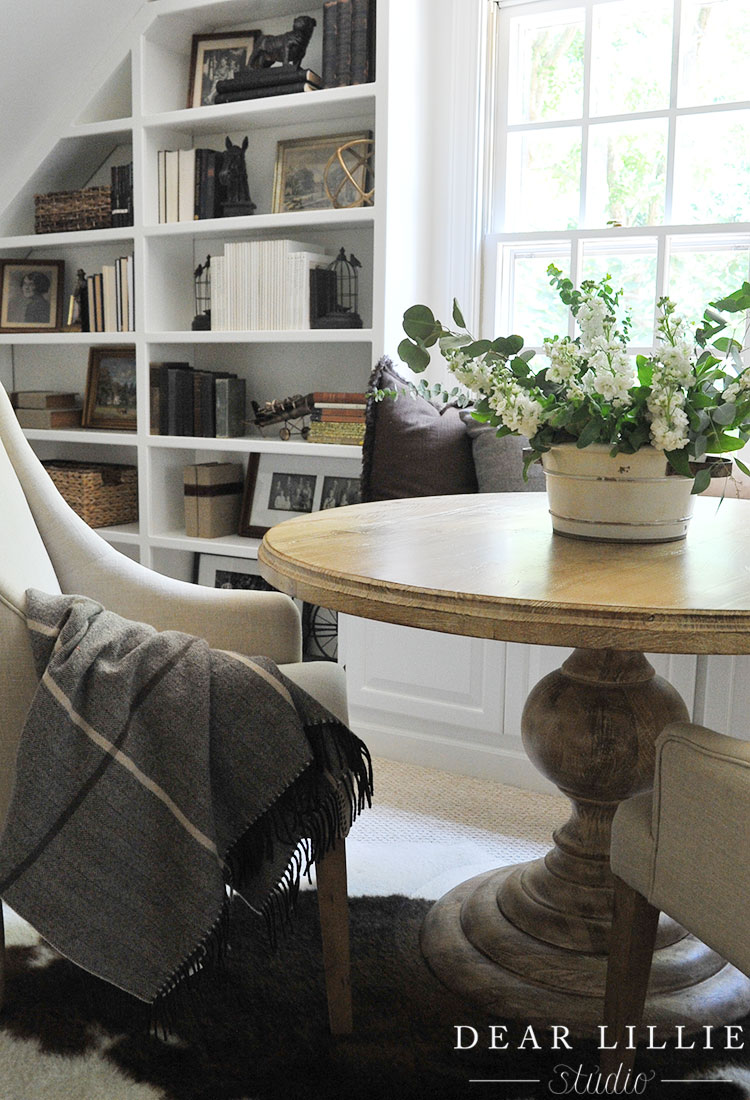 Source List:
Trim and Bookcase Color – Simply White in Semi-Gloss by Benjamin Moore
Wall Color – Simply White in Eggshell by Benjamin Moore
Chandelier – Pottery Barn Kids
Round Pedestal Table – Wayfair
Carpet – Existing
Faux Cowhide Rug – Wayfair
Chairs Around Table – World Market
White Planter on Table – Birch Lane
Chalkboard – Hayneedle
Desk:
Filing Cabinet Bases – World Market
Top – Two pieces of plywood trimmed out – can't remember stain color
Architectural Artwork – Bought at a store in SC years and years ago
Items on Desk:
Lamp – HomeGoods (similar here and here)
Copper Pitcher – All Modern
Horse – HomeGoods
Box – HomeGoods
Books – Library Book Sale
Knit Basket – Heritage Lace
Tall Wicker Basket – Antique Shop
X-Back Chairs – Joss and Main
Brown Pillows – HomeGoods
Herringbone Pillows – Heritage Lace
Throw on Chair – HomeGoods
Bookshelves:
Artwork, Frames, Books – Antiques, Gifts from Family, Consignment Finds
Driftwood – Antique Shop
Bike – HomeGoods
Pug – HomeGoods
Horse – HomeGoods
Gold Sphere – HomeGoods
Birdcage Bookends – HomeGoods (same ones here and here)
Well, that's it for now! I hope you have a wonderful Sunday and an amazing week ahead! 
Warmly, Jennifer
SaveSave
SaveSave