Good Morning! Today I am joining a bunch of our blogging friends to share our favorite pumpkin recipes. I am going to share with you my absolute favorite pumpkin recipe – pumpkin cake!  I actually shared this recipe quite a few years ago – back when Lola was just a baby (now she's in first grade!). I usually make it as a bundt cake but this time decided to pour into into three round pans for a layered cake and then frosted it with my favorite cream cheese frosting!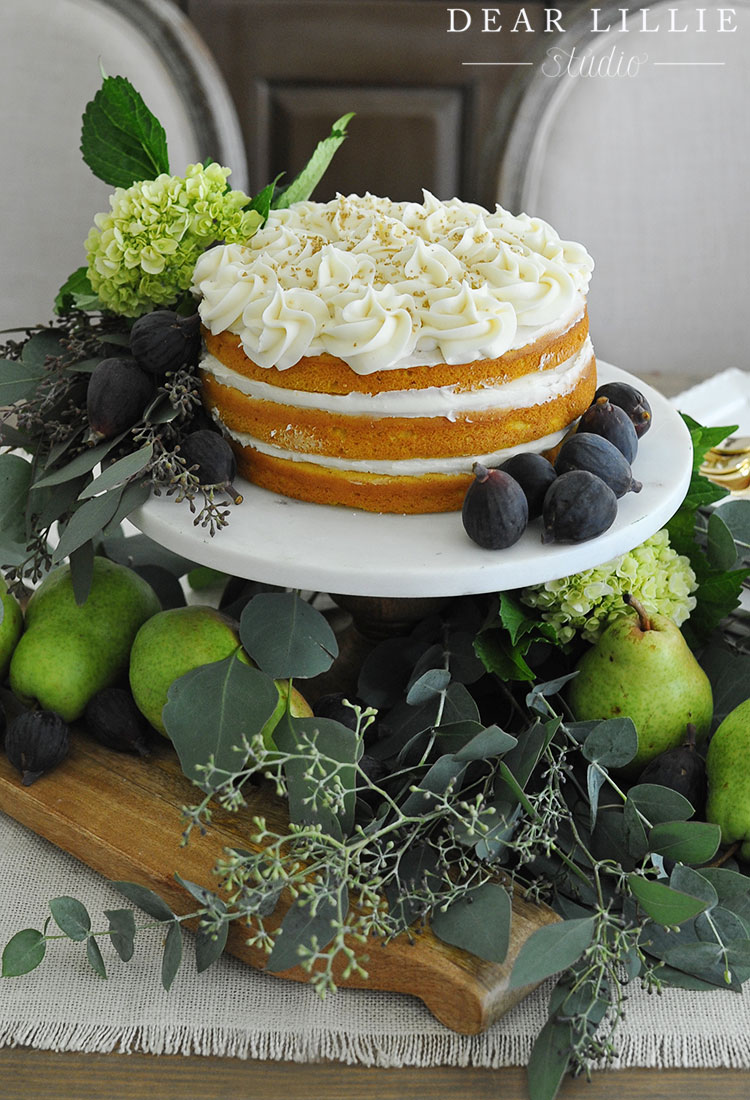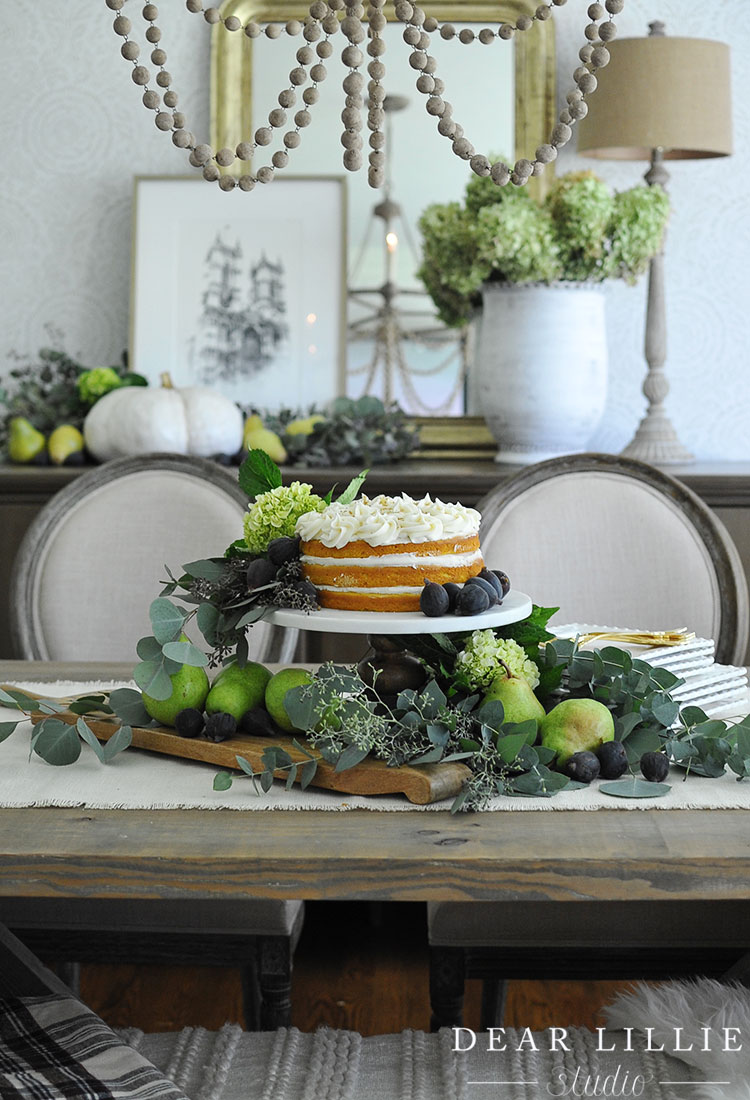 This recipe was in a cookbook I got when Jon and I got married 11 years ago and I have been making it every autumn since! I usually make it several times each fall – it's my favorite. Although it is not very healthy – ha!
1 (18.5 oz) yellow cake mix
1 (3.4 oz) package instant vanilla pudding mix
1 (15 or 16 oz) can of pumpkin
1/2 cup vegetable oil
1/2 cup water
3 eggs
2 tsp. pumpkin pie spice (optional) *
1/2 cup pecans (optional – we aren't big pecan fans so we don't use them)
Heat oven to 325 degrees. In a large mixing bowl combine all ingredients except for pecans. Mix on medium speed for 2 minutes, then increase speed to medium/high for another three minutes. If you are adding nuts, stir them in. Spoon batter into prepared pan(s). Bake at 325 degrees for 45 to 55 minutes (that's for a bundt cake, for a three layer regular cake they cook for less time) or until a toothpick inserted in center of cake comes out clean. Cool for ten minutes. (I always shake it when I pull it out of the oven first and then let it cool).  Remove from pan and let cool completely on rack.
Then I used this cream cheese frosting recipe that I got from my mom years ago.
Cream Cheese Frosting:
3 Tbsp. butter
4 to 5 oz. cream cheese
1 tsp. vanilla
1/2 Tbsp. maple syrup (I sometimes do a full tablespoon)
 3 cups confectioners sugar
Soften butter and cream cheese then add the rest of the ingredients until they are nice and smooth. Depending on how much icing you like you might want to make a little extra frosting. We like a lot of icing on our cakes. When I am making the roses I use more frosting than when I just regularly frost a cake so I doubled the above recipe.
I frosted my cake using this method and then dusted it with some gold sprinkles. Now it's time to dig in!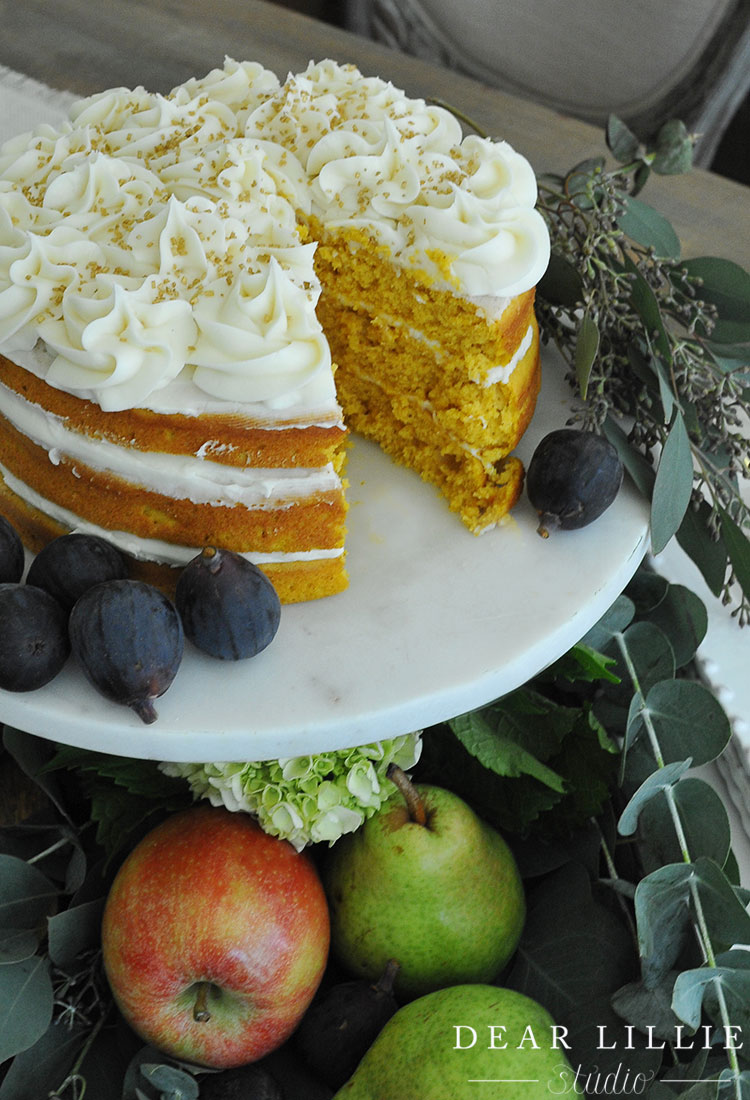 This cake is particularly good with a coffee, cappuccino, latte or whatever type of warm drink you like.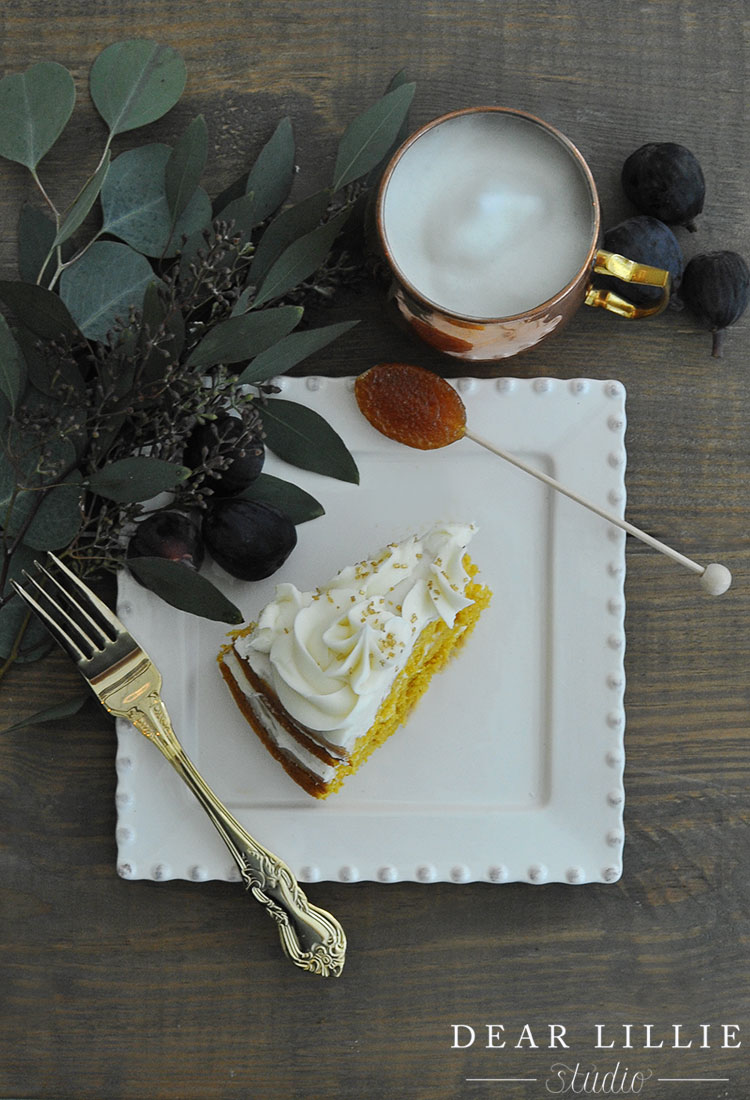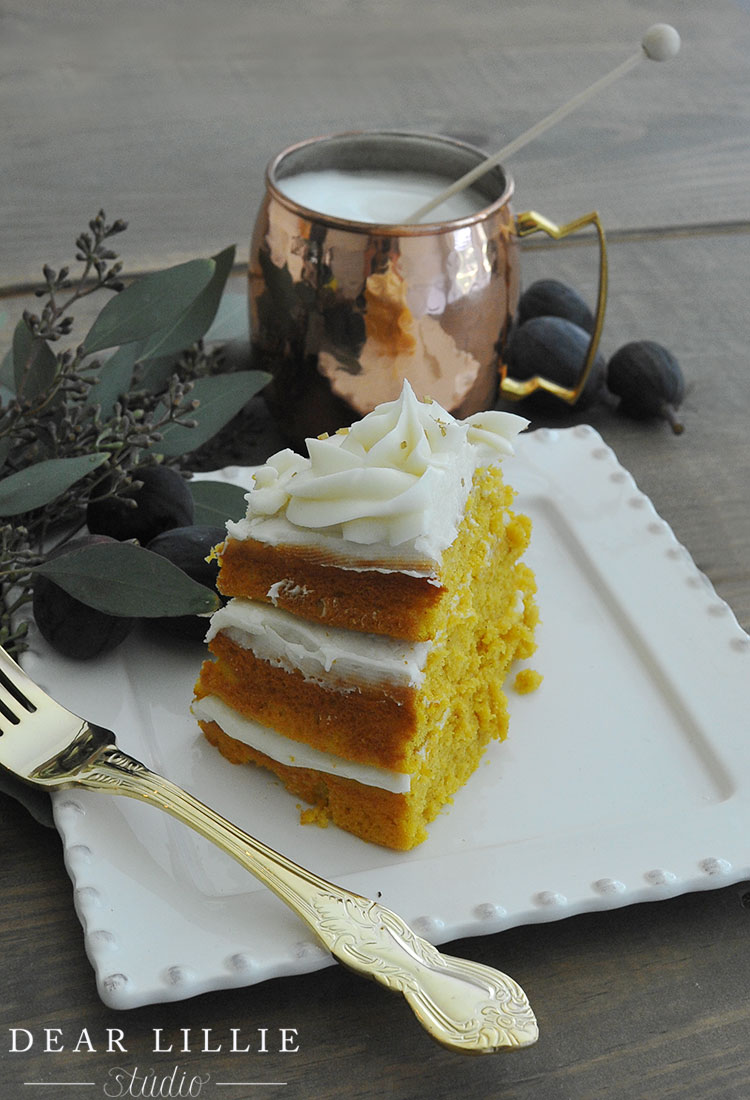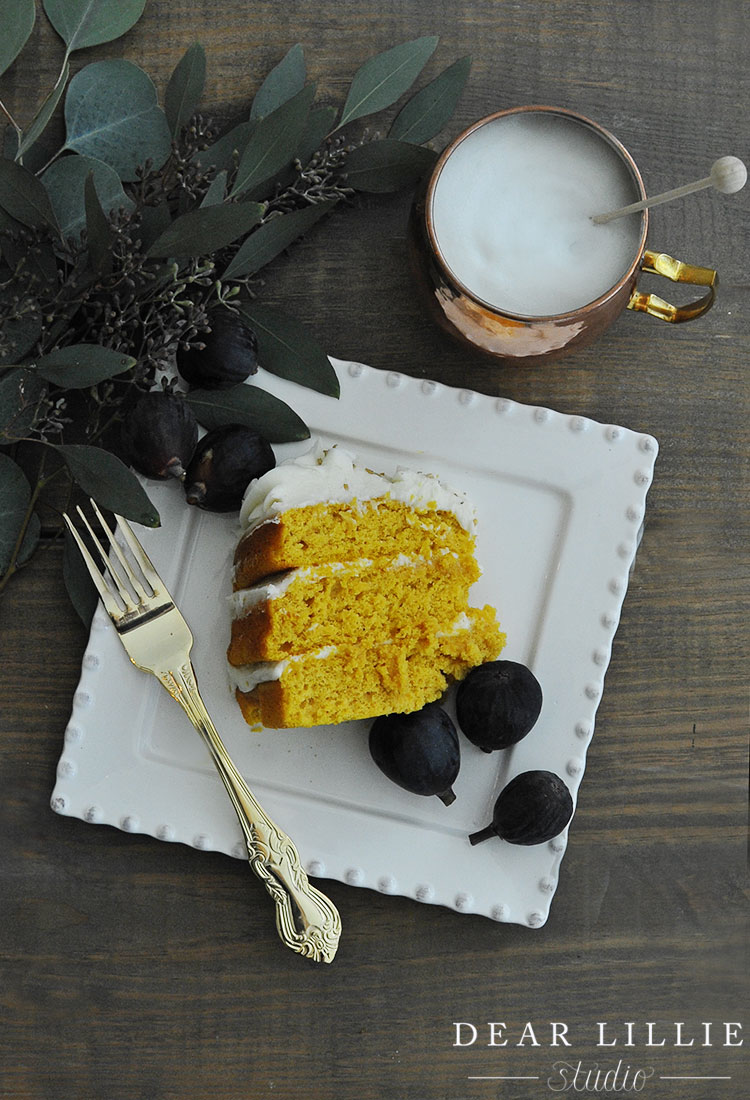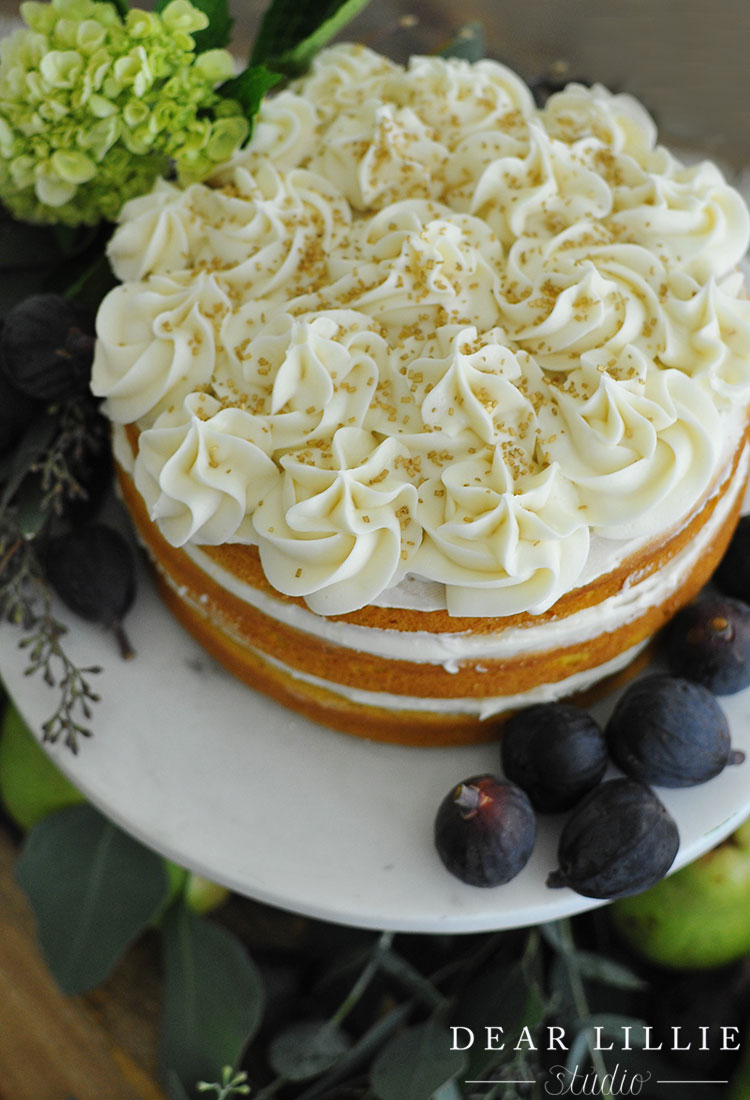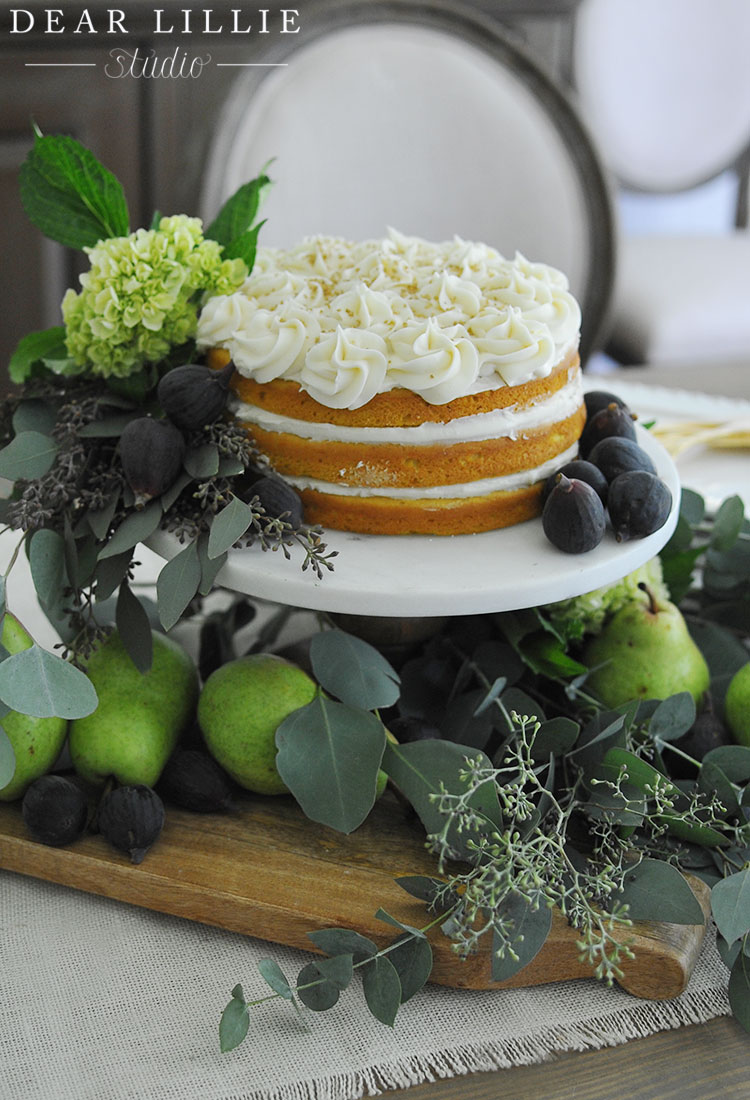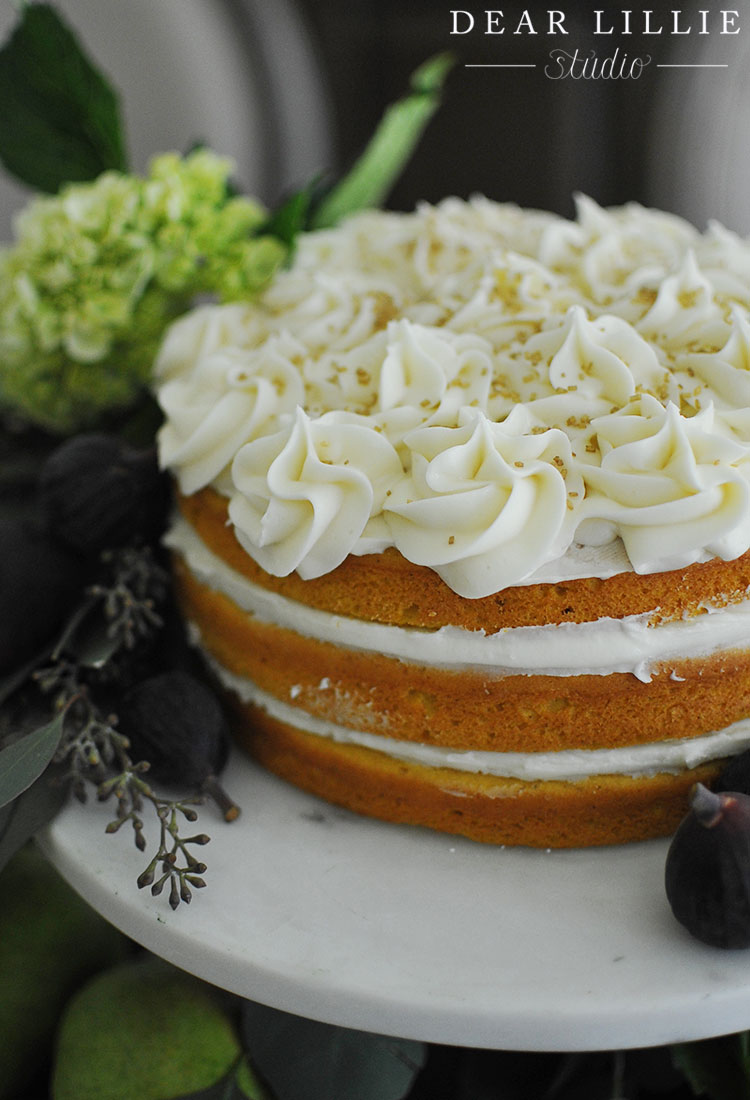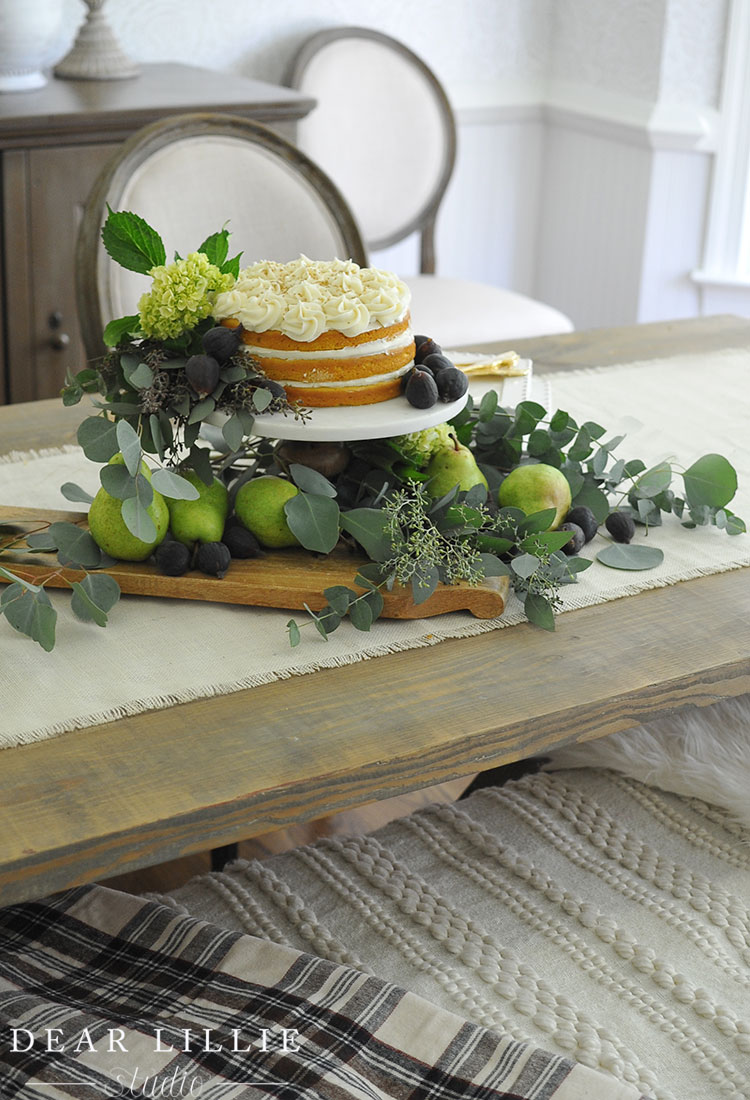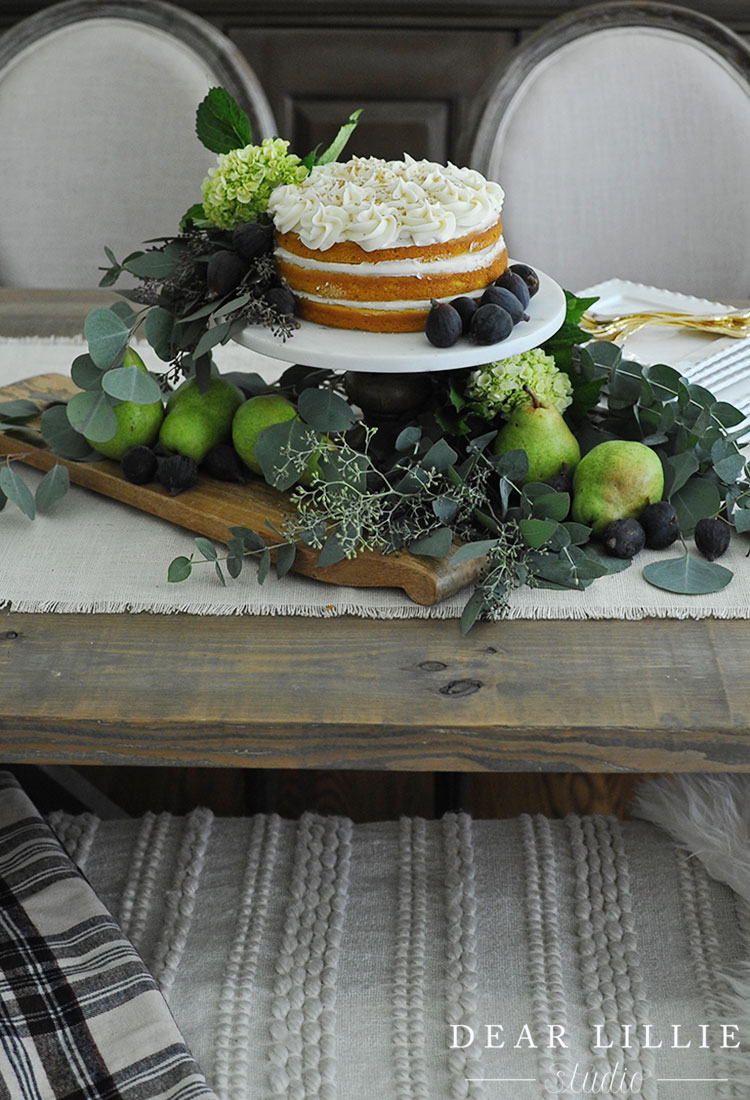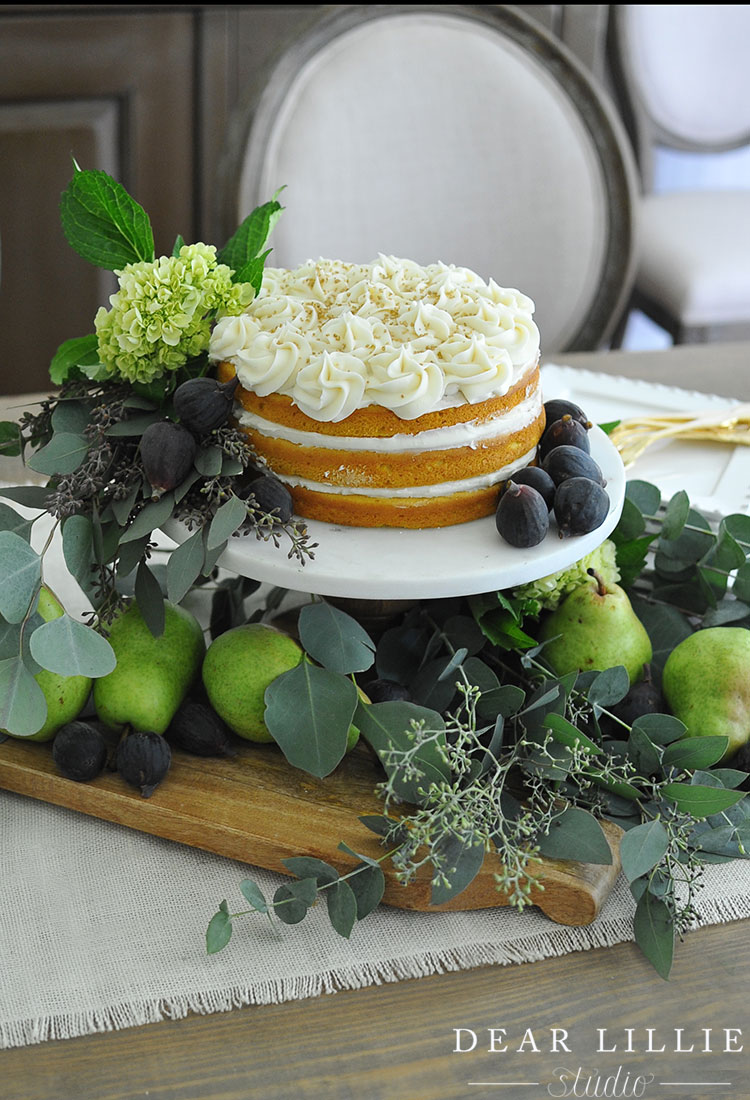 I played around with some apples in here as well to add in some traditional fall colors but ended up taking them back out because it looked too busy. I can't wait to start adding some pumpkins to the house!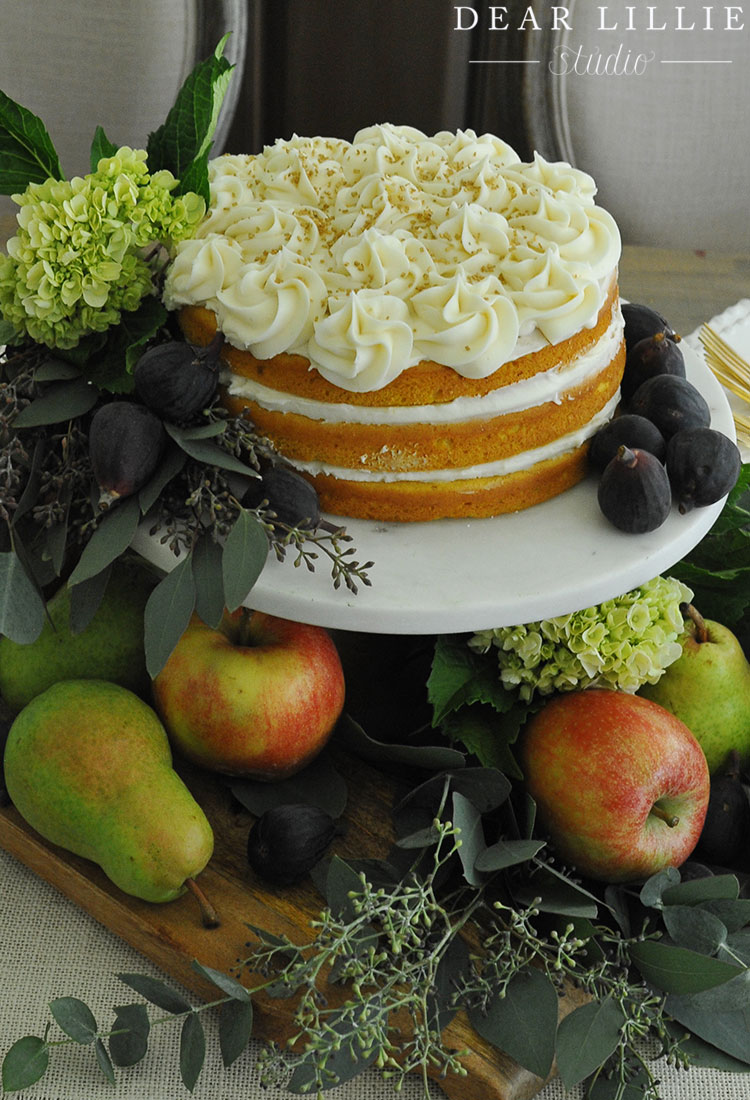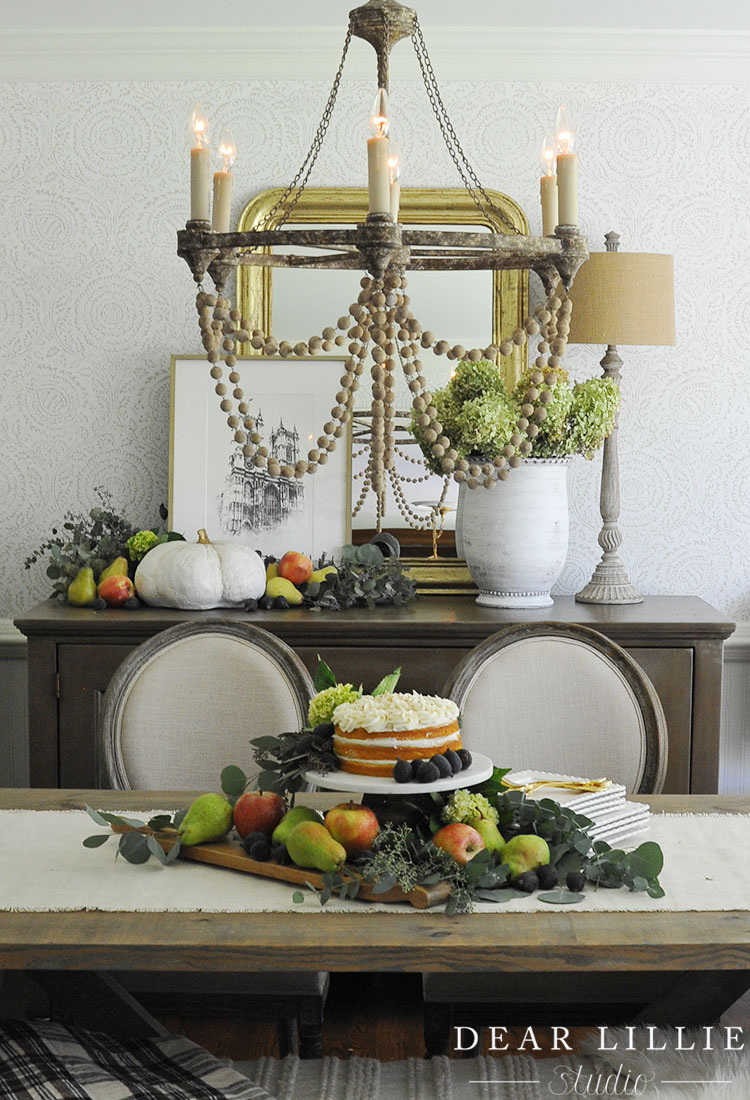 This cake is particularly moist so it usually tastes best the first day or two. If somehow it lasts longer than that (which isn't often in our house!) it tends to get a little on the soggy side. I highly recommend giving it a try! It has been my favorite fall dessert for over ten years now!

Source List:
Now be sure to head on over and check out all of these amazing pumpkin recipes!!! I cannot wait to try them – my mouth is watering!
Pumpkin Custard Pie with Gingersnap Crust by Ella Claire | Pumpkin Chocolate Chip Cream Cheese Bread by Nest of Posies | Pumpkin Creme Brûlée by Maison de Pax | Pumpkin Cake with Creme Cheese Frosting by Dear Lillie | Pumpkin Tomato and Bacon Soup by Craftberry Bush
Spiced Pumpkin Pancakes by Boxwood Avenue | Paleo Pumpkin Chili by Nesting with Grace | Pumpkin Ginger Molasses Cookies by anderson + grant | Pumpkin Baked Brie en Croute by French Country Cotage | Nina Hendrick Design Co.
Pumpkin Pecan Chocolate Chip Cookies by A Burst of Beautiful | Maple Glazed Pumpkin Hand Pies by Love Grows Wild | Pumpkin Patch Muffins by House 214 | Pumpkin Maple Pancakes by Finding Home Farms | Miniature Pumpkin Tarts by Zevy Joy
Oatmeal Pumpkin Chocolate Chip Cookies by Miss Mustard Seed | Pumpkin Toffee Cupcakes with Salted Caramel Frosting by My Sweet Savannah | Pumpkin Pan Pie by Inspired by Charm