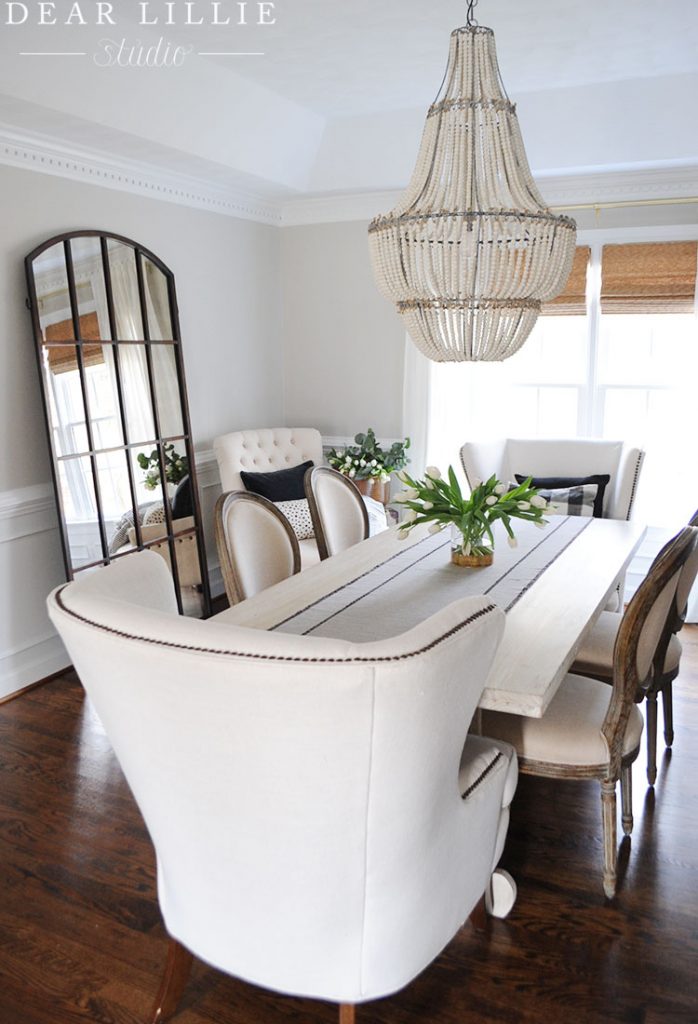 Good afternoon! I hope you all are having a wonderful Monday. The weather is pretty dreary here today and I am catching up on loads of computer work. I took these photos last week a few hours after this gorgeous mirror from Soft Surroundings arrived. Once our Christmas tree came down that had been in the corner of this room and I had moved the clock back to the living room this whole wall looked very bare. I saw this mirror and thought it would be perfect for the space (and it also looks really pretty in the living room). It is even more lovely in person! I was so thrilled as I took it out of the packaging and put it into place.
I'm still considering putting some temporary wallpaper up in this dining room because I just love wallpaper in dining rooms! Because we are renting I will go with a removable one if I do. I am planning on putting some in Lillie's room next week and that will determine if I have the patience to do it in here or not. My sister has put it up several times, but I find temporary paper more difficult to hang than traditional paper, the stickiness drives me crazy for some reason so we will see how much patience I have – haha!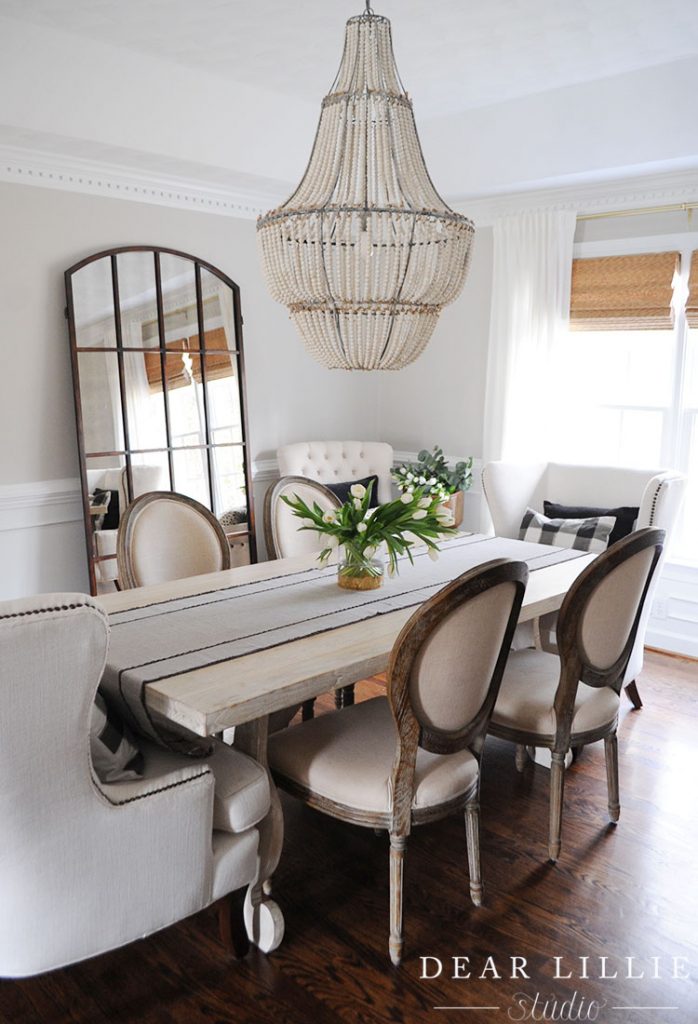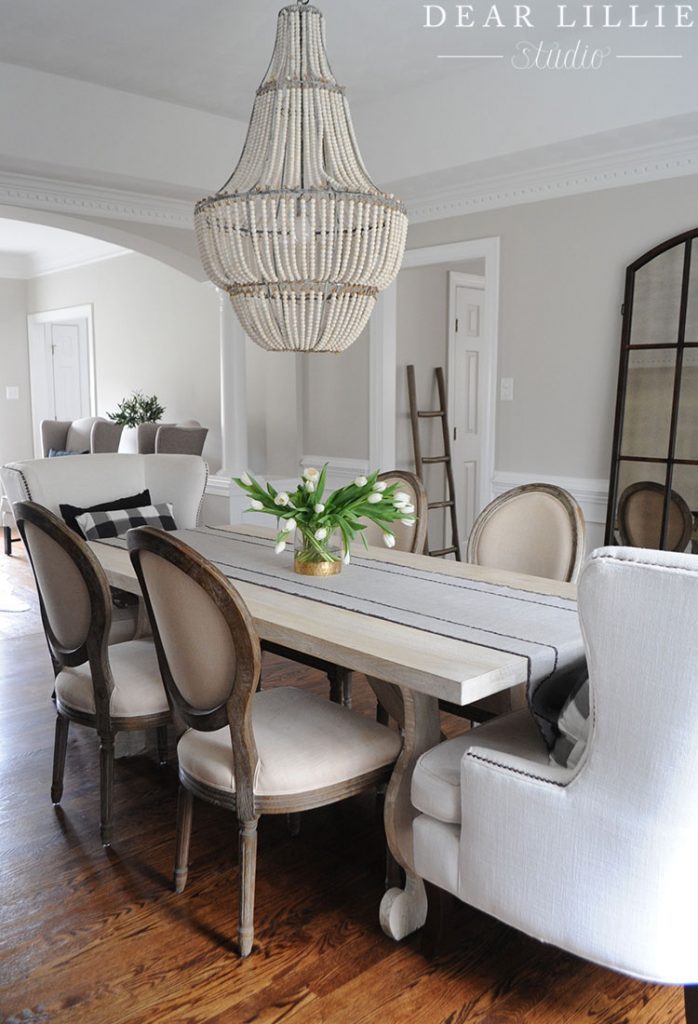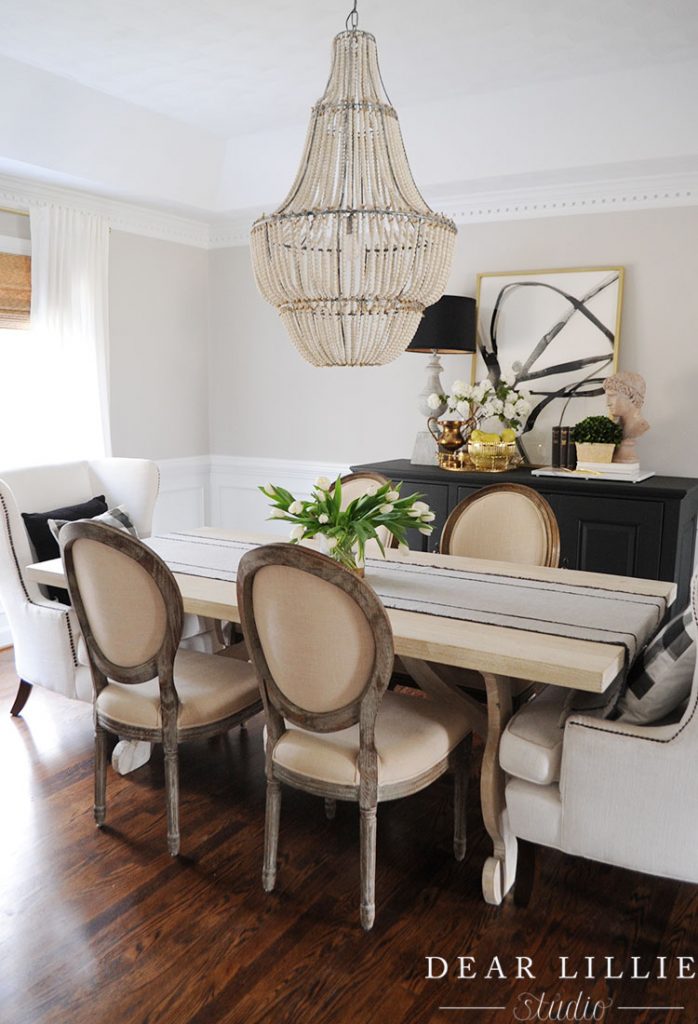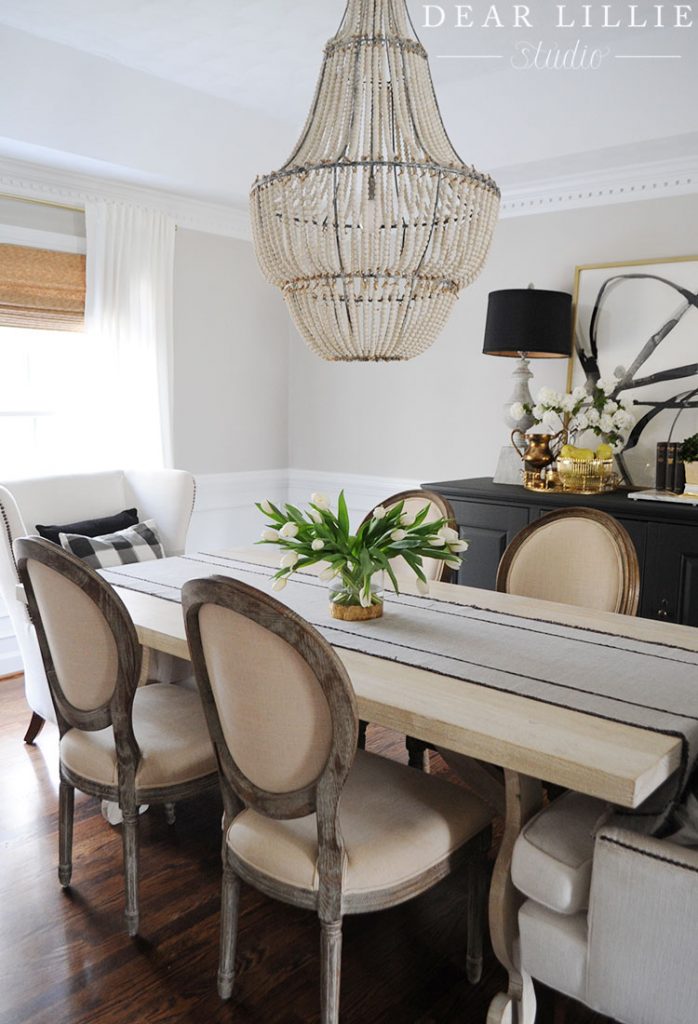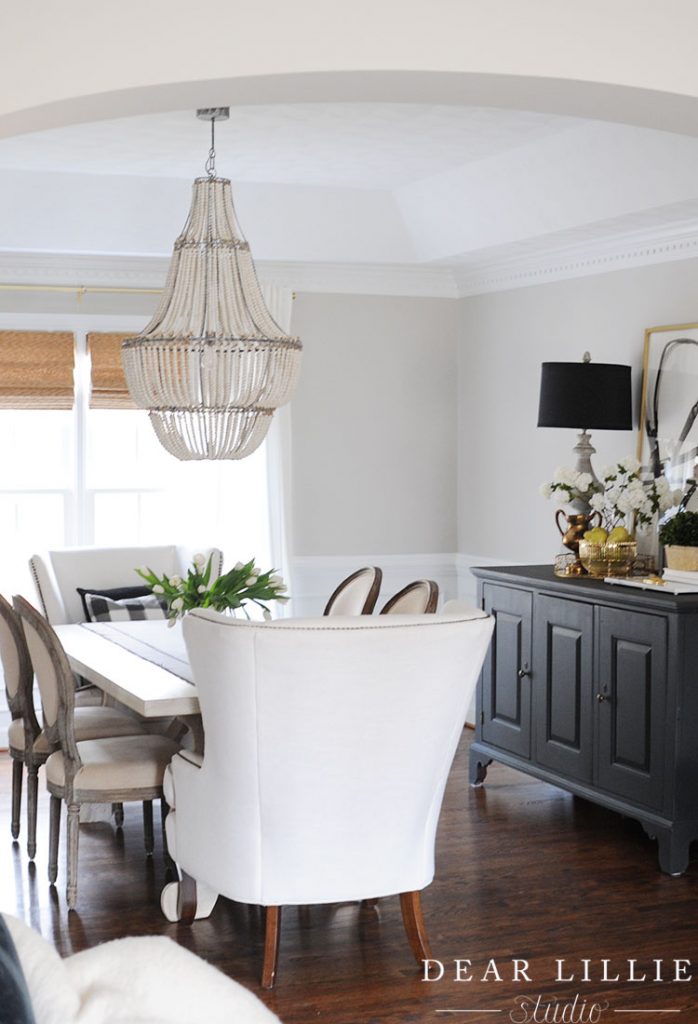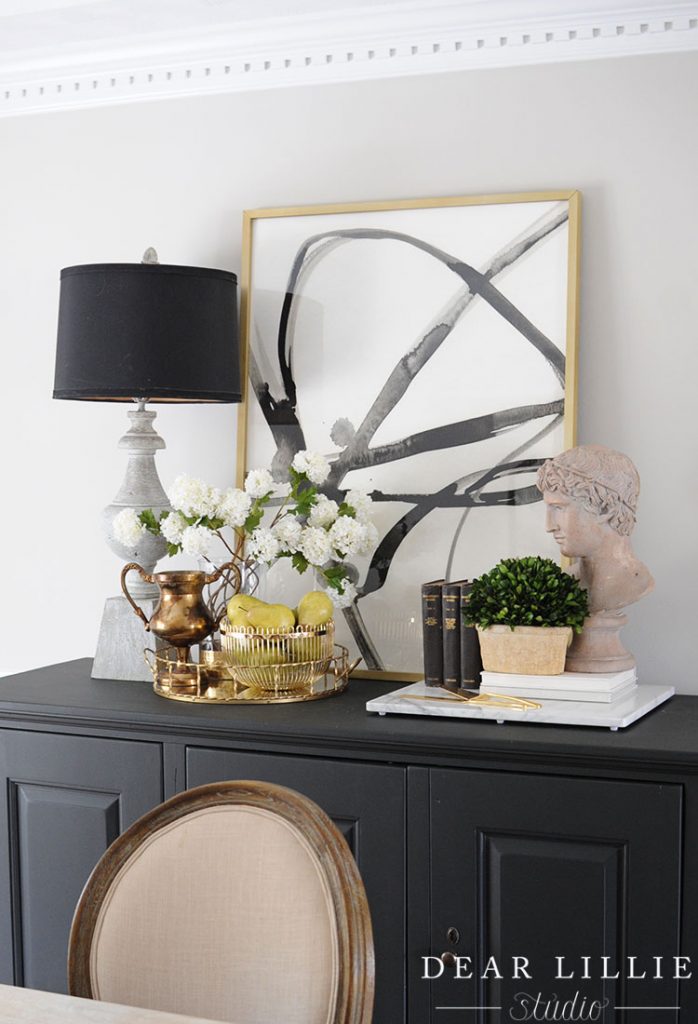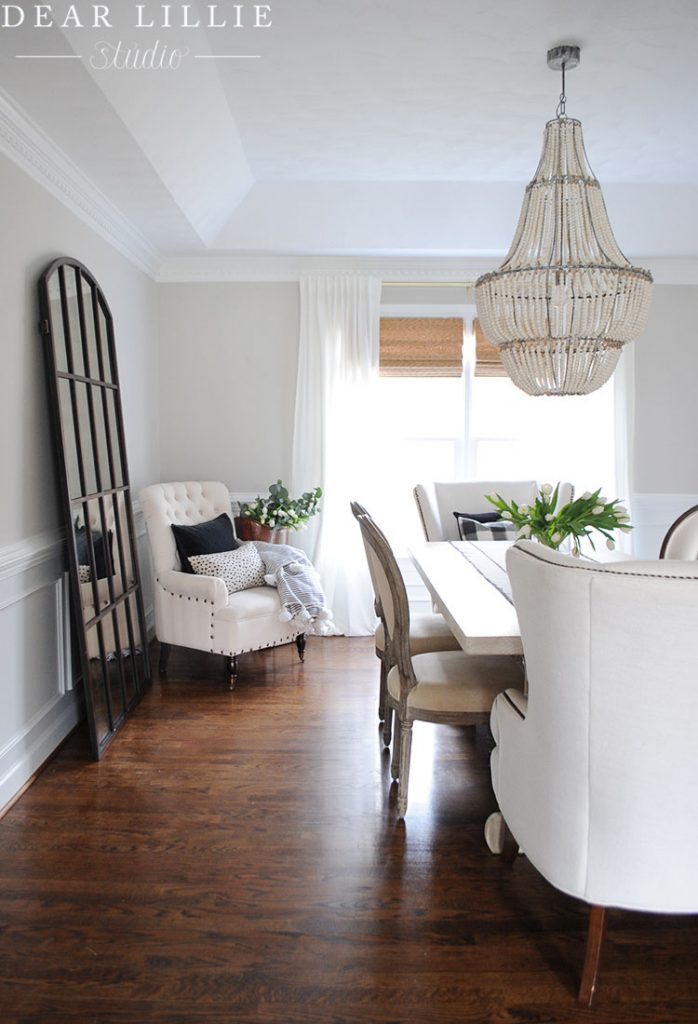 To fill up this corner I pulled in one of the chairs from my office. I have some leather chairs I am going to put in there so figured I'd try one of these in here and the other one up in our guest room. I haven't decided if that it where they will stay or not though.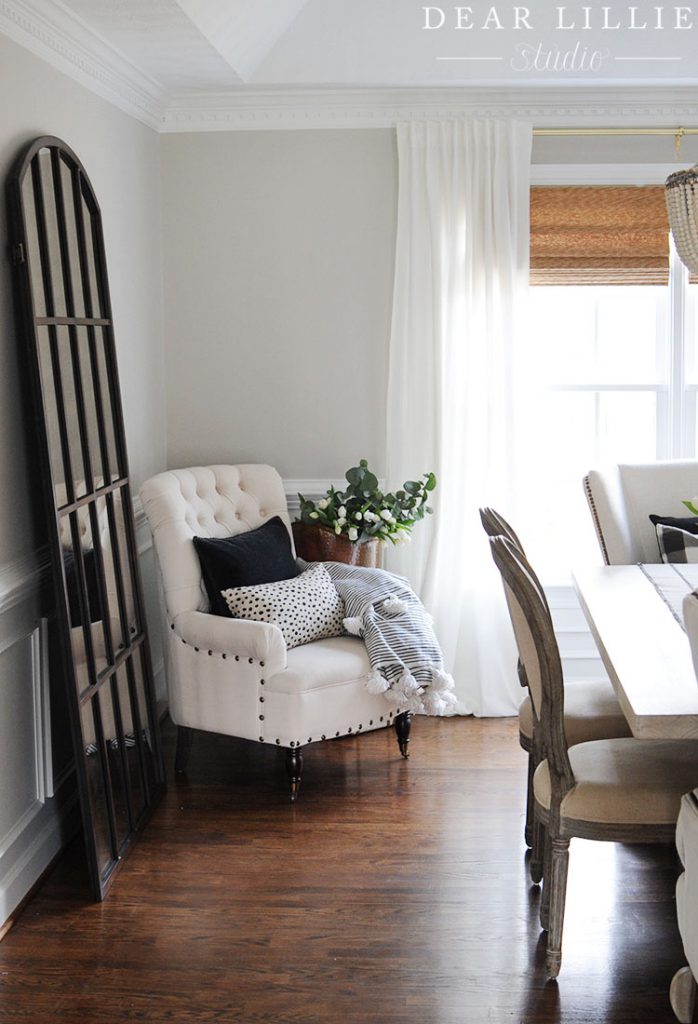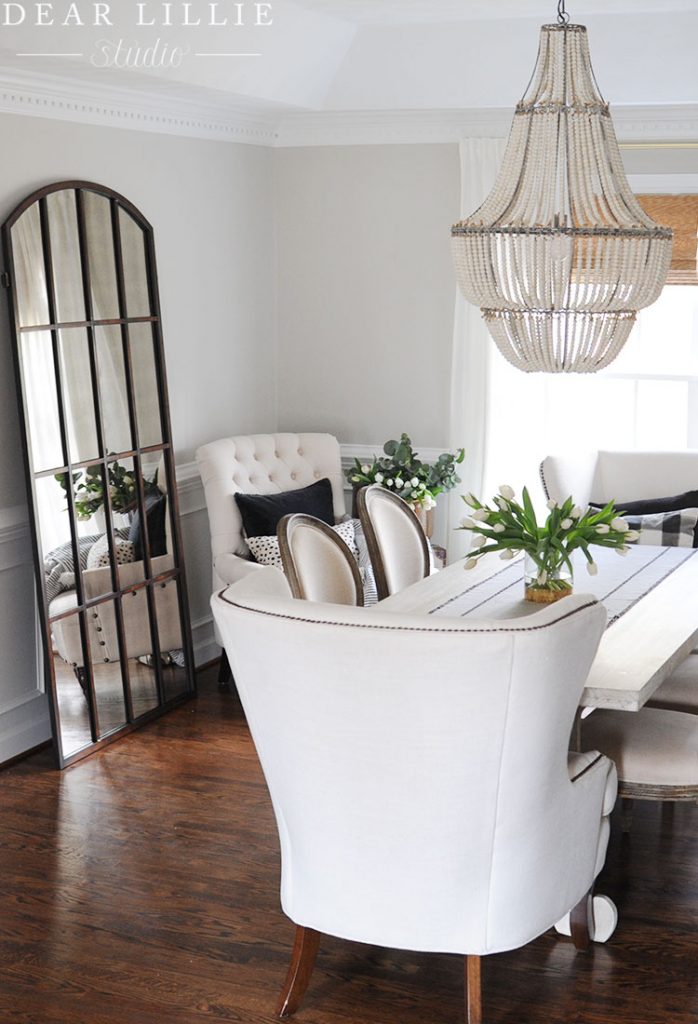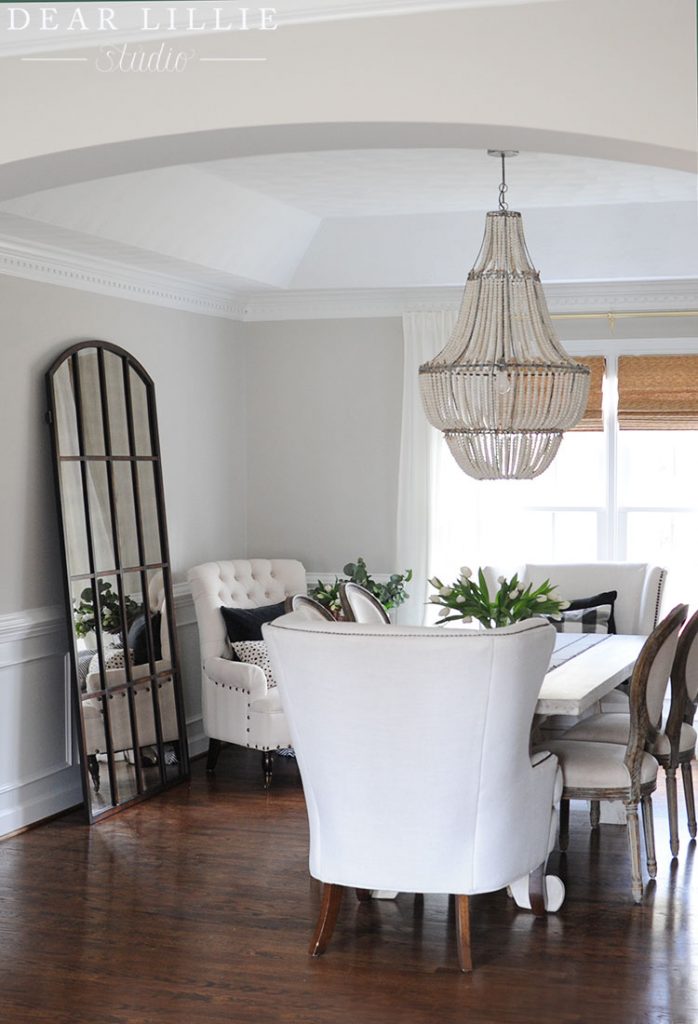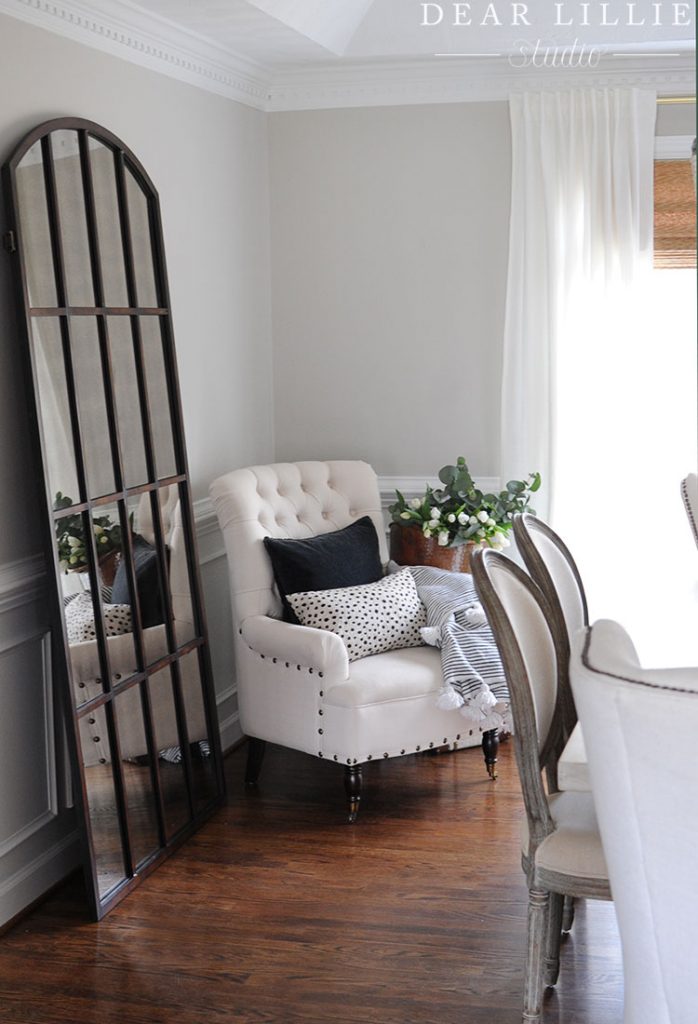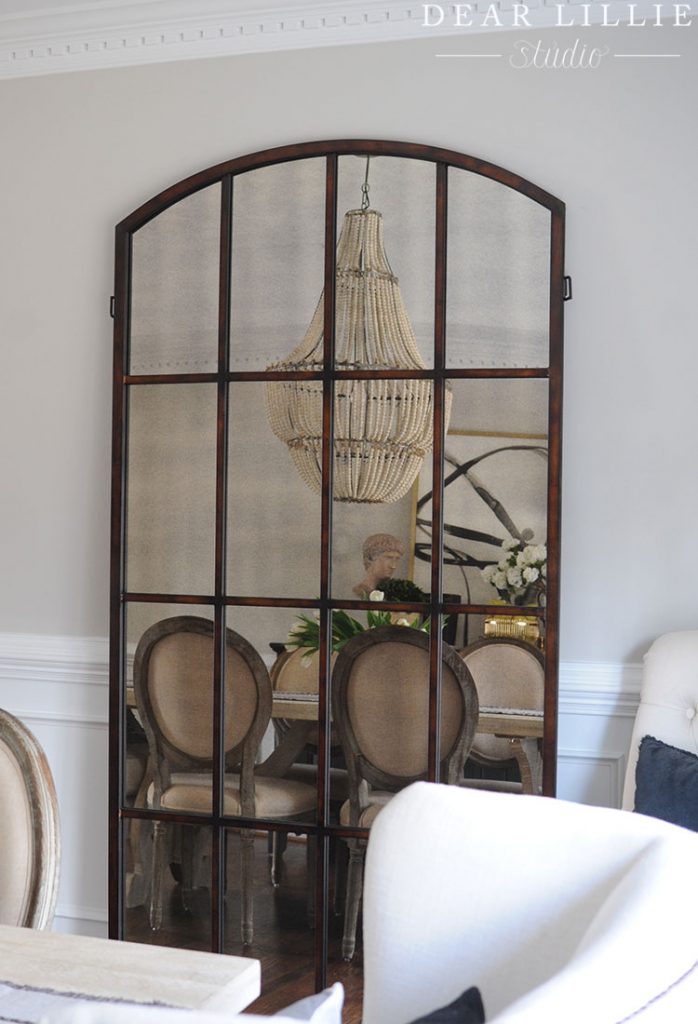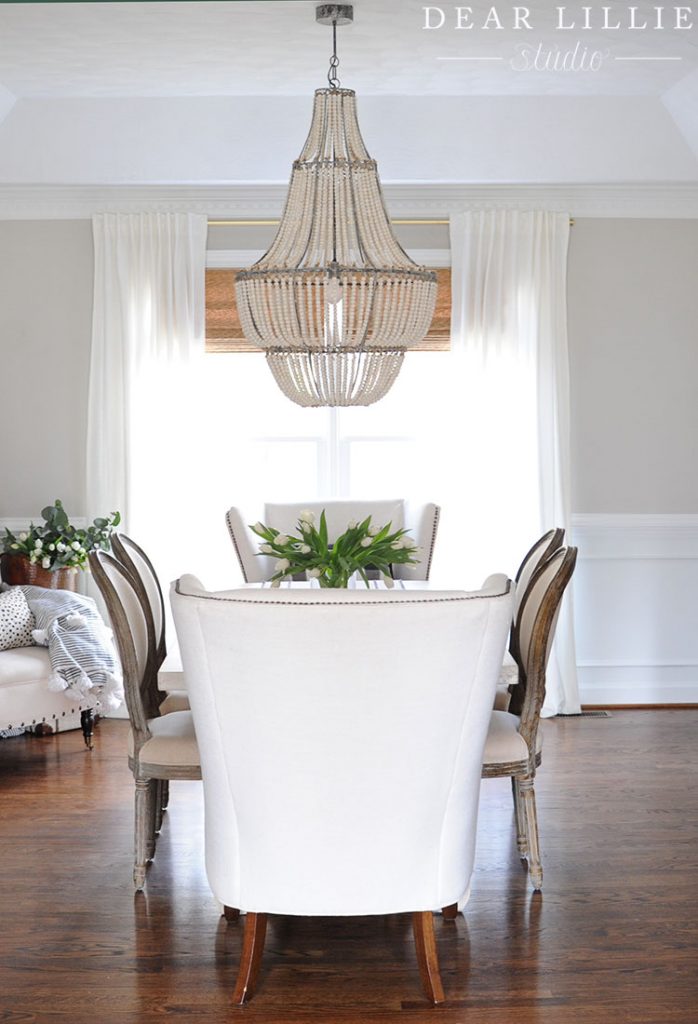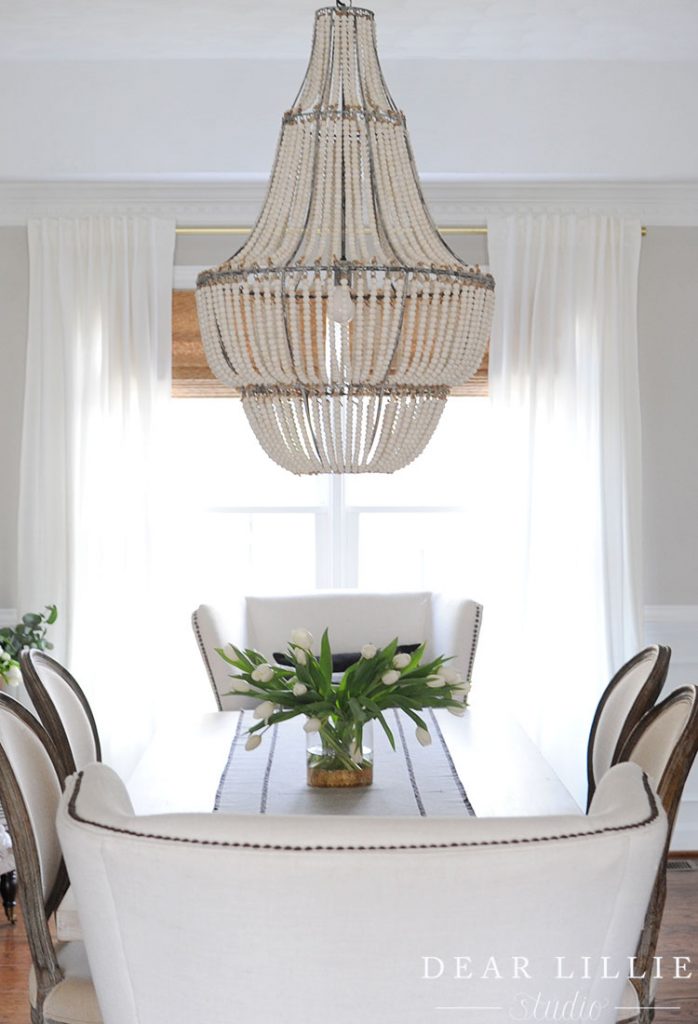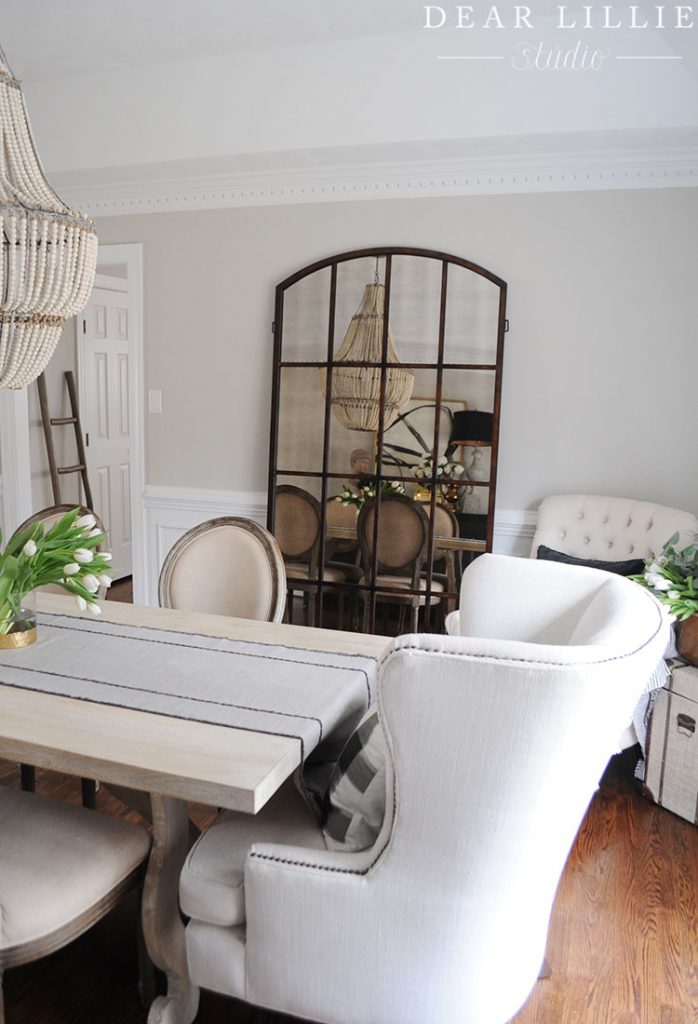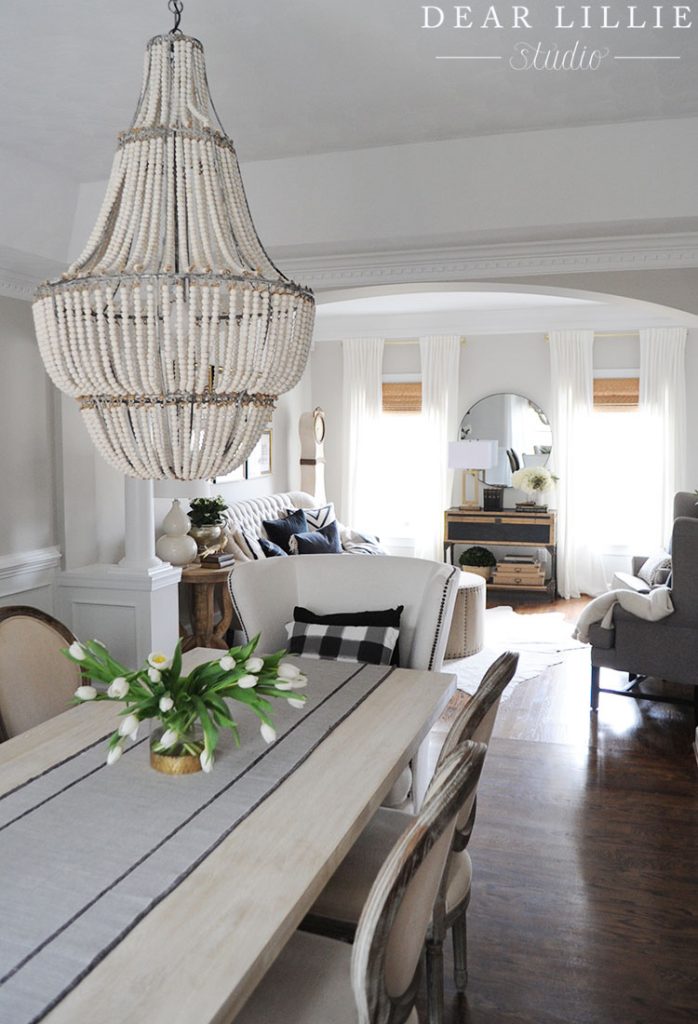 For more photos of the living room in the background of this shot you can click here.

And here are a few wider angled shots of the dining room: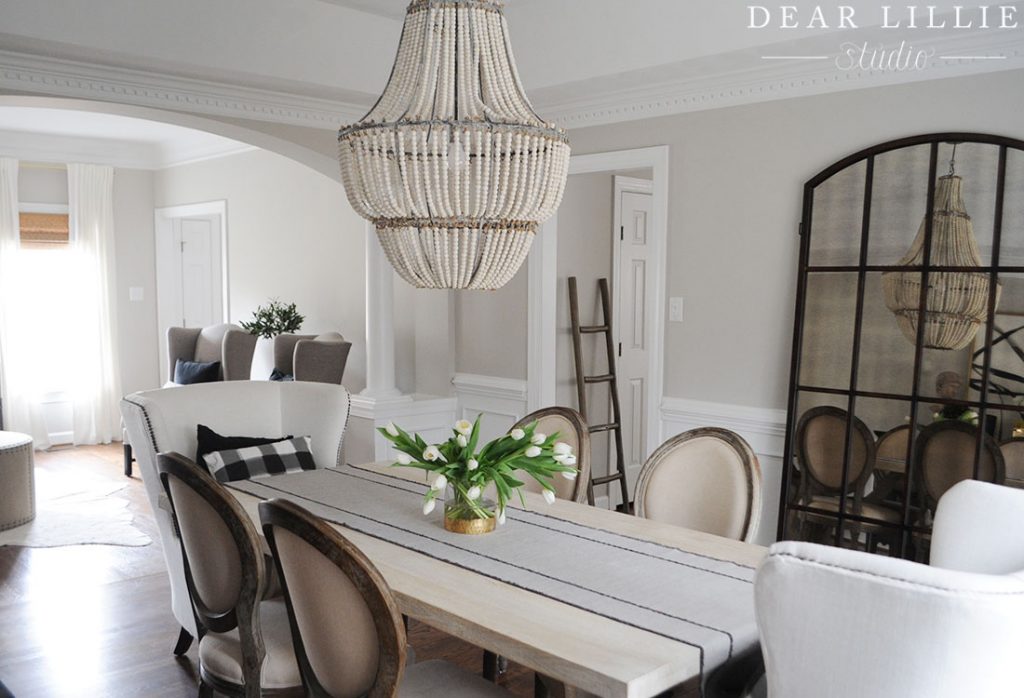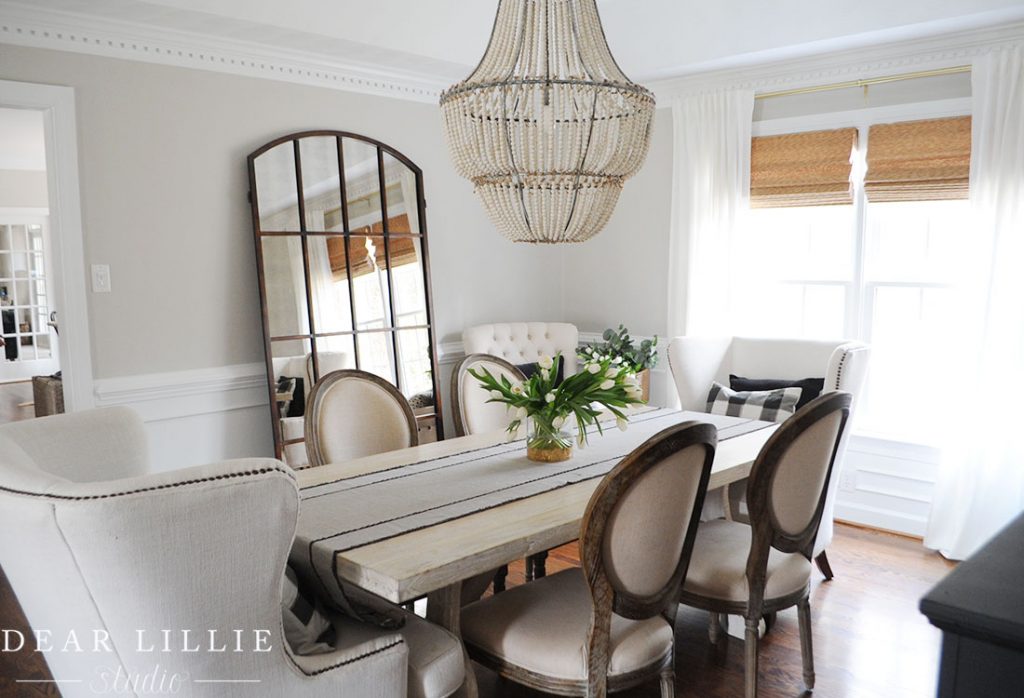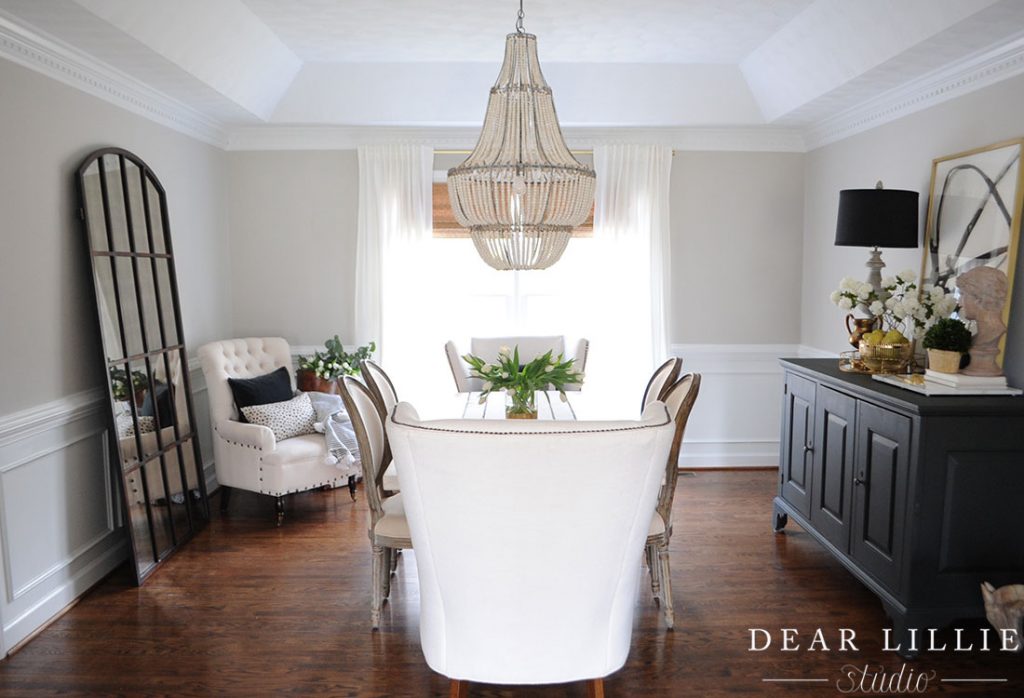 Dining Room Sources:
Wall Color – Balboa Mist by Benjamin Moore
Trim Color – Brilliant White by Benjamin Moore
No info on the stain of the floor
Chandelier – can be purchased at Wayfair and Soft Surroundings
Tall Standing Mirror – Soft Surroundings
Side Chair – Birch Lane
Spotted Pillow – Etsy
Side Trunk/Table – Birch Lane
Copper Bucket – World Market
Curtain Rods – Birch Lane
Drapery Panels – Ritva from IKEA 98″
Shades – Blinds Galore – Boutique Natural Waterfall Woven Shades in the Islay Barleycorn with a Privacy light filtering liner
Wood Horse – RH Baby and Child years ago
Table – World Market (usually out of stock – very similar one can be found here)
Round Side Chairs – World Market
Wingback End Chairs – Birch Lane in White Talc Fabric
Black Velvet Pillows – HomeGoods (similar ones here and here)
Plaid Pillows – Etsy
Runner – World Market
Sideboard – Found at a Consignment Shop years ago (painted with Black Knight in Matte finish by Benjamin Moore)
Black and White Framed Print – Minted (30 by 40 with Matte Brass Frame)
Lamp – Aidan Gray over twelve years ago
Gold Trophy Vase – Can be found here
Vase with Gold at Bottom – World Market
White and Natural Ceramic Vase – World Market
Bust – Antique from Family – very similar one here
Books – Vintage
Marble Board – Sur La Table
Pie Serving Pieces – World Market
Small Boxwood – Soft Surroundings
I hope you all have a lovely week ahead!
Warmly, Jenni