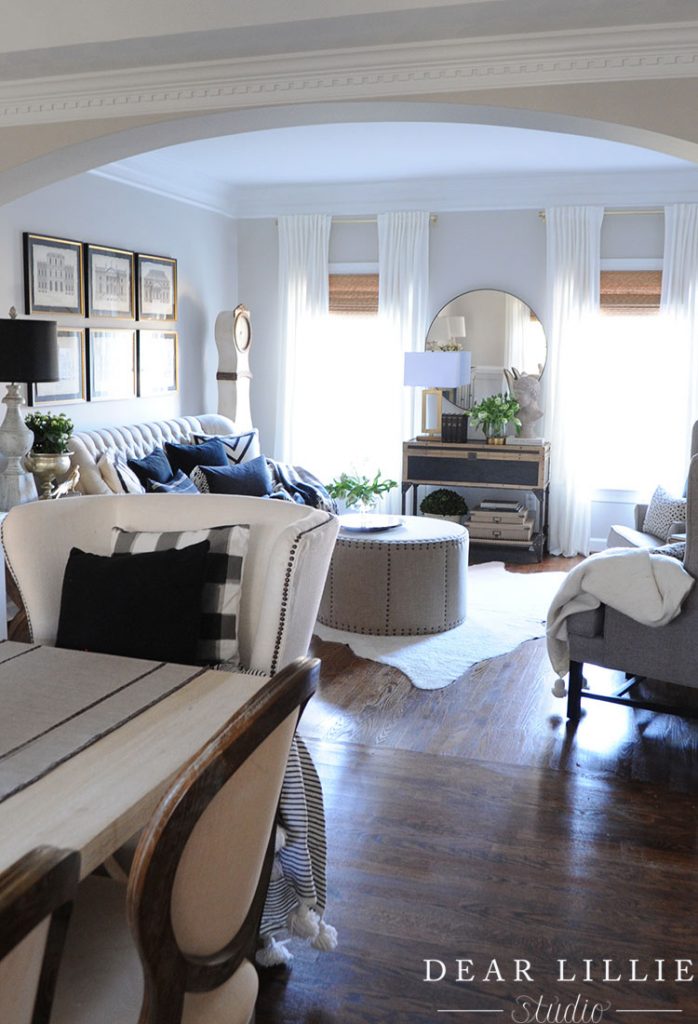 Good morning! I hope you all are having a wonderful week so far! With all the Christmas decor down the house always looks a little barren at first. For the most part, I really love how clean and uncluttered it looks but some spots can look a little bare and boring after all the warmth the Christmas decorations add. In our rental, as soon as the tree came down the wall with the windows on it in our living room looked like it really needed something. When we first moved in I had put the clock there but I wanted something with a little more substance and then saw this console and loved how it went with the rest of the items in the room so decided to give it  a try.
You can see from this angle that it's narrow so it doesn't bump too far out into the room and works well in here, but it's not so narrow that you can't display things on it.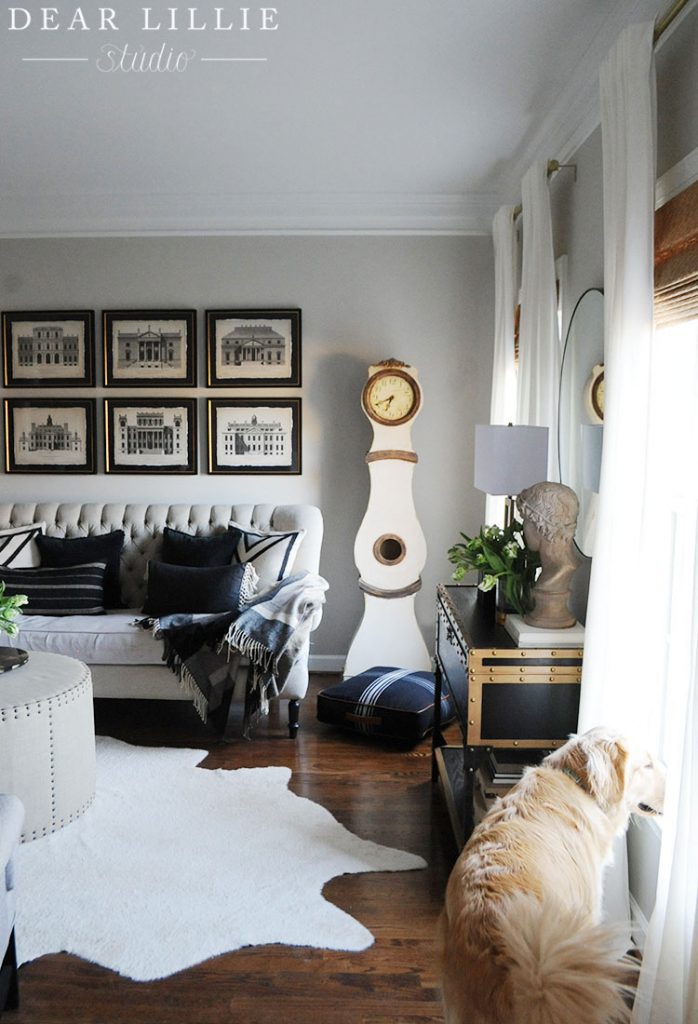 Ruby is pouting because she was wet from being outside and I wouldn't let her on the couch (it's normally one of her favorite spots). She's awfully spoiled so it always hits my funny bone a bit when I tell her no and she sulks just like a child.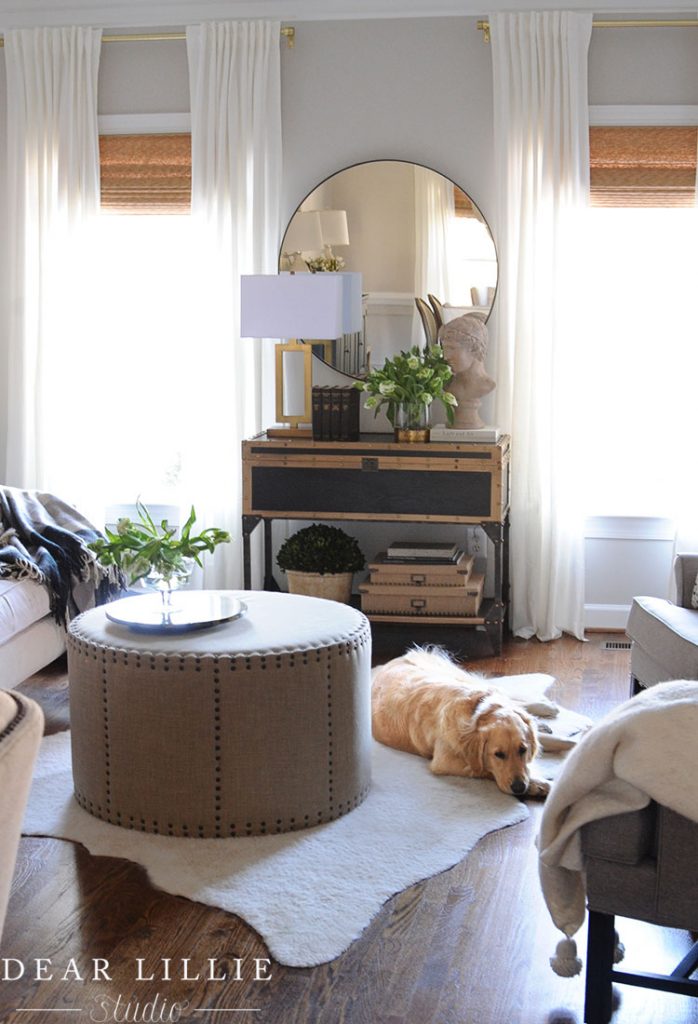 Above the console we added this round mirror (which is a GREAT price!!!!) and then a lamp with clean lines and some accessories we had around the house. It's always fun to mix things up a little bit this time of year! I accidentally hung the mirror a few inches lower than I meant to. If we weren't renting I would have immediately rehung it, but because we are I'm still debating whether or not to leave it be or not…haha! In real life it doesn't bother me but in photos it's driving me a little crazy.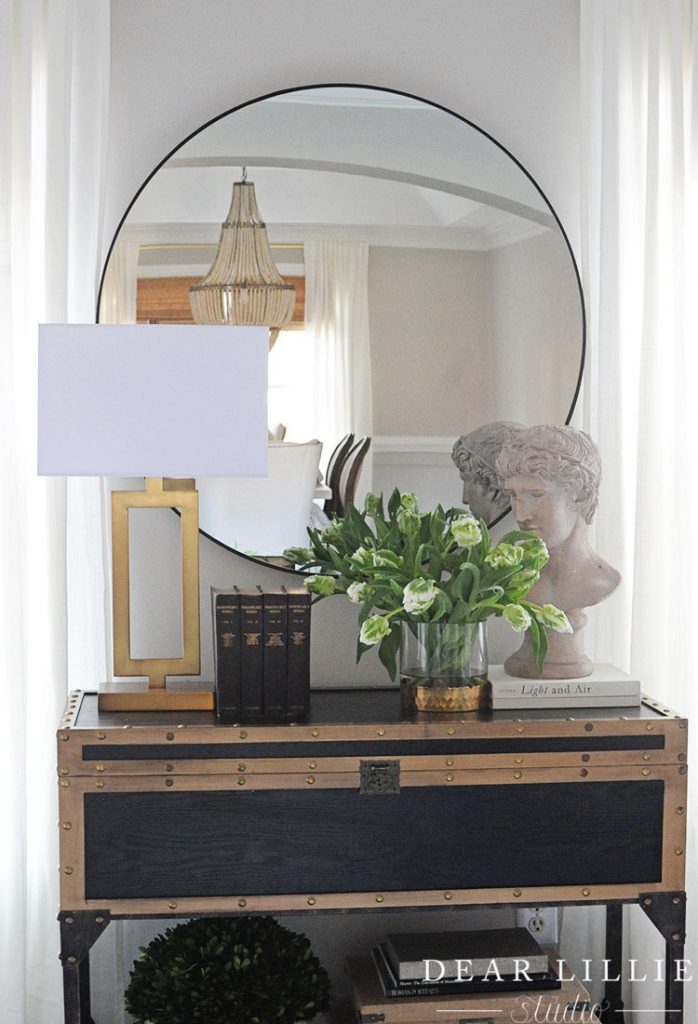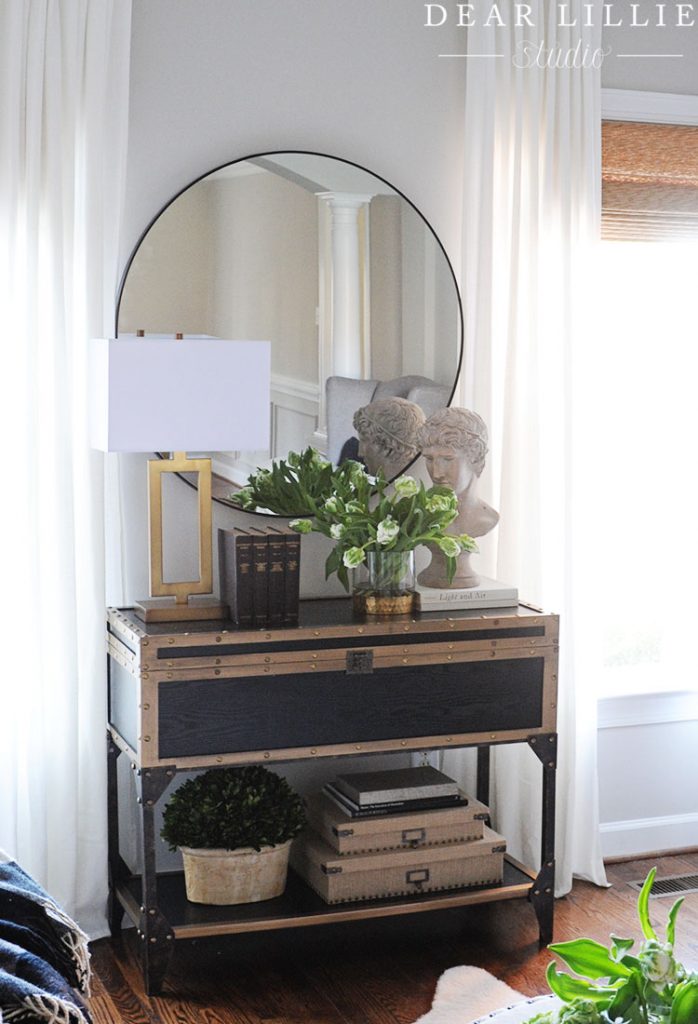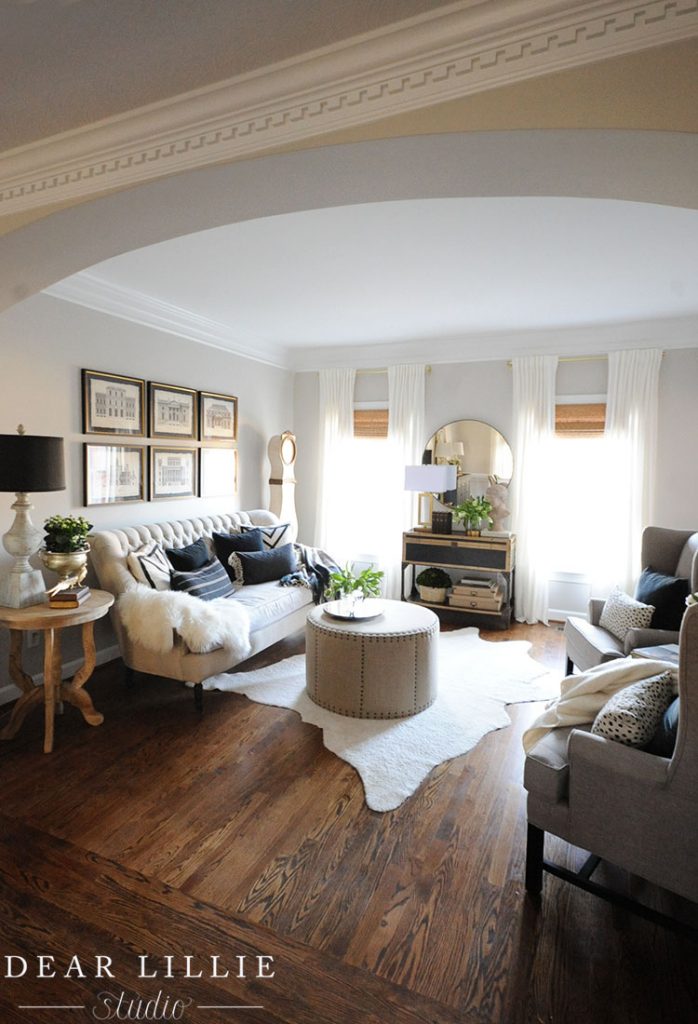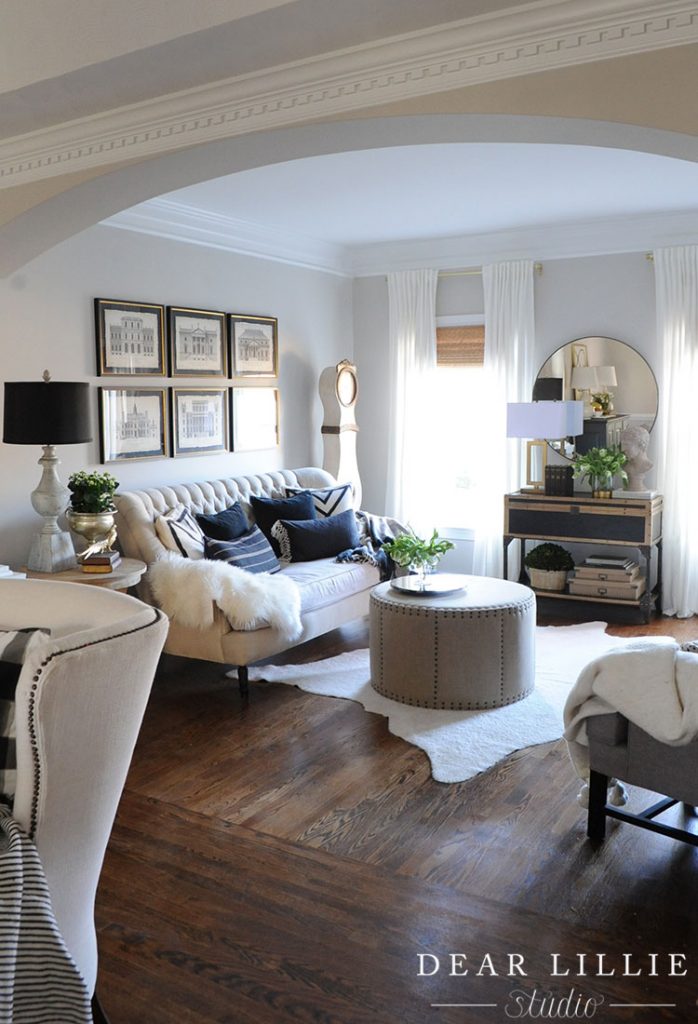 I still haven't hung anything over on this wall above the chairs.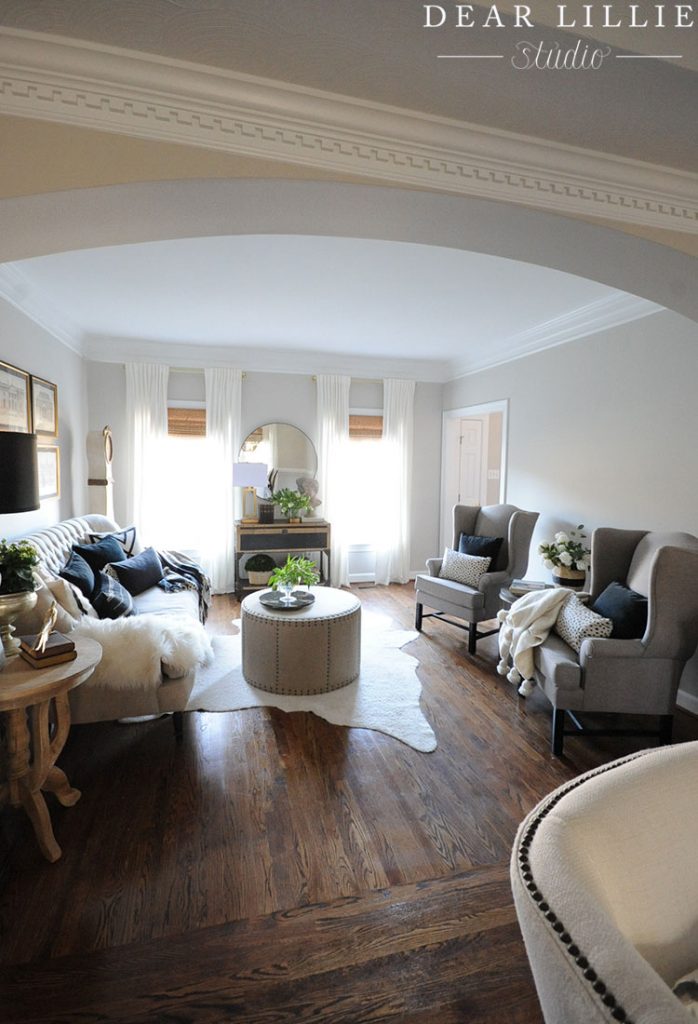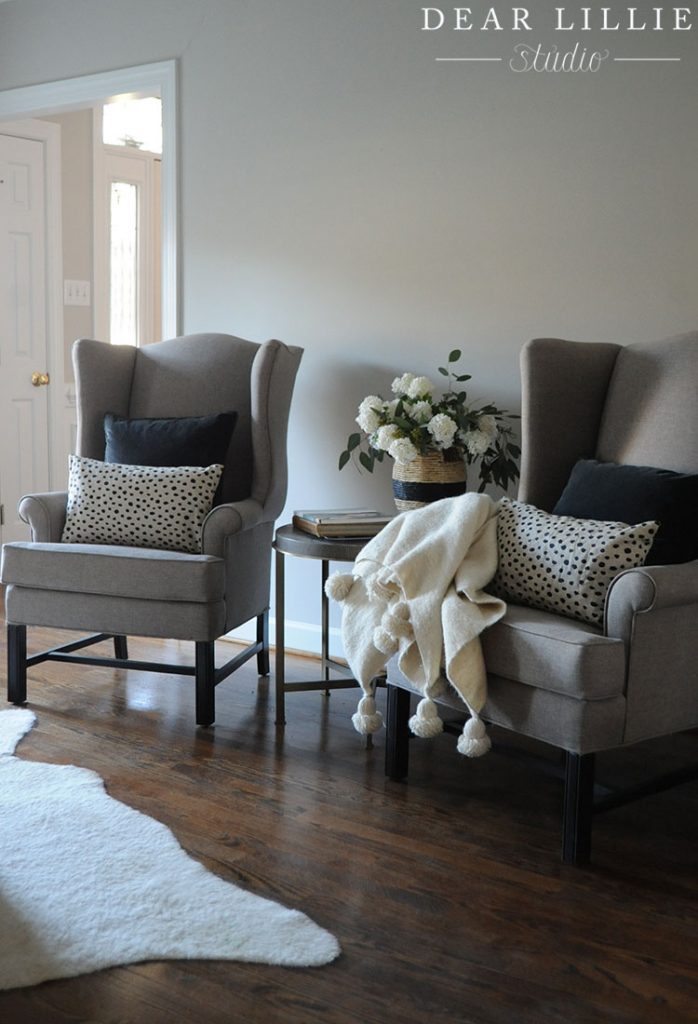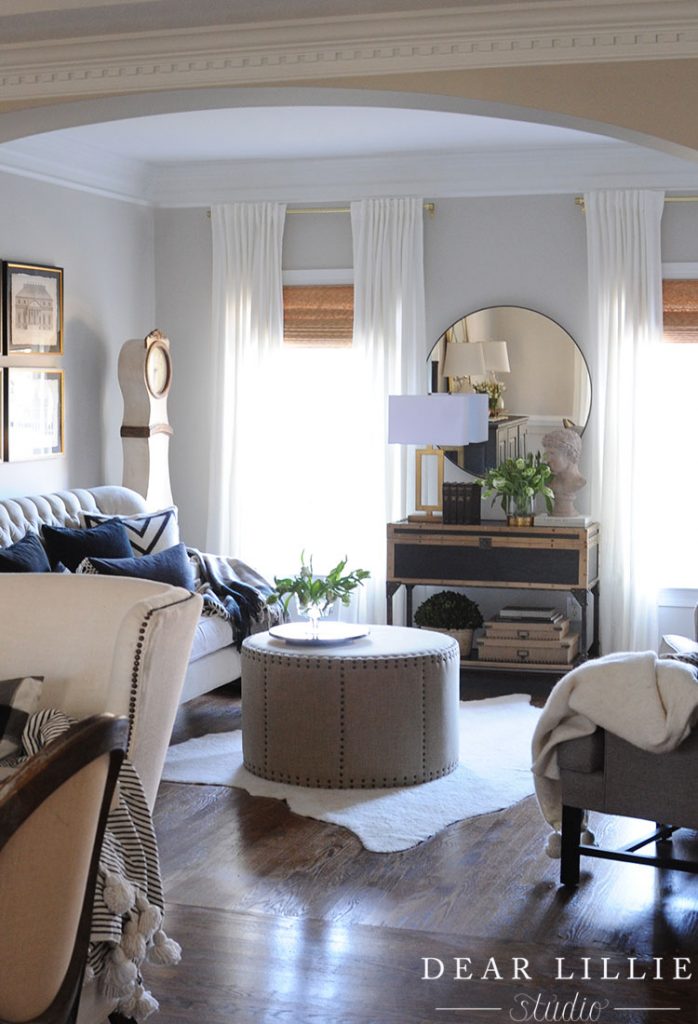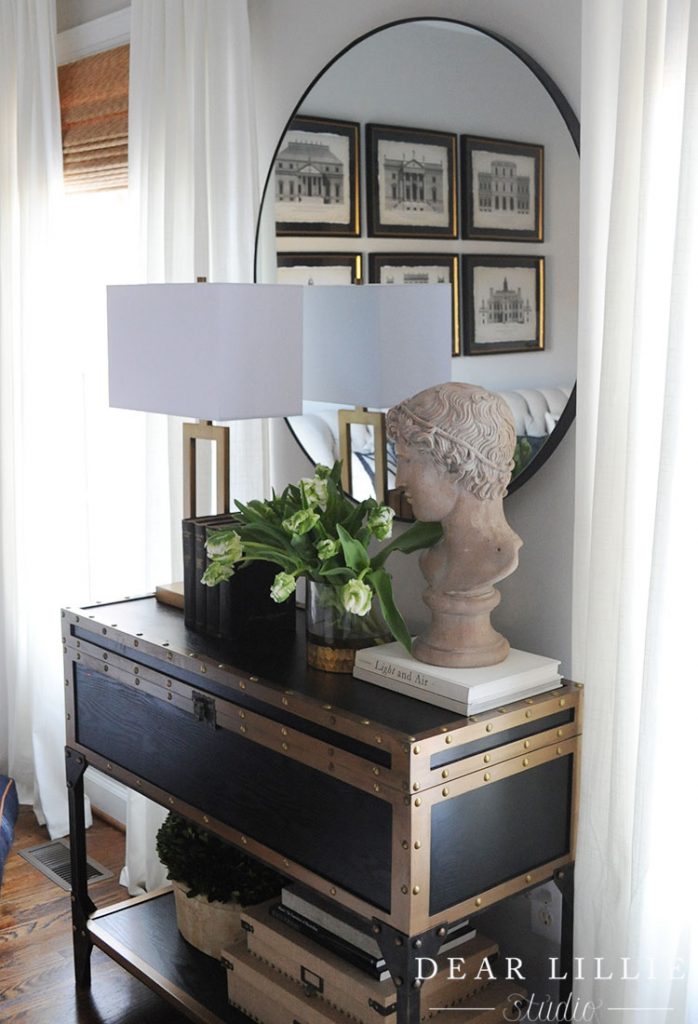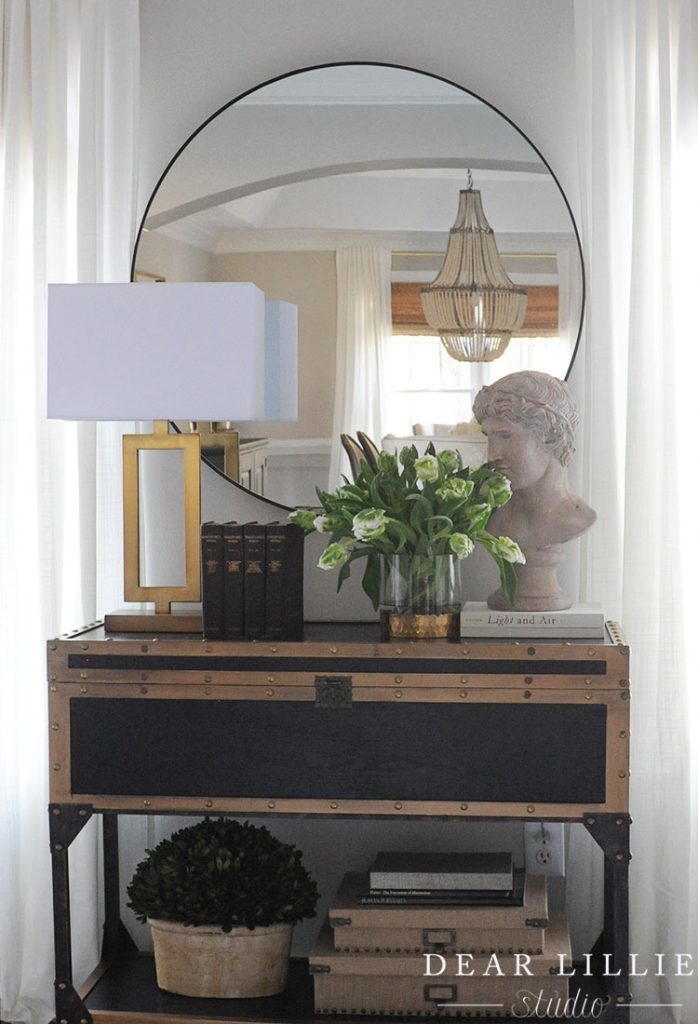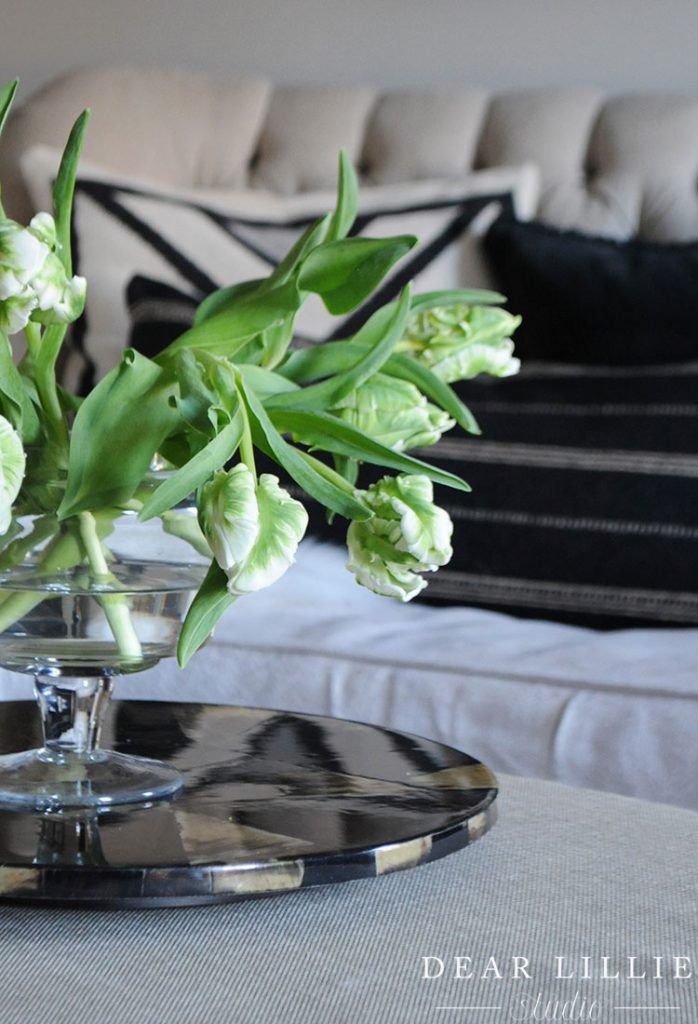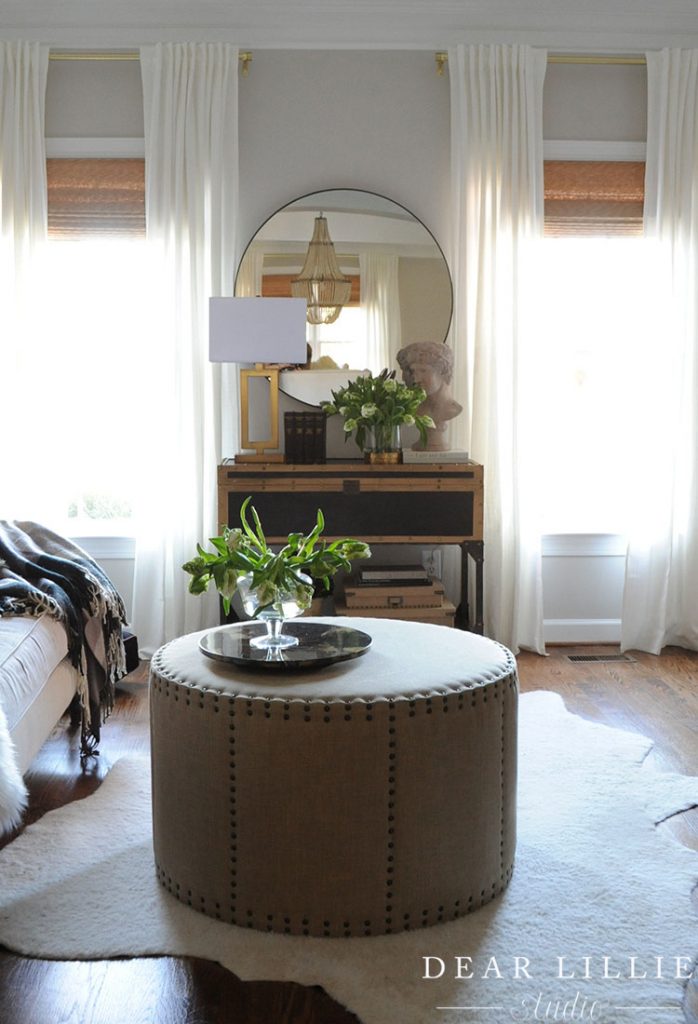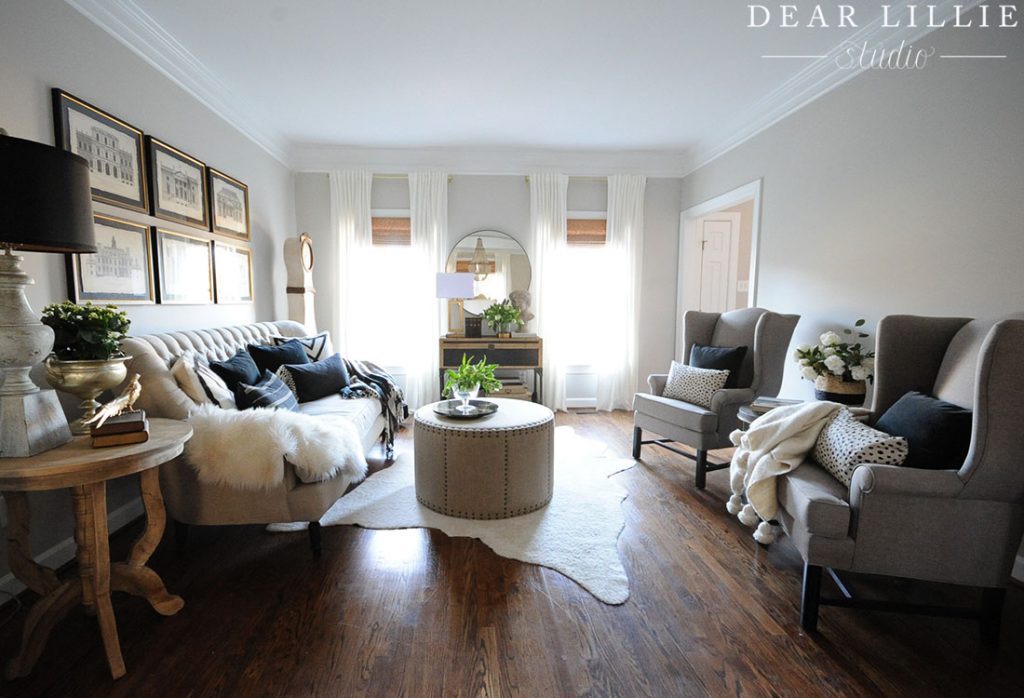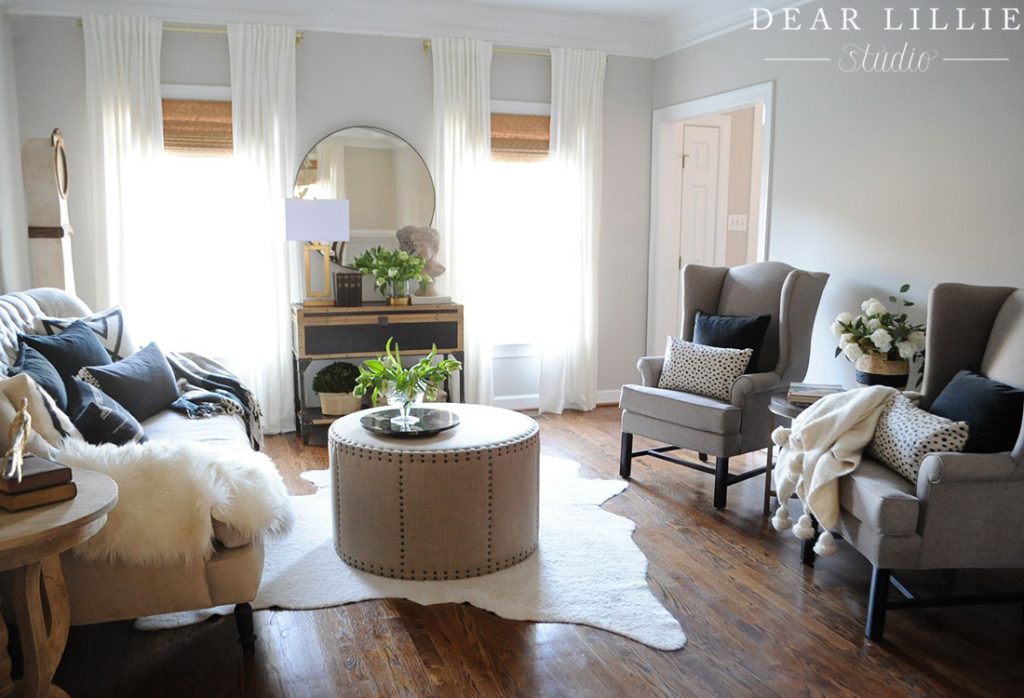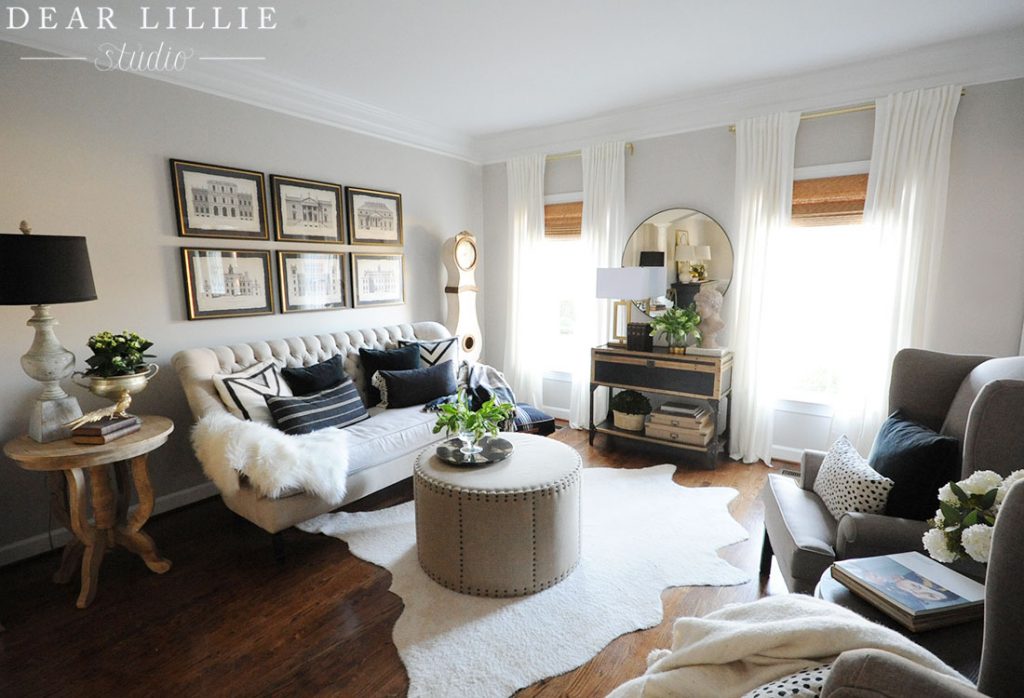 Well, that's it for today! I hope you all have a great week!
Living Room Sources:
Wall Color – We are renting so don't have that info but I've held up my swatches and it is very close to Balboa Mist by Benjamin Moore
Trim Color -We are renting so don't have that info but I've held up my swatches and it is very close to Brilliant White by Benjamin Moore
No info on the stain of the floor
Architectural Prints above Sofa – Dear Lillie Collection at Soft Surroundings – large size
Rug – Loloi
Sofa – Barbara Hartman Interiors – Cisco Brothers Wynette Sofa (purchased several years ago)
Curtain Rods – Birch Lane
Drapery Panels – Ritva from IKEA 98″
Shades – Blinds Galore – Boutique Natural Waterfall Woven Shades in the Islay Barleycorn with a Privacy light filtering liner
Console Table – Home Depot
Round Mirror – Home Depot
Books – Vintage
Bust – Antique passed down from family but nearly identical one can be found here
Vase with Gold Bottom – World Market
Brass Lamp with Shade – Home Depot
Boxes on Bottom Shelf of Console Table – Birch Lane
Boxwood Topiary – Dear Lillie for Soft Surroundings
Gold Pheasant – Passed down from family
Clock – was an anniversary gift years ago similar ones can be found here and here
Wingback Chairs – Hayneedle
Pom Pom Throw – Wayfair several years ago
Sheepskin – World Market 
Large Black and White Pillows on Sofa – Serena and Lily
Striped Lumbar Pillow on Sofa – Serena and Lily
Black Velvet Pillows – HomeGoods (similar here and here)
Fringed Pillow – Wal-Mart
Striped Throw – Serena and Lily
Round Nailhead Ottoman – Joss and Main
Tray on Top – was a gift
Urn/Trophy Vase – was purchased ten years ago at a local floral shop
Side Tables – Birch Lane
Gray Lamp with Black Shade – Aidan Gray – have had for over 12 years, not sure they still make this exact one
Books – Vintage
Animal Print Pillows – Etsy
Round Table between chairs – Bassett Furniture
Basket with Black Stripe – Home Depot
Faux Hydrangeas – Seasons of Williamsburg
Warmly, Jenni